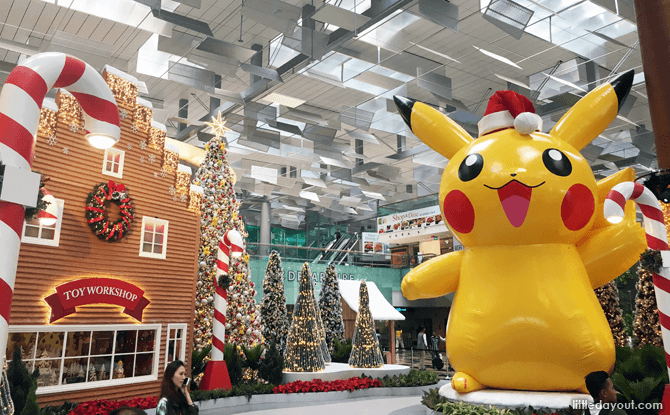 This year-end holidays, come and meet the Pokemon at Changi.
Pikachu and other Pokemon favourites are at Changi Airport – in the form of installations and pokemon-themed activities to delight visitors and travelers – for the holiday season.
Pokemon at Changi
A gigantic Pikachu towers over visitors at the T3 Departure Hall, providing holiday cheers to passer-bys and passengers heading to the gats. Next to the mammoth Pikachu is Santa's Workshop where cogs spinning industriously to churn out toys.
Visitors can also admire Mrs Claus' scrumptious looking baked goodies in her Confectionary.
---
-- Story continues below --
Over weekends in November and December, visitors will be able to meet Pikachu at the Gingerbread House at 6 pm and 8 pm.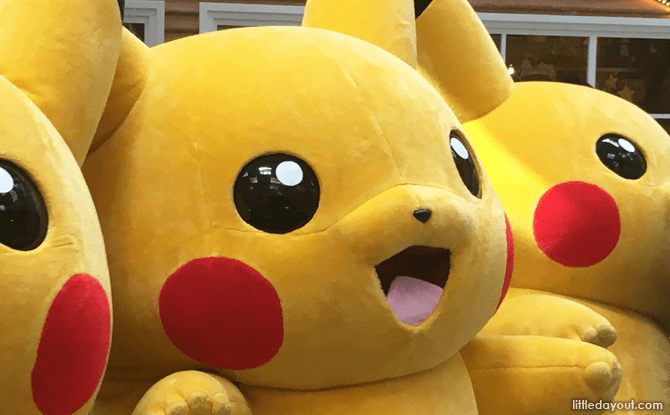 Visitors can watch daily light shows at the giant Pikachu display at T3 Departure Hall. This will be held on weekdays at 2 pm, 6 pm, 7 pm and 8 pm with an extra 5 pm show on weekends.
Other pokemon-themed activities during the school holidays include Narikiri Face Painting and Z-Moves. These will be taking place at the T2 and T3 Departure Halls.
Pokemon Hunting
Pokemon trainers can go hunting for pokemon around Changi Airport. 26 "real" Pokemon lie in wait at various locations around Changi Airport. Snap photos with these and stand to win exclusive Pokemon merchandise. Trainers wil need to take at least three photos with the Pokemon and share them on social media with #PokemonatChangi to stand a chance to win a premium.
If you don't feel like hunting all over Changi Airport for Pokemon, Changi Airport's plushies are back.
There are nine plushies that can be purchased at $9.90 each with a minimum spend around Changi Airport. These include five Pokemon characters, three chaacters from Nintendo's new Sun and Moon series, and a Poke Ball.
Gotta get them all!
Pokemon at Changi takes place from 18 November 2016 to 11 February 2017 at Singapore Changi Airport. Get more details at www.changiairport.com/pokemon