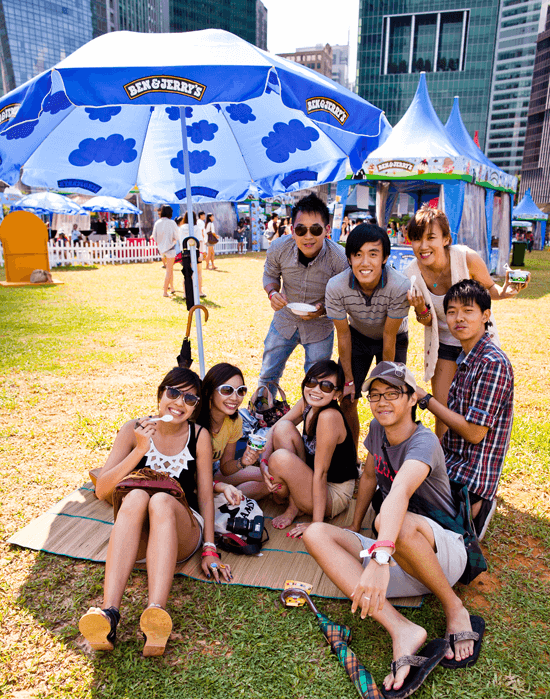 Ben & Jerry's ice cream festival, ChunkFest, is back this October.
To be held on 12 October (Saturday) at The Promontory @ Marina Bay, highlights of this year's celebration of ice cream include exclusive ice cream flavours, carnival activities, the popular Vermonster challenge and a showcase of Ben & Jerry's Fairness Partners.
For the first time, visitors to ChunkFest will also be able to enjoy a movie screening under the stars.
At ChunkFest 2013, visitors will be able savour 18 flavours, many of which are being brought in from the US exclusively for one day only. These exclusive flavours include Candy Bar Pie (Peanut Butter with Fudge Flakes, Chocolate Nougat & Pretzels), Peaches & Cream (Creamy Mascarpone with Peach Pieces) and Red Velvet Cake (Red Velvet Cake Batter with Red Velvet Cake Pieces & Cream Cheese). A new ice-cream flavour, Couch Potato (Vanilla Beach with Salty Caramel Swirl & Fudge Covered Potato Chips) will also be introduced.
Ben & Jerry's Fairness Partners, local social organisations and enterprises will also be at ChunkFest to raise awareness for their causes. These Fairness Partners include:
1. Blessings in A Bag – a non-profit project that seeks to partner with existing communities, orphanages, schools, homes as well as initiatives to provide for the needs of underprivileged, abused and medically-ill children across Asia.
2. Chris' Café @ The Hub – part of The HUB Singapore, a platform for people who use entrepreneurial ideas to create sustainable impact, Chris Café also provides barista training for those looking to upgrade their skill sets and support various causes.
3. Dyslexia Association of Singapore – promotes a fair playing field for children in their education – they also provide professional support and remediation services to preschoolers and school-aged kids who have learning differences including dyslexia.
4. Kerbside Gourmet – Singapore's first gourmet food truck with a social vision. As a registered member of the Social Enterprise Association, Kerbside Gourmet aims to turn part of their profits to feed the less privileged in Singapore, operating on a "Buy-One-Give-One" model.
5. Project Happy Feet – a non-profit organisation that empowers lives through education and training, so as to alleviate poverty. Run entirely by volunteers, Project Happy Feet supports numerous locally-managed education and training related programmes benefitting underprivileged children in Singapore, Cambodia, Vietnam and Nepal through innovative fund-raising events like Project Happy Feet Slipper Race, a non-competitive 3 to 5 km walk in slippers.
Admission is free. For more information on Ben & Jerry's ChunkFest 2013, visithttps://www.facebook.com/benjerrysingapore.