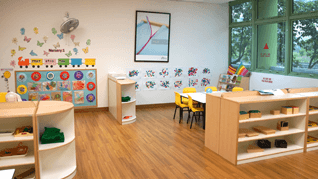 Introducing Brighton Montessori at The Grassroots' Club – our first centre for young families living in Northern and North-Eastern Singapore! Located on the second floor of the newly renovated The Grassroots' Club right next to Yio Chu Kang MRT, parents can conveniently send their children to school each day.
From the warm and friendly welcome area to the classrooms, the entire centre is bright and spacious with plenty of natural light. Children enjoy a cheerful and immersive learning environment, with colourful craft that celebrate an occasion or monthly theme decorating the walls, and fun trivia lining the corridors.
One of the misconceptions parents may have regarding the Montessori approach is that their children will be unable to adapt to the more demanding academics beyond preschool.Reputed for our strong emphasis on language, mathematics and Primary School preparation, Brighton's curriculum has been carefully tailored to suit those demands; the Montessori approach of self-directed, independent learning is supplemented by school work and classroom simulation to help children build confidence and the necessary foundations for formal schooling.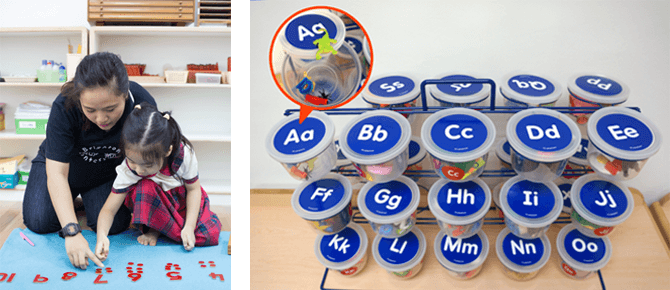 Understanding
Allowing a child to learn at their own pace is one of the key principles of the Montessori approach. A low teacher-child ratio is something we're proud of at Brighton Montessori, enabling our educators to guide and teach each child one-on-one until they are confident in their understanding, before moving on to more advanced and abstract concepts. Through the use of Montessori equipment, children can better grasp the foundations of phonics and mathematics.
Application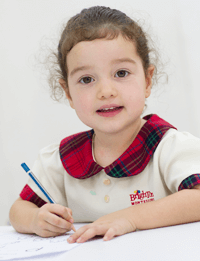 Children then apply their understanding of concepts taught on customised activity sheets, which allow teachers to keep track of each child's development. A progress record is meticulously updated by educators every day and shared with parents during regular parent-teacher sessions.
Progression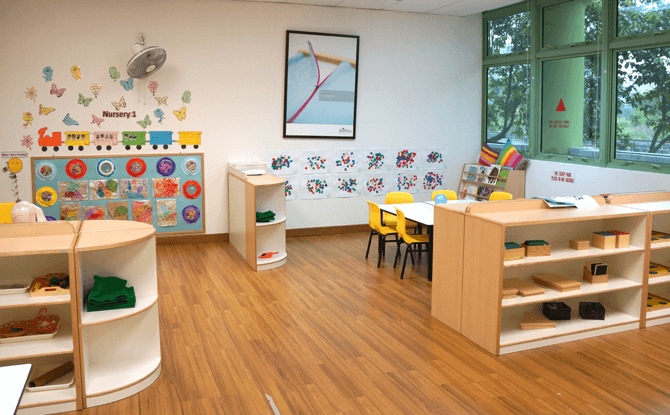 In Kindergarten 2, children are introduced to group lessons, spelling and worksheets, and even how to use money to buy their own food! These experiences help them in their transition to Primary School so that they can adapt quickly to their new environment.
It's not all work and no play at Brighton!
Besides academics, Brighton Montessori understands the importance of practical life and social skills. Children are given the responsibility of keeping their classroom tidy, wash their hands before and after a meal, and learn to work together with their classmates – good habits that can be nurtured from a young age.

The centre is equipped with a spacious music room which also functions as a multi-purpose room. Here the children get to enjoy music lessons and Brighton's very own Kidz Fun Discovery Programme, where they learn arts and crafts, cookery and other fun activities in the afternoon.
Children get plenty of fresh air and playtime at their very own outdoor playground. In addition, they can also take up weekly swimming lessons, taught by a professional coach at the nearby Yio Chu Kang Swimming Complex (just 5 minutes away!). All these ensure that children at Brighton enjoy the benefits of a healthy, active lifestyle.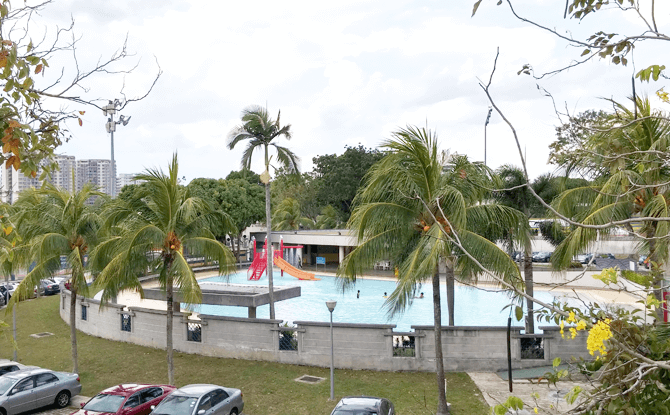 At Brighton Montessori, your children enjoy a relaxed, fun environment that balances work and play – a place that is truly a home away from home. Selected centres, including Brighton Montessori The Grassroots' Club, are offering a half-day Montessori Immersion Trial for the first time, where you can join a class and see how your child can benefit from the Montessori approach. Enquire today as slots are limited!
BRIGHTON MONTESSORI THE GRASSROOTS' CLUB
Address:190 Ang Mo Kio Ave 8, #02-01 The Grassroots Club, Singapore 568046
Tel: +65 6588 3883
Email: contact@brightonmontessori.com.sg
Web: www.brightonmontessori.com.sg
This article is contributed by Brighton Montessori.