With this year's mid-year break lasting from 1 to 30 June, children have plenty of time on their hands. This is an ideal opportunity for family bonding – but how do you sort through the myriad of things to do during the June school holidays 2019 and maximise your time with the family?
We put together a checklist of some of the best events and things to do during the June school holidays. Rather than overloading you with tens of choices, we've boiled it down to suggestion of the best things that parents and children can do together. And guess what? As it turns out, the best things in life ARE free – many of these events and activities won't cost you a penny!
Here's is our picks of essential activities and things to do during the June school holidays 2019 to check off your list.
---
Gallery Children's Biennale 2019: Embracing Wonder
If there is one exhibition that you should visit during the June school holidays with your kids, it's Gallery Children's Biennale 2019: Embracing Wonder.
---
-- Story continues below --
This second edition of Gallery Children's Biennale has much to offer. It showcases 11 interactive artworks inspired by a child's unbounded imagination and natural sense of wonder. You can get immersed under giant lanterns inspired by Javanese culture, enter two traditional Burmese homes plated entirely in gold and get on board larger than life sculptures such as large propellers, a giant foot resembling a sampan and a birdcage.
At Gallery Children's Biennale 2019: Embracing Wonder, art is anything but stale and static – it is something to be touched and experienced. To fully maximise your experience at the Biennale, pick up an Art Pack ($5) which includes additional hands-on activities.
On 1 and 2 June, join in the opening festivities at Gallery Children's Biennale's where there will be performances and a special kids-only tour. The Singapore International Children's Film Festival is also taking from 1 to 16 June and features imaginative short films from over 30 countries for kids.
Best of all, admission to the Gallery Children's Biennale is free for Singaporeans and PRs!
---
From Singapore to Singaporean: The Bicentennial Experience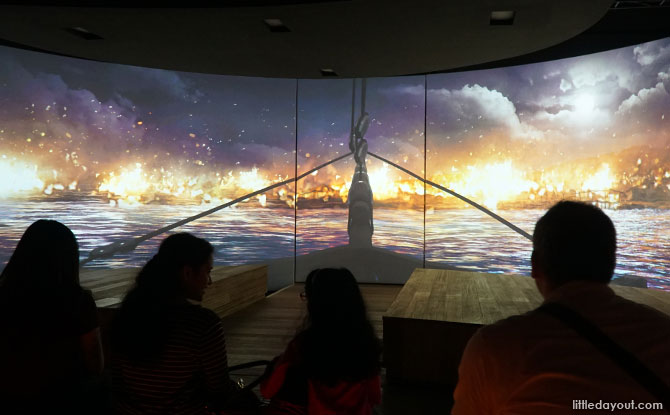 From Singapore to Singaporean: The Bicentennial Experience consists of two parts – the indoor Time Traveller show and outdoor installations Pathfinder.
Time Traveller exceeded our expectations. We enjoyed the clever use of imagery, live actors and cinematic sequences to present the Singapore story. However, it was more than just lights and music that brought the story to life. It was the way the overall experience appealed to the senses and captured the ethos at different moments in Singapore's history.
After Time Traveller, pay a visit to the installations and pavilions at Pathfinder. There are also short films that can be viewed at Fort Canning Green.
Admission to From Singapore to Singaporean: The Bicentennial Experience is free. Tickets can be booked online. We recommend putting it on your list of free things to do during the June school holidays 2019.
---
New Gardens at Fort Canning Park – including a New Playground in the City
We've always felt that Fort Canning Park has been under-appreciated and under-visited. Therefore, we were quite glad that it received a spruce up for the Bicentennial year.
Now, there are gardens at Fort Canning Park which reflect different periods of history, from the 13th to the 20th century. And with The Bicentennial Experience at Fort Canning Centre, it is a good opportunity to visit these new gardens which include the Javanese-looking Sang Nila Utama Gardens and picture-framed Farquhar Gardens.
Two other gardens at Fort Canning Park that families should make a point to visit are the Artisan's Garden and Jubilee Park. Artisan's Garden has an archaeological dig site and there will be archaeology-related programmes for families held there in the month of June. Jubilee Park, on the western slopes of Fort Canning Park, is a family-friendly space and features a nature-inspired playground.
---
Lakeside Garden, Jurong Lake Gardens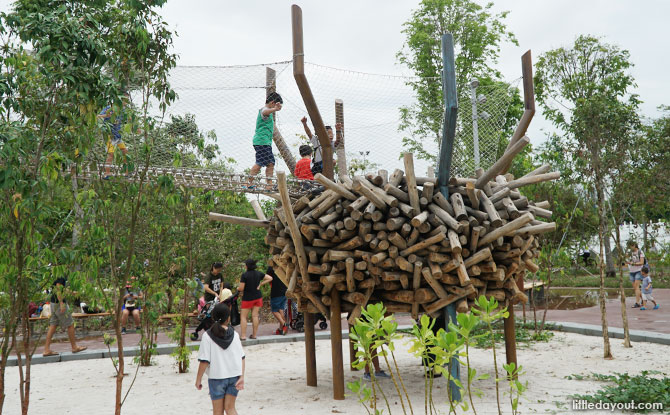 Speaking of nature playgrounds, Lakeside Garden at Jurong Lake Gardens has Singapore's largest nature playground. Visit Forest Ramble with the kids for some nature-inspired fun.
The rest of Jurong Lake Gardens is worth exploring too. The third national garden (after Singapore Botanic Gardens and Gardens by the Bay) and first in the heartlands, there are different spots to visit and appreciate. These range from picturesque grasslands to nature walks. There is also a water play area with tidal pool and "beach" too.
---
Canopy Park
Not all parks have to be outdoor. The indoor Canopy Park at Jewel Changi Airport opens on 10 June 2019 and promises fun experiences in the form of seven play attractions. These include mazes, sky nets, slides and a bridge with glass floor panels suspended 23 metres in the air.
There will be a ticketing system for entry to Canopy Park. Entrance fees for Singapore residents to Canopy Park will be $4.50, while access to the various attractions will range from $7.20 to $19.80. There will also be bundle packages available.
---
Best Things To Do During The June School Holidays 2019
So if you are tight on time and looking for recommendations on things to do during the June school holidays 2019 with your kids, these are our recommendations:
Happy family time!
BONUS IDEA: Take the kids on an Adventure Quest and stand to win a Staycation

Little Day Out is giving away a hotel staycation at YOTEL Singapore as part of the Little Day Outing Adventure Quest during the June 2019 school holidays. Pay a visit to Admiralty Park, Lakeside Garden or Pasir Ris Park, solve some clues and you stand to win a staycation prize at YOTEL Singapore. What's more, everyone gets to have fun out at these awesome playgrounds too. Get more details on how to participate in the Little Day Outings Adventure Quest here.