With overseas holiday plans cancelled, we decided to end 2020 with a bag. Inspired by Jules Verne's Around the World in Eighty Days (where Singapore was mentioned in the story) and an upcoming children's workshop by Andsoforth Jr that we had signed up for, we decided to embark on our own whirlwind trip around Singapore, living out the story with our kids.
Around the World in Eighty Days starts with an Englishman, Phileas Fogg playing a game of whist with his friends at the Reform Club. A piece of news that catches everyone's attention is the claim that it is possible to travel around the world in 80 days because of steam engines. This sparks off a wager: Phileas Fogg bets £20,000 that journey can be done.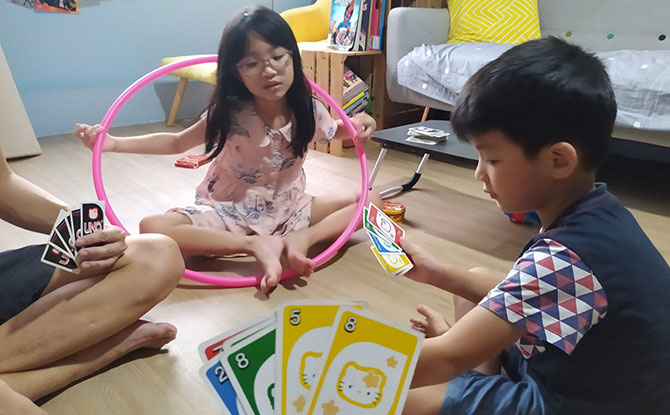 We too started our Around the World in Singapore Adventure in 8 days with a game of cards.
---
-- Story continues below --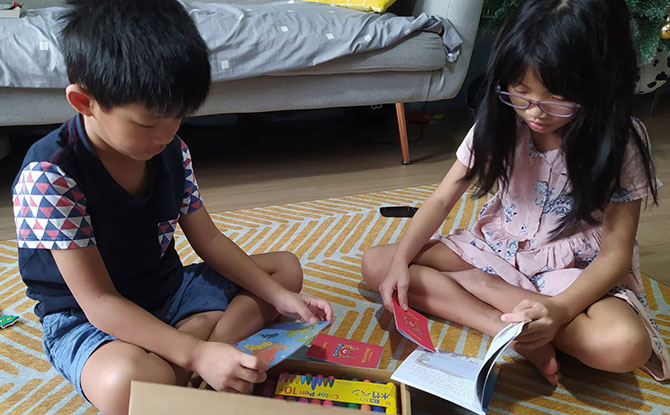 The kids then received a travel box which we had prepared for them!
---
DAY 1 – England to France on a Train
Phileas Fogg immediately took off for a night train to head to France where he could then take a steamer.
"What? Right now? Really, Mummy? We are going out now, now?" was the kids' response.
"Yes, right now." And so, with a bag packed like Phileas Fogg, the adventure began.
Our first destination was Gardens by the Bay. By good fortune, the Orient Express exhibition, which features a vintage luxury train, was in town as Singapore was the first stop of its world tour. The train was similar to the type Phileas Fogg would have ridden on in 1800s.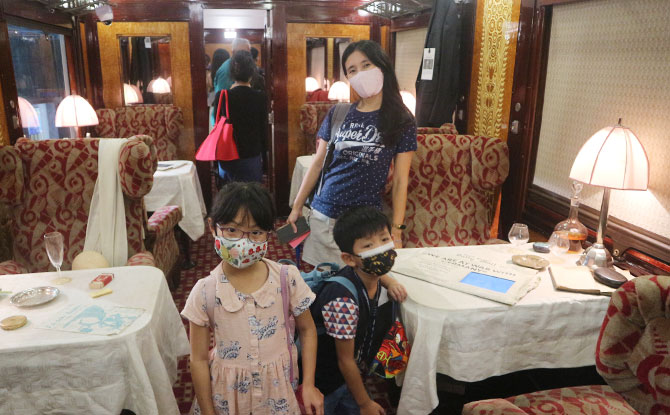 The exhibition perfectly captured the time period, decorated with newspapers, cigars, typewriters and other memorabilia. The hosts were even dressed in period costumes.
Immediately after the visit to the Orient Express exhibit, we wanted to allow the children to experience a night in a "sleeper car"! Since they would not allow us to stay overnight on the Orient Express, we had booked a night at a capsule hotel, Cube Family Boutique Capsule Hotel, instead.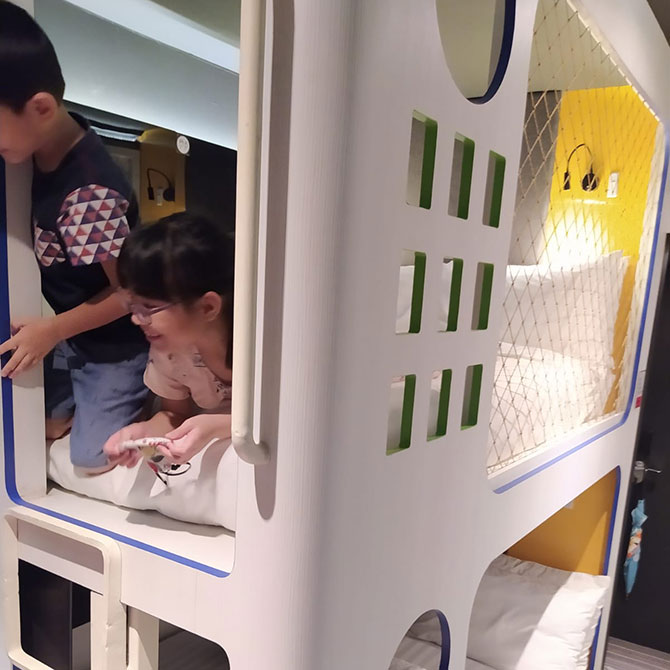 Once the children saw the word "hotel", they squealed in delight! The bunk beds excited them the most, especially my son Nathaniel. They happily climbed up and down, trying to decide who got which bunk for the night.
---
DAY 2 – France to Suez Canal, Egypt
Back in the mid-1800s, the Suez Canal changed the way people travelled, cutting short the passage to India from Europe. In Around the World in Eighty Days, Phileas Fogg took advantage of the then-newly built Suez Canal. It helped that he was an Englishman and the canal was under British jurisdiction.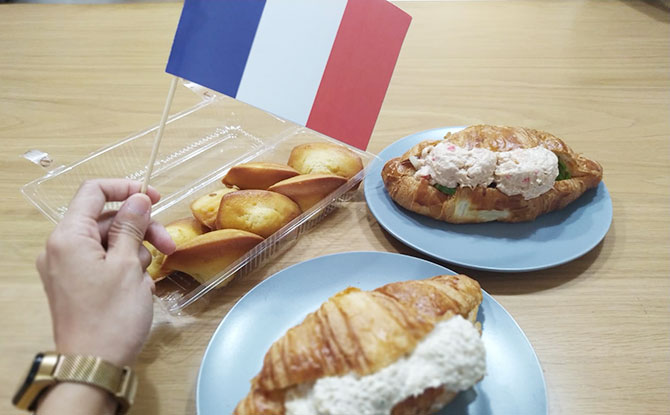 After waking up and having some "French" snacks (hahaha! 'Delifrance') and reading more about France, like Phileas, we boarded onto a 'steamer'.
Our "steamer" was the DUCKTours amphibious vehicle. The splash into the water was the best!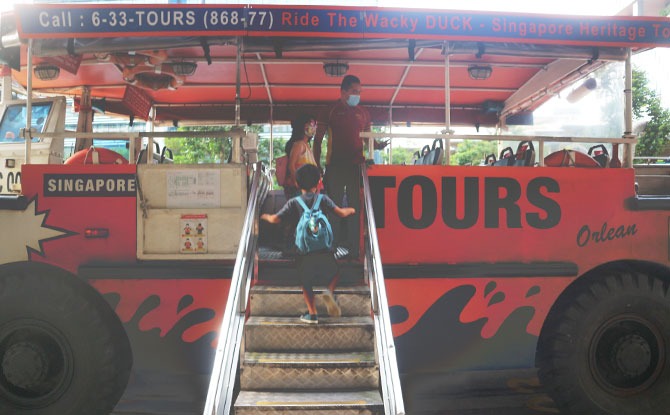 At the start of the ride, we were welcomed by a very appreciative elderly gentleman who thanked us for our patronage. That's when it hit home to us that many tourism-related businesses have been hit hard by the pandemic. We were glad to be able to support them as we went Around the World in Singapore in 8 days.
The Suez Canal is situated in Egypt, on the African continent. This sparked off our next adventure.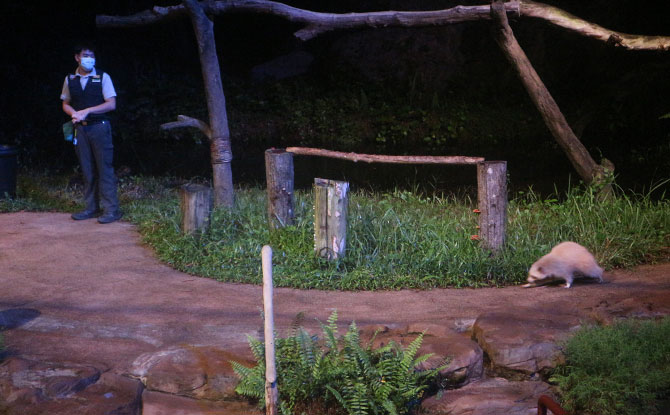 We decided to go on a safari to seek out animals from the African continent. Where better to do so than our Night Safari! This was especially exciting for the children who had never been to Night Safari before.
The tram ride was really enjoyable and we were able to spot many creatures. We saw lions, elephants, deer and bears. Annalie, my daughter, especially loved hearing from a zookeeper about a wallaby who fought for its life. (Opps, wallabys aren't from Africa… shhh).
A friendly guide was out-and-about, engaging with the crowd. He even gave out badges and got us a special sticker for our 'passport'!
---
DAY 3 – Suez Canal, Egypt to India
From Egypt, Phileas Fogg and his butler, Passepartout, took a steamer named Magnolia to India. They arrived at Bombay and took a train to Calcutta. During the journey, they had an adventure in the Indian jungle, rescuing a maiden from being burned alive.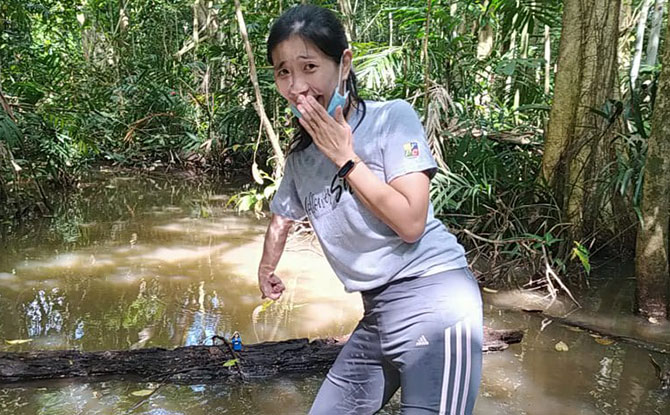 So, early the next morning, we brought the kids into a 'jungle' at Dairy Farm Nature Park. There we role played the dilemma of whether to save Princess Aouda. In the story, Phileas Fogg was worried about delaying his trip. My kids' dilemma was whether to get wet and dirty!
Thankfully, we decide to rescue Princess Aouda and it was off to Little India. We had booked a walking tour with Monster Day Tours around the historic district.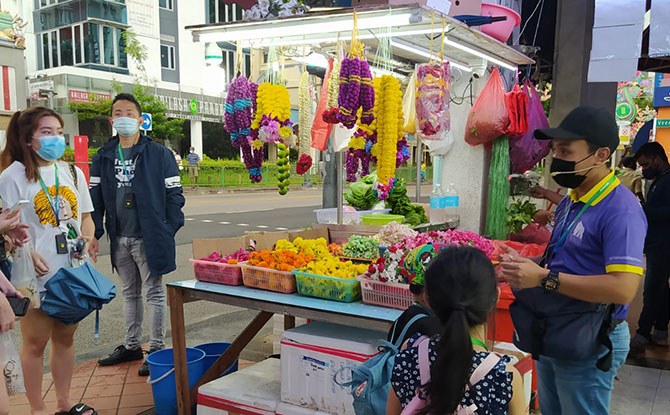 We were each given a headset which allowed us to listen to our guide Bas.
We learnt how the first plane to ever land in Singapore landed at Little India and other amazing facts. At the end of the tour, two hour later, Annalie told me that she really enjoyed hearing all the stories. Nathaniel's favourite was the food stop where he tried Indian curry.
Little India is filled with beautiful murals which convey tales of the past. Can you spot us?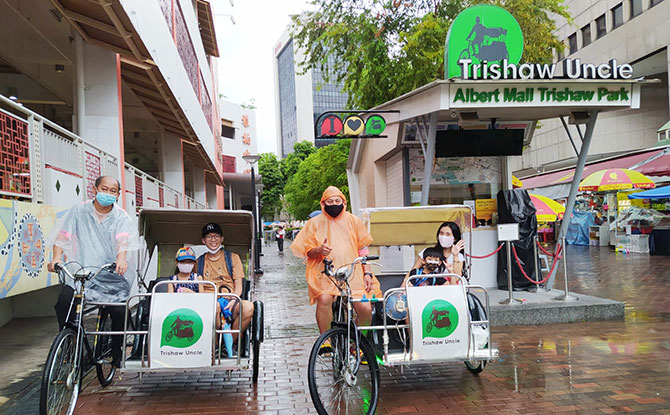 Right after the Little India tour, we dashed off for a trishaw ride with Trishaw Uncle at Queen Street.
Yes, this was an immensely touristy activity but it was something which neither my husband nor I have ever tried. Of course the kids were super excited about it as well.
At the end of the experience, Annalie asked, "Why was it only 10 minutes?" It was actually 30 minutes, my little lady!
---
Day 4 – India to HK via Singapore
Princess Aouda could not stay in India or she would be tracked down and captured. Thus, she hoped to seek refuge with her cousin in Hong Kong. Phileas Fogg and Passepartout decided to escort her to Hong Kong before heading to Shanghai. To reach Hong Kong, they travelled via Singapore!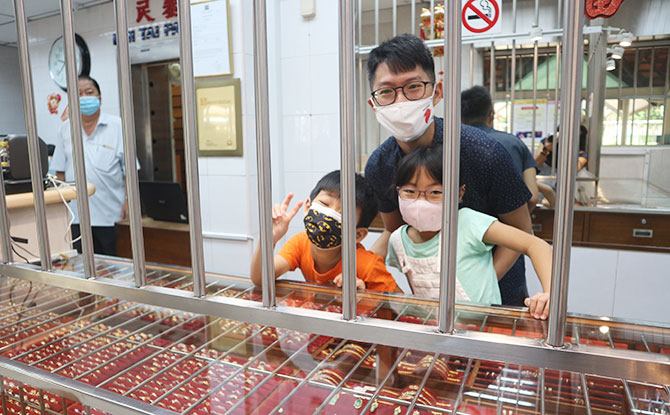 As the destination was Singapore, I decided to bring my children to my grandfather's pawnshop. This was the trade that sustained my grandfather's family with five children. It was an eye-opening visit which I was glad to be able to share with my children.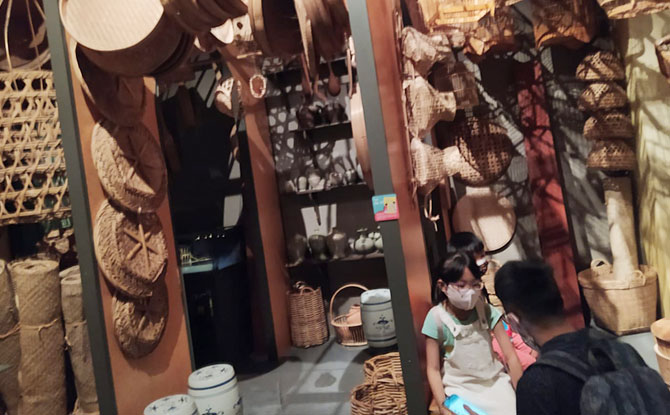 The next destination was National Museum of Singapore. Daddy as he wanted to tell stories about his grandfather's now-gone textile shop and the National Museum of Singapore has an exhibit which looks similar to the old five foot ways.
Somehow, the kids ended up hunting for Doraemon instead.
The next destination was Hong Kong. And when you think of Hong Kong what comes to mind? Dim sum!
While we did think of visiting Yum-Cha and Red Star Restaurant in Chinatown, we eventually settled at Chinatown Complex for dim sum because it is kinder to our wallets. Hee!
Besides dim sum, what else do we associate with Hong Kong? Lan Kwai Fong. We decided to head to Clarke Quay and to show the children its various pubs.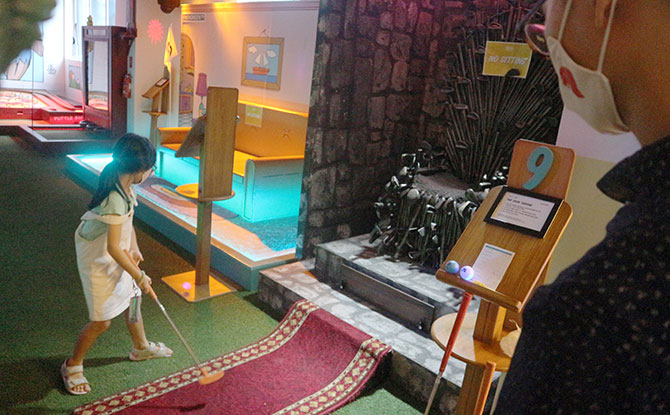 Amongst the old buildings, we ended up at a mini golf club, Holey Moley. This was an instant hit with the children who could not stop talking about it.
The mini golf club had lots of unique putting concepts which made it really fun for the young ones. It was easy enough for them to play. Do watch out for the swing though; Annalie's club hit us twice!
After Hong Kong, the characters in the story ended up in Shanghai! We decided to spend the night in Chinatown at Hotel 1888 Collection at Trengganu Street so that we could wake up in 'China'! Plus we had a walking tour in the morning planned. The room had cool technology and was clean – what else could we want?
---
Day 5 – Hong Kong to China
I thought I knew a lot about Singapore, but I was still in for a pleasant surprise the next morning!
Our Chinatown walking tour with Monster Day Tours began at Telok Ayer station, right where our forefathers first landed. We visited temples and heard lots of stories, including how opium plagued the early Chinese community.
We also saw a well in Chinatown! Back in the day, there were over 4000 wells in Chinatown. It was one of the little bits of information that we had never known.
Another bit of trivia: Why do we have spiral staircase behind the shop house? It was for the night soil workers to access the homes.
After the tour, we organised a little scavenger hunt for the children to pick up items for their grandparents, with a fixed budget and clues.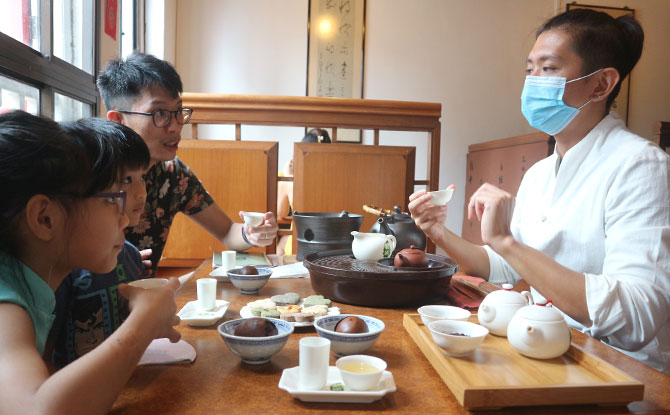 The day ended with us learning a little more about Chinese culture at Tea Chapter along Neil Road.
The shop has a tea appreciation course which covers the history of tea, tea culture and different grades of tea. I enjoyed learning about tea history while the children had hands-on fun and enjoyed the super-fragrant tea-leaf eggs!
---
Day 6 – China to Japan
Phileas Fogg and Passepartout carried on their journey by heading to Japan before boarding a steamer to the United States. Princess Aouda had continued the journey with them as her relative in Hong Kong had moved to Europe.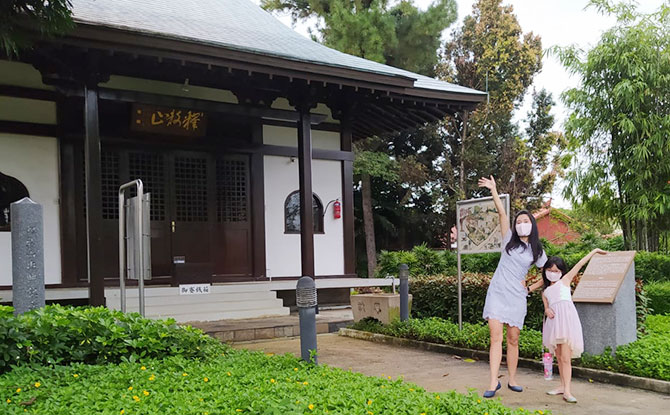 As the Japanese Garden is currently being transformed into part of Jurong Lake Gardens, we decided to visit Japanese Cemetery Park, an unusual but tranquil spot in Singapore.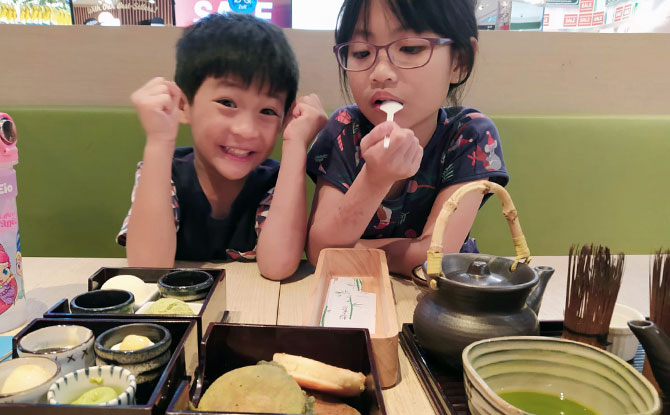 For more immersion into Japanese culture, we headed to Matcha House at Orchard Road.
We had learnt that present-day Chinese tea culture stems from the late Ming to early Qing dynasty. On the other hand, Japanese tea culture traces its origins back to the Song dynasty which had strong Buddhist influence. Thus, the differences between the two sets of tea cultures.
You may notice that the tea is served in a bowl rather than a cup. That was how it began way back in Tang dynasty.
---
Day 7 – Japan to United States of America
It was winter when Phileas Fogg and company arrived in America. They made a tumultuous journey from the West Coast to the East Coast.
In the story, Phileas Fogg took a snow sledge as part of his journey; we went on ice skating blades at The Rink at JCube.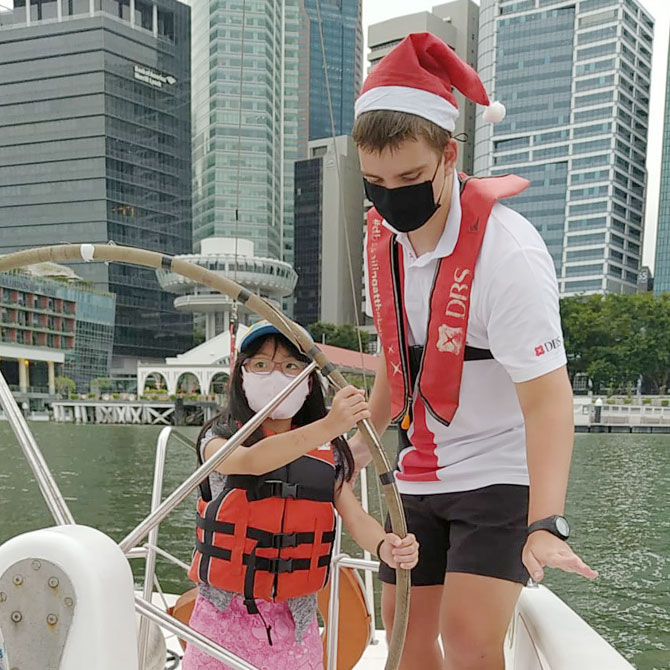 To replicate Fogg's journey across the Atlantic, we signed up for DBS Sailing at the Bay. This activity is free but you need to be quick in order to be able to get a book.
Nathaniel, unfortunately, was not old enough to go on board the boat. Annalie was happy to take the wheel, although anxious at the same time.
---
Day 8 – United States to London, UK
Finally, after traveling the globe, Phileas Fogg thought that he was late and had failed to complete the journey in 80 days. But to his surprise, they had gained time by travelling from East to West and made back to the Reform Club on time. He was on time and won the bet, and Princess Aouda's hand in marriage too.
Day 8 brought us to where the spark of an idea to go around Singapore in eight days all began – Andsoforth Jr's Around the World in 80 Days children's workshop.
The set was amazing and the hosts were brilliant. Room after room was filled with surprises. It was an immersive experience and a grand way to end our Around the World in Singapore in 8 Days adventure.
The whole experience and people we had met made it a wonderful for us to bond together. We will cherish the sweet time we had together and the many memories we made along the way.