It is going to be a Sparkling Christmas at Jewel for the 2020 year-end holidays. Look forward to photo spots around Jewel Changi Airport, along with promotions and other activities.
---
A Sparkling Christmas at Jewel: Huge Christmas Tree and Snow Fall at Shiseido Forest Valley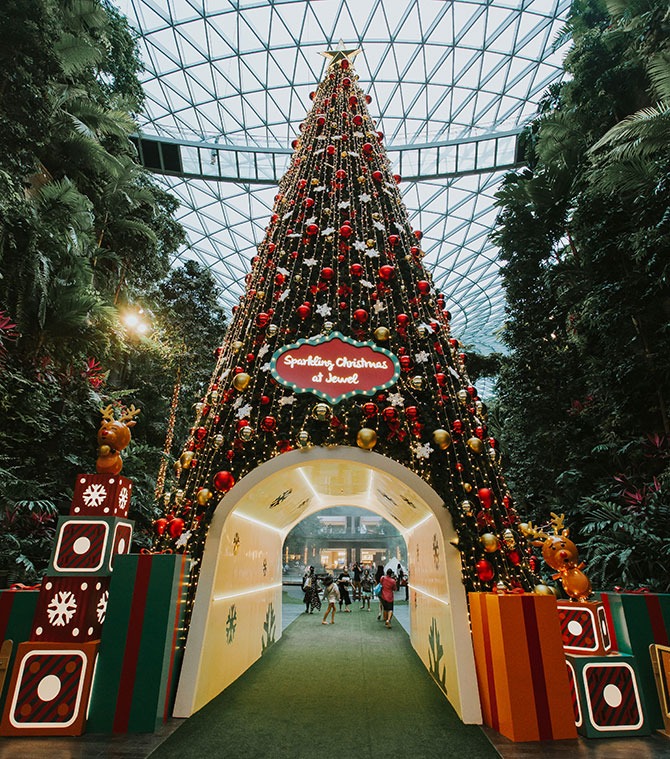 A 16-metre-tall Christmas tree welcomes visitors into Jewel's Shiseido Forest Valley. Entry into Shiseido Forest Valley to experience the festive atmosphere takes place from 6 pm to 11 pm daily with last admission at 10.30 pm.
Around the HSBC Rain Vortex, look for Santa's Workshop, the Fireplace and Santa's Sleigh. You can also stand under an interactive arch to reveal if you have been naughty or nice for a fun boomerang social media picture.
Kids will especially enjoy the snowfall at Shiseido Forest Valley daily at 6.30 pm, 7.30 pm, 8.30 pm, 9.30 pm and 10.30 pm.
How to Enter into Shiseido Forest Valley for the Snowfall and Photo Spots
In order to able to enter into Shiseido Forest for the festivities, a minimum spend is required.
Every $30 nett spent at Jewel Changi Airport admits two persons to Shiseido Forest Valley on the same day. Admission is free for children under the age of 3. However, the child must be accompanied by an adult with a qualifying receipt.
---
Festivities at Canopy Park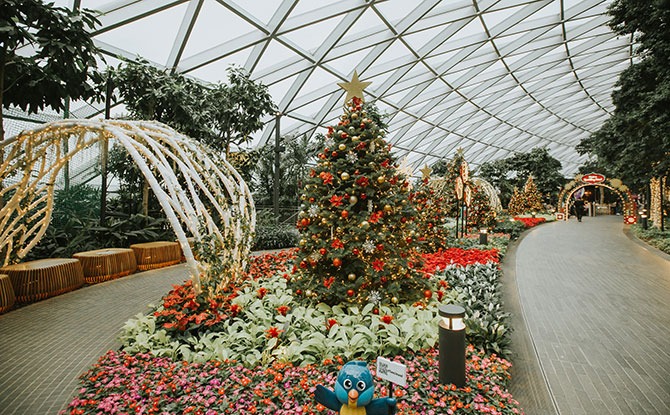 The festive atmosphere of A Sparkling Christmas continues at the top level of Jewel Changi Airport. The 14,000 sqm Canopy Park is fitted out with festive decorations to usher in the season's cheer.
One photo point to lookout is at Canopy Park's popular lookout point. You can pop out of the gift box and snap a photo with the iconic HSBC Rain Vortex as the background.
Then head over to the Petal Garden where more gift boxes decorate the floral garden.
---
Pokemon Collectables
As part of A Sparkling Christmas At Jewel, there are also various Pokemon collectibles that can be redeemed with a minimum spend in a single, same-day receipt.
Spend a minimum of $60 ($120 in supermarkets) for a Pokemon Christmas edition Gift Wrappers.
Or get premiums at a discounted price. These premiums include Pikachu Poncho Eevee Plush Keychains, Eevee Poncho Pikachu Plush Keychain, Fan of Pikachu & Eevee Mugs and Pikachu Christmas Plush Toys.
Terms and conditions apply to these redemptions.
---
Glamping & Workshops
Other activities taking place at Jewel Changi Airport during the year-end school holidays include glamp-cations, overnight stays at Changi Experience Studio and workshops, including a visit to the Changi Airport Emergency Services.
Find out more about what's on at A Sparkling Christmas At Jewel here.