For a memorable experience during the year-end school holidays, how about going glamping at Jewel Changi Airport and experiencing an overnight stay under the stars?
Changi Airport is offering not one, not two but three glamping experiences at Jewel in November and December 2020. Haven't planned your staycation yet? Then how about glamp-cation at Changi Airport instead?
---
Glamping at Changi Airport, Jewel
1. Glamping in the Clouds and at Shiseido Forest Valley
Fall asleep under the stars at Jewel and wake up to the view of the HSBC Rain Vortex. You can go glamping in air-conditioned comfort while imagining you are on an outdoor adventure.
The Glamp-cation in the Clouds package will see you spend then night on Cloud9 at level 5 of Jewel Changi Airport. Available from 20 November 2020 to 3 January 2021, the check-in time is at 7 pm and check-out is 10 am the next morning. The glamp tents come with a queen size bed. An additional single bed can be added on if there are more than two guests.
There are also other complimentary perks such as Changi Experience Studio tickets, Canopy Park tickets and a Jurassic Mile Dino Plush Toy.
Rates range from $288 to $360 per tent.
An alternative to the glamping at Cloud9 is to stay at Shiseido Forest Valley. Check-in time is at 11.30 pm and check out is at 9 am.
---
2. A Night At the Airport – 2D1N Family Camp + Play and Sleepover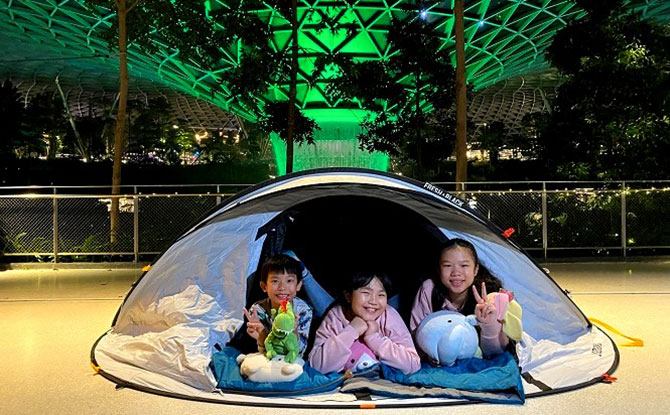 We've all heard of a night at the museum. How about a night at the airport?
The Changi Experience Studio will be turned into a camp ground for a magical sleepover for families.
Included in the camp programme are visits to Changi Airport's firefighter and nursery. There will also be craft workshops.
A Night at the Airport Family Camp takes place from 22 November to 20 December 2020 with the start of camp days being Wednesdays, Fridays and Sundays. The camp is recommended for families with children between 6 to 12 years old.
Standard prices are $160 per adult and $130 per child.
Alternatively, families can enjoy a Play and Sleepover package at Changi Experience Studio. This allows families to spend a day out at Jewel Changi Airport before winding down for the night at Changi Experience Studio.
The Play and Sleepover package runs from 21 November to 21 December with Day 1 of stays being Mondays, Tuesdays, Thursdays and Saturdays. Standard Rates are $60 for adults and $48 for kids.
---
3. Glam-picnic in the Clouds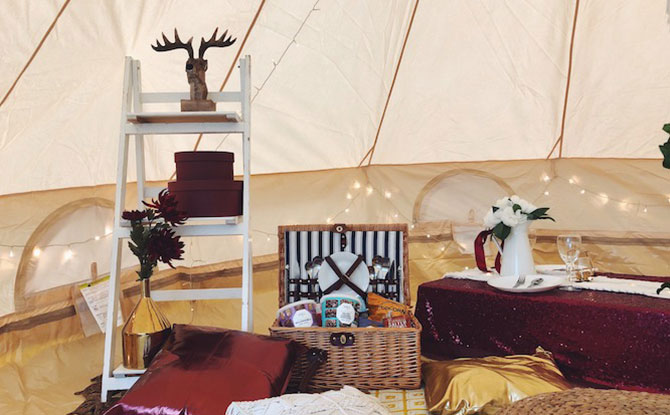 Those who don't wish to stay overnight can also book a glamp picnic tent during the day. You can bring your own spread and enjoy the surroundings of the tent at Cloud9 Piazza.
There are two three-hour slots per day, one from 11.15 pm to 2.15 pm and another from 3 pm to 6 pm.
The four-metre tent can accommodate up to five persons. There are also add-on options for portable speakers and card games.
Rates for booking a glam-tent for three hours are $160 from Monday to Thursday, and $180 for Fridays to Sundays, eve of Public Holidays and Public Holidays.
Get more details about glamping at Changi Airport Jewel and more here.