Sunset Way at Clementi might not be the first place to come to mind when looking for places to hang out when in the west, but many will be surprised to discover just how many restaurants, stores and cafes there are in the area. Recently, this includes three Sunset Way Gelato Cafes.
One food type that can't go wrong when looking for a treat when hanging out with your friends is ice cream or gelato. On our recent visit to the west, we headed down to try some Sunset Way gelato cafes. The three places we decided to try were: Dawn's Gelataria, Hundred Acres Creamery and Burnt Cones.
---
Sunset Way Gelato Cafes
Dawn's Gelataria
Serving up some delicious food alongside yummy gelato is Sunset Way's newest gelato place. With both indoor and outdoor seating, this is a great place to stop by for a meal and dessert.
---
-- Story continues below --
Their lunch menu includes dishes such as Garlic Butter Pork, Daddy's Snapper Fish and Chips, as well as Beef Rigatoni. We were pleasantly surprised by the quality of the food in this café and enjoyed how flavourful and well-seasoned the different dishes were.
When it comes to gelato, diners can choose from any one of their 18 rotating flavours that are available. Flavour include Mango Sorbet, Valrhona Chocolate and other interesting flavours such as Ondeh Ondeh. We tried the Raspberry Stracciatella and Triple Ganache Brownie Ice Cream.
We appreciated the option to mix two flavours in a single scoop. The gelato had a good, creamy and thick texture. The combination of flavours we got went well together making it a creamy, fruity and chocolaty treat.
Address: 106 Clementi Street 12, #01-38, Singapore 120106
---
Hundred Acres Creamery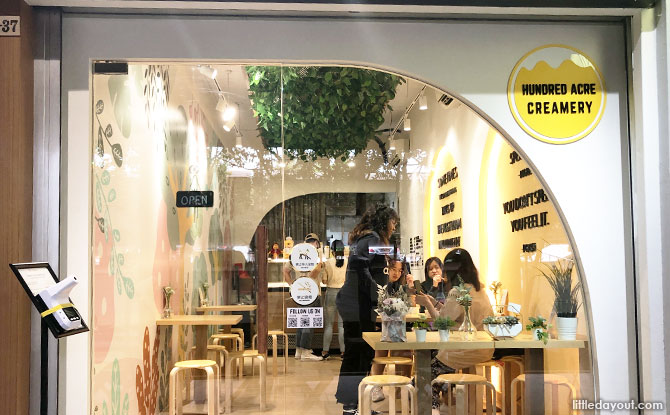 Inspired by the well-loved character Winnie The Pooh, this hundred-acre wood themed ice cream café welcomes all diners with its cheerful yellow lights and happy wall art that hangs within the café. Other than ice cream, Hundred Acre Creamery also serve desserts as well as freshly brewed Vietnamese coffee.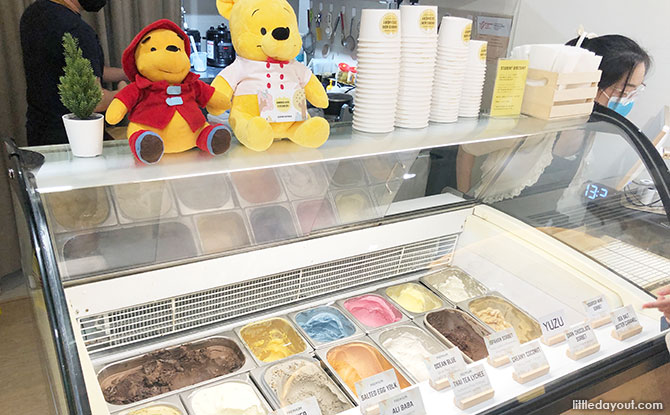 When it comes to ice cream flavours, some of their best selling ice creams include Honey Chrysanthemum & Cacao Nibs, Mao Shan Wang Durian, and Ispahan Sorbet, which is a mix of Rose, Lychee and Raspberry. For the adventurous, they can also consider newer and more unusual flavours such as Ali Baba (Black & White Sesame) and Ocean Blue (Blue Pea, White Chocolate & Nori).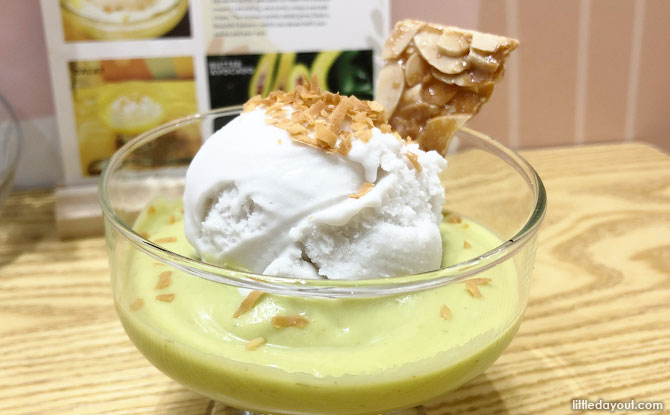 We decided to go with a dessert dish, Dalat. Made with their premium vegan coconut sorbet ice cream, avocado cream and topping, this dessert was recreated and inspired by the Vietnamese dessert, Dalat.
The avocado cream is made with imported butter avocados giving it an ultra-smooth, creamy yet refreshing taste. Other dessert options include a coco affogato which is a combination between creamy coconut sorbet and fragrant Vietnamese black coffee,
Address: 109 Clementi Street 11 #01-37 Singapore 120109 
---
Burnt Cones
Open from early till late, Burnt Cones is a great spot to head to no matter the time of day. With its industrial chic interior design, this minimalist space is decorated to make taking that #instagramable picture easy to fit any feed.
As the name suggests, Burnt Cones offers various gelatos as well as three levels of "burnt cones": regular, slightly burnt and burnt. It also offers freshly roasted coffee made from single-origin coffee beans and roasted locally by a micro-roastery. Food items on the menu consists of sweet options such as buttermilk waffles and savoury bites such as sourdough bread sandwiches and breakfast burgers.
Their gelato flavours include artisanal flavours such as Black Sesame, Mango Passionfruit and Madagascar vanilla. Interesting flavours that stood out to us included Kaya Chendol and Strawberry Basil. The best sellers are Pistachio and the 85% Dark Chocolate.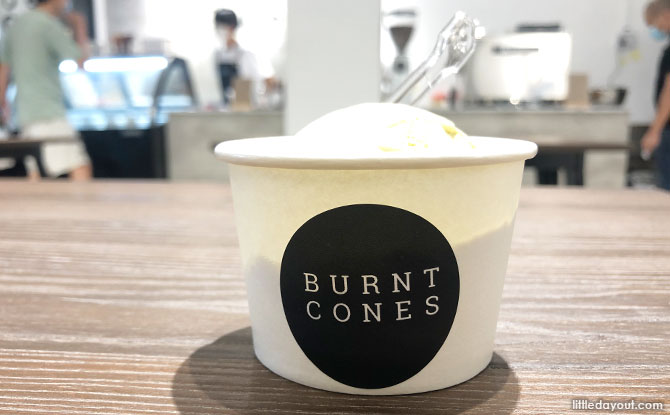 We tried a single scoop of their Pistachio ice cream as well as a Burnt Cone with Ube (purple Sweet potato) ice cream. The pistachio ice cream had a smooth texture and nutty taste without it being too sweet. We really enjoyed the sweet and creamy Ube ice cream that went well with the crispy and slightly bitter burnt waffle cone and will be back for another scoop.
Address: 105 Clementi Street 12, #01-02, Singapore 120105
---
Our Verdict
Of the three Sunset Way gelato places that we visited, the one that stood out to us the most was Dawn's Gelataria. We see ourselves heading back for the affordable quality gelato as well as the variety of mains and drinks. 
Hundred Acres Creamery will suit those who appreciate a nice Vietnamese coffee to pair with their ice cream. We would also return to Burnt Cones to give their food a try and definitely recommend having their gelato in a burnt cone.