Visiting Kyoto with kids? Planning a family holiday to Japan's cultural capital sometime soon?
A holiday in Kyoto with children can provide a wide variety of experiences. Japan's former capital offers everything from cultural sights to nature spots to animals. There is plenty to see and experience when in Kyoto.
Here are some suggestions on what to do when visiting Kyoto with kids on a family holiday.
Visiting Kyoto with Kids
---
Kiyomizu-dera Temple
Kyoto is a city with more than 1,600 temples. You could easily spend a lifetime visiting each and every one of them. However, if you don't have quite so much time, our suggestion is to visit Kiyomizu-dera Temple. Located in the wooded, hilly area in eastern Kyoto, the temple is a UNESCO World Heritage Site.
---
-- Story continues below --
Kiyomizu-dera Temple is most well-known for its wooden stage which protrudes from the main hall and hangs 13 metres above ground.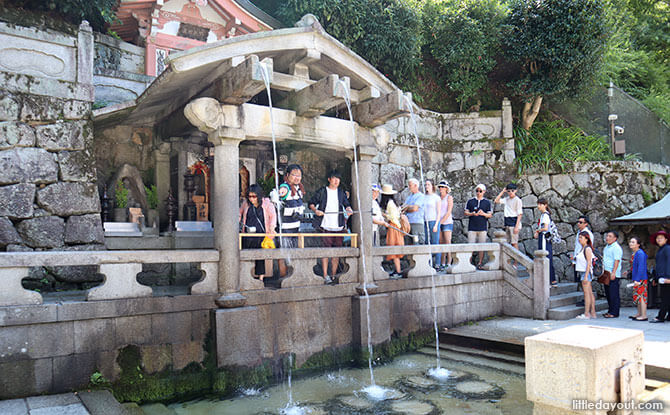 At the bottom of the main hall is the Otowa Waterfall where its waters are divided into three streams. Each stream is said to bestow a different benefit – longevity, success and love.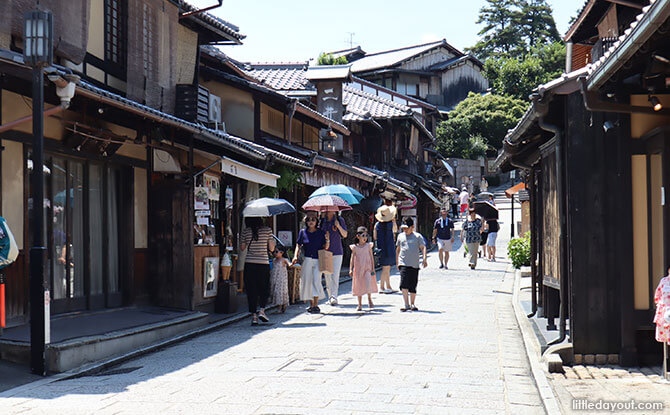 The way to the temple leads past the historic Higashiyama district where there are shops and restaurants to view. You can also pay a visit to the picturesque, shop-lined Ninen-zaka slopes and even rent a kimono for an "immersive" experience. It all adds to the fun for families in Kyoto with kids.
---
Fushimi Inari Shrine
Famous for the thousands of red torii gates which stretch up the mountain, Fushimi Inari is a Shinto shrine dedicated to Inari, the god of rice.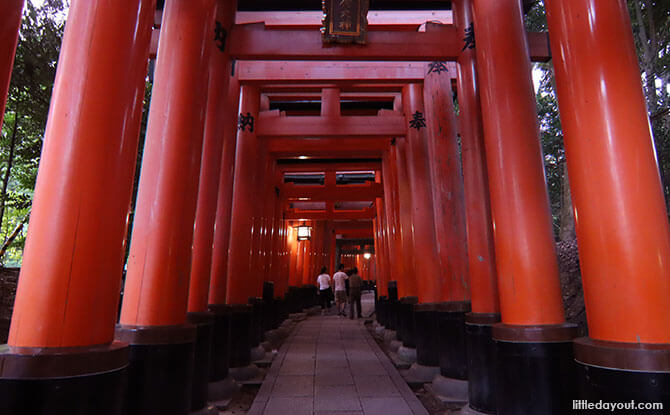 Each torii gate was donated by an individual or a company. Besides visiting the shrine, most come here to hike up the mountain. A round trip will take around two to three hours.
If you want to see more temples and shrines in Kyoto, other famous ones include the Kinkakuji (Golden Pavilion) in northern Kyoto and Ginkakuji (Silver Pavilion) in eastern Kyoto. However, when visiting Kyoto with kids, you may wish to be mindful whether the children will be able to enjoy the visits to the many temples and shrines.
---
Arashiyama
Arashiyama is a charming district to the west of central Kyoto. Here, you can take a walk through the iconic towering bamboo forest and admire the picturesque town.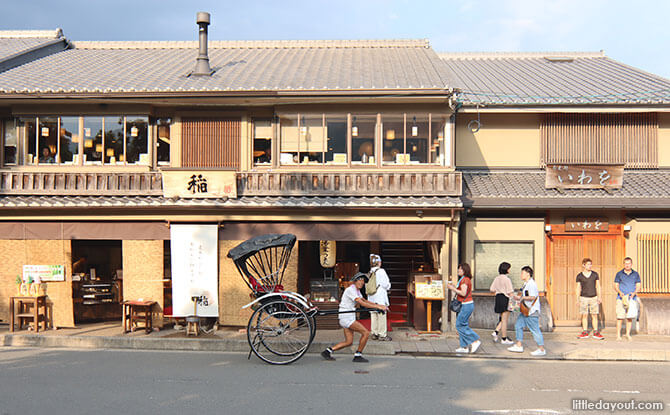 Around Arashiyama, one of the places that will fascinate kids is Monkey Park Iwatayama, where hundreds of monkeys roam freely. There is also the Saga Scenic Railway, a 25-minutes ride along the Hozu River. This can be paired with a Hozu River Boat Tour for the return journey.
---
Kyoto Gyoen National Garden & Kyoto Imperial Palace
Kyoto Gyoen is the green lung of central Kyoto. Approximately 1.3 km north to south and 0.7 km east to west, the gardens provide an accessible recreational space for anyone to enjoy. It is a nice garden to visit if you wish to escape away from the rounds of temple and shrine visits and experience nature without having to venture too far out from the city.
The Kyoto Imperial Palace is found within Kyoto Gyoen National Garden. This historic complex was once the home of Japan's emperors until the capital was moved from Kyoto to Tokyo in the 1800s after the Meiji Restoration. Nowadays, you can enter the walled compound where Japan's emperors once lived to view the ornate palace buildings. Best of all, admission is free.
Pack a light meal and enjoy the verdant gardens and historic sights. There is even a small children's playground in the northwest corner of the Gardens.
---
Gion District, Nishiki Market & Terramachi and Shinkyogoku Shopping Arcades
When it comes to shopping, pay a visit to the Gion district, the main shopping area with big name shops like Daimaru and Takashimaya.
However, be sure to also pay a visit to Nishiki Market and the Terramachi and Shinkyogoku Shopping Streets, which are also nearby and close to one another.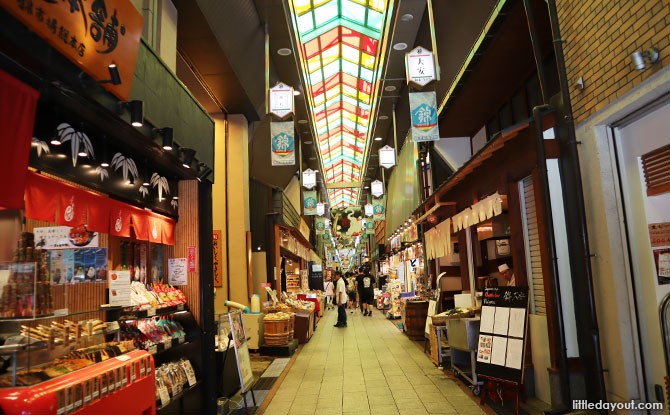 Nishiki Market's nickname is "Kyoto's pantry". It is Kyoto's largest traditional food market and provides a way to experience a traditional shopping street. The market has been around for a couple of centuries and nowadays has a mix of produce and touristy shops.
Terramachi and Shinkyogoku are the heart of Kyoto's shopping district. They are good places to browse and shop for something to bring home as a souvenir, or for a spot of personal shopping. There is plenty to see, which should also come in useful to keep kids happy.
Nishiki Market, Terramachi and Shinkyogoku are all covered, which makes this a great place to spend a rainy day in Kyoto.
---
Kyoto Railway Museum
Get an interactive look into the world of trains, trains and more trains at Kyoto Railway Museum. This kid-friendly museum covers everything to do with trains – from old steam engines to modern bullet trains.
There are tons of interactive exhibits to twiddle and play around with. Have hands-on fun while viewing how railway systems work, try driving model trains or get behind the wheel of a train simulator.
Families can even pay a visit to a roundhouse where old steam locomotives are housed. The Kyoto Railway Museum is a recommended attraction to visit when in Kyoto with kids.
The Kyoto Railway Museum is located at Umekoji-koen Park, which has a fun children's playground too.
---
Kyoto Aquarium
Kyoto Aquarium is located in Umekoji-koen Park, at the opposite end of the park from the Kyoto Railway Museum.
Even though Kyoto is located inland, 50 km away from the sea, and the Osaka Aquarium is much more well-known, the Kyoto Aquarium is quite a nice attraction to visit too.
Inside, there is plenty to see. Giant salamanders greet visitors to the aquarium and there are also plenty of tanks of marine life. The Kyoto Aquarium is also home to seals and penguins. It also has a dolphin stadium where aquarium-goers can view these marine mammals.
Another place to view animals in Kyoto is the Kyoto City Zoo. This is a municipal zoo and the second oldest after Tokyo's Ueno Zoo. The animals at the zoo include zebras, gorillas, big cats and others.
We enjoy the raised platform that you can use to view the giraffes at eye-level but, other than that, many of the animals are still housed in old-style cages and it isn't quite a "national" level zoo. We would only suggest visiting the Kyoto City Zoo if the kids are really cranky and you desperately need a backup plan.
---
Nara Deer Park
Nara is a short 30-minute train ride away from Kyoto and well-worth it to view the deer at Nara Deer Park when in Kyoto with kids. These free-ranging deer can be found all over Nara and are quite tame. You can also buy deer crackers – food to feed the deer. They are more than used to visitors coming up to them and are sure to delight children. The only time they may become aggressive is if you don't feed them fast enough!
We hope that these recommendations help you plan your trip to Kyoto with kids and have a great time in a great, historic city.