Located in Umekoji Park, the Kyoto Aquarium is a modern aquarium where visitors can view a diverse variety of marine life.
Rivers of Kyoto
Inside, one of the first few exhibits at the Kyoto Aquarium is based on the Kyoto river system. Here, the star exhibit is the Japanese giant salamander.
These amazing creatures can be found in the streams and waterways of southwest Japan and can grow up to the length of 1.5 metres. At the Kyoto Aquarium, visitors can get a close-up view of these creatures, the second largest species of salamanders.
Seals and Penguins
From here, head outdoor to view fur seals at an outdoor enclosure. You can also view earless seals in a tubular pool nearby.
Kyoto Aquarium also has outdoor penguin exhibit, the Penguin Skywalk. On display amongst a rocky landscape are cape penguins, natives of southern African.
Aquatic Life
One of the most impressive exhibits in the aquarium is the Sea of Kyoto. This spectacular indoor tank showcases the rich marine life found in the sea of Japan. There are Japanese pilchards, tilefish and other aquatic creatures.
From the dramatic sight of the underwater environment, get a more intimate look at the marine life found around the coral reef.
These include garden eels and clownfish. Wall-mounted tanks allow visitors to get an up close look at the animals.
Other exhibits at the Kyoto Aquarium includes displays of sea jellies which can be found in the seas near Kyoto. There is also a display of crustaceans like crabs and lobsters.
Dolphins at Kyoto Aquarium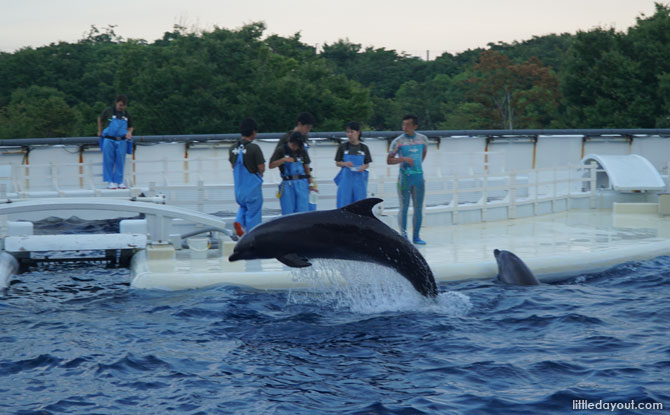 At Kyoto Aquarium's open-air Dolphin Stadium, you can view the aquarium's bottlenose dolphins.
The last section of the aquarium is an outdoor area known as the Countryside of Kyoto. This area is sculpted to be reminiscent of rice terraces. It is designed to blend in with the rest of Umekoji Park.
Family Attraction
The Kyoto Aquarium is a nice and modern attraction in Kyoto. Popular with families, it is located within the same park as the Kyoto Railway Museum.
Kyoto Aquarium
Where: 35-1 Kankijicho Kyoto Shimogyo-ku, Kyoto 600-8835 (inside Umekoji Park)
Website