The Grandstand along Bukit Timah is touted to be a new lifestyle hub.
Currently being transformed from its old persona, Turf City, its metamorphosis is expected to be complete by the fourth quarter of 2012.
To set your expectations, renovations are currently still ongoing. There appears to be much work to be done on the upper floors in particular while on the first and second floors, many retail spaces have yet to see the tenants move in.
On the positive side, the renovations are giving the old building a much needed refresh and update. The glass shopfront looks more inviting and common spaces seem to be shaking off the feel of the old Turf Club.
Of course, the building has never been empty. Throughout this time, old stalwarts such as Giant and Ah Yat Seafood have continued operating at The Grandstand, despite the renovations.
More recently, some fresh, new establishments have also joined the neighbourhood and Little Day Out takes a look around The Grandstand to find out what parents and families can expect to find there.
Trendy New Eateries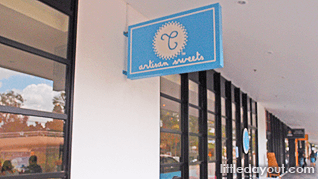 Artisan Sweets, formerly from Holland Grove Road, has opened up at Grandstand. Their new shop still stocks delectable looking pastries and macaroons and now has an area for patrons to sit down and enjoy them on the premise as well. A few doors down, Latte e Miele, a trendy looking establishment, offers up gelatos. With a small indoor children's play area, even parents can enjoy the gelatos while the kids are kept occupied for a while.
More Family-Friendly Dining Options
Families now have wider choice of comfortable eating places for a meal together. Whereas budget eats at Turf City were mainly open-air eateries, there is now Let's Eat!, an air-conditioned indoor food court, and the Good Morning Nanyang Café. At the mid-tier, Jack's Place has opened up and is currently offering a kids menu that starts from $5.50. Over at the Hansang Korean Restaurant, there are even kiddy rides inside the restaurant.
Shopping…Well Maybe Not Yet
When we visited, most retail spaces had yet to be filled. On the fifth floor, there is an interesting needlecraft shop though, San Marinos. It sells wool and yarn, and also has little project craft packages. More suitable for older children, these kits contain all that is needed to get kids started on small fluffy toys, pompoms and friendship bracelets.
Indoor Playgrounds
On the fourth floor, Fidgets, a long time tenant, has a decent sized play area, café and birthday rooms. It currently feels very isolated due to the renovations going on all around it but at $15 for unlimited play, it offers reasonable value. Kiddy Fun is the other newer indoor playground at Grandstand. Designed with younger children in mind, its soft pastel colours, bright play area and mechanical rides make it more suitable for toddlers.
Enrichment Centres
On the higher floors, together with old-time tenants GIMSports, The LPN Art School and Art Boot Camp, two new establishments have also recently moved in. Magic Fiddler, a music school with multiple locations, has opened up a branch at The Grandstand. Other than the usual violin and piano courses, the school also offers musical birthday party packages. My Kid's Spa, a new establishment setup by a group of mothers, offers classes and sessions where parents can bond with their children through therapeutic massage.