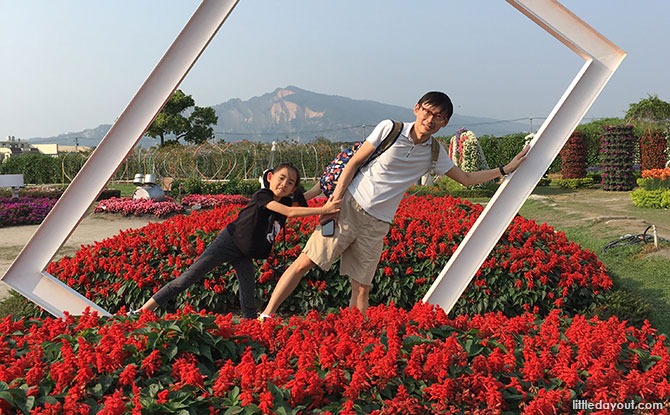 Ten years ago, my husband and I visited Taipei, Taiwan and fell in love with the people and the experience. So we were really happy to be able to introduce this city to our almost eight-year-old in a recent trip. This time round, instead of just exploring Taipei, we made day trips out as well. If you're thinking about where to go for your next holiday, Taipei with kids is definitely a good idea!
The Right Arrangements Make All The Difference – Thank You, Klook! 
Our trip got off to a good start at the Taoyuan International Airport, where a Klook coordinator was already waiting to link us to our airport transfer. The discounted price offered meant that it cost less than taking a taxi. 
Before getting on the car, we collected the 4G Pocket WiFi that we had booked on Klook, which gave us unlimited data everywhere in Taiwan at a very good deal! Just remember to bring a power bank as the device only has eight hours of battery life.
---
Enjoy BIG Savings with Klook's Summer Sale!
Klook is having a Summer Sale with up to 10% off Klook activities from 3 May to 30 June 2019. The promo codes for the Klook Summer Sale are:
---
-- Story continues below --
for 8% off Klook activities, min spend $150
for 10% off Klook activities, min spend $400
Get the full details on how you can ENJOY SAVINGS on your holiday here.
---
Taipei with Kids: Six Days, Five Nights Of Family Fun
With the details sorted out, we were all set for a fun and memorable trip!  
As we had only six days in Taiwan, we decided to make Taipei our base and take day trips out to other cities.
---
Day 1: Xinyi District & Taipei 101
SiSi Nan Cun (

Forty Four South Village)

 
Our first day in Taipei was spent in the Xinyi District, where Taipei 101 is located. We started our exploration at SiSi Nan Cun, or Forty Four South Village, a military dependents' village that has been conserved and repurposed as an arts and cultural centre.
The place exuded a hip, casual vibe. We were drawn to the weekend flea market offering interesting buys ranging from handmade jewellery to indie designer socks, artisanal cakes and even turmeric powder!  
To escape from the drizzle, we roamed indoors and discovered a maze of cool cafes, a retail shop with more hipster buys (we were tempted by a beautifully packaged jar of goose fat), exhibition areas and an indoor bazaar.
You can still get a glimpse of the villagers' lifestyle at a museum in the compound.
Taipei 101 Observatory
From SiSi Nan Cun, it was just a short walk to Taipei 101.  
When in Taipei with kids, visiting Taipei 101 is a must. At 508 metres tall and shaped like a gigantic stalk of bamboo, the skyscraper is the most iconic symbol of Taipei, and almost impossible to miss from every angle.
We had booked tickets to the observatory via Klook for the 6pm timeslot. With the huge crowd at the Taipei 101 Observatory, we were glad that we had booked our tickets beforehand.  
Our adventure started even before we got to the viewing gallery. Taipei 101 has one of the fastest elevators in the world – we reached the 89th storey in just 37 seconds!
We had intended to catch the sunset view, but because of the rainy weather, it was already dark when we got up. The Taipei night sky had its own charm too, as we discovered.
Make sure you see the 660-tonne wind damper, the only one in the world to be opened for public viewing. It's the reason why you don't feel the building swaying when you're at the top floors!
Eslite Bookstore, Xinyi District
The other must-visit in the Xinyi District is Eslite, the largest bookstore in Taiwan. Although it calls itself a bookstore, it's actually a lifestyle establishment retailing everything from books to apparel, food and home furnishing items! 
The Xinyi outlet is 8,000 square metres big and six storeys tall, with two basement levels. On the fifth level is the children's section, where kids go wild at the selection of books and DIY projects to do! Definitely worth a visit when in Taipei with kids!
---
Day 2: Maokong, Taipei Zoo, Taipei Sightseeing Double Decker Night Bus Tour
Maokong
On our second day, we experienced the quaint Maokong village located on a mountaintop, known for its tea plantations, many teahouses and scenic views of Taipei.  
Much of the fun in visiting Maokong is in taking the gondola up. From the lowest point at the Taipei Zoo stop to the highest point at the Maokong stop, the ride takes about 30 minutes and offers panoramic views throughout.
You can choose to ride in an ordinary cable car or a glass-bottomed one. Both cost the same, but you'll have to wait longer for the latter as there are fewer of them.
Since we had booked return tickets on Klook, we planned to take the gondola all the way up to the Maokong Station, and ride it down to the Taipei Zoo South Station later to visit the Taipei Zoo.
Taipei Zoo
At 165 hectares, the Taipei Zoo is one of the largest zoos in Asia. It is beautifully designed and landscaped, with well marked-out display areas classified according to regions or animal types.
Our daughter's favourite display area was probably the 'Children's Zoo'. There were quite a few interactive exhibits to engage kids there, not to mention cute animals such as llamas, alpacas and meerkats!
The pandas of the Taipei Zoo are accorded almost celebrity status. They're so popular, you have to get a ticket and then queue up to see them!
All too soon, it was 5pm – closing hour at the Taipei Zoo.
Taipei Sightseeing Double Decker Night Bus Tour
Now for some sightseeing – without any walking! 
When we booked our Maokong Gondola tickets on Klook, it was a combo deal that included tickets to the Taipei Sightseeing double decker bus, which allowed us to hop on and off from 5 pm to 9 pm.
On the bus, we rode past the beautifully lit-up Presidential Office and other Taipei landmarks, such as the Taipei 101 and National Chiang Kai-shek Memorial Hall.
---
Day 3: Day Tour with Pineapple Pastry Making & Shilin Night Market
Shifen, Jiufen, Yehliu Geopark Day Tour with Taiwanese Pineapple Pastry Making

 
For our third day, we had booked a Shifen, Jiufen and Yehliu Geopark day tour via Klook, which included a hands-on Taiwanese pineapple pastry-making session. 
We appreciated how our guide spoke in both English and Mandarin – a relief for my Mandarin-weak daughter and husband!
Our Shifen experience centred around the releasing of sky lanterns, which are symbols of hope. Before we could release our lantern, we had to "design" it. Our little one, in a moment of genius, said, "Why don't we write 步步高升?", a Chinese greeting that wishes its recipients success in rising up the ranks at work. Perfect!
As we let go of the lit-up lantern, it lifted into the sky and floated up, up and away.
Next destination: Jiufen. 
According to our guide, legend has it that nine families used to live in this village within hills. Every time a family made the long trip downhill, it would always divide its purchases into nine portions – pronounced "jiu fen" in Mandarin – one for each household. Hence the name.
Today, Jiufen is a pretty tourist attraction with delicious local street food, teahouses and souvenir shops lining its famous old street.
There are many food choices at Jiufen. Some of those that we tried included the award-winning A-Gan Yi Taro Balls, the Ah Lan Hakka Glutinous Rice Cake and the famous A-Zhu Peanut Ice Cream Roll. But our favourite street eat was grilled sea snails with five spice powder. Even our little one liked this snack!
Our next stop, Yehliu Geopark, is such a beauty, our allotted one-hour there didn't do it justice. Located along the Yehliu cape on the north coast of Taiwan, its claim to fame is the large number of rock formations shaped by wind and water erosion.
The most renowned rock at the geopark is 'Queen's Head', called so because it resembles the head of Queen Elizabeth II that we see on British coins – but only when viewed from the right angle.
Besides the Queen's Head, there are many other interesting rock formations at Yehliu Geopark, such as 'Candle Rock', 'Fairy's Shoe', and even 'Ice Cream Rock' and 'BBQ Drumstick'! Children will be utterly intrigued!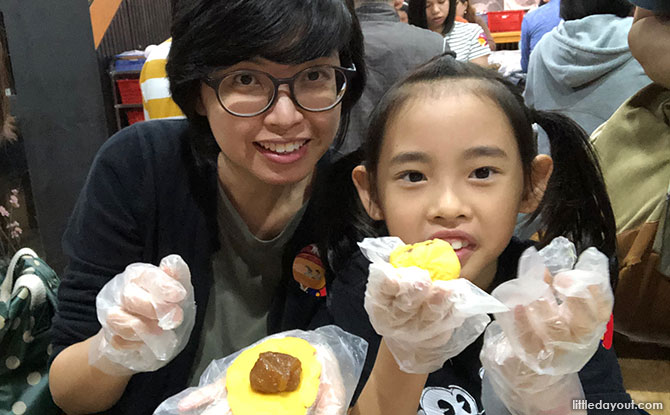 Our last activity, Taiwanese pineapple pastry making, was held at the Shu Shin Bou Wagashi Museum. Instructions were given in Mandarin while the demonstration was cast live on a big screen. Thankfully, our guide translated for our tour group.
Our task was to stuff the filling into the dough and shape the final product into a square. Not easy, by the way — especially for baking novices like us 
When we got back to Taipei, it was already dark – just right for our adventure to Shilin Night Market!
Shilin Night Market
If it's your first trip to Taipei with kids, you should definitely visit the Shilin Night Market. The mother of all Taiwanese night markets is an imposing maze of local street food, old school carnival games, fashion apparel and cheap souvenir shops.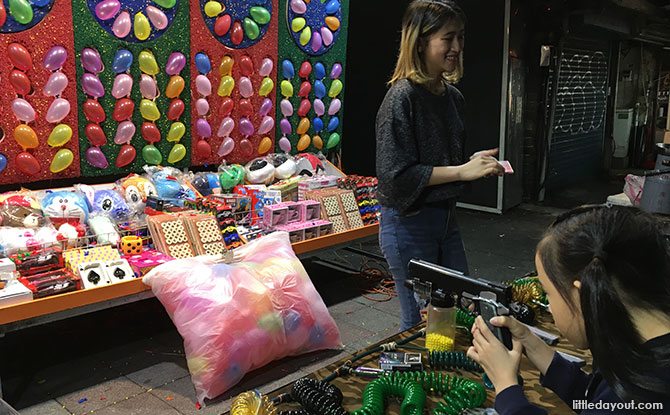 Our foodie child was happy to try all sorts of street eats, but it was the old-school games that really intrigued her.
For the adults, we were satisfied with our torched angus beef cubes, Michelin Bib Gourmand-winning vermicelli, barbecued squid and grilled king oyster mushrooms.
You can even catch your own prawns and have them cooked on the spot for you! Talk about freshness!
---
Day 4: Day Trip to Taichung and Exploring Taipei's Yongkang Street

 

 
Taipei with kids gets more interesting when you take day trips out. The Taiwan High Speed Rail (THSR) is relatively inexpensive and gets you from city to city quickly. 
Having booked our HSR tickets to Taichung and back via Klook, we enjoyed a discount of about 25%! It took us just about an hour to travel to Taichung, in a most comfortable manner. Leg space was good, and the carriage was spacious and clean.
Upon reaching the Taichung High Speed Rail Station, we easily found our private sightseeing car driver, whose service we had booked on Klook as well. We liked how we had the option to create our own itinerary, which enabled us to visit some of the less well-covered places.
Rainbow Village
Our first stop was Rainbow Village. This highly popular attraction is a symbol of perseverance and positivity, attracting many tourists.
The person who made this village famous, Rainbow Grandpa, is an army veteran who followed Chiang Kai-shek to Taiwan after the Kuomintang's defeat. He was housed at the village, together with other army personnel.
The housing settlement was meant to be demolished, but Rainbow Grandpa's colourful paintings attracted the government's attention and led to the decision to preserve the village.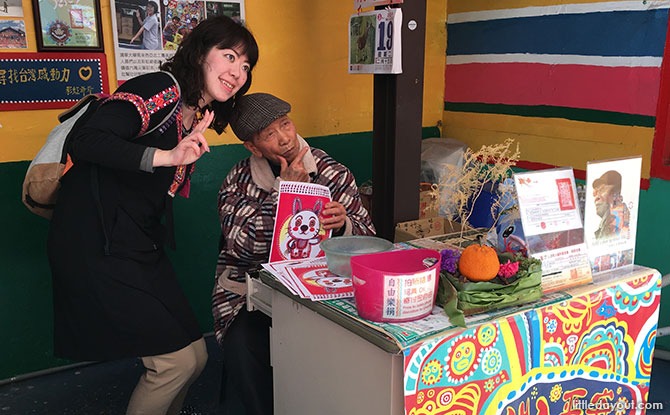 Now 97 years old, Rainbow Grandpa still interacts with visitors and poses for photos with them, in exchange for a freewill donation to the Rainbow Village.
Chun Shui Tang
Lunch was at Chun Shui Tang, the teahouse that claims to have invented bubble tea. Needless to say, we ordered the Pearl Milk Tea and it was so good! 
Totoro Bus Stop
After lunch, it was time to do some Totoro hunting!  
We had read about a quirky attraction in the form of a bus stop that referenced a scene in 'My Neighbour Totoro', an acclaimed fantasy film by Hayao Miyazaki and animated by Studio Gibli. We thought it would be fun to stop by this bus stop to see it for ourselves.
Built along the road by the owner of an interior design company, the bus stop looked every bit like a functioning one. The artist must have been a super fan of Miyazaki, as he added the No-Face character from the director's other famous film, 'Spirited Away', to the scene!
Would the Catbus come by if we waited long enough? We wouldn't know, as we had to leave for our next adventure.
Changhua Railway Roundhouse
A train engine was roaring to life as we entered the Changhua Railway Roundhouse, one of only three operational ones remaining in the world. The other two are located in Mexico. 
We were fortunate to see, up-close, a locomotive getting onto the giant turntable from its service bay and being manually turned to the intended direction.
Zhongshe Flower Market
After the choo choo trains, we switched mode to flower appreciation at the Zhongshe Flower Market.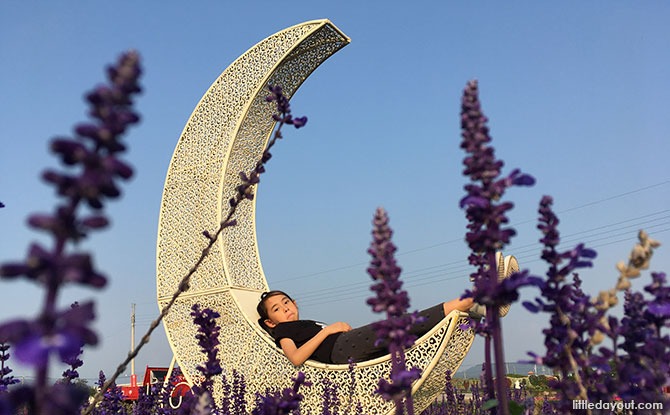 What makes Zhongshe Flower Market popular is its Instagram factor, with props set up among fields and fields of flowers for photo opportunities. We had fun taking whimsical shots of our daughter relaxing on a crescent, playing the grand piano, plucking at the harp… the list goes on.
Back in Taipei and to Yongkang Street
A quick THSR ride, and we were back in Taipei.  
Whether you're visiting Taipei with kids or without, you should have a meal at Yongkang Street at least once. It's THE food street in Taipei, with the world-famous Din Tai Fung right at the start and CNN-award winning shaved ice store Smoothie House somewhere near the end. 
In between, and on neighbouring streets, there are countless restaurants, cafes, and retail shops, calling out to tourists and locals alike.
---
Day 5: Leofoo Village Theme Park
Our fifth day was reserved for theme park fun – with a twist. Leofoo Village Theme Park is an amusement park, water park and safari zoo in one, located outside of Taipei in Hsinchu!  
Theme park tickets generally don't come cheap. But we booked ours on Klook, and enjoyed nearly 50% off the admission price!
Adrenaline junkies will love this place for rides such as the U-shaped suspension roller coaster (the only one in Asia) that goes up to 122km/h, the looped coaster that does 360-degree spins and the largest Viking ship in Taiwan.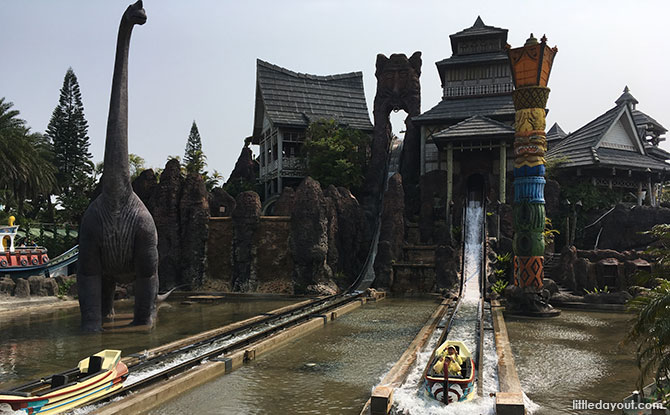 We enjoyed the Jurassic-themed ride…
…and the Grand Canyon rapids-themed one where bystanders can shoot water canons at the riders!
There are more than 30 rides, including mild ones suitable for littler children, at Leofoo Village Theme Park. You can also participate in fun non-ride activities, and catch scheduled performances throughout the day.
Over at the safari side, the zone starts out with a petting zoo and progresses on to herbivorous inhabitants such as the rhinoceros, bison and antelope via a vintage steam train ride.
To see the carnivorous animals, we took a special bus that brought us within close proximity of free-roaming lions, tigers and bears.
We ended our day at the theme park peddling leisurely along an elevated track circling the top of the primate sanctuary.
---
Day 6: Yangmingshan National Park
Too soon, it was the last day of our holiday. 
Yangmingshan National Park is where you can enjoy nature in Taipei with kids. Spanning 114 sq km, it is accessible from downtown and offers many wondrous experiences in the great mountainous outdoors.
We would have managed to explore more if we had booked seats on the Yangmingshan shuttle bus from Ximen via Klook, but the service was not available for this particular day.
Nonetheless, we caught the last of the cherry blossoms at Yangming Park, admired the quiet beauty of calla lilies at Bamboo Lake and saw majestic furamoles – vents on mountain-sides that release sulphuric gas – in action at Xiaoyoukeng.
The Yangmingshan experience was a great way to wrap up our Taipei holiday.
It had been an unforgettable six days.
There was one last thing to do: collect the award-winning Chia Te Bakery pineapple cakes that we ordered on Klook at the airport! Our parents would be pleased with these gifts.
Book Your Tickets with Klook
We booked our transport, pocket WiFi and attraction tickets through online travel platform Klook. Here are the links to the various items we booked and visited.
---
Enjoy BIG Savings with Klook's Summer Sale!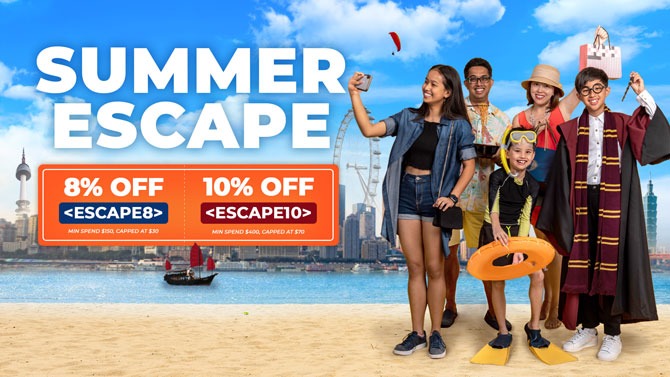 Klook is having a Summer Sale with up to 10% off Klook activities from 3 May to 30 June 2019. The promo codes for the Klook Summer Sale are:
for 8% off Klook activities, min spend $150
for 10% off Klook activities, min spend $400
Get the full details on how you can ENJOY SAVINGS on your holiday here.
This feature is brought to you in collaboration with Klook. It contains affiliate links.