This National Day, Sunday Catering is putting a contemporary spin on our local recipes and bringing uniquely Singapore flavours with favourite premium ingredients for diners to enjoy a gastronomic National Day feast. With dishes such as Rendang Roasted Rack of Lamb, Roasted Fine Beans with XO Sauce; and the Butterfly Pea Nasi Lemak, here's our review of Sunday Catering's National Day Special Menu!
---
Sunday Catering's National Day Special Menu
Rendang Roasted Rack of Lamb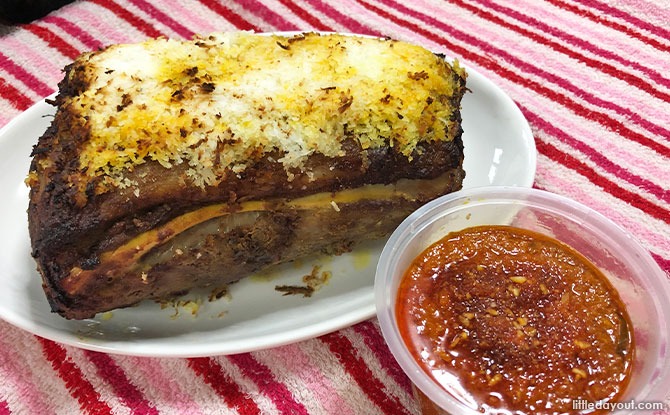 A contemporary Singaporean take on a traditional roast, Sunday Catering combines their speciality of slow-roasted meats with this favourite local dish. The Rendang Roasted Rack of Lamb is extravagantly fragrant, with a rempah of spices and herbs such as lemongrass and ginger melding together with coconut milk.
Like the traditional rendang, this rack of lamb is a time-consuming dish to make, but the result is sure to delight and satisfy. The Rendang Roasted Rack of Lamb can also be accompanied by their special house-made Rendang Sauce, which gives the meat an extra boost of flavour.
---
-- Story continues below --
We enjoyed the fragrant rendang spices and rich coconut milk on top of the fresh coconut shavings. The dish was very decadent and should definitely be shared and paired with something lighter such as plain rice. However, the rendang sauce gave an extra layer of nuttiness to the tender and fatty meat.
---
Premium Satay Platter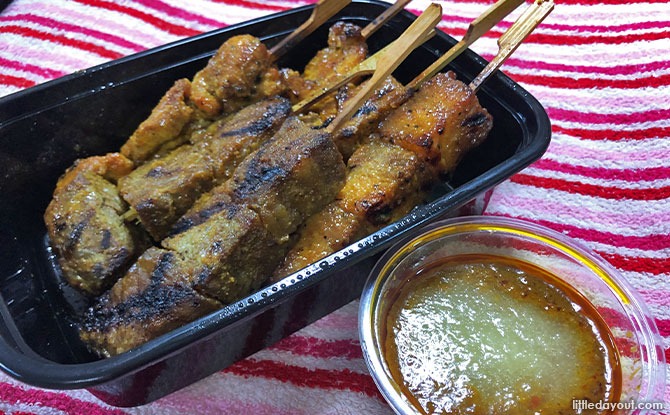 Many will be familiar with this supper favourite, and Sunday Catering elevates this humble dish with premium cuts of meat. Choose from marbled wagyu beef, decadently rich chestnut pork belly, and juicy free-range organic chicken, all lightly-charred, retaining its distinct mildly smokey flavours. For those who are unable to choose, opt for their mixed platter, which comes with 2 skewers of each meat.
We enjoyed how tender and juicy the meats were despite them having a charred flavour which would usually only be achieved by grilling it for long periods of time. We also liked how it paired with the house-made Pineapple Peanut Sauce, giving it a hint of sweetness.
---
Roasted Fine Beans with XO Sauce
To add some greens to this National Day meal, try Sunday Catering's Roasted fine beans dressed in XO sauce, with crispy fried garlic and shallots. This dish is simple, yet luxuriously flavourful and the beans were still crunchy with just the right ratio of sauce.
---
Butterfly Pea Nasi Lemak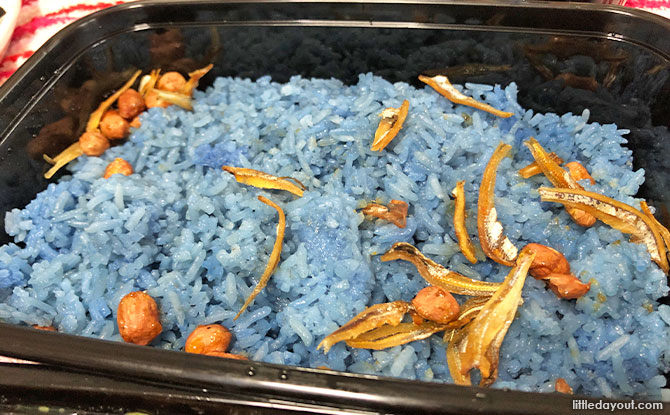 This beautiful blue dish's taste is as lovely as it looks. Made with fragrant lemongrass, this Butterfly Pea Nasi Lemak is topped with ikan bilis and peanuts lightly sautéed with salt and sugar. It goes great with the various meat dishes that Sunday Catering offers.
Overall, this was a very enjoyable National Day-themed meal where we got to try an indulgent version of local flavours! We would definitely consider choosing Sunday Catering when wanting to enjoy time-consuming dishes such as their roasted meats which are done well with premium ingredients and delivered right to your doorstep.
See Sunday Catering's National Day menu here.