Did you know that Easter falls within the period where we also start to welcome Spring, the season where tons of lush vegetables are suddenly in season, sun-ripened and ready to harvest? This Easter 2021, Sunday Catering is offering a special hearty feast made with the freshest ingredients featuring foods such as Roasted Leg of Lamb, Roasted Chicken, and the Roasted Spring Vegetables.
With a spread of delicious specials made from scratch with the freshest seasonal flavours, read on to see our review of Sunday Catering's Easter Feast.
---
Sunday Catering's Easter 2021 Specials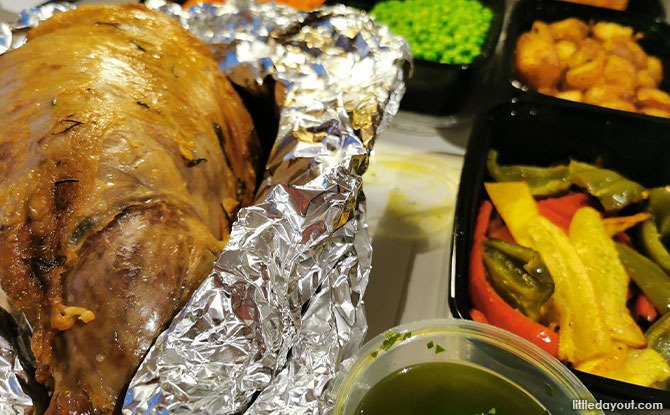 With many of the events that have been going on around the world, it is important to remember the joy of sitting down with those closest to you to enjoy a lovingly prepared meal. As we gathered to enjoy the Easter feast, the delivery of the food arrived on time and came piping hot and ready to serve.
---
Roasted Spring Chicken Pair ($40)
One of the first dishes that we tried first was the Classic Roast Chicken.
These deliciously tender Spring chickens are stuffed full with a mix of fresh ingredients such as carrots, breadcrumbs, onions and celery. We loved how the taste of butter and herbs shone through and these petite Roasted Spring Chickens are a suitable single person portion, though we recommend sharing to save some stomach space for the other yummy dishes in this feast, if you order them.
---
Roasted Spring Vegetables ($18)
Enjoy the colours of spring in this delicious way! With a medley of vegetables such as asparagus, zucchini, and red and yellow bell peppers, we added a burst of flavour with these yummy vegetable sides. The veggies are lightly dressed and roasted to a tasty tenderness.
It was also great with their house-made Mint Chimichurri sauce which is traditionally made with a blend of herbs, olive oil, garlic and red wine vinegar.
---
Roasted Leg Of Lamb ($225)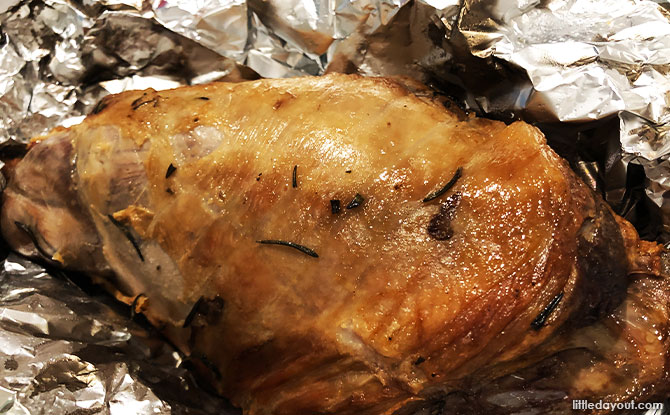 The star of the show however was the Roasted Leg of Lamb. Featuring a whole bone-in leg of lamb from a young free-range Australian lamb, this 3 kg lamb leg is slow-roasted and seasoned simply with sea salt, rosemary and garlic to one's preferred doneness. The lamb leg easily feeds six to eight people.
We enjoyed the sweet and tender meat and it was paired nicely with the house-made sauce as well as the handmade mint chimichurri. We also appreciated how the herby freshness of the sauces cut through the strong flavour of the meat.
---
Other Dishes: Butter Minted Peas, Honey Glazed Carrots, Rosemary Roasted Potatoes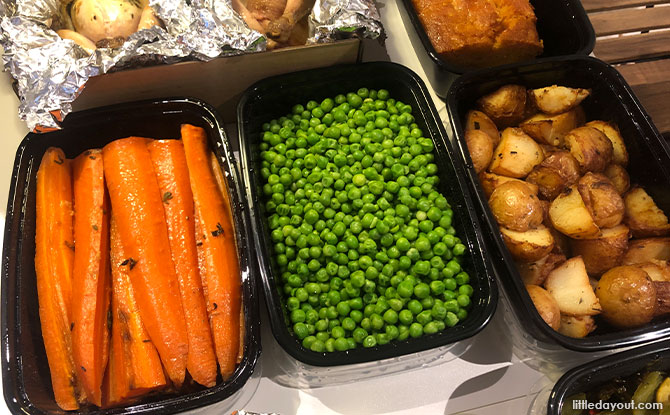 In this Easter feast, we also got to try some of the other dishes that are served on Sunday Catering's regular menu. We enjoyed how fresh the vegetables such as the peas and carrots were and that they were well seasoned and not mushy.
The rosemary roasted potatoes which were crisp on the outside, fluffy on the inside and topped with a generous amount of herbs.
---
Honey Butter Cornbread
We ended the meal with some honey butter cornbread. This thick loaf of cornbread is moist and glazed with a generous drizzle of honey butter. Each loaf serves about four people or more.
---
Use Special Promo Code For 10% Off Sunday Catering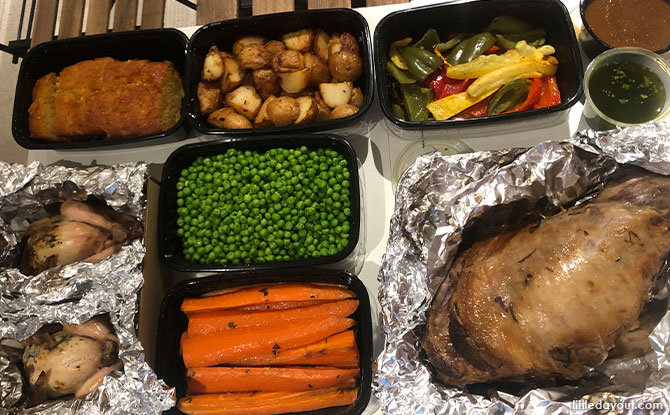 Bringing back the simple pleasure of gathering around a table to celebrate the joy of family ties and friendships. If you wish to try this hearty Easter brunch by Sunday Catering, the good folks there are offering 10% off all orders on Sunday Catering with the promo code LDO10. This promo code is valid from now till 26 March 2021.
Check out Sunday Catering's website here.