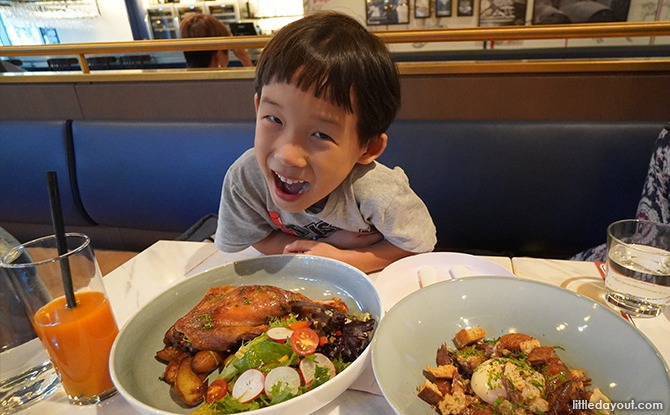 Have an authentic contemporary French bistro experience at So France, at the ground floor of Duo Galleria. Complete with beautifully decorated outdoor seating, the dining out is perfect for quick alfresco lunches, get-together brunches, cosy dinners and after-dinner drinks.
A Taste of France in Singapore
Comprising a bistro, terrace and epicurean grocer carrying over 500 gourmet products imported directly from France, it's no wonder So France is the place to visit for a taste of France in Singapore.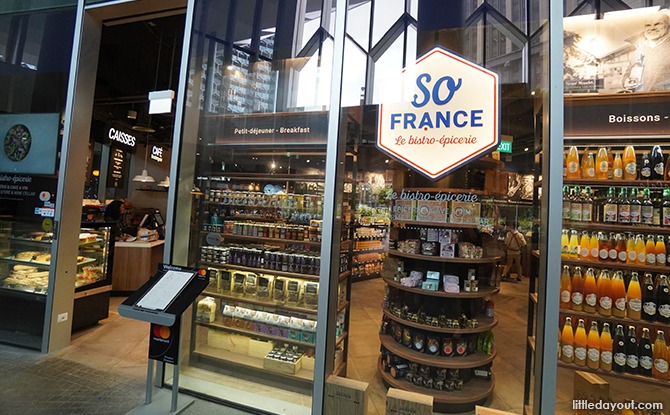 Paying tribute to France's diverse gastronomic scene, So France offers lots to choose from.
Diners are spoilt for choice for meals throughout the day. This can followed with a selection from the dessert menu. So France also has a weekend brunch menu.
Here are some of the dishes at So France that you can't afford to miss.
Lunch
So France has two lunch options: the Prix Fixe which consists of a soup or starter of the day accompanied by a choice of meat or fish mains that are rotated weekly or the Quicky's which allows for a quick lunch on-the-go.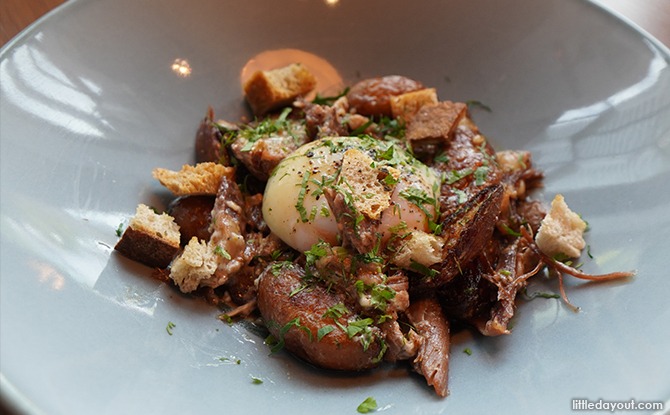 One of the options on the Prix Fixe on the day of our visit was Duck Hash, a pulled duck leg confit with roasted grenaille potatoes and confit yellow onions. The dish is then finished with housemade whole grain mustard mayo and duck jus and served with 40 minutes sous vide chicken egg at 62 degrees.
We thought that runny yolk on top of a perfectly cooked duck was enough to win us over until we had a bite of the potatoes – wow.
The roasted grenaille potatoes had tender flesh and delivered distinct notes of sweetness. The flesh tends to stay moist and tender while the skin gets crispy. It took top honours at our table and our little taste tester who was present was more than happy to have second helpings of it.
Weekend Brunch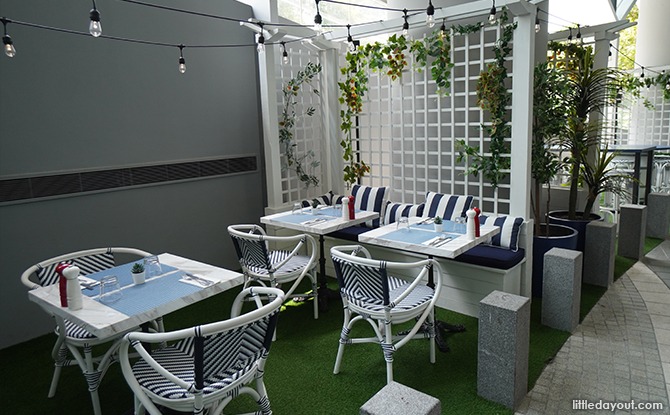 The outdoor seating area is a great spot for brunch with friends. It is equally suitable for playdates with little ones as well.
The outdoor space is far from any road and kids are sure to have fun playing amongst the fairy lights and grass.
Weekend brunches are headlined by the live crêpe station which is only available on the weekends during brunch, along with mains such as the Madame Croq' and So France Beef Burger.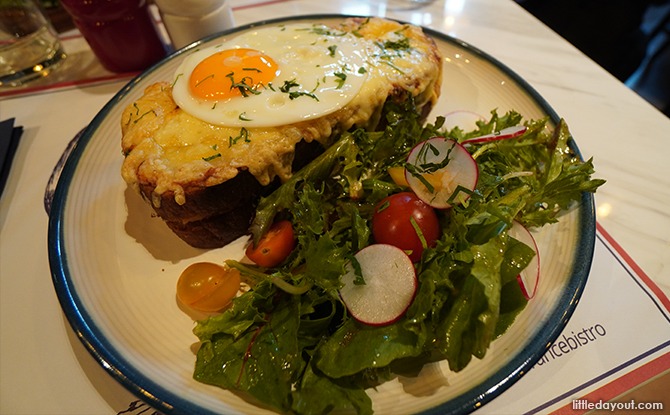 The base of both these dishes is a slice of custom-made sourdough bread. The Madame Croq' is So France's very own take on this classic dish.
The Madame Croq' is almost identical to a Monsieur Croq', filled with bechamel, gruyere and emmental cheese, ham, then topped with raclette cheese and broiled. To make it a "madame", the dish is topped off with a sunny-side up egg.
The So France Beef Burger is made with 30% brisket, which ensures a juicy and succulent patty. The rich dish is paired with sun-dried tomatoes, raclette cheese, rocket and caramelised onion.
We ordered our patty medium rare and were extremely happy with them. The burgers also came served with fries on the side.
One of the weekend favourites sweet treats that we tried was So France's French Toast.
The brioche is toasted with butter, then dipped in egg and fried. It is then topped with poached apple and whipped cream, drizzled with homemade caramel sauce. The texture reminded us a little of bread and butter pudding.
We'd order it again to ensure ending any meal on a sweet note.
Dinner
Oeufs Meurette may be a bit of a mouthful to pronounce, but it's a dish that is exploding with flavour.
This elevated version of a poached egg is served in a dish of concentrated red wine beef stew. The decadent dish has an extremely flavourful stock consisting of ingredients such as beef and chicken stocks, veal jus, shallots, vinegar, red wine and butter.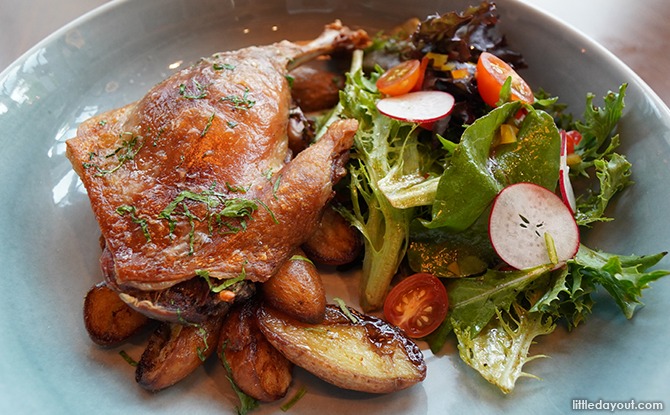 A French meal wouldn't feel like one until we've had the iconic dish – Confit de Canard or Duck Confit.
Confit, the French word for "preserved", traditionally allowed foods to be stored for the long winter months before it is roasted and serving.
As the ducks are preserved in house, upon cooking, the duck becomes tender on the inside with a crisp outer layer of skin and fat. It is accompanied with roasted Grenaille potatoes and seasoned with espelette pepper, a chili pepper cultivated in the French commune of Espelette, Pyrénées-Atlantiques.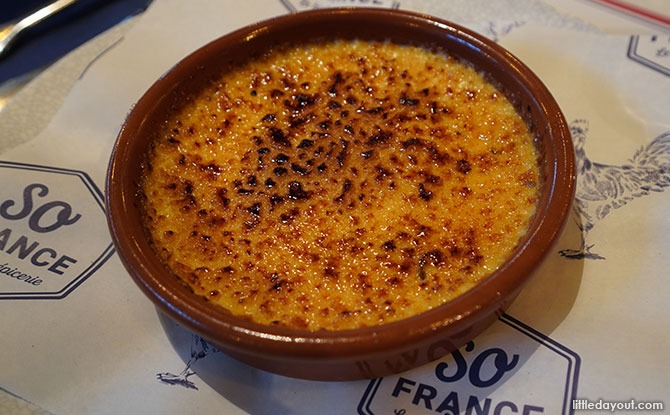 We ended the feast at So France with vanilla crème brûlée.
Although made with the simple ingredients of egg yolk, cream, vanilla and sugar, we liked that the ratio of all the ingredients were just nice.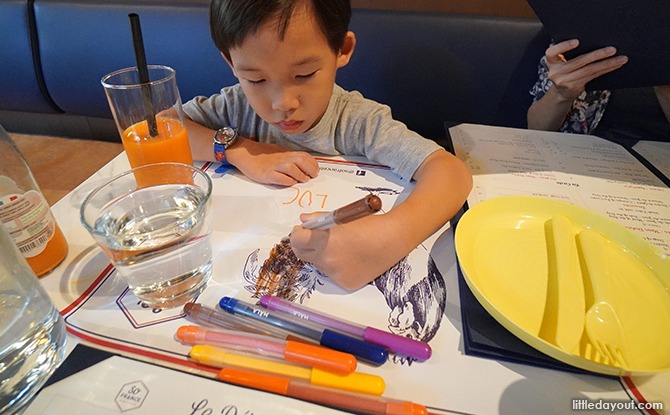 Besides the amazing food, we really appreciated how kid-friendly the restaurant was. Although it does not have a dedicated kids menu, the foods here are generally appealing to kids and the staff were very helpful and provided kids cutlery, highchair seats and even crayons for the kids to entertain themselves.
Be sure to stop by the grocer and pick up some authentic French ingredients and try your own hand at whipping up some French dishes!
Since our last visit, we've already been back to dine at So France twice, and we hope that diners will enjoy dining here as much as we do.
So France
7 Fraser Street
Duo Galleria
#01-51/56
Singapore 189356
www.so-france.sg