With Phase 2 underway, Singapore Sports Hub is reopening, along with its facilities. Wondering which sports and recreational spaces are open? Here's a look at what's open at Singapore Sports Hub for Phase 2.
Singapore Sports Hub Reopening
Since last Friday, 19 June 2020, Kallang Wave Mall has been open. This includes Climb Central, the mall's indoor rock climbing wall, which has implemented safe management measures.
Three outdoor facilities are also available for public use. These are the Lawn Bowls, Giant chess and the Beach Volleyball courts. The equipment for Lawn Bowls and Giant Chess can be borrowed from the Sports Hub Visitor Centre. Online booking will also be available from Monday, 22 June 2020.
---
-- Story continues below --
The OCBC Aquatic Centre was opened to the public for general entry from Saturday, 20 June 2020. There is a restriction on the maximum number of people who may enter. The capacity is limited to 50 persons.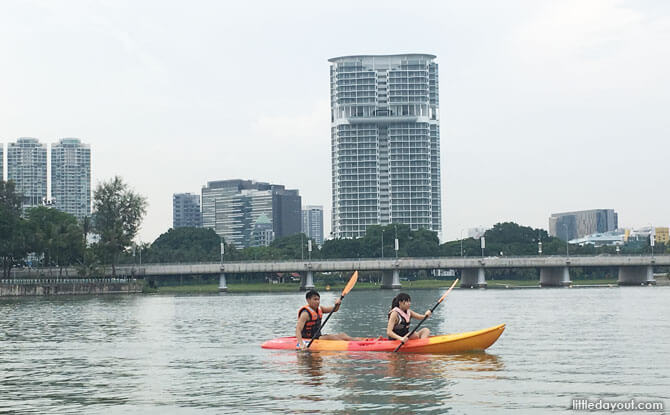 The Water Sports Centre is open from Monday, 22 June 2020. A maximum of 50 persons are allowed at the Water Sports Centre. Kayak and canoe rentals are limited to two persons or fewer and all water sports courses and dragon boat rentals remain suspended.
Those making use of the Singapore Sports Hub facilities will have to comply with physical distancing guidelines.
What's Still Closed at Singapore Sports Hub
So, with various facilities around Singapore Sports Hub reopening, what's still closed?
Splash-N-Surf, including the children's rooftop water playground, is still closed. The Sports Hub Fitness Studio classes at the OCBC Arena, Garmin Sports Sessions and venue tours continue to remain suspended.
Facilities such as the 100PLUS Promenade, Skate Park and Basketball Courts remain closed.
At the moment, the Sports Hub Library, Singapore Sports Museum and Shimano Cycling World also remain closed.
The OCBC Arena and National Stadium remain closed as they are being used as temporary migrant worker dormitories.
Look Out for Activities in July 2020
For those who wish to work out from home, Singapore Sports Hub will continue with virtual activities such as the 7×7 workout experience. More activities are planned as Singapore Sports Hub celebrates its 5th anniversary in July 2020.