The Singapore Night Festival returns to light up the Bras Basah.Bugis precinct from 18 to 26 August with the theme "Singapore, the Great Port City".
This year's edition of the Singapore Night Festival showcases Singapore's growth from its early role as a port city into a dynamic modern metropolis where worlds meet. This ties in contemporary experiences with the country's rich history of trade and exchange.
---
Singapore Night Festival 2023: Exploring Singapore, the Great Port City
The Bras Basah.Bugis precinct is an ideal place for this journey through 700 years of Singapore's history as a vital port city as it contains many historical sites, such as Fort Canning Park, once a seat of power, and other locations associated with Singapore's trading past.
---
-- Story continues below --
During the Singapore Night Festival, festival-goers will be able to visit the museums, such as Children's Museum Singapore and Peranakan Museum, and heritage buildings around the Bras Basah.Bugis district in the evening.
One of the highlights for families during the Singapore Night Festival is the chance to visit the new LKY exhibition at the Children's Museum Singapore.
The district will also come alive with dynamic projection mappings and Night Lights installations. You can view a festival map here.
There will also be unique, experiential programmes and food and retail experiences.
Here's a closer look at what to expect at this year's Singapore Night Festival.
---
Time is a Black Circle
Time is a Black Circle by Dawn Ng is a highlight act of this year's Singapore Night Festival. It is a throwback to the seventies when the Swinging Sixties and Disco Fever were underway. Back then, party-goers would flock to the Bras Basah.Bugis (BBB) precinct for live discotheques.
Inside Time is a Black Circle, you can step into a "disco time portal" and relive the days of your parents and grandparents, dancing away to the music.
This is a ticketed highlight. Find it at the National Museum of Singapore's Gallery Theatre.
---
Projection Mappings
Every year, projection mappings are a signature of Singapore Night Festival. This year is not different and there are various projection mappings on historic buildings to look out for around the Bras Basah.Bugis precinct.
700 Years
The six-minute presentation will transport you to the 14th century, where you'll meet Seri Anggerik. Follow the female protagonist as she embarks on her own "Back to the Future" journey to present-day Singapore. It is a reminder of how far Singapore has come over the last 700 years.
The art work featured in 700 Years is inspired by the collection of National Gallery Singapore and National Museum of Singapore.
Where: Watch it on the facade of the National Museum of Singapore.
Birth in Bloom
This projection mapping by Ashley YK Yeo unites mythical legends and the tapestry of Singapore's local flora in an animated extravaganza. At its core, this is a tale of metamorphosis and persistence, symbolic of Singapore's rise in maritime trade despite turbulent currents of colonisation, geopolitical discord, and the ravages of war.
Where: View this projection mapping at CHIJMES.
Evolution of Bras Basah Entertainment Scene
This showcases the neighbourhood's transformation since the mid-1800s, and the many skins it had shed before beer pong tables and open-mics made their way here.
Where: Watch it at CHIJMES.
Port(al) City
This projection mapping offers a glimpse of Singapore through the eyes of its past and present inhabitants, from vast empires and colonists to migrants and merchants. While they have left inimitable marks on our cultural heritage.
Where: Watch it CHIJMES.
Singapore Night Festival Projection Mapping Masterclass
Regional art collective, Filamen will be co-presenting the Singapore Night Festival Projection Mapping Masterclass at CHIJMES.
---
Night Lights
Singapore Night Festival 2023's Night Lights come from 7.30 pm till midnight on festival days. Here are the Night Lights you can look out for.
GIFFEST III: IMPERFECT COMPILATION
This Night Light installation by EYEAH! invites festival-goers to think about the dynamic, contemporary nature of cities today and the ever-evolving identities within our globalised world as it fuses with digital technology. It is made up of an array of symbols, icons and colours.
Where: View it at the National Museum of Singapore's LED wall outside SUPERMAMA.
A Stone's Throw (Away)
A Stone's Throw (Away) at the National Museum of Singapore's Banyan Tree is inspired by the legend of the Singapore Stone. According to legend, it was flung from Fort Canning Hill to the mouth of the Singapore River by 14th-century strongman Badang. This light installation reimagines the stone through a series of light panels.
Where: View it at the National Museum of Singapore's Banyan Tree.
Rimbun
Rimbun, which translates to fertile in English, ups the ante on projection mapping by ditching man-made structures and embracing nature as its canvas. The illumination by artist Shakir a.k.a Grasshopper is tailored to the surroundings of the Farquhar Garden with motifs inspired by traditional crafts coming to life in the lush garden.
Where: View it at the Farquhar Garden, Canning Rise at Fort Canning Park.
Preserving Paradise
This work by Teo Huey Ling references Singapore's first experimental botanical garden, built circa 1822 by Sir Stamford Raffles, to grow valuable crops and conserve native flora and fauna. This interactive artwork with hand crank mechanisms revisits the concept of an experimental botanical garden in a futuristic light.
Where: View it along Armenian Street, next to The Bible House.
The Island at the End
The Island at the End is an interactive, multi-sensory installation that has "risen" from the ground. Step inside and be whisked away to a 14th-century medical hall and apothecary, perfumed by the raw materials and resins used in incense-making.
The art installation includes an olfactory experience with scents being used. Children under the age of 14 must be accompanied by an adult.
Its location was specifically chosen because it is where Singapore's first botanic garden was established back in 1822.
Where: Find The Island at the End in front of SMU's Yong Pung How School of Law building.
SeaScape Symphony
Festival-goers are invited to have fun by becoming one with the artwork at Funan using the bubble makers provided and delight in watching them float away in perfect synchrony with their virtual counterparts. The installation aims to foster an appreciation for the delicate equilibrium that exists between human beings and marine life.
Where: View it at the Funan Kinetic Wall.
Flowing Water Road
Flowing Water Road Shrine is located at the former site of Stamford Bridge. According to legend, rice was once imported and dried in this area, hence the name Bras Basah, derived from the mistranscription of "beras basah" meaning "wet rice" in Malay.
Where: View it outside Raffles City.
GIFFEST III: IMPERFECT COMPILATION WITH GIFFEST III
This explores the theme of "imperfect" from both the lens of design and as a social issue, the exhibition invites visitors to discover the beauty and value of imperfection as an essential aspect of human creativity and expression.
Where: View it at the National Design Centre.
Florescence
Florescence by Kristal Melson is an inflatable tribute to the periwinkle flower, originally native to Madagascar. These days, you can't go anywhere without seeing it. But in Singapore's early days as a bustling port city, it held significance as a traded item thanks to its medicinal properties.
Where: View it at the Bugis Street Multi-storey Carpark.
X O X (two kisses and a hug)
This is a deliberate restaging of a previous artwork commissioned by the National Arts Council's Public Art Trust in 2022. It honours the previous generations whose spirit of "making do" has made them the OG sustainability heroes.
The palindrome X O X is a reminder of the balance between work and play, the sky and earth, the spiritual and physical, and the connection between the human and non-human.
Where: This is located outside of Stamford Arts Centre.
A Global Bugis Phinisi
Crafted from welded steel and embellished with elegant spiral masts, this Phinisi — a traditional Buginese (people of southern Celebes, Sulawesi, Indonesia) boat — by Tay Swee Sion incorporates remnants of historical vessels, representing Singapore's global trade influence amidst a vibrant arts and cultural backdrop.
Where: View it at the Stamford Arts Centre.
---
Experiential Programmes at Singapore Night Festival 2023
Another highlight of Singapore Night Festival is its experiential programmes.
The Lost Cities Series: Kampong Port Cities of Pre-colonial Era
This free admission programme transports you to the captivating Kampong Cities of 14th-century Southeast Asia, where the value of trees exceeds that of land, and knowledge is the ultimate wealth.
Four Horse Road
Waterloo Street, steeped in centuries of history, defies a linear narrative that can be contained in one sitting. The Theatre Practice boldly embraces this challenge by staging Four Horse Road, a blockbuster promenade theatre adventure unfolding across two heritage buildings, featuring multiple locations, performers, and sets.
More programmes can be found here.
---
Roving Performances and Festival Villages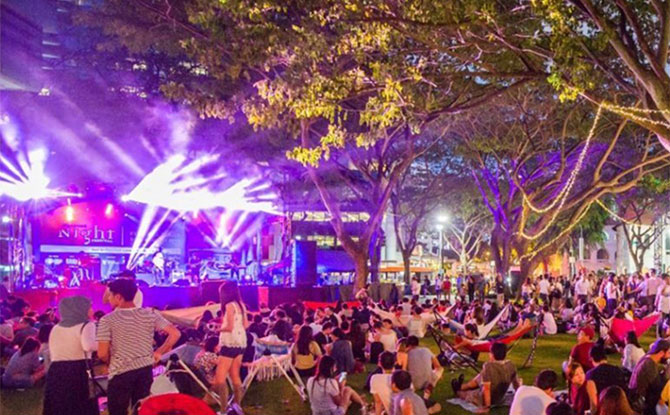 The Bras Basah.Bugis area will be enlivened with activities and performances. In addition to the main festival village at SMU Campus Green, look for festival villages at Armenian Street and CHIJMES.
There will also be roving performances such as We'll weather the weather, whatever the weather, until we cannot by Sweet Tooth, and Waterloo Street Stories by #WaterlooStKakis.
For more details, find out what else you can expect at this year's Singapore Night Festival. You can also view the festival map here.