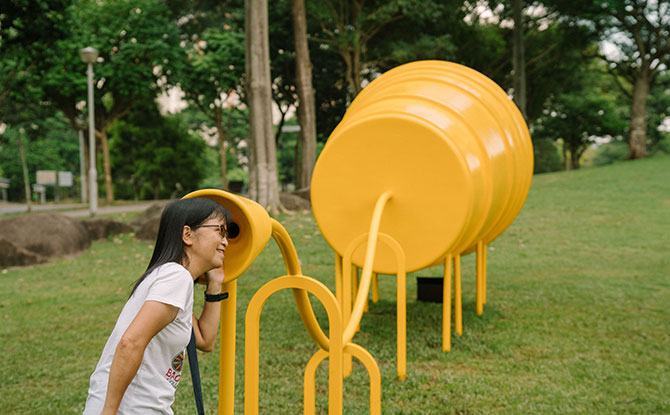 The next time you pay a visit to Bishan-Ang Mo Kio Park, Jurong Lake Park and Punggol Waterway Park, look out for five playful public art installations, part of the Public Art Trust commission As You Were.
As You Were aims to encourage the public to reconnect with nature and one another as we hope to leave behind the pandemic. The five artworks, the creations of seven local artists, aims to portray the hopes for an endemic world and also riffs off some themes that have become too familiar over the last two years.
---
As You Were Public Art in the Parks
Tay Tong, Director of Sector Development (Visual Arts), NAC, said, "As our public spaces come to life again, the dawning of a new, endemic world is a huge step forward for our arts community, and for all Singaporeans. Our artists sought to contemplate and facilitate society's reconnection to nature and community, and this showcase has provided an opportunity for them to push their creative boundaries to create works that inspire joy and reflection in the daily lives of our Singapore public."
Here's what you can look out for at As You Were in the parks.
---
-- Story continues below --
---
Bishan-Ang Mo Kio Park
Small Moments
Inspired by the childhood favourite Marie biscuit, Small Moments by Daniel Chong makes use of a giant biscuit that looks like Cookie Monster has had a go at it to signify the togetherness and simple moments and precious relationships which we have learnt to cherish. Find this artwork near Bishan-Ang Mo Kio Park's dog run.
Can You Hear Me?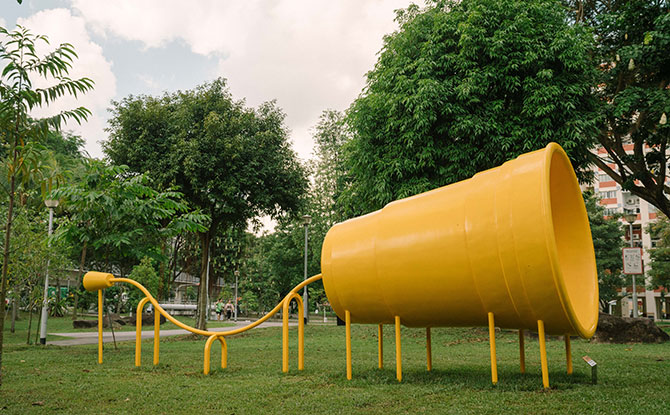 Another whimsical installation at Bishan-Ang Mo Kio Park is Can You Hear Me? By Quek Jia Qi and Aaron Lim. A play on the phrase which has been made "popular" thanks to Zoom, the installation features two connected "paper cups". It is a reminder to relearn to listen. This located at the Lotus Pond closer to Bishan Road.
---
Jurong Lake Gardens
Our Dreams Must Continue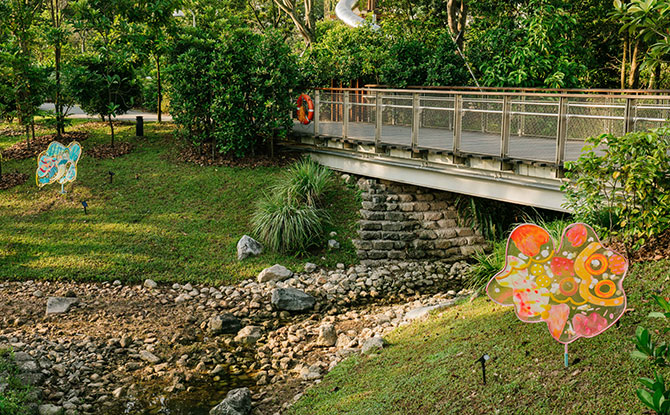 Teo Huey Ling's Our Dreams Must Continue is made up of four playful shape around Jurong Lake Gardens. Looking like bubbles in the sunlight, the installation hopes to instill fresh energy for the times ahead. Look out for this installation at the Forest Ramble playground.
---
Punggol Waterway Park
Afloat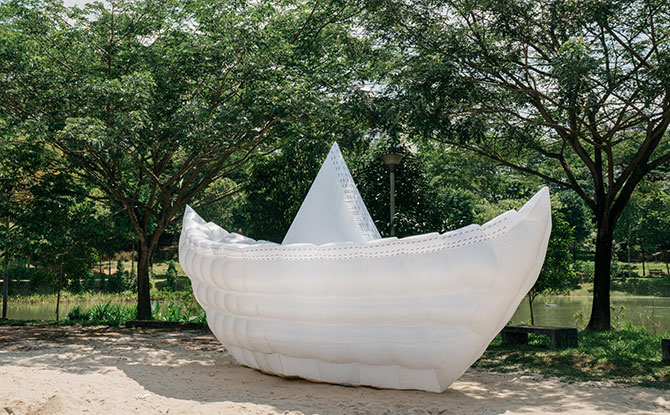 If the eight-metre long Afloat reminds you of something in addition to a paper boat, it could because it also looks like the masks which we have all been wearing during the pandemic. That is what artist Ang Song Nian's work also aims to reflect, even as we look forward to moving forward and sailing to better times. This artwork can be found at the sand play area at Punggol Waterway Park.
n o o n (at play)
A pair of see saws create a playful installation by the waterway. It has a Golden Leather fern design and represents the need to balance between work and life. It is a reminder to take the time to incorporate the elements of play and care, as especially considering the experience of the pandemic. This installation is at the open area between Waterway Point and the waterway.
As You Were will be in the parks from 12 May to 30 October 2022.