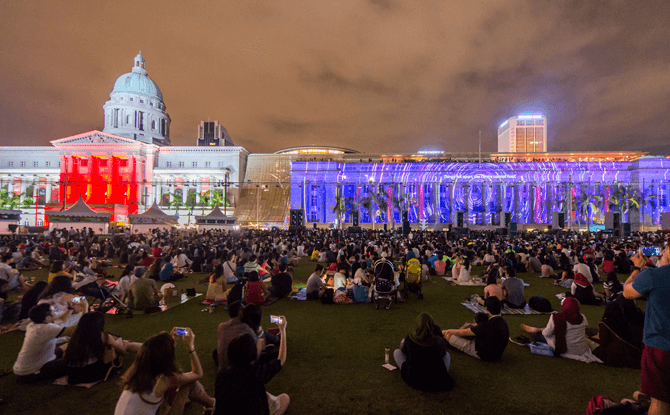 The second Light to Night Festival takes place form 19 to 28 January 2018, turning Singapore's Civic District into a canvas for spectacular, dazzling art.
Part of Singapore Art Week, the Light to Night Festival 2018 is themed "Colour Sensations" and takes visitors on a kaleidoscope of art works across iconic buildings in the Civic District. These include National Gallery Singapore, The Arts House, Victoria Theatre and Victoria Concert Hall, Asian Civilisations Museum and The Esplanade.
Colours at Night
At National Gallery Singapore, visitors can step on stomping pads to create illuminated visuals on the City Hall facade.
The former Supreme Court building along with adjacent buildings will form the canvas for Art Skins on Monuments, a colourful light projection piece.
At the Empress Lawn, there will be an labyrinth of mirrors in an art installation that plays around with reflections and optical illusions, House of Mirrors.
Other art installations will be set up at the Asian Civilisations Museum (ACM) Green and the Esplanade Park tunnel as part of the Light to Night Festival.
National Gallery Singapore has also commissioned five indoor art works for the Light to Night Festival that encourage audience participation.
Visiting the Light to Night Festival
The Light to Night Festival will run for 10 days. It will be held from 5 pm to midnight on Fridays and Saturdays. From Sunday to Thursdays, the outdoor light art installations will be lit for viewing from 8 pm to 10 pm.
Visitors can view the installations inside National Gallery Singapore according to the gallery's opening hours. During the Fridays and Saturdays of the Light to Night Festival 2018, the National Gallery Singapore will extend its opening hours to close at midnight.
Admission to the Light to Night Festival is free. St Andrew's Road will be closed during the two weekends on the Fridays and Saturdays, 19 and 20 January 2018 and 26 and 27 January 2018, from 4 pm till 1 am.
---
Event Information
Light to Night Festival
Start date: 19/1/18 0:00
End date: 28/1/18 23:59