Built around the Punggol Waterway and located along Sentul Crescent, Punggol Waterway Park is an expansive and beautifully manicured park, perfect for a fun-filled day of leisure activities – especially for the little ones at the Punggol Waterway Park playground.
Segmented into four different themes – namely, Nature Cove, Recreation Zone, Heritage Zone and Green Gallery – Punggol Waterway Park is one of four parks linked by the North Eastern Riverine Loop of the Park Connector Network.
In fact, Punggol Waterway Park is one of the checkpoints (Checkpoint 8) on the new Coast-to-Coast (C2C) Trail launched by the National Parks Board (NParks).
---
Sand Play Area at Punggol Waterway Park
The sand and water play areas at Punggol Waterway Park have been around for some time now but it was only recently that I got my act together, and took my daughter there for a play.
---
-- Story continues below --
At 27 months old, my toddler will seize every opportunity to go on her skate scooter, so it wasn't hard to get her excited about a morning out at the park. Plus there was the promise of sand play!
As I'd parked at Punggol Waterway Park Carpark A (which is right by Punggol Parcvista), it took us a bit of skating to get to Adventure Bridge.
Even with the heat, my daughter had such a great time zipping along the banks of the main waterway, stopping every now and again to look at flowers, pebbles, and of course, butterflies.
Once we'd crossed Adventure Bridge, there was no missing the Fitness Area and the Water Play Area, but our first stop was going to be the sandpit which is just at the bottom of a flight of stairs by the Fitness Area.
The Sand Play Area at Punggol Waterway Park is pretty big; there are a few spots along the perimeter of the sandpit that are shaded if you'd like your children out of the hot sun.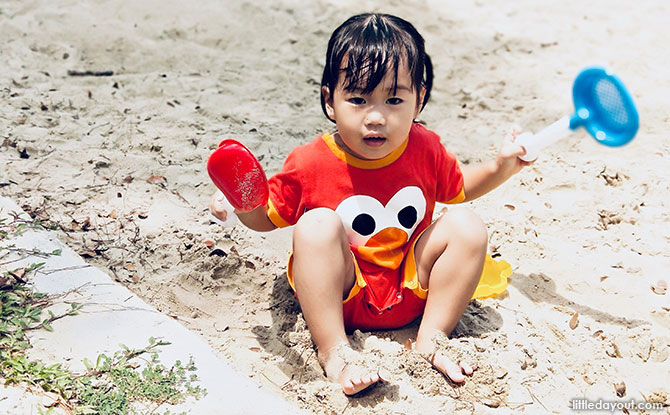 It really is just a lot of soft sand, and a lot of leaves, twigs, and little rocks – good enough for some sensory play on the weekend, especially if you live in the vicinity. If you have sand toys like shovels and moulds, be sure to take them along!
---
Water Play Area, Punggol Waterway Park [Demolished]
Editor's note 2022: The water play area at Punggol Waterway Park has been demolished and it is now a grassy patch in front of the toilets.
Although not massive, the Water Play Area was more than enough for my daughter; I mean, she was happy just to be able to activate the water jets herself!
The Water Play Area at Punggol Waterway Park is made up of tall aqua showers, orange water arches, two water shooters, and plenty of water jets strategically placed around the splash pad.
In terms of safety, the splash pad is asphalt, so fairly non-slip. My daughter had no issues running in and out of the water arches, and exploring the Water Play Area on her own.
If mummies and daddies would like to stay dry and just let the little ones do their thing on the splash pad, there are concrete benches around – and they're mostly shaded!
Aside from a small wash area right by the splash pad, there are also toilets a few steps away. In need of a quick refreshment? There's a vending machine at the toilet pavilion!
---
Need to Know
The closest LRT station to Punggol Waterway Park is Sam Kee. Cross the road and head left toward Punggol Waterway Park; you'll see SAFRA Punggol to your right.
If you're driving, park at Punggol Waterway Park Carpark B as the Water and Sand Play Areas are located there.
The sand play area at Punggol Waterway Park is at 10 Sentul Crescent, Singapore 828851.