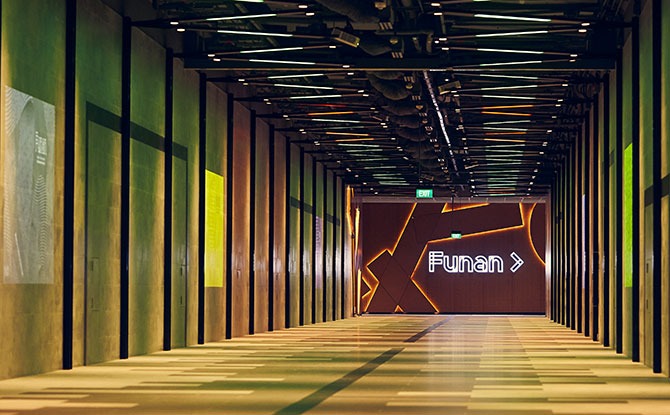 Pedestrians making their way from City Hall MRT Station to Funan will no longer have to contend with the heat and crossing multiple traffic junctions. Funan now has a brand new 100-metre underground pedestrian link which directly connects Basement 2 of the mall to the City Hall MRT interchange station.
---
New Underground Pedestrian Link to Funan
The newly built underground pedestrian link will allow the public to enjoy seamless connectivity to a wider underground pedestrian network and other destinations such as Raffles City Singapore.
It was be constructed with a Rectangular Tunnel Boring Machine. One of the pioneering underground pedestrian links to be built using this method, its construction did not require extensive traffic diversions and lane closures.
---
Art Showcase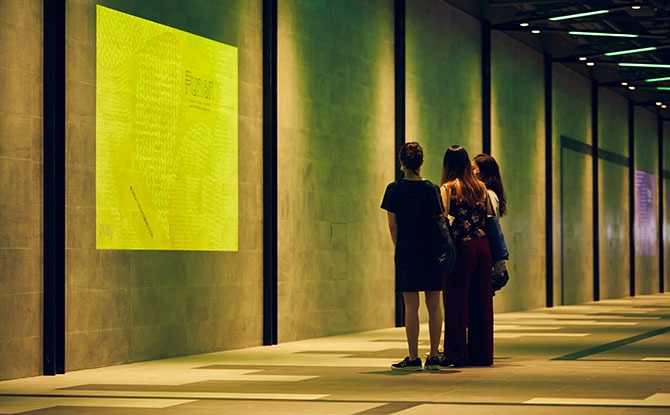 Funan also intends for the underground pedestrian link to serve as a new platform for the arts community to showcase their creative works. Expect to see works by artists in formats such as digital art or multimedia along the pedestrian link.
Look out for digital projections by local artist and graphic designer Muhammad Izdi.
In January 2022, artist Shavonne Wong will debut her collection of non-fungible tokens that will as digital projections at the underground pedestrian link.
Mr Adrian Lai, Centre Manager at Funan, said, "As Singapore's creative intersection, we are always looking for ways to enhance the experience for our shoppers and visitors at Funan, while also actively supporting the local arts community. We are very excited to launch our UPL, which we see as a natural extension of tailoring social and creative experiences for our consumers and make it easier for them to access quality living."