Join in on Singapore's biggest online shopping event for brands – Shoppe's 10.10 Brands Festival as it features almost three weeks of daily themed days starting right now in the lead up to 10.10 Brands Festival on 10 October! During this mega event, you can expect daily Million $ Discount deals, 25% cashback, and daily Midnight Brand Flash Sales.
Mark your calendars and set your alarms! Here are the highlights leading up to Shopee's 10.10 Brands Festival that you don't want to miss.
---
Shopee 10.10 Cashback Day on 28 September
On Monday, 28 September, Shopee will be releasing 15% cashback flash vouchers sitewide at 12 am, 10 am, 12 pm, 6 pm, and 10 pm, and 10% cashback seller vouchers. Stack the vouchers to enjoy 25% cashback. You can also get 20% cashback when you share vouchers with 2 friends and 30% cashback when you share with 4 friends.

---
Shopee

Vouchers Day on 5 October
On Monday, 5 October, save more by stacking vouchers and stand a chance to be one of the 10 lucky winners to win 1,000 Shopee Coins. Shopee will be letting shoppers enjoy upsized cashback at three Flash Voucher Time Slots: 12 am, 12 pm, and 10 pm. Claim and use upsized shop vouchers and on this day you can also pre-claim vouchers for use on 10 October!
Shopee

Price Reveal Day on 9 October
Preview items discounted on 10 October and then add to cart in advance to get it ready for check out on 10 October! From now to 9 October, you can show Shopee your cart by tagging them on Instagram, Facebook or Shopee Feed and stand to win $100 vouchers! Three winners will be chosen on each platform.

---
Shopee 10.10 Brands Festival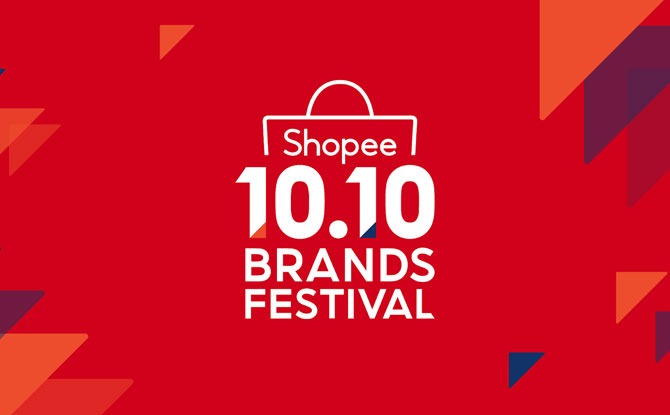 On the day of the big event, flash vouchers will be released as soon as the clock strikes midnight and will continue for a total of 10-time slots: 12 am, 1 am, 10 am, 12 pm, 2 pm, 4 pm, 6 pm, 8 pm, 10 pm, and 11 pm! There will also be 2-Hour Brands Flash Sale from 12 am – 2 am and 10 pm – 12 am. Expect to get deals that give you up to 80% off brands such as Xiaomi, Adidas, Tefal, Pampers, and more.
Don't miss some the $0.99 Flash Deals Relay happening 1 pm and 8 pm, as well as the BOGO Rush Hour at 10 am and 10 pm. Curated flash Sales will also be happening starting from midnight till 7 pm. Time slots to take note of include:
Midnight: Flat 50% Off Midnight Rush Hour where there will be sales focused on Electronics and Fast-moving Consumer Goods bundles
12 pm: Lunch Time Rush Hour where there will be flash deals on tickets and food deals
2 pm: 1-For-1 bubble tea deals
7 pm: Cashback and Free Shipping Rush Hour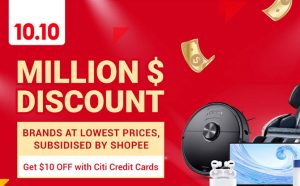 To top it all off, Shopee will have over 150 limited-time branded deals and subsidise flash vouchers as part of the Million $ Discount program!

---
Shopee Premium to be launched during 10.10
Lastly, Shopee will be launching "Shopee Premium", a dedicated in-app space featuring premium brands such as LG Beauty, L'Occitane, and Calvin Klein, offering users exclusive access to content and deals.
Find out more about Shopee's 10.10 Festival at their website.
This story contains affiliate links. This means we earn a small fee if you purchase something through a link from our website. There is no additional cost to you. This helps to support Little Day Out and keeps us going.