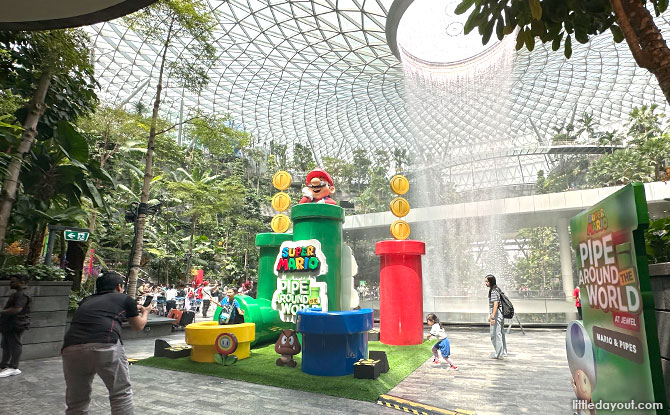 Jump over to Jewel Changi Airport this year-end season where Pipe Around the World at Jewel awaits. Live out your Super Mario dreams at fun photo spots, get a chance to meet with Mario and Luigi and redeem cute, limited edition premiums from now till 1 January 2024.
---
Pipe Around the World at Jewel
Jewel Changi Airport's Shiseido Forest Valley has been transformed into a Mario-themed wonderland with multiple photo spots featuring beloved characters from the Mario Bros universe that you can hit up.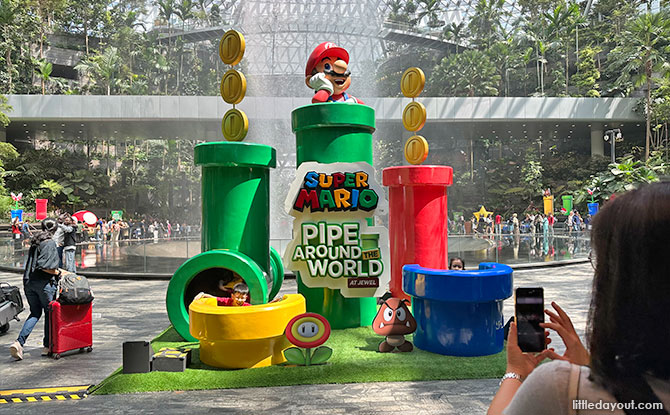 Welcoming visitors to Pipe Around the World at Jewel is a five-metre-tall 3D centrepiece featuring Mario himself. You can pose beside him and imagine that you have just been transported to the location through one of the pipes beside the portly plumber.
---
-- Story continues below --
But that's not all.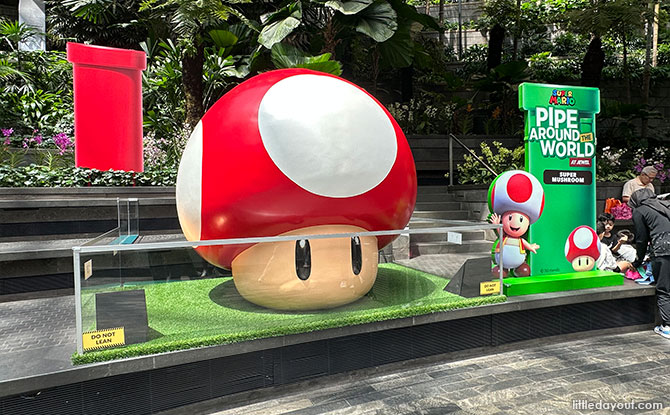 What would the Mushroom Kingdom be without a Super Mushroom. This is one of three other larger-than-life displays at the Shiseido Forest Valley.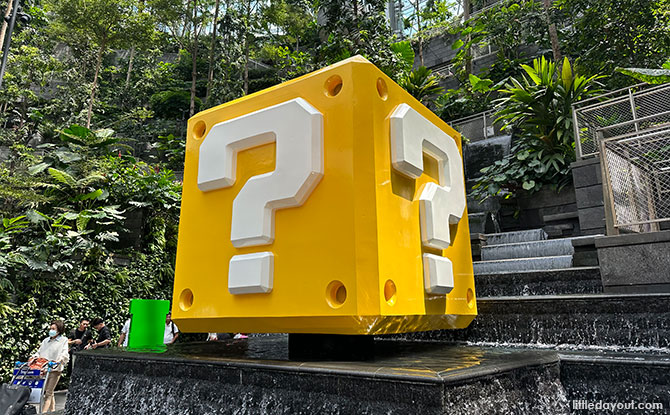 You can also head over to the "?" Block and do a jump shot.
There is a gigantic Super Star too!
Go in search for your other favourite Mario characters at Pipe Around the World at Jewel.
Other character photo spots that you can look for include Princess Peach and Toad, Bowser and Goomba.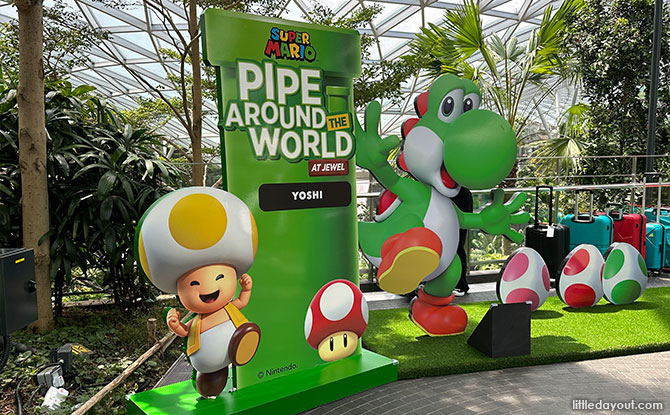 Yoshi is a bit harder to find so you can refer to our picture above to locate him.
---
Mario and Luigi First-in-Singapore Meet-and-Greet
For the first time in Singapore, Super Mario fans will be able to meet with Mario and Luigi.
The Mario and Luigi meet-and-greets will take place on 17, 18 and 19 November at 12 pm, 2 pm and 4 pm at the South Gateway Garden on Level.
If you wish to meet them, be sure to be early.
---
Pipe Around the World at Jewel Premiums
Jewel and Nintendo have also specially developed Pipe Around the World at Jewel premiums. These can be purchased with every $50 spend in a receipt.
The special Pipe Around the World at Jewel premiums include:
2-in-1 cushion & neck pillow ($13)
3-in-1 organiser ($13)
A stylist canvas bag ($12)
Travel pouch ($12)
There are two designs for each of these premiums.
Just as a side note, you can also shop for LEGO Mario sets at Jewel Changi Airport.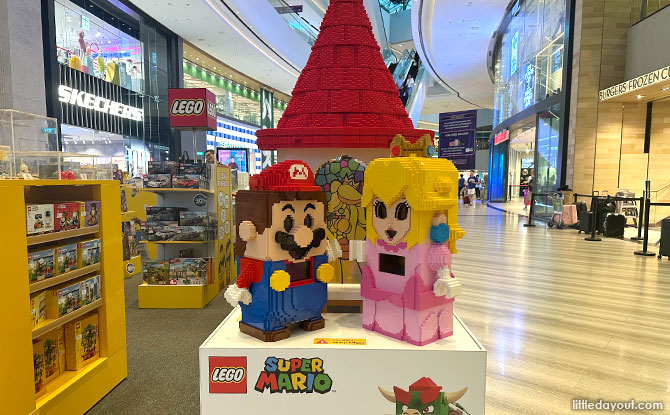 We spotted LEGO Super Mario sets at the kiosk outside Shake Shack.
---
Christmas 2023 at Jewel
There will also be a host of activities at Jewel Changi Airport to get visitors into the holiday spirit.
The 16-metre-tall Alipay+ Jewel Christmas Tree is an iconic spot to take a picture.
Visitors can select their favourite lighting pattern and see it projected on the Christmas tree using interactive booths by the entrance to the Christmas tree.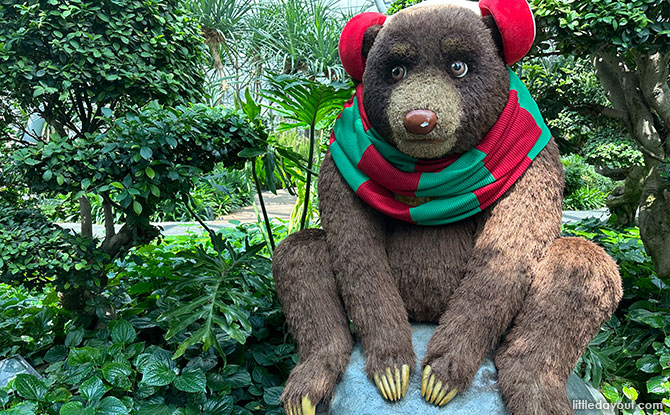 Canopy Park has also been decked up with festive lights and decorations.
HSBC Rain Vortex Christmas Light & Sound Show
Every evening, there will be a Christmas Light & Sound Show at the HSBC Rain Vortex. Featuring Christmas melodies, the show will take place at:
7.30 pm
8.30 pm
9.30 pm
10.30 pm (on Fridays to Sundays only)
On 23 December, the light show will be at 9 pm and 10 pm.
Snowfall at Jewel
For those who wish to experience some magical snowfall, head down to the Shiseido Forest Valley every evening at:
7.35 pm
8.35 pm
9.35 pm
10.35 pm
There will be an additional session at 6.45 pm on 24 and 25 December.
On 23 December, the snowfall will be at 8.55 pm, 9.35 pm and 10.35 pm.
---
Evening of Enchantment
On 23 December, Jewel Changi Airport will be hosting the Evening of Enchantment, a one-night-only special concert with local artistes Benjaming Kheng and Annette Lee, a handbell performance.
Evening of Enchantment is a ticketed performance.
For more on what's on at Jewel Changi Airport and Pipe Around the World at Jewel, visit the Jewel Changi Airport website.
If you are looking for more things to do at the airport, you may be interested in Chaos Lab at Terminal 2.