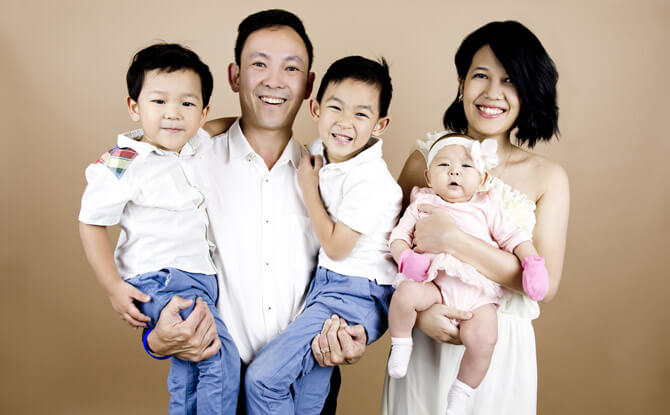 Little Day Out speaks with Bryan Tan, CEO of Dads for Life and the Centre for Fathering, in this new interview series – Our Little Day Out – to obtain a down-to-earth insight on what other families do, why they do so and where they go.
Formerly a senior officer with the Singapore Armed Forces, Bryan recently made a mid-career switch to the social service sector to serve fathers and the "fatherless" in our nation. He is happily married to Adriana, and they have three children, Michael, Joshua and Deborah – six months to seven years old.
Little Day Out: Where are your favourite places around Singapore to bring your kids to and why?
Bryan: Our children love nature and animals, so we like bringing them to parks and reservoirs. We especially love Singapore Botanic Gardens for its wide expanse of space for the kids to run in, and the myriad of flora and fauna for them to appreciate. A treat for the children would also encompass a visit to Singapore Zoo or Jurong Bird Park, whenever a good promotional deal presents itself.
Little Day Out: What types of activities do you typically engage in as a family?
Bryan: We love playing board games as a family, and having family and close friends come over to our place for meals. Such gatherings allow our children to express themselves freely and to learn to adapt in a social setting, and they always come out of it feeling very loved and affirmed.
Little Day Out: Meal-times are great for building bonds. Where are your favourite familial dining haunts?
Bryan: We love places where our children can get involved in the preparation of their meals, such as the do-it-yourself pancake shops. We are always amazed by the creative designs and mixed flavours of pancakes that our children whip up for our meals.
Little Day Out: Where have you holidayed as a family, and what's next on the passports and why?
Bryan: We have not travelled as a family in the past year and a half, so we really hope to be able to make a trip to a children-friendly beach resort in the region in late June for the kids to enjoy the sun, the sand and the sea. My wife and I can really do with some time away, without the distractions of our home routines, to reconnect with one another and enjoy the endemic culture and cuisine of that region.
Little Day Out: Why do you value family time?
Bryan: Our children are growing up at such a fast pace and we do not want to miss out on any significant milestones in their early developmental years. We want to be good stewards of the time we have together, and create good and enduring memories for our family. Our modelling of marriage and parenting also form the blueprints for our children when they start their own families.
Little Day Out: How has your family benefitted from having little days out?
Bryan: Although we really love staying home to conduct science and nature experiments, and play board games, our children get really excited in anticipation of little days out. It is always interesting to watch how they interact with other children when they are out at play in the open, and it provides us, as parents, many opportunities to impart to them values and knowledge of the world that we live in.
#centreforfathering #dadsforlife