Dawn Sim (@thatmomoffour) is a supermum, mumtrepreneur and mum to four beautiful girls. When it came time to choose a pre-school for all her daughters, especially one which could get her children ready for primary school, she decided on My First Skool.
My First Skool is a trusted pre-school education provider that has a holistic curriculum, highly qualified and caring teachers as well as a conducive learning environment. Children at My First Skool do not just learn, they are nurtured well to love learning – for life!
Preparation for primary school and the future goes beyond the academics. This is why My First Skool's curriculum also emphasises socio-emotional development as one of the learning areas children will experience. My First Skool's teachers work closely with the curriculum development team, leading agencies and undergo continuous training to deliver effective, engaging and innovative lessons.
---
Dawn Sim's My First Skool Journey & Experience
Little Day Out took the opportunity to hear from Dawn about her daughters' My First Skool journey and her first-hand experiences as a My First Skool parent. We also wanted to find out why Dawn felt that her preschool choice has ensured schooling confidence and success in her children.
I follow a more authoritative parenting style. Whenever I set the expectations or ground rules, I'll always explain the whys so they better understand the reason behind the intentions.
---
What values or qualities are important to you, that you hope to cultivate in your daughters?
Independence, resourcefulness, respect, appreciation, discipline and honesty. Not in order of importance.
---
Proximity to our home, quality of the teachers and curriculum, longstanding and good track record in the early childhood industry.
The teachers at My First Skool are very patient. They make an effort to share with me what they observe about my child where possible, so that I can continue to work on their development at home.
The kind of curriculum I was seeking was one that best prepares them for mainstream schools. I wanted them to build their confidence to be able to adapt to primary school life. My First Skool has been able to do that for all my daughters.
---
What did you like about the curriculum My First Skool offers?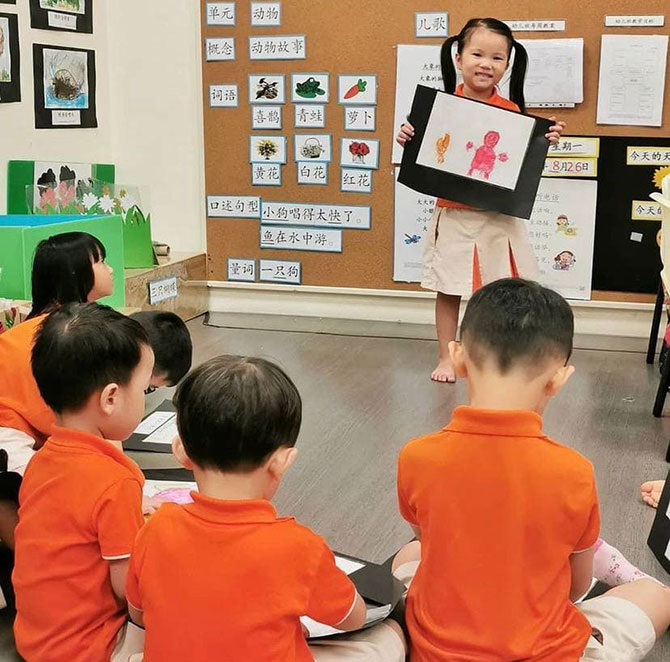 The children were given certain responsibilities early on at school such as caring for the plants. This activity really helps to reinforce what I teach them about responsibility, consistency (they needed to water the plants every day or change the water on a regular basis) and to care for another living thing. They got to see how something can flourish under their care which shows them how their efforts can be rewarded.
The interesting dramatic learning corners and interactive activities made lessons more fun and memorable for the children. They even visited the neighbourhood and learnt about the community and world around them in a safe way,
When we first moved back from the USA, I enrolled my two older girls in My First Skool. That was when I first noticed how quickly my kids picked up their Chinese language skills.
Their spoken Mandarin improved and they were able to communicate with their paternal grandma who only speaks in Mandarin. It was heart-warming to see them be able to bond, especially since they weren't able to spend much time together in their early years.
This impressed me about their programme. Previously, I had enrolled them at another preschool but pulled them out because I felt they were not picking up Chinese language skills as quickly as I wished they would.
---
Teachers are important in delivering the curriculum, and they are the ones who matter most to the children. What was your experience like with My First Skool teachers?
I really enjoyed connecting and communicating with the teachers at My First Skool. They would regularly share their feedback with me about my children's development. This was consistent for all four of my daughters despite us moving houses and switching them from one centre to the next.
The My First Skool parent app allowed me to get constant updates and even images of Nykki when she's at school. I appreciated it so much, especially when we weren't able to enter the centre because of the pandemic. And, when their father was overseas for a number of years, I could also share these images and updates with him.
I felt that the updates and feedback shared by the various teachers were also extremely helpful in helping us parents better understand their developmental milestones. This allowed us to reinforce the learnings at home.
---
In your opinion, how prepared were your children for primary school upon graduating from My First Skool?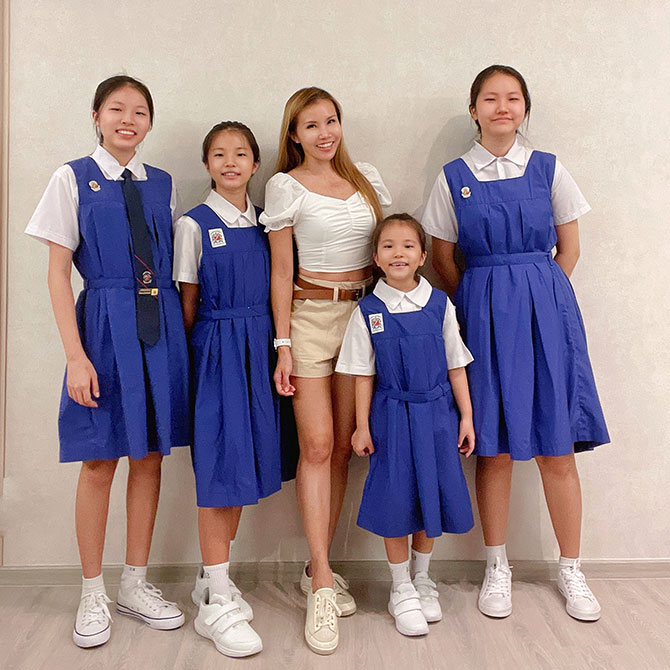 I felt they were very well prepared. None of them ever had any issues getting used to primary school life. I was especially concerned for my youngest Nykki as parents weren't allowed to accompany their kids to the first day of school to help guide them due to the pandemic. Even though I did worry that they would have trouble getting used to a totally new environment and even buying food from the canteen, it was never a problem.
I was so happy to know that My First Skool organised physical visits for my 3 older daughters (Nykki went through a virtual visit instead as it was during COIVD times) to primary schools. The teachers at My First Skool would also talk about primary school life with the kids while familiarising them with practical skills like counting money and buying food from the canteen.
---
What are your favourite memories of My First Skool?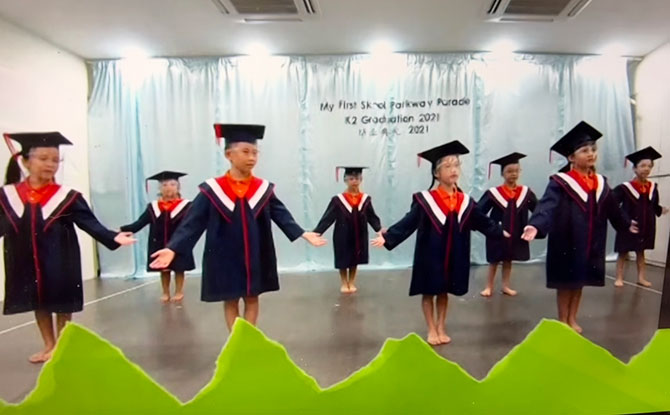 The field trips where parents could tag along, the family day outings, the K2 performances put together at the end of the year. We also have the many pictures of my children's day-to-day school life that are uploaded by their teachers.
---
Find out more about My First Skool
Thank you Dawn for sharing with our readers on your My First Skool experience. It sounds like a wise pre-school choice for the early years.
Register your child between 1 Mar and 31 Mar 2022 and receive a $100 shopping voucher upon successful enrolment! Terms and conditions apply. If you are keen to find out more about My First Skool, click here.
This feature is brought to you by My First Skool.