"Last time ah…" is how some of us may start our recollections of our younger days. Singapore has changed a lot over the years and a Singapore childhood nowadays is very different from the one those who grew up in the 1970s and 1980s would have experienced.
One Singaporean, Muhammad Jellanie, has been capturing memories of his childhood in cartoons and sharing them on his Facebook group, My Childhood Daze.
The 51-year-old started My Childhood Daze to remind himself and the younger generation of how childhood in Singapore used to be.
Self-taught as an artist, Muhammad Jellanie's interest in drawing came about from his love of comics. And many of his own favourite childhood memories, such as playing games and heading out to buy snacks in the neighbourhood, have found their way into his sketches.
---
-- Story continues below --
My Childhood Daze: Cartoons Capturing Nostalgic Memories of Singapore
The cartoons on My Childhood Daze are a treasure trove of scenes and situations from the past.
Those who grew up in the era when Changi Airport was still new (before the era of T2 and T3, and T4) and remember going to the Rasa Singapura Food Centre will appreciate them.
---
Do You Remember?
Here's a sample of Muhammad Jellanie's cartoons from the My Childhood Daze Facebook group. You can also join the group here.
Who remembers thumb-wrestling in class?
It was the era before remote controls. Which is just as well since channel-surfing was confined to SBC channels 5, 8 and later 12.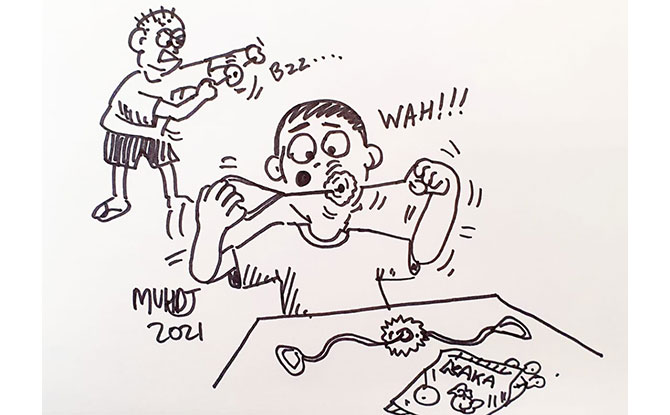 Kaka was a favourite snack! (Chickadees was a close second).
It would be hard for students nowadays to whiten their shoes with whiteboard markers.
Quite unthinkable nowadays but, in the past, we took this type of punishment in our stride (and sometimes with pride too).
We always looked forward to Children's Day for the snacks and games.
If you enjoy reliving these memories or simply like the cartoons, you can join the My Childhood Daze Facebook group here.