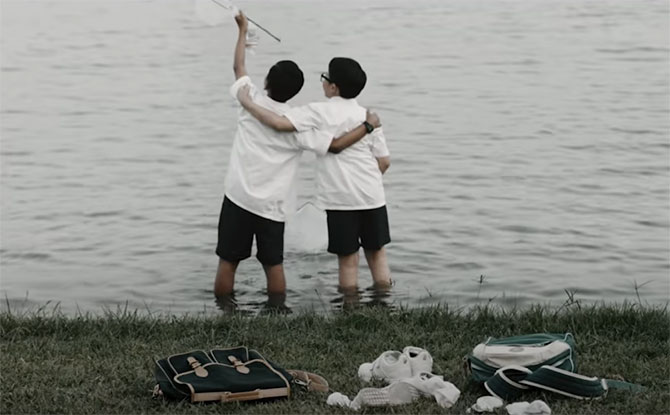 Sama-sama maju ke hadapan… the opening line of Semoga Bahagia, the Children's Day song in Singapore, never fails to evoke nostalgic flashbacks to childhood.
With its lilting melody and meaningful lyrics, the Children's Day song continues to hold a special place in the hearts of Singaporeans.
Here are five interesting things about the Children's Day song Semoga Bahagia.
---
Semoga Bahagia: Children's Day Song
Composed by Zubir Said
Semoga Bahagia was written by Zubir Said. The maestro was born in 1907 in West Sumatra before eventually making his way to Singapore. He wrote more than 1,000 musical works. The most famous of these is Majulah Singapura, Singapore's National Anthem. The next most well-known song is Semoga Bahagia. Pak Zubir had five children and he was a devoted father.
---
Contains Advice to Children
The Children's Day song contains advice to children. It covers a whole range of subjects including courtesy, respect, care for the community, diligence and the value of hard work. These timeless values are applicable even to today.
---
Children's Day Song since 1970
In 1970, the Ministry of Education in Singapore adopted Semoga Bahagia as the official Children's Day song. This means that anyone around the age of 55 and under will probably remember the song as the soundtrack of Children's Day in Singapore.
---
Many Versions
Semoga Bahagia has been covered by artists like Inch Chua and the Teng Ensemble (with helpful a English translation) and Singapore Symphony Orchestra. It is used in commercials whenever they wish to evoke sentimental feelings.
There is also a gov.sg version available. It features a heavy dose of school day nostalgia like playing recorder and iced gem biscuits. Personally, we do like it.
More recently, it found new meaning during the pandemic with a new gov.sg version.
---
Original Sing-a-long Version with Lyrics
Thanks to YouTube account holder Alice Lee, you can listen and view the lyrics to a sing-a-Long version of the song on YouTube. It has been viewed 238,000 times. Check it out above.
Here are the lyrics of Semoga Bahagia with the translation:
---
Semoga Bahagia (Children's Day Song) by Zubir Said
Sama-sama maju ke hadapan
Pandai cari pelajaran
Jaga diri dalam kesihatan
Serta sopan-santun dengan kawan-kawan
Dengan hati bersih serta suci
Sama-sama hormat dan berbudi
Jaga tingkah pemuda-pemudi
Adat dan budaya junjung tinggi
Capailah lekas cita-cita pemudi-pemuda
Supaya kita ada harga di mata dunia
Kalau kita lengah serta lupa
Hidup kita sia-sia
Jiwa besar sihat serta segar
Rajin dengan sabar tentu bahagia
Lemah lembut perangai pemudi
Cergas tangkas wataknya pemuda
Sukarela selalu berbakti
Sikap yang pembela dan berjasa
Capailah nama yang mulia pemudi-pemuda
Rajinlah supaya berjaya semoga bahagia
May You Achieve Happiness
Together we progress onward
Clever at seeking knowledge
Take care of your health
And be courteous to your friends
With a heart that is clean and pure
Together we respect and do good
Watch your behaviour, oh youths
Customs and cultures, hold them high
Quickly reach your ambitions, oh youths
So that we'll have our worth, in the eyes of the world
If we are lazy and forgetful
Our lives are for nothing
A good soul, a healthy and fresh mind
Hard work and patience, definitely brings happiness
Soft-spoken is the lady
Energetic and tenacious is the man
Volunteering, always contributing
Protecting and giving service
Attain a respectable position, oh youths
Be hardworking so that you will succeed, may you achieve happiness