Life with multiples is often another learning curve as parents learn to meet the needs of two children. We catch up with YES933 FM radio deejay Peifen who shares with us her thoughts on her children, work-life balance and how to encourage learning of Mandarin.
---
Little Day Out interview with YES933 DJ Peifen
The last time we interviewed you was when you were expecting Jude, how was life been with two boys?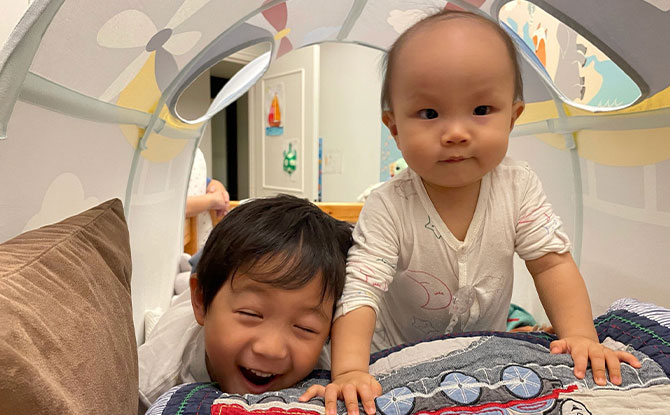 It's been…full. Haha. Full of laughter and tears, full of excitement and sleepless nights, full of joy and love.
---
How are Luke and Jude getting along?
Great! Though it's still rather one-sided now, with Luke showering more love and words on his little brother than the other way around. But I have noticed that Jude laughs at Luke's jokes more easily than anyone else's, and I often catch him watching Gege quietly, so I think he finds this other little human being who is just slightly bigger than him quite amazing.
---
How have your parenting perspectives grown with two children instead of one?
I find myself having to manage not only my relationships with them individually, but also my relationship with them together, and their relationship with each other. I need to be fair, but also understand them as individuals and not just "children".
---
It's probably an exhausting period of time for you with young children who need your attention, how do you juggle work and family?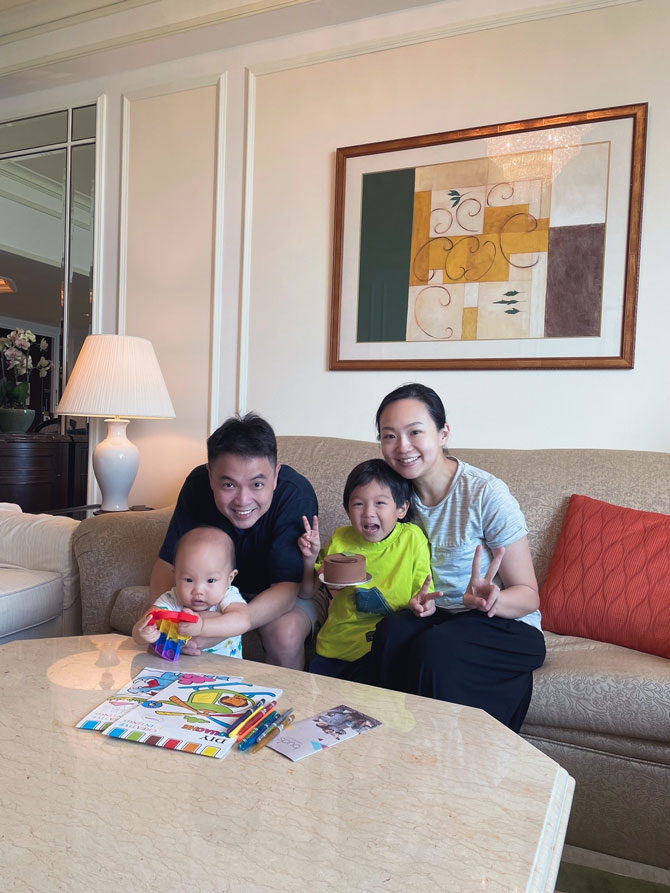 It hasn't been easy to be honest and I'm still learning. I'm grateful to have my husband working from home and be around to help out much more, and we are both grateful for all the help that we have received in our parenthood journey. I try to remind myself to be fully committed to whatever I am doing. If I'm working, I do not let parenthood affect my work; if I am off work, I try to focus my time and attention fully on my family.
---
We love your podcast produced together with Luke, how did you get started on this project?
My podcast series on Chinese idioms was created from a list provided by MOE, which are idioms taught in the current Chinese primary syllabus. I came up with the idea of a mother telling her child stories made up from these idioms. Some stories are original ones created by me, and some are actual folklore from which the idioms came about.
The local conversational style of presentation is more casual and fun, which I feel appeals to Singaporean young children because they can relate directly to our way of speaking. And children love hearing other children tell stories, so I got my son to voice the script as well, and we've had a lot of fun doing this together!
Idioms are a great way to deepen our understanding of the Chinese language and culture, it's less intimidating than Chinese poetry because each idiom only has four words, and the meanings of many simple idioms can be guessed easily from reading the words.
For the original stories, I usually think about the messages I want my son to remember, for example, not snack too much, be on time for school etc, and I try to work them into the stories I create for the idioms.
I also try to inject child-friendly humour into my stories, and so far I think I'm doing it right, based on the feedback I've received from parents! Recording is easy because I can do it with him at home in less than an hour as the scripts are short, which makes the messages easy to understand for kids who are listening!
---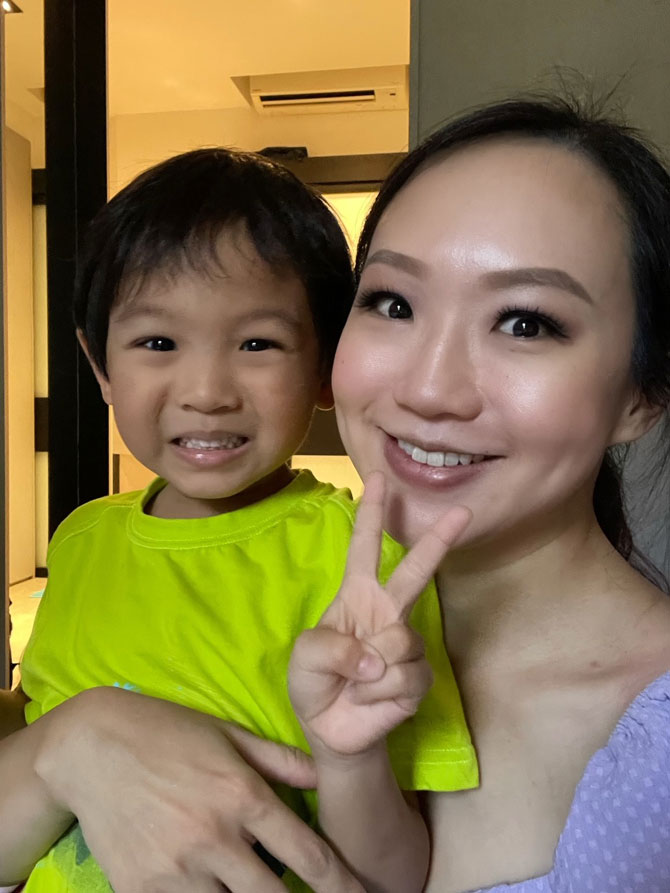 Make it a part of daily life
Language is culture, it's a way of life. It's not just another subject to learn in school. Start with encouraging your little ones to make their first words 爸爸/妈妈, to one day ordering "cai fan" by mentioning the key ingredients like ⻄西 兰花、炸鸡、荷包蛋instead of 这个那个.
Be the role model for your little ones
Speak to them in Mandarin, even if you struggle, learn with your little ones.
Make it fun
Sing, dance, rap, form Chinese characters with toys or even your own body.
---
Any new spots to recommend for a Little Day Out?
I honestly haven't been out and about a lot, especially to new spots. As a family, we still love the beach, and we just went to picnic at Tanjong Beach, Sentosa. It's nice because booking is required during peak periods like weekends, so the beaches don't get very crowded.
---
Parenting And Encouraging Mandarin-Learning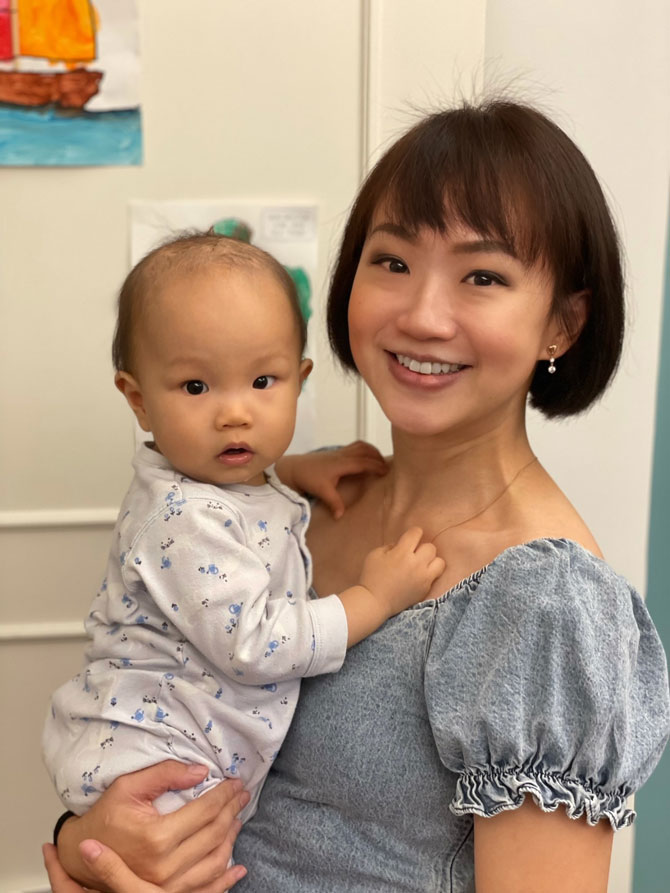 Peifen sure has her hands full! But kudos to her effort in continuing to teach her child and imparting language skills. Parents have a vital role to play in inculcating values and teaching languages. There is no better place to start than at home.
Thank you Peifen for your generous sharing and the much-loved podcasts on Chinese idioms. To listen to more of Peifen's podcasts and programmes, check out this site.