Are you reliant on screentime to get through mealtimes? You are not alone! The secret to gadget-free mealtimes is – #ohmymats reusable silicon mats! We speak to Audrey, founder of Oh My Mats to share more about her brilliant invention that has saved mealtimes and our sanity. There's much to learn from this spunky mumtrepreneur!
Little Day Out Interview with Oh My Mats
---
A short introduction of yourself, your family please.
I'm an ex-MOE teacher and started my own business after I had my 2nd son in 2011. We've been running TLO.com.sg officially since early 2012 and expanded our business with our own brand: #ohmymats.
We have 3 kids – 13 year old boy, 9 year old boy and 5 year old girl. They each have their unique nicknames given by our customers-turned-friends!
#ohmybigboy, #ohmybabyoppa & #ohmymeimei! You can guess how #ohmymats name came about!
---
-- Story continues below --
Every day is a storm with 3 kids of differing personalities, especially with one of them on the autism spectrum.
---
Tell us the story of Oh My Mats.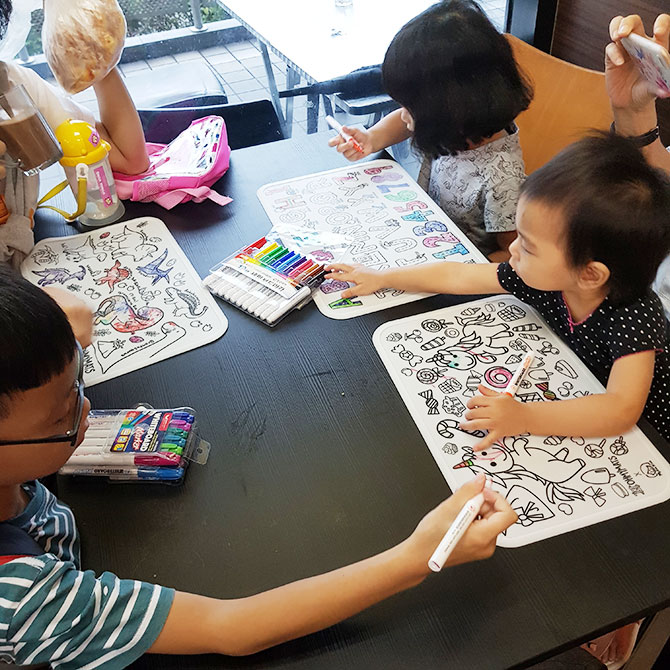 My children love colouring. And back in 2014, we got to know a silicone factory in Korea and sold many products manufactured by them over the years. Back then, we were very keen in making a custom printed dining mat from my autistic boy's drawings but lacked the technical knowledge to transform his hand-drawn drawings into digital work for the factory to print. As such, that project was shelved.
In 2018, a teacher friend who loves to doodle decided to leave MOE to spend more time with her children. Mdm Koo helped me a lot in kickstarting our first designs! And by this time, I had equipped myself with the technical knowledge to transfer hand-drawn work on paper into digital drawings.
We picked up the custom printed dining mat project again and made a crazy discovery during a meeting with another friend who switched jobs to sell stationery. He popped by my office with markers and we were wondering if markers would stain the dining mats we were going to print. And… we discovered it not only does it not stain the mats, we can simply wipe the mats and colour again!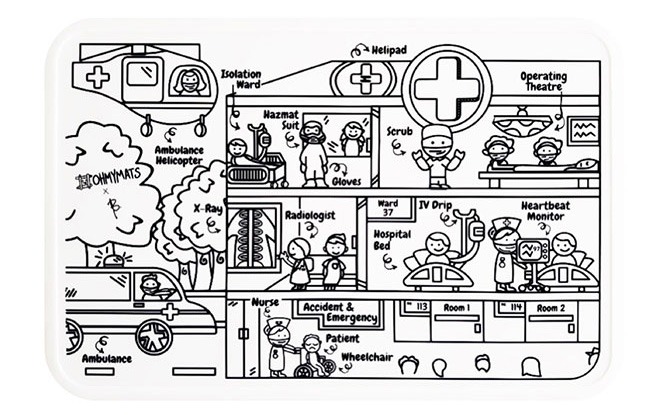 We checked with the silicone factory and sent marker samples over. The progression from there became focused on branding and how to share this new novelty to families!
We love how #ohmymats Reusable Colouring & Dining Mats brought children away from gadgets & helped them develop their motor skills to get ready for formal schooling without all the tears!
---
What would children and parents love about Oh My Mats?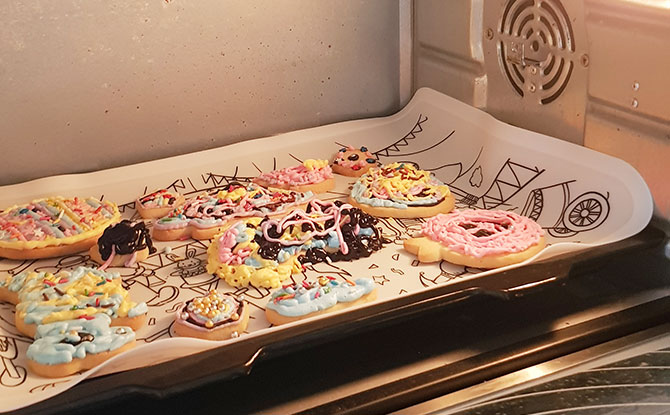 #ohmymats is made of high-quality food grade platinum silicone which does not have harmful chemicals produced (which harm the environment) during the manufacturing process unlike other types of silicone. With high quality control from our factory, we've also done lab tests in Singapore to ensure #ohmymats meet EU toy safety standards.
With more than 60 designs to choose from, there's always something for everyone!
---
We love the collaboration with various artists. Can you tell us more about them?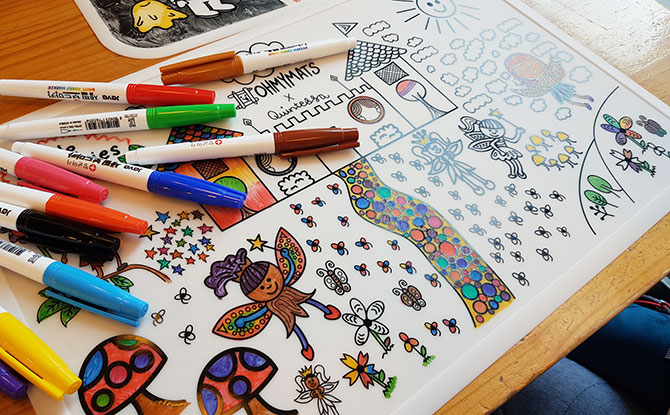 As a Singapore brand, and as parents, we felt that there are a lot of ways our local artists can be showcased. Many of our local artists are struggling and do not have the know how to make products or run a business. We give them the opportunity to see their drawings come alive and appreciated by children all over the world.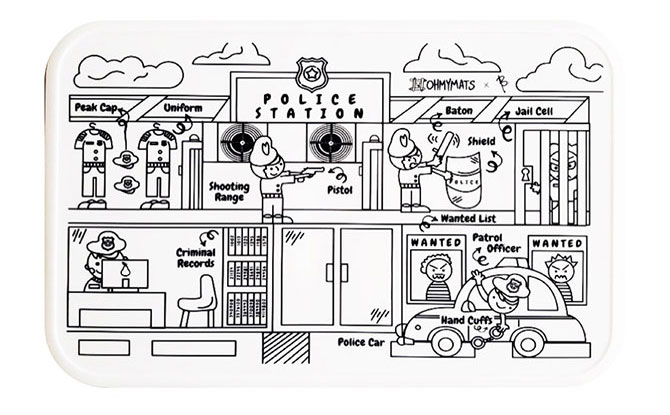 We have young artists as young as 6 years old, we also have our special needs artists! Every artist has their unique style and ideas. We love them all!
---
From your creation, it seems you are a very creative mum. How do you encourage your children to be creative? 
As I work from home a lot previously as a tutor after I left MOE, I realised that my children need to be engaged in fun activities to be able to stay out of my lessons.
We created art zones at home where they have access to rough paper and drawing materials. My boys always had new doodles every 5 minutes to share! I proudly share them on social media and try to video their accompanying stories behind each doodle as these are such fond memories to look back at in the future.
---
The pandemic has adversely impacted many businesses. How has Oh My Mats coped during this crisis?
#ohmymats is a small business. We have always worked on a lean team and minimal cost philosophy so as to pass more savings to our customers by keeping prices affordable.
During this season, we are affected but we have saved up for rainy days since the start of our business and we're prepared to ride through the storm.
It is very heartening that parents help us to post & share about #ohmymats during this period. Any sharing is greatly appreciated as nothing works better than word of mouth.
---
Any advice for other entrepreneurs?
The 5 BEs:
Be honest. Always run your business with honesty.
Be creative. Don't copy ideas of others.
Be bold. Be the first – Not the second.
Be hardworking. Nothing is served on a silver plate.
Be humble. You are nothing without your customers.
---
#OhMyMats and more Screen-free Mealtimes!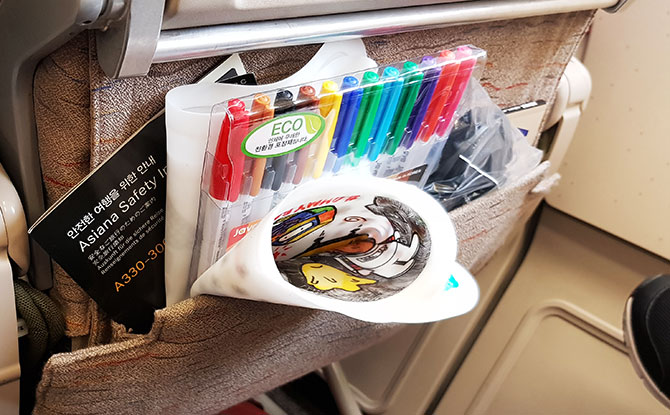 We loved Audrey's honest sharing and her very practical advice for fellow business owners. Most of all, we like the ingenious product and how it benefits both parent and child. The versatility of the mats also make it easy to bring around, during outings or travels.
For more information on #ohmymats, visit its website.