Making the trip to Okinawa with kids was the holiday I waited years for – literally. "Oh so drama", you may be thinking but I really did wait for a few years to make the family trip to Okinawa.
Why? The reason is that given the activities in Okinawa, I thought 4 to 9 years old will be a great age for a family holiday to the island in the South of Japan.
Read on and let's see if you concur. Look out for #TIPS along the way.
---
DAY 1: Urasoe Park, Blue Seal Ice Park, Marine Piazza Okinawa
We took a direct red-eye flight from Singapore to Okinawa and chose to drive straight to Motobu on our first day. The plan was to drive north and then slowly head south across the island to experience all it had to offer.
From Naha airport to Motobu (the northern-most area of Okinawa where tourists typically stop), it is only about a 1.5-hour drive but we had planned two pit stops along the way (and to ensure that the kids tire out so that they can nap around their usual naptime).
Urasoe Park
Our first stop was Urasoe Park, a public park with a long playground slide. There were numerous green spaces that are great fun for children and that it also gave them the chance to stretch their legs!
Urasoe Park, 901-2132 Okinawa Urasoe City Iso 115-1
Blue Seal Ice Park
Our second stop was the Blue Seal Ice Park.
Blue Seal Ice Cream is THE famous Okinawan Ice Cream. You will see Blue Seal ice cream all over Okinawa!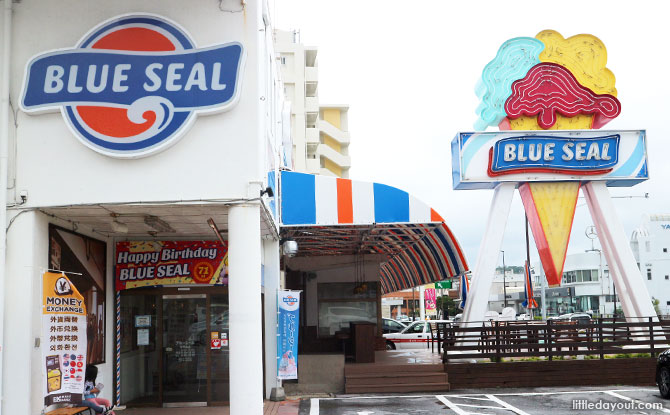 If you pay a visit to the Blue Seal Ice Cream factory, you can make your own ice cream! Plus, it is a less-than-10-minute drive from Urasoe Park.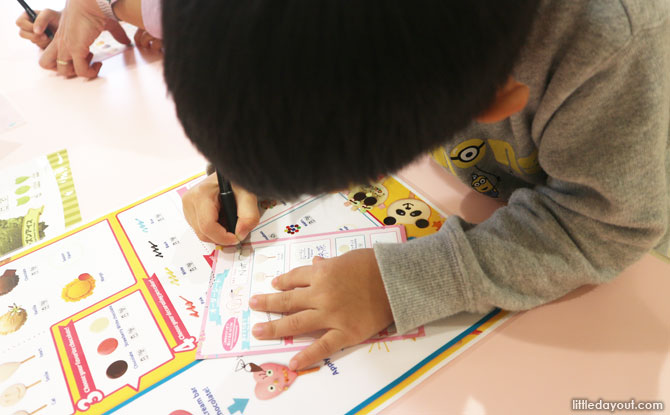 At the factory, first, you will be given a sheet to choose your ice cream design, the flavour and topping.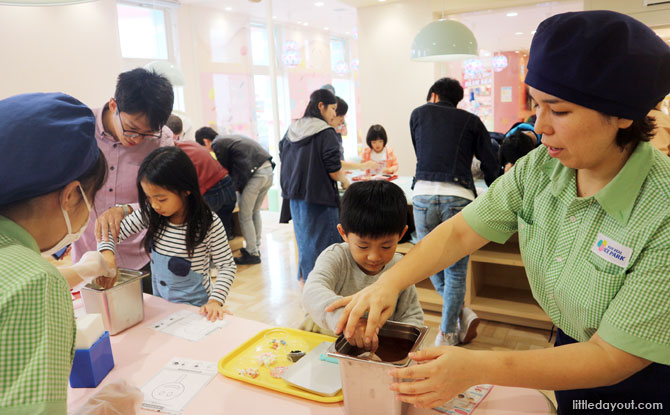 With that design, you will then pick out the ingredients and begin the ice-cream making! We queued for the ingredients with our design and then dipped the ice cream to coat it with the flavour of choice. Finally, we decorated it with the icing and toppings and then got to bring it home! YAY!
While my girl and I enjoyed the overall ice-cream making experience immensely, my son seemed to love eating the free soft serve he received at the end of the workshop more!
The experience at the Blue Seal Ice Cream factory costs 1500 yen per child.
Blue Seal Ice Park, 905-0206 Okinawa Urasoe City Makiminato 5-5-6
On to Motobu
With the kids exhausted, we put them in their car seats and headed on to Motobu.
Our hotel at Motobu was the Marine Piazza Okinawa. We stayed in the Japanese Western room and it was spacious.
The view from the hotel overlooks the dolphins at the next door Genki Motobu Village.
---
DAY 2: Ocean Sea Expo and Nakijin Castle Ruins
Many folks travel to Motobu for the famous Churaumi Aquarium. It is part of the Ocean Expo, which consists of seven different areas:
– Churaumi Aquarium *
– Dolphin Lagoon
– Tropical Dream Centre (flower exhibit)*
– Tropical and Sub-tropical Arboretum
– Native Okinawan Village
– Oceanic Culture Museum and Planetarium*
– Emerald Beach (not huge but it is beautiful. Opens from April, close during winter)
*These places require a ticket. The others are free.
The dolphin lagoon has free shows and I personally liked the Native Okinawan Village.
Dolphin Lagoon Show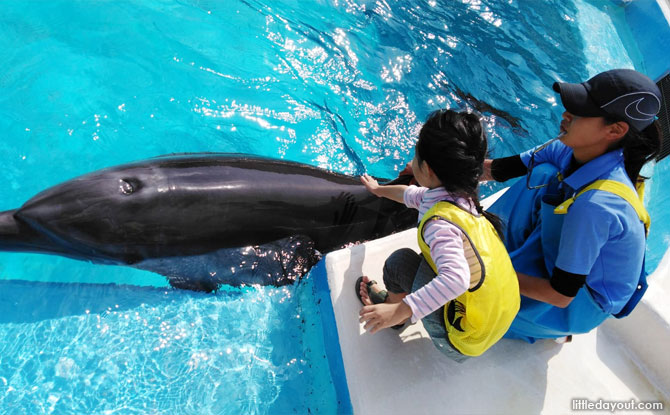 The dolphin show can get quite crowded, so do go early. You can also feed the dolphins for 500 yen.
Churaumi Aquarium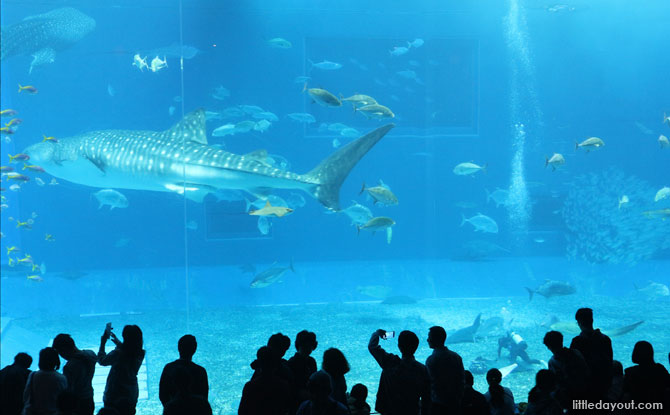 Churaumi Aquarium is one of the highlights of Ocean Expo. It has a touch pool, smaller aquatic exhibits and a big tank.
There is a mini theatre for visitors to learn more about marine life. It is pretty cool and informative.
We learnt that there is a deep sea current (like a highway) along Okinawa island. This current results in Okinawa enjoying a huge variety of marine life. Some of the sea creatures spotted in Okinawa have even been tracked all the way to Mexico!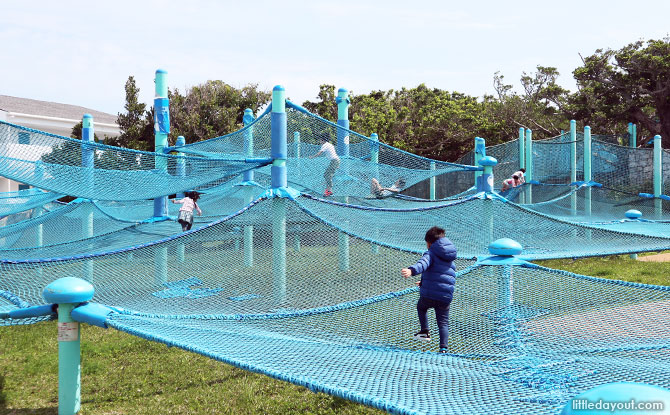 The children had fun playing at the outdoor playground in the gorgeous Okinawan weather.
Native Okinawan Village
A short walk from Churaumi Aquarium (still within Ocean Expo), you will see some old Okinawan houses.
When we visited, there were old ladies from Motobu present who showed us how to play their traditional 3-string instrument, the shamisen.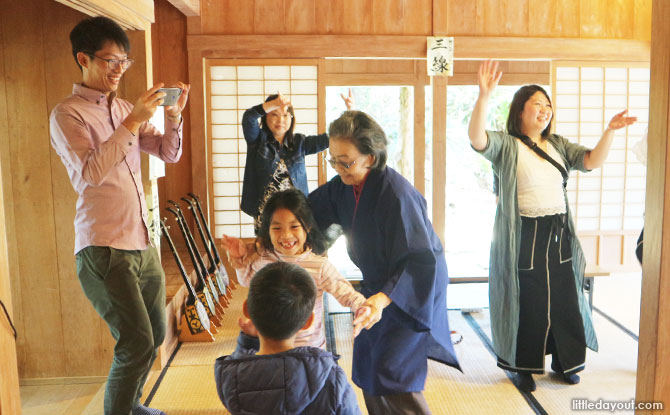 These ladies also taught us their traditional dance and the experience was completely free!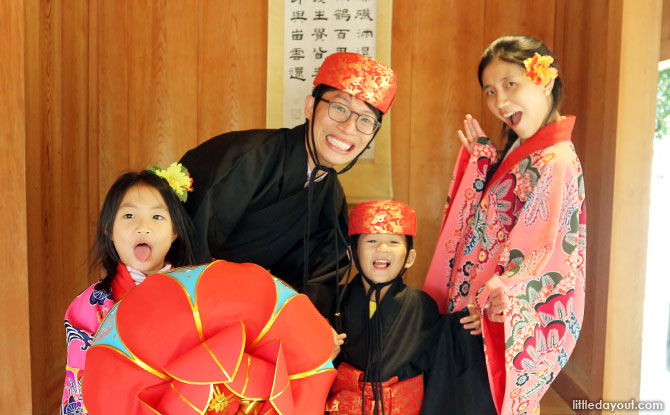 It was also free to dress up in the traditional Okinawan Ryuku costumes which are slightly different from Japanese costumes.
Take note that the attractions close around 4.30 pm. Even after spending a whole day at Ocean Sea Expo, we did not manage to visit all the attractions within Ocean Expo Park.
Ocean Expo Park, 424番地 Ishikawa, Motobu, Kunigami District, Okinawa 905-0206, Japan
#TIP 1: Visit Ocean Expo Park JAPANESE site then right click for google translate instead of diving into their English version site. You will have some amazing finds. ?
#TIP 2: Look out for the "Free Activities of the Day" Poster at the point of entrance.
#TIP 3: If you stay till 5 pm, you get to visit the 4th floor of the aquarium where you can see the tank from top down view. How cool!
As I knew we were leaving Motobu the next day, and because I was feeling slightly ambitious, I asked the hubby if it was alright to visit the Nakijin Castle Ruins (UNESCO World Heritage Site). To my pleasant surprise, he said "yes". So there we went!
Nakijin Castle Ruins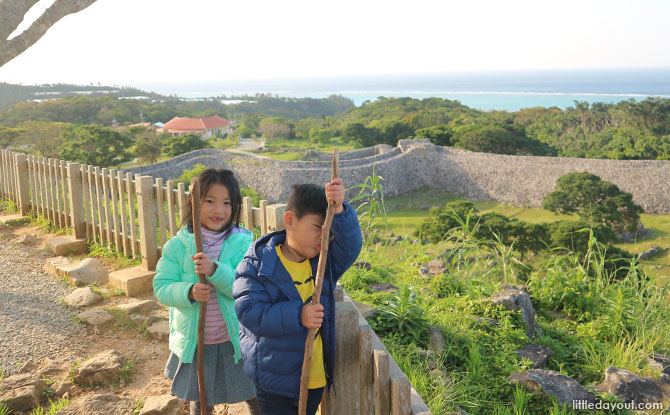 Do remember to get the tickets at the booth (near carpark) before heading to the heritage site. They provide walking sticks for senior folks and, well, let's just say that Kungfu Panda inspired us to try out some moves with the walking stick.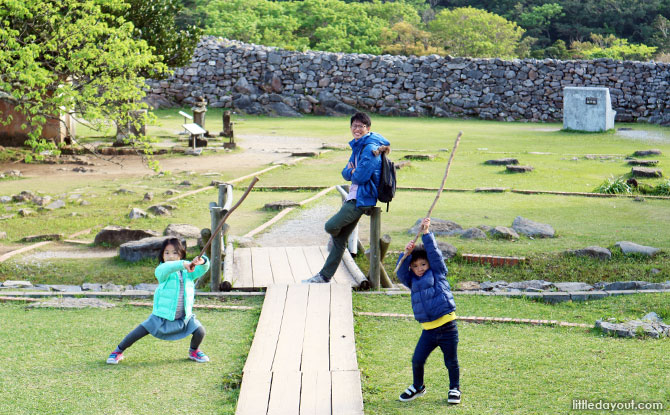 Some elderly Japanese who were using the walking sticks had a great laugh when they saw my little ones with the sticks. Comic relief? Our pleasure!
Nakijin Castle Ruins, 5101 Imadomari, Nakijin-son, Kunigami-gun, Okinawa, 905-0428
---
DAY 3: Genki Motobu, Dinosaur Park, Pineapple Park, Rizzan Sea Park Tancha Bay
On the third morning, we decided to head to Genki Motobu Village.
Genki Motobu Village
At Genki Motobu, we got to play some table tennis, basketball and the kids also had the chance to role play different jobs (similar to KidZania). My kids chose to be turtle keepers!
They changed into their work clothes then started with feeding of fish.
They then cleaned tanks and scrubbed a turtle's back.
After all their hard work, they received their pay! They used their pay to exchange for little gifts at the mart. It was all good fun.
Genki Motobu Village, 410 Hamamoto, 本部町 Motobu, Kunigami District, Okinawa 905-0216, Japan
From Motobu in the north of Okinawa, we headed to the middle of the island and to our next hotel, making two pit stops along the way.
Dinosaur Park
When we rented our car, we had the option of purchasing some attraction tickets at discounted prices. Thus, we decided to visit these places which were en route to our next destination.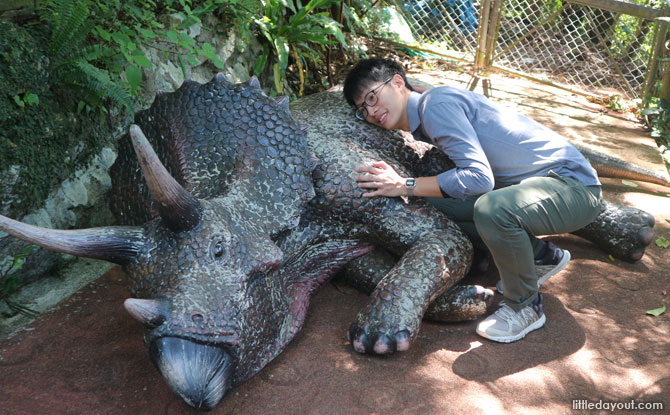 At Dinosaur Park, the exhibits were nice while the sub-tropical plant landscape added to the Jurassic Park look-and-feel of the park.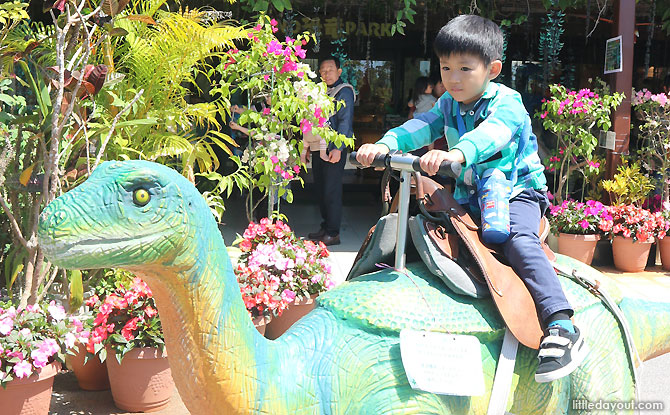 They also have little coin-operated kiddy rides for kids to climb aboard a "dinosaur".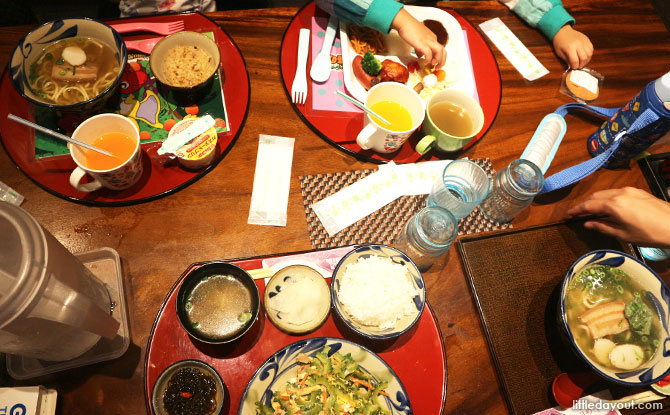 Right across the street from the Dinosaur Park is a beautiful little restaurant selling Okinawan food. The sets starts from 800 yen and what a spread we got!
Dinosaur Park, Nakayama, Nago-shi, Okinawa-ken 905-0004
Nago Pineapple Park
We also made a stop at the Nago Pineapple Park.
This is a theme park dedicated to pineapples, an agricultural product of Okinawa.
Eventually, we arrived at Rizzan Sea Park Hotel, our accommodation for the evening. The hotel is situated by the beach and is relatively close to the famous Blue Cave!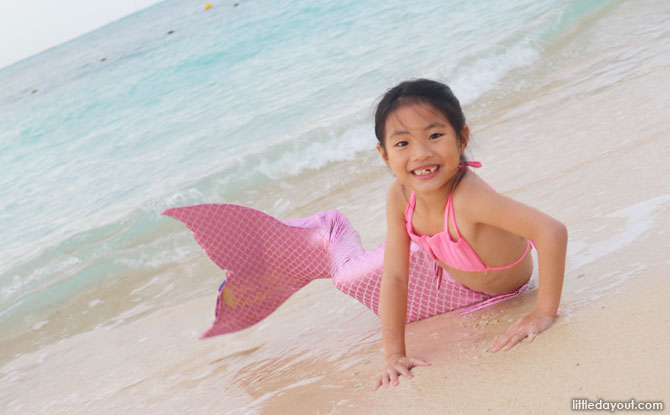 When we arrived, the sun was setting but we decided to hit the beach and take some quick photos of my girl in her mermaid costume! While we had brought along our own mermaid fins for the holiday, the resort also does offer mermaid photography. Our mermaid dream fulfilled!
We thoroughly enjoyed the beach, the waves and the hotel's heated pool.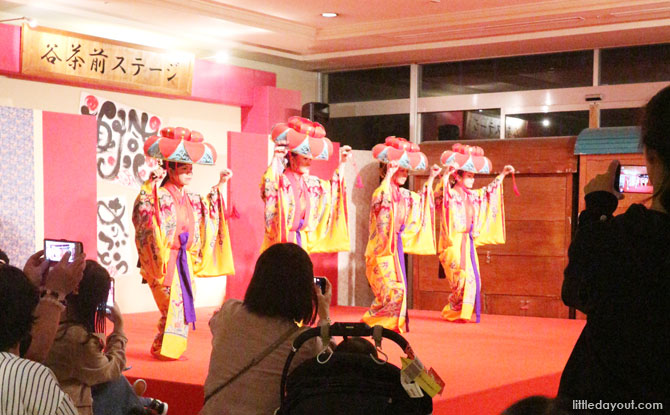 There were night time performances at the hotel too.
---
DAY 4: Blue Cave Snorkelling
What can you do at the Blue Cave? Snorkelling!
Yes, we brought our 6-year-old and 4-year-old snorkelling. Before the trip to Okinawa, we had practised with them to give them confidence but we weren't sure if they would be ready for the "real thing".
In fact, we were not sure if we would even be able to snorkel as we had not made any bookings in advance. Nonetheless, we still drove to the vicinity of the Blue Cave to look for a company to bring us out. Thankfully, we found a dive shop, Take Dive, that was available to take us snorkelling.
I must say the adults (parents and the guide) were completely surprised that the kids did not scream and shout in the water.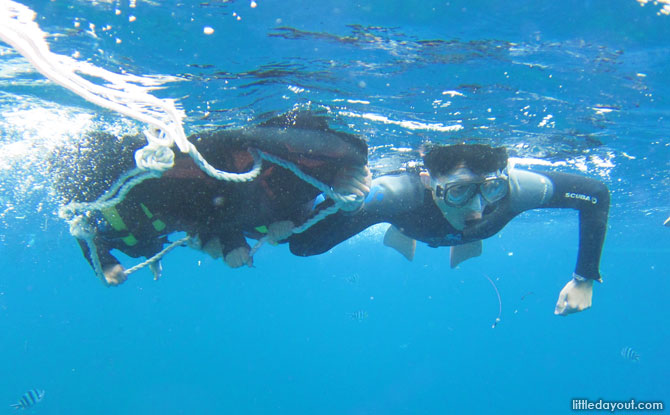 Instead, the two young ones just focused on snorkelling and watching the fish in the water.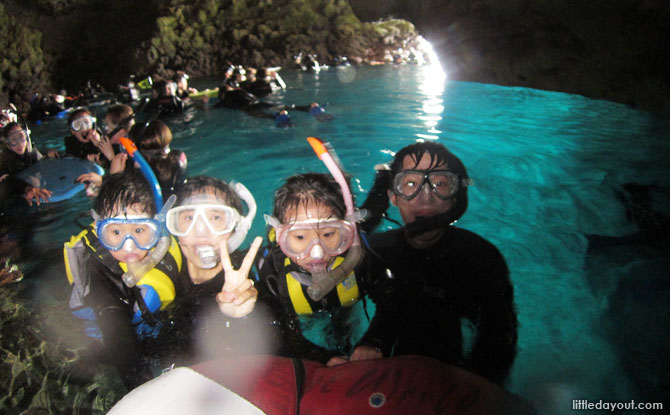 All of us were mesmerised by the marine life and thoroughly enjoyed snorkelling in Okinawa. Even hubby, who does not like the water, said that he was so happy that we decided to do it.
#TIP 4: Bring your own waterproof camera.
#TIP 5: Go with a guide that speaks English. We were turned away from a shop because we did not speak Japanese. For safety reasons, this made perfect sense.
#TIP 6: You can get to snorkelling by either the boat entrance or beach entrance. We took a boat and we're glad we did. The beach entrance can be a little steep and rocky for young ones.
My son came out of the water feeling really cold and shivering, despite wearing two layers of wet suits! Thankfully, our guide was well-prepared with heated water. Problem solved.
The owner of Take Dive spoke English and the shop provides snorkelling equipment, wet suits, fish feed and boat entry. There is even a hot shower at their shop.
Back on the boat after snorkelling, my son turned to me and asked, "Mummy, can we come here again?"
The snorkelling experience costs between 3500 yen to 5500 yen per person, depending on whether you choose to enter the water from the beach or from a boat.
Though we had only spent about an hour in the water, we were completely tired out. It was back to the hotel to rest.
When we woke up from our nap, we just spent some time at the hotel's arcade and playing with fire crackers that were sold at the hotel's mini-mart.
---
DAY 5: Pirate Game, Cape Maeda, Nagagusuku Park
After the adrenalin-filled experience in the water, we took the next day a lot slower.
We went to the onsen within the hotel's compound.
Yes, yes! It is a typical Japanese onsen that does not allow any clothes. So weird! But I thought, "Since we are here to experience something different, why not do as the locals do!"
Males and females use separate onsens. My daughter initially freaked out when I tried to prep her but once she saw what everyone else was doing, she was the first to undress. Hahaha!
The onsen was so relaxing. After that, we did not want to go anywhere but back to bed.
We did have a chance to take a walk at the beach before having a dessert buffet lunch!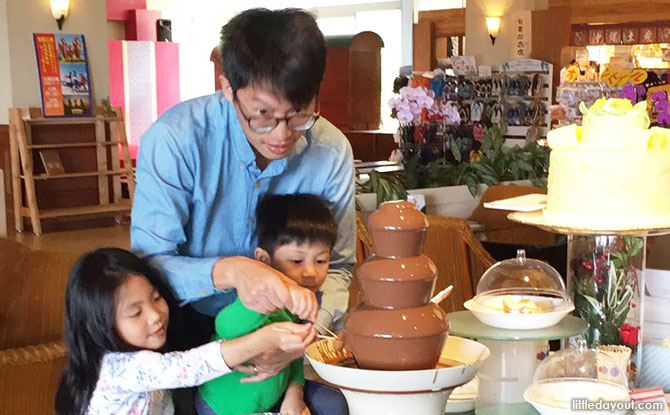 The dessert buffet lunch was not planned for. Instead, we chanced upon it and discovered that for 500 yen per adult, we could enjoy dessert buffet, plus children dine for FREE!
We had lots of pancakes, chocolate fondue and ice cream. Needless to say, we were pleased and all fuelled up.
Pirate Game at Renaissance Hotel
We were ready for our next adventure – a Pirate Ship game activity at the Renaissance Hotel. This hotel activity is opened to the public and so we decide to sign up for it.
The hotel provided pirate attire for the kids to dress up and the children got to learn how to operate the pirate ship. It was a HUGE pity that the sea was very choppy on that day, resulting in the ship being docked. If the water wasn't so choppy, the ship would have sailed out.
Part of the Pirate experience involves a storyline with riddles for kids to solve. Everything was in Japanese, so the only thing we could fully participate was the water gun battle!!!! Oh yes!!!
We won the battle and the children received some coins which could be exchanged for "loot" at the gift shop. Personally, we found the experience, which cost 3500 yen, pricey.
Renaissance Hotel, 3425-2 Yamada, Onna, Kunigami District, Okinawa 904-0416, Japan
From Renaissance Hotel, we drove along the coast towards Naha, Okinawa's capital city.
Cape Manzamo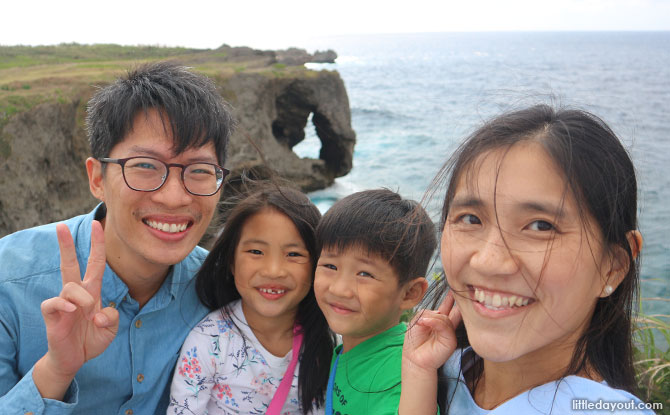 Along the way, we stopped to admire the famous elephant-shaped rock formation at Cape Manzamo. The children enjoyed the view, watching the waves crashing against the rocks. It was a very relaxing stop.
Nagagusuku Park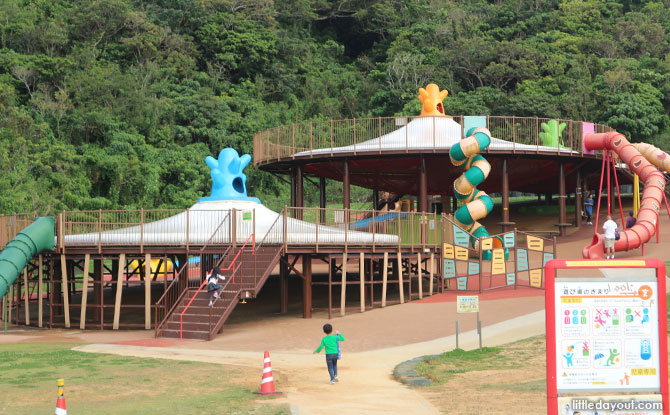 We next visited Nagagusuku Park, a very spacious park.
See the white canvas? It is made of very stretchy material that children can roll down.
By the time we left, we were bushed!
Nagagusuku Park, 901-2315 Okinawa, Nakagami District, Kitanakagusuku, 荻堂平田原370-2
It was back on the highway towards Naha to return our car. While we enjoyed the freedom of having the car, Naha was just too crowded to drive around and parking fees were pricey. Plus, the city's Yu-Rail also makes it easy for travel within Naha, even without a car.
We chose to stay at a boutique hotel, WBF Art hotel, right smack within Kokusai Dori, the international shopping street.
---
DAY 6: Shuri Castle
On our final day in Okinawa with kids, we took the Yu-Rail to Shuri Castle and walked, walked, walked.
Shuri Castle is a huge compound and to encourage you to tour the entire place, each visitor receives a card to collect ink stamps. Once you've completed them, you will receive a little file. It is a small incentive, but pretty nonetheless.
Unfortunately, we could not take photos within the castle because photography is disallowed.
We discovered a little café within the castle, in a room where the ancient Ryuku kings used to have tea ages and ages ago. The kings' tea room has been turned into a tea café! A set with tea and traditional treats costs about 600 yen.
We took a seat and savoured the experience, and the view, within the tea room.
#TIP 7: Things along Kokusai Dori is cheaper as you head closer to Miebashi Station (Yu-Rail) and more expensive towards Makishi Station.
#TIP 8: There are exotic cafes in that vicinity. Owl café and Hedgehog café. However, my kids scream in the presence of dogs and cats, so it was a 'no-go' for us.
With that, we have come to an end of the Okinawa leg of our family hoiday. Next stop, Taiwan!
---
Some Final Thoughts about When to Visit Okinawa with Kids
Okinawa has fantastic beach activities lined-up during the summer period, with inflatables by the beach. It looks super exciting but we chose to visit during winter because we initially wanted to do whale watching, an activity only available during winter. What's more, the temperature in Okinawa during winter is an enjoyable 13 to 18 degrees.
Looking at all the activities that Okinawa has to offer, don't you think it is perfect for a family holiday with pre-school and primary school children?