There is nothing quite like boarding a ship and sailing away to adventure. It's therefore no wonder that many playgrounds in Singapore themed after ships or boats. In fact, there are plenty of ship playgrounds in Singapore which offer endless nautical-themed play possibilities. These come in all different shapes and sizes.
Here are some interesting nautical-themed boat and ship playgrounds in Singapore that we've come across.
---
Nautical-Themed Boat and Ship Playgrounds in Singapore
Sembawang Park Battleship Playground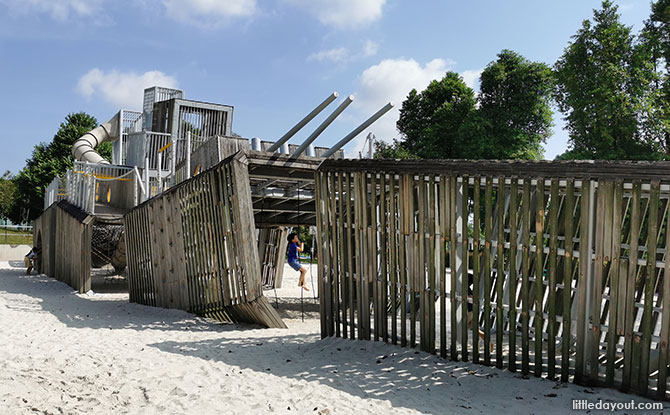 The largest ship playground in Singapore is the massive battleship playground at Sembawang Park. This not only features multiple decks that kids can explore but also pays tribute to the area's naval heritage. Read more about the Sembawang Park Battleship Playground.
---
-- Story continues below --
Shipwreck Playground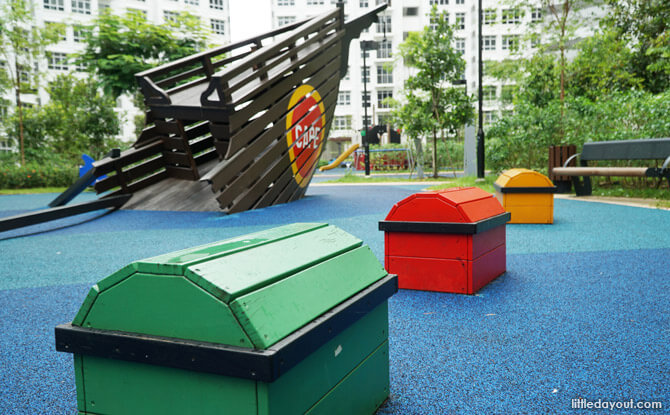 Explore a shipwreck and perhaps uncover some hidden treasure at the shipwreck playground at Block 286C Compassvale Crescent. Chests (maybe laden with treasure) lie around the main playground structure.
[Note: Sections of this playground were under maintenance as of March 2022.]
---
Spanish Galleon Playground
The Canberra area has an entire fleet of nautical-themed playgrounds. The one which stands out the most to us is the cool-looking Spanish Galleon playground at EastDelta. It has a bowsprit at the front and a quarterdeck at the rear. Find out more about the Canberra ship playgrounds.
---
Speedboat Playground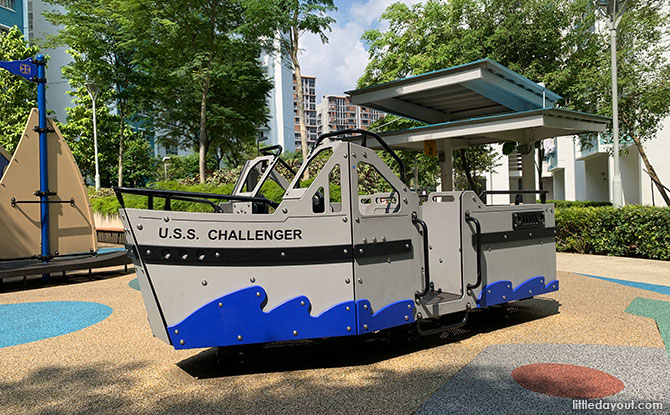 The Sunbreeze estate next to Canberra Park has three boat-themed play structures but the one which stood out the most to us was the little speedboat. Beside it is a sailboat and a larger vessel is next to that too. Check it out the next time you visit Canberra Park.
---
Northshore Playground: Climb the Rigging
Conveniently located next to Northshore Plaza II, the Royal Ship playground is a two-storey affair where kids can have some fun.
Another interesting ship playground that we came across is in front of Block 422 Northshore Drive. This Northshore playground offers more climbing challenges for older kids in the form of a ropes strung out to look like a ship.
---
Viking Ship Playground
West Coast Park's massive playground is fun central for kids. Here, you will find a Viking ship playground, moored in a sandy play area. Board the ship and set a course towards adventure and fun.
---
Sampan Playground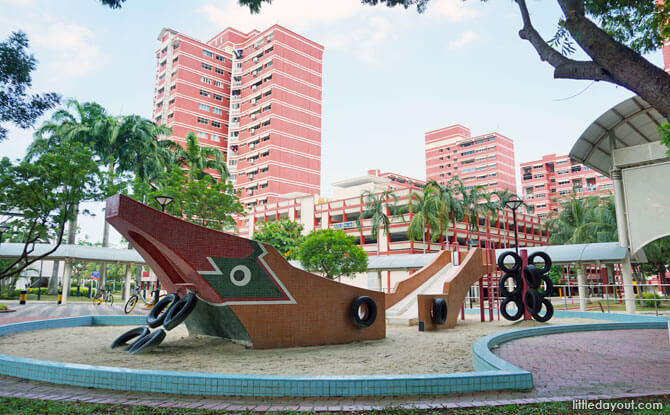 Go old school at this sampan-shaped bumboat playground at Pasir Ris next to Elias Mall, 625 Elias Road, Singapore 510625. Just like the sampans of old, it has eyes at the bow. Climb aboard using the tyre ladder and slide down the slide at the stern. Read more about the sampan playground.
---
Ahoy! More Nautical Play Fun in Singapore
For more ideas to float your boat, there is also the ship simulator at the Singapore Maritime Gallery, going on an indoor sampan ride or sailing along the Singapore River.