After an exciting trip to the United Kingdom and London with the family, we went on to visit another relative who lives in Germany. Initially, we had thought of staying a few days in Innsbruck because the snow mountains are just 20-minute bus rides away and no driving was needed but our relatives invited us to spend four days with them in Munich. We decided to take them up on their offer to have a family trip to Munich with the kids.
---
Travelling to Munich with Kids
Traveling from London to Munich via Innsbruck in winter turned out to be an adventure in itself. Our flight from Heathrow to Innsbruck was delayed because of fog in Innsbruck. We ended up waiting on the tarmac for three hours.
What's more, the three-hour delay meant that we would miss our connecting train from Innsbruck to Munich.
---
-- Story continues below --
When the flight finally took off, the pilot shared, "We are heading to Innsbruck to take a look. If we can't land, we will head to Salzburg." So off we flew without knowing where we would land.
As we came in for the landing at Innsbruck, we were worried by the thick fog! Then we saw houses and ground but, before we knew it, our plane took off again. The pilot hand to go around try to land a second time. When he succeeded, the plane erupted into applause.
Thankfully, my uncle and aunt had traced our flight and come to pick us up.
---
Experiencing Local Hospitality
The next few days, they introduced us to foods like raclette, knödel and the use of a Dutch oven for cooking.
We enjoyed exploring the woods nearby.
It was nice that they offered a peek into their lives. We really appreciated how the whole family hosted us.
---
Sledding in Austria
But what we loved the most was sledding! While we were there, the weather was warmer than usual. The mountain that was usually white in winter looked rather green. However, we still had a chance to pay a visit to Skiwelt Söll in Austria to enjoy the slopes.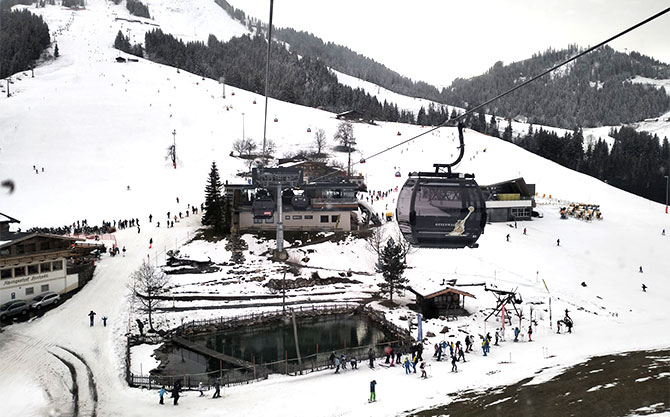 Imagine our joy when we took a cable car up and saw snowfall. It was the first time we saw snowfall in our lives!
This also meant that we got to go sledding. And this was not just a 50 metre ride, it was over 3.2 km of slopes!
It was great that we went with locals as we could not manoeuvre the sled well.
We are thankful because my cousins could take the kids with them. It was safer that way than had visit on our own and put the kids on our sled.
---
Munich with Kids: Old Town and City Centre
We also paid a visit to the Munich City Centre. The City Centre is compact, and many attractions are a few minutes walk from each other. This makes it easy to navigate even with kids in tow. However, it can get crowded.
Marienplatz
At 12 noon, head to Marienplatz to watch the clock tower chime. You can watch the clock tower that continues for 10 minutes.
Frauenkirche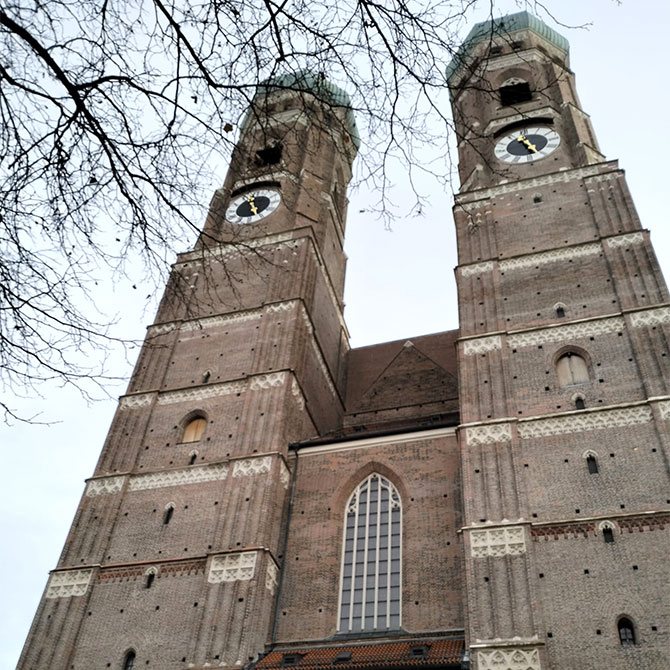 This is a Gothic church and famous for its legendary devil's footprint in the church. It is a beautiful church with stained glass windows.
Munich Residenz
The Munich Residenz is the former royal palace of the Wittelsbach monarchs of Bavaria. Unfortunately, the queue to visit the Munich Residenz was long on the day of our intended visit. As we had another appointment, we had to give it a miss.
Victuals Market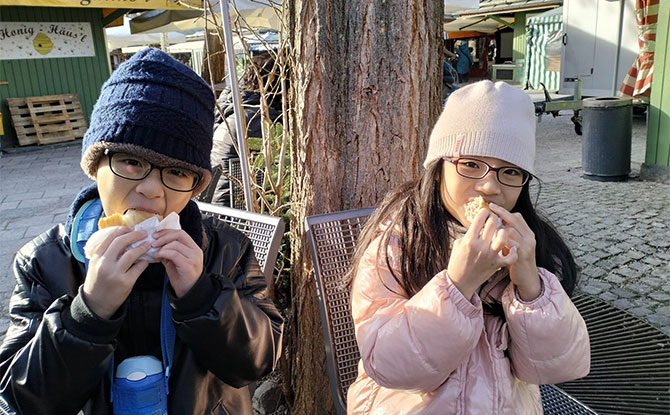 Victuals Market is a market street with many stalls. I bought some honey here and my daughter insisted on having a Bavarian burger at the market. Even though we do not speak German, she was able to observe other and made the order.
My cousin brought us around and showed us the parliament building and a theatre which still bore marks of swastika on the ceiling.
We even saw people surfing in the canals in the winter air!
---
Travels with the Family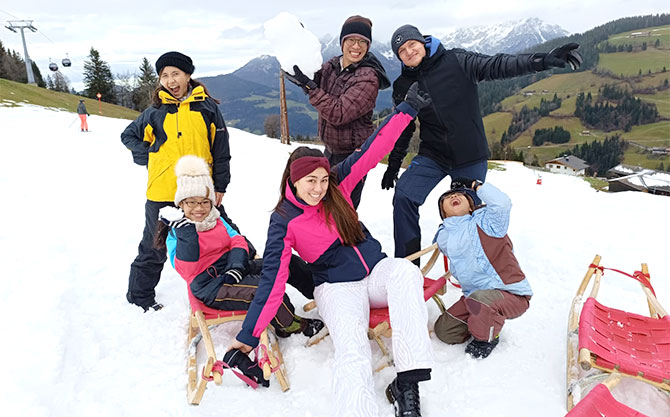 As much as the winter season is unpredictable, there was something that my parents, husband and kids appreciated and enjoyed while on the trip around England, London and Munich.
Looking back, there were little blessings and it was a trip where I appreciated my family, who were easy to travel with, and relatives who had been so hospitable. It was a humbling and memorable trip and if you are also planning something similar, I wish you a great trip of your own!