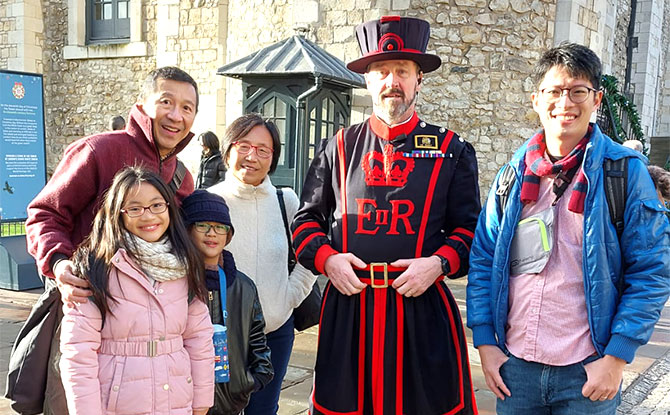 Following our eventful adventures in Bath, Windsor, Warwick and Oxford, we returned our rental car back in London and said hello to the Oyster Card and train travel. This was the start of our family trip in London with kids.
When in London, up to four children under 11 travel can free with a fare-paying adult. This was a boon for us. We put up at our cousin's place, which had an awesome location – Liverpool Street Station.
---
Family Trip Itinerary in London with Kids
For the London leg of the trip, I will cluster the top tourist spots by location, using River Thames as a reference.
---
-- Story continues below --
Area A – The Icons
Big Ben & St James Park
Look up! That's Big Ben! You will also be able to see London Eye just across the bridge.
From the Houses of Parliament, we took a walk to Buckingham Palace. We walked through St James Park, which has a serene atmosphere. Just walking through the park, my daughter commented, "I like this park. It feels so nice."
Also close by is Westminster Abbey, a royal church and a UNESCO World Heritage Site.
Buckingham Palace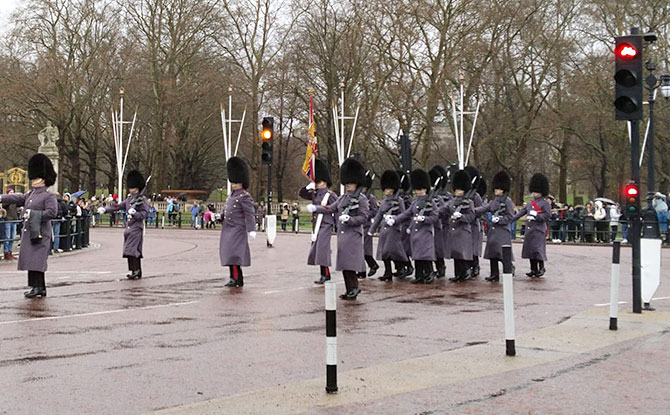 At Buckingham Palace, the Changing of the Guards takes place on Sundays, Mondays, Wednesdays and Fridays. We got to see the change of guards – something that my mum wanted to do.
Hyde Park
As the weather was getting too cold, we decided to warm ourselves and grab something eat before taking a train to Hyde Park.
Our cousin recommended visiting Winter Wonderland, held in Hyde Park in the winter, and took us there! Knowing how popular it was, we booked in advance. Entry tickets are just a couple of pounds but the individual rides were pricey at £6 to £9 per ride.
We ice skated, and took several rides. The kids loved it because they got to take many rides! We got the kids a Santa Pass for Santa Village rides (3 rides for £10). Compared to the other rides, this is worth it. I finally went on a helter-skelter – a slide that you ride using a sack ­– after seeing it in many children's books.
There were so many rides, stalls and games booths. We even watched a circus show under the tent!
After the show, we decided to take the children back to rest while my cousin and brother took my parents to the Bavarian Village, where there was a revolving pub they could enjoy drinks.
If you are at Hyde Park, you may also wish to pay a visit to the Diana, Princess of Wales' Memorial Playground In Kensington Gardens, London.
---
Area B – Museums
The next day was a museum day. We paid a visit to the London Transport Museum before heading to the Royal Opera House (a 4-minute walk away). The British Museum is then a 10-minute walk from Royal Opera House. Many of the museums are included in a London Pass.
London Transport Museum, Covent Garden

The London Transport Museum is kid-friendly museum with lots to see, do and touch.
On the day that we were there, activities for children included collecting bus tickets or going on a hunt.
It is worth visiting the London Transport Museum with kids.
Milk Train
Just behind London Transport Museum, there is a shop called the Milk Train which serves soft serve ice cream with candy floss. Cute!
Royal Opera House
Royal Opera House is home to The Royal Opera and The Royal Ballet. We did not watch a performance but booked a Nutcracker Tour instead since it was Christmas.
The Opera House has an old wing and a new glass extension wing. The interior was rich and solemn, but no pictures are allowed.
The Nutcracker Tour is based on the story of The Nutcracker, and provides insight into the storyline of the ballet, different dance gestures, the music and instruments used. The guide even explained how they make snow appear on stage.
The British Museum
The British Museum is known for its many artefacts. When we stepped into the galleries, we found this to be true as there were artefacts everywhere the eye could see!
The ginormous museum made me feel very small but the information counters to the left and right of the entrance were very helpful.
British Museum has printed explorer trails, which are booklets that you can use. They also offer backpack materials, which are also free, but a deposit is needed.
We did both, and I would recommend the backpack, hands down.
There are different backpacks for you to pick from depending on the topics you are interested in. We chose Anglo-Roman, and there were five activities with materials for children to explore the museum. The adults appreciated that the activities kept the children engaged!
This museum is extremely popular so some exhibits can be crowded. However, it is vast, there was much to see. We only completed two trails and had our fill of details and decided it was time to head off for lunch.
The Postal Museum
The Postal Museum is not huge, but it has a lovely narrative. Inside, you can learn about postal services in Britain and its the impact on the world. For example, the first stamp in the world was the the United Kingdom's Penny Black.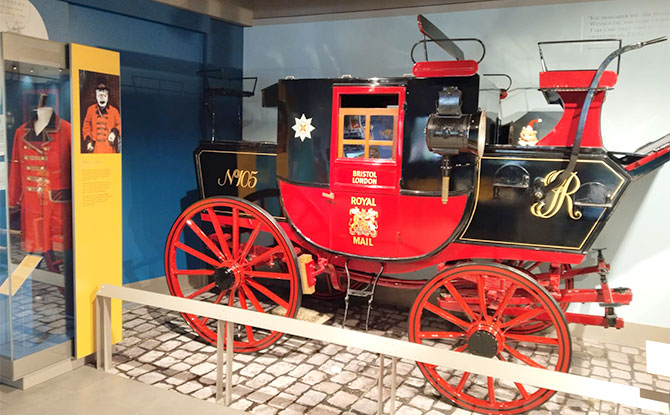 There are gorgeous artefacts of postal service vehicles, mailboxes, consoles at The Postal Museum. Together, they tell the history of the postal service through fun activities.
What was lovely was The Postal Museum came with joint admission to the Mail Rail where you can ride a train that was formerly used for transporting mail. During 1920s, the streets of London were too crowded and so an underground rail was built to delivery mail!
The Mail Rail was not just a train ride. It was a ride that brought us through the tunnels that had displays that showed how various stations looked. There were even light-and-sound shows at some stops. There is a room for soft play for babies and preschoolers.
Check on opening times before visiting. When we were there, it only open from Wednesday to Sunday.
---
Area C – Jewels
Tower of London, Tower Hill
The Tower of London is a fantastic place to visit. It is so rich in history and jewels.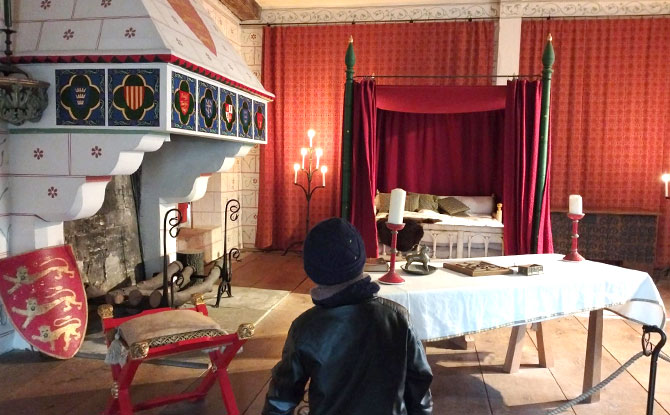 It was a royal fortress, a royal palace, a political prison, a place of execution, an arsenal, a royal mint, and a public records office. The crown jewels are stored here too. There was so much to see.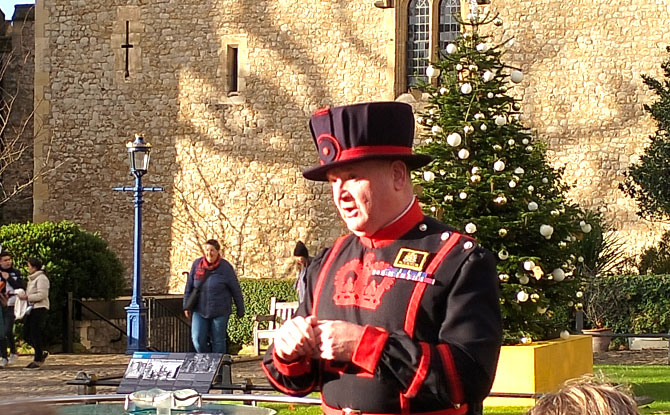 An integral part of the Tower are its Yeoman Warders. They have been wearing the same uniform for hundreds of years and each of them is selected from retired military personnel who have served at least 15 years in the service.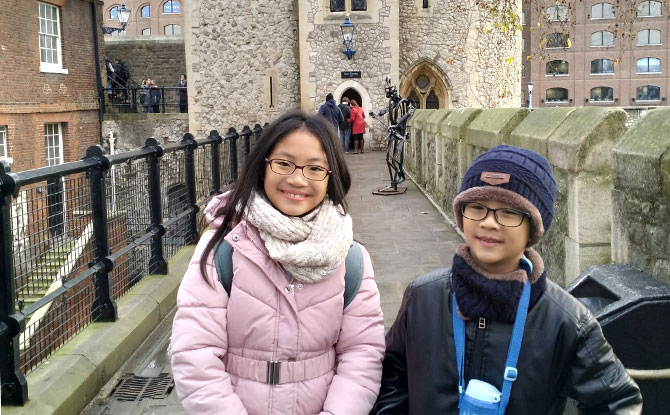 Be prepared to do lots of walking as there are various one-way paths and plenty of stairs to climb.
Tower Bridge
The Tower Bridge is an icon of London! It was an architectural marvel when it was built. It is a beautiful bridge which I particularly liked.
You can visit the walkways at the top of Tower Bridge. Here, you can see how the bridge was built, lie down on a glass floor for a unique photo op, or simply enjoy the view.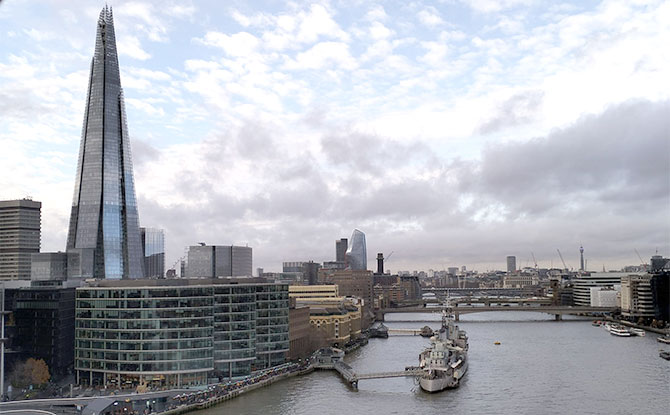 We could see HMS Belfast and the Tower of London clearly from the top of the bridge. Looking down, you can watch the traffic go by below.
Leadenhall Market
We came to this place to take some photos and for my daughter, a li'll Potterhead!
Monument to the Great Fire of London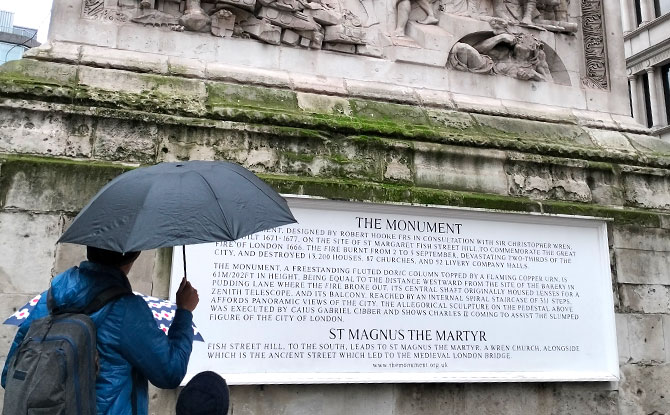 The Monument is right smack in the midst of office buildings. It remembers the Great Fire of London. This is not uncommon in London where historical buildings can be neighbours to much more modern buildings. London is a city filled with rich heritage, and there is just so much to see.
Shakespeare's Globe Theatre
Shakespeare's Globe Theatre was constructed in 1598. Throughout history, it has been burnt down and reconstructed 15 times. The latest reconstruction completed in 1997 and is slightly adjacent from the original location.
If you took literature or your child might be doing literature, it would be lovely to see how a theatre looks and hear about Shakespeare. We took a 10-minute boat ride from the Tower of London to reach Shakespeare Globe Theatre.
Our guide was someone who loved literature. Listening to the guide was like sitting in a literature class. Our fellow tour group members asked so many intellectual questions.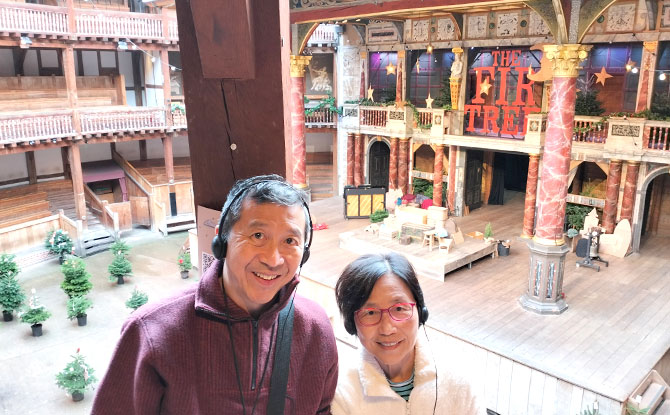 We got to see the box seats and heard about why they were created! They were intended so that the wealthy could be seen by the public! It was the Instagram of the past!
If you are planning to visit The Globe, check the time of their last guided tour of the day in advance. We almost missed it as they were closing early on the day of our visit for a performance rehearsal.
Golden Hinde
The Golden Hinde is a reconstruction of an Elizabethan galleon ship. It is not a huge ship, but it is nice to walk inside the ship.
I personally felt that a bit more light would help with the experience, but I guess lighting was as well developed back in the 1600s.
The Shard
Even with booked tickets, you need to queue to enter The Shard. It feels a little like going to the Peak in Hong Kong. In our personal opinion, we did not think The Shard was that worthwhile.
Borough Market
Borough Market is a street market where you can take in the sights of vendors selling food and produce. It is also great for grabbing a bite as well.
Tate Modern

Another sight along the South Bank that you can visit is the Tate Modern, which was on our list initially because it holds art by Henry Matisse. Henry Matisse is an artist whom primary school children are exposed to.
The Clink Prison Museum
We also did not visit The Clink Prison Museum because I thought it might be too much for my children, but if you think it something your kids would enjoyThe Clink was the most notorious medieval prison in London and had over 600 years of history, making it the oldest jail in Britain.
---
Area D – Shopping & Theatreland
There are so many theatres at London's West End. They are everywhere. However, we only dropped by the area in the evening to visit Hamleys and to go on a Harry Potter Tour (again for my li'll Potterhead daughter).
Piccadilly Circus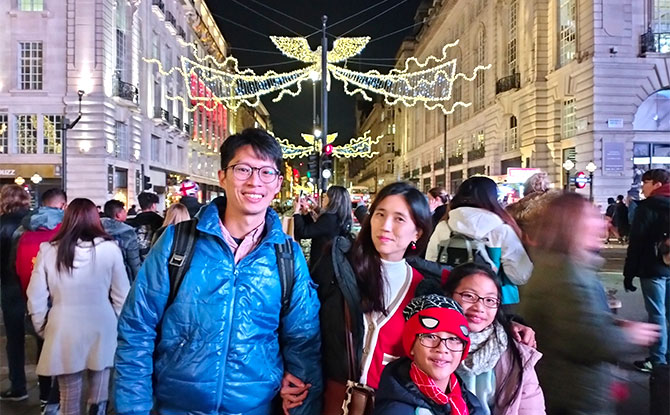 Piccadilly Circus was filled with crowds on the day of our visit.
Hamleys
The Hamleys toy store was also crowded as people were going about their shopping.
While we were out, my brother felt unwell and had to leave. However, when they walked to the nearest tube station, they discovered it was closed. In London, train stations can simply because they are overcrowded – so don't be surprised and be prepared to take alternative routes or for travel times to be a bit longer during peak hours.
Walking Tour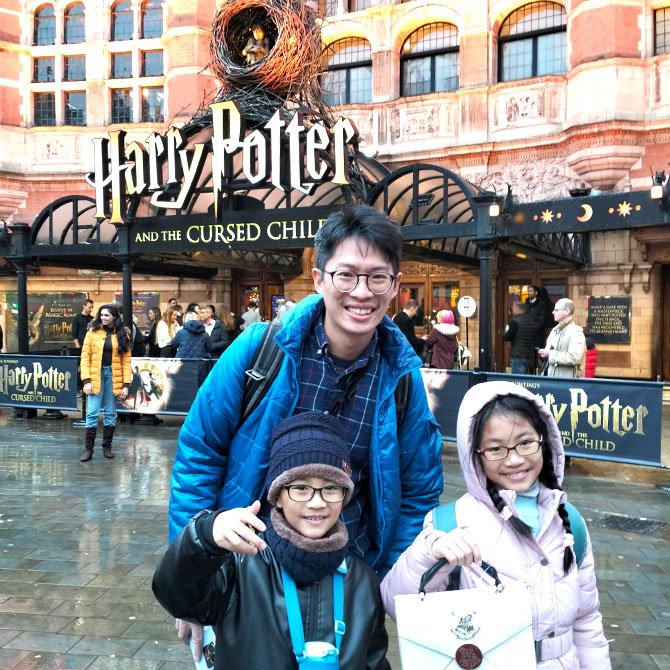 We also went on a free Strawberry Walking Tour (tip after the tour) that started at the Palace Theatre and brought us around all the various spots where the Harry Potter films were shot. We went past the National Gallery and eventually ended just across the London Eye. Though I was rather clueless, my daughter enjoyed it.
---
Area E – Kensington
Natural History Museum, Kensington
We did not get to visit the Natural History Museum! Unfortunately, we went on a different day from my parents towards the end of our trip to London with kids. And even though they were able to pay it a visit, it was too crowded on the day of our intended visit. Unless you had booked online, you would not be able to enter.
So that's a lesson to be learnt in case you are visiting London during the peak holiday season and want to visit this highly popular museum.
Victoria & Albert Museum
If you find yourself unable to visit the Natural History Museum, you can pay a visit to the Victoria and Albert Museum, better known as the V&A. A friend recommended this museum for its gorgeous interior and you can have afternoon tea here.
Science Museum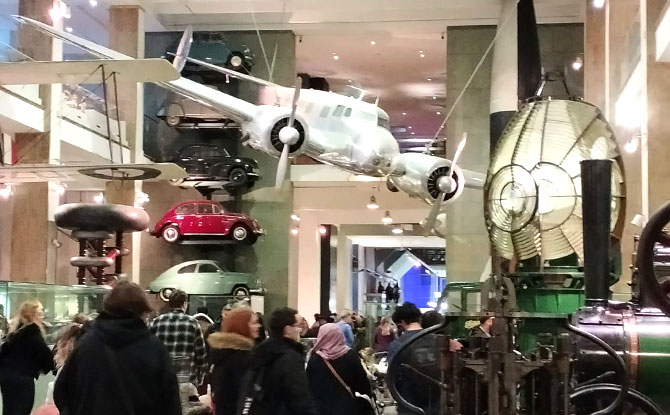 The Science Museum is massive. We ended up here because we were unable to get into the Natural History Museum. The Museum covers many different areas, from the landing on the moon to technology advancement in medical fields and changes in household items.
There is also a soft play area in the basement for the preschoolers.
The Science Museum was very crowded when we were there. On hindsight, perhaps post-Christmas may not be the best time to visit the museums as it felt like everyone had gathered there.
Science Afternoon Tea or Jurassic Afternoon Tea, Ampersand Hotel
For a splurge, we went to the Ampersand Hotel for afternoon tea. The Ampersand is a beautiful hotel with a beautiful tea room.
The Science Afternoon Tea and Jurassic Afternoon Tea are held at different locations in the hotel.
Boys may like the Jurassic-themed tea better, and that's at the basement. There are a few experiments for you to do as part of the tea experience.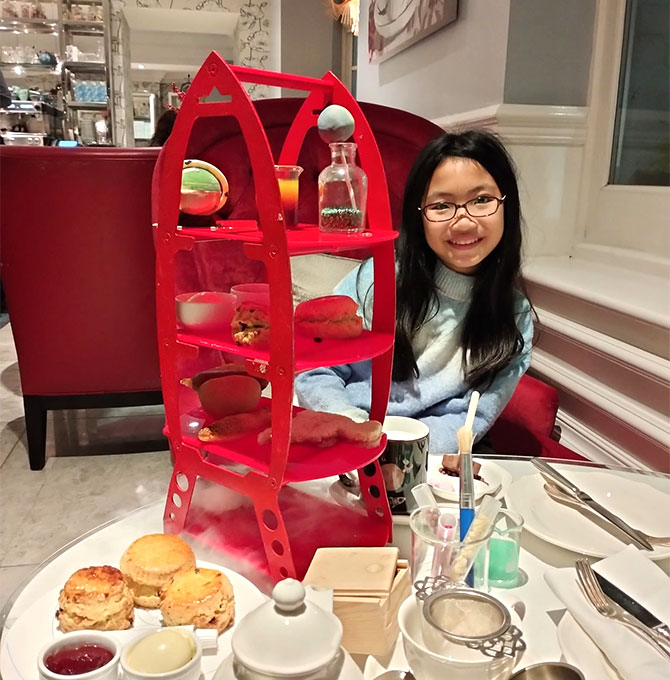 The Science-themed tea is held on the first floor, where you can look out to the streets. The tea includes experiments that kids can do.
The Science Afternoon Tea has the option of Cream Tea for adults while the Jurassic Afternoon Tea does not. It was all too much food and left us too full for dinner.
Biscuiteers, Nottinghill or Belgravia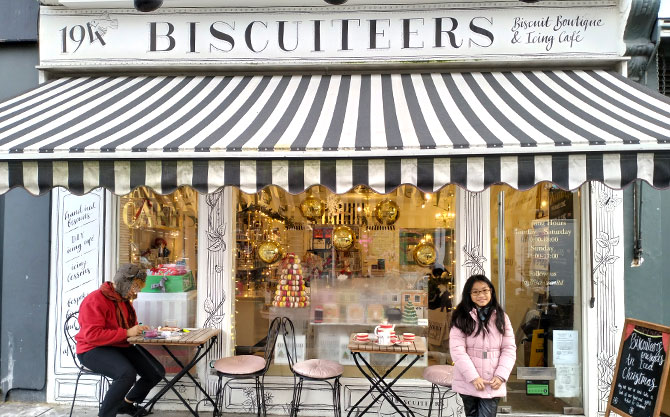 I also booked a session at Biscuiteers as I thought it would be a good change from museums and visiting historic sites. I received a discount voucher after signing up for their mailing list and was pretty place for a change of pace.
---
Day Trip Out of London
Hampton Court Palace, Molesey
Beside the Tower of London, Hampton Court Palace is another historic location worth having on a family itinerary to London with kids.
Read about our visit to Hampton Court Palace with kids.
---
Family Trip to London
A family trip to London with kids is certainly an eye opener. I liken London to a "hoarder" who keeps lots of its history, buildings and heritage, and keeps on adding on to it. The whole trip was very exciting for us.
There are so much to see and experience but I suspect you need to live there to experience all. So, pick and choose and soak it all in. That's what we did before we left on the next leg of our trip to Munich, Germany.