A three-generational 15-day vacation to the United Kingdom and Europe turned out to be an eventful experience. This started off with a trip out to Windsor, Bath, Warwick and Oxford with kids.
During the COVID-19 lockdown, my mum had her heart set on paying a visit to England and Europe. The cost and distance initially put us off but we once we had a chance, we decided to seize the opportunity to travel as an extended family.
We aimed to maximise our time in London and the United Kingdom but, even with careful planning, it turned out to be more of an adventure than we had anticipated.
---
Visiting Windsor, Bath, Warwick & Oxford with Kids
A Trip to Windsor & Bath
After transiting in Munich, the pilot announced on arrival in London, "Due to the cold weather, our lower compartment could not open. Zero luggage came on board, so you can walk through customs. With 5 flights to London today, luggage should arrive today!"
---
-- Story continues below --
Our trip was off to an eventful start.
What's more, London was having an airport strike on the day of our arrival. This meant that luggage ended up bundled in groups and scattered all over the luggage retrieval hall. With limited manpower at the airport, we had to bide our time waiting to file a report for our four pieces of missing luggage.
We had initially wished to visit Oxford. From Heathrow, it's an hour's drive to Oxford and we had hope to visit the numerous Harry Potter film locations like Christ Church College (Bodley Staircase), Bodleian Library (Divinity School), and New College (Courtyard & Tree).
However, due to the delay caused by the lost luggage at the airport, we had to change our plans.
Instead, we were straight off to Windsor.
Visiting Windsor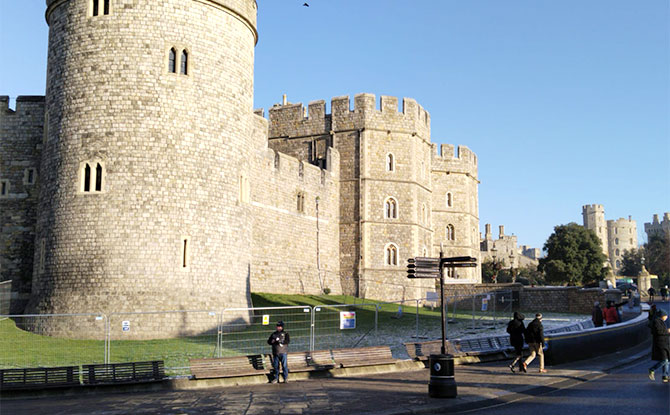 In our carry-on, we had our thick outer coats, but those weren't warm enough with for the chilly temperature of -1°C.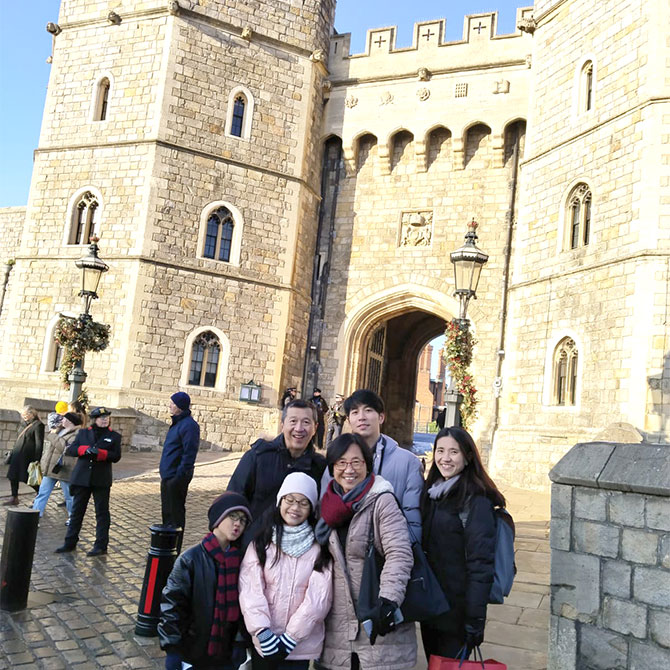 Windsor had a pleasant vibe. We made a little pitstop at Windsor Castle for a photo even though we did not initially plan to visit.
Roman Baths, Bath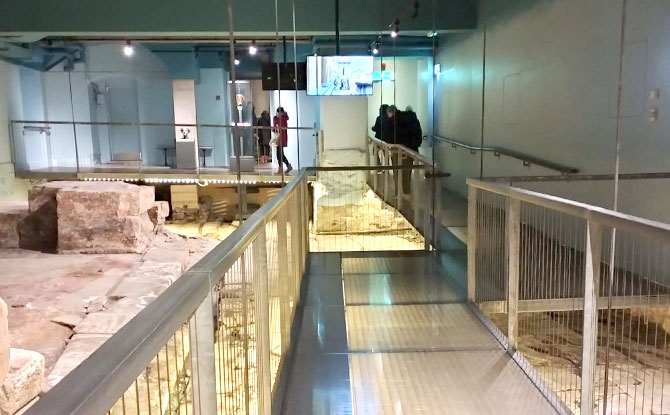 We had to move on to Bath as I had booked a visit to the Roman Baths for that day.
The Roman Bath is one of the best preserved Roman remains in the world. Bath is the only place in whole of Britain that has thermal springs.
The audio guide that we picked up was very helpful. There were projections on the wall so you can "see the past".
It was cleverly put together; even our primary schoolers could appreciate the commentary on the audio guides as it had a simplified kids version.
Before returning the audio guide, we had a chance to taste the spring water. It had a super strong metal taste. Eeewww…
Another spot that you can visit in Bath with kids is the Thermae Hot Spring. It has a beautiful rooftop spa but you will need to make reservations, which can only be made by phone.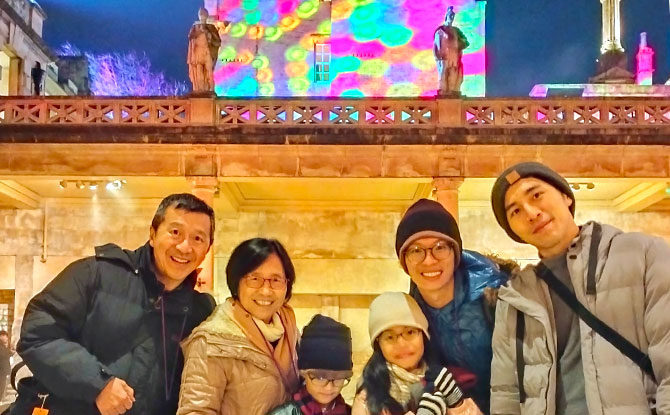 The sky darkens by 4 pm in winter in England.
After the Roman Bath, we went for an extended shopping spree at the Primark department store to pick out warm clothing, PJs and other necessities. Then off we went to look for our hotel for the night.
The GPS sent us up a narrow, steep, dark road, just off a roundabout. As our car climbed up, we saw another car coming down and had to move off the main road onto slightly icy ground. It was a scary experience as the car "trembled" back onto the main road. The husband said, "Even if there is no food in this hotel, we are not going down."
The Kings Arms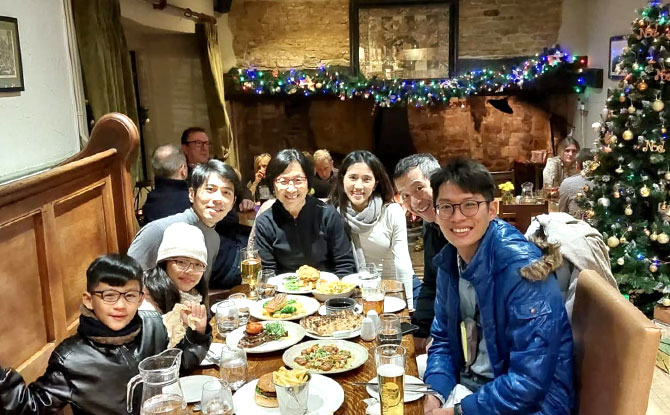 We are thankful to discover that The Kings Arms had a pub! Dinner was better than we had hoped for.
However, after dinner, we were in for a shock! Only one of the three rooms we thought we had booked were booked! It turned out that two of the rooms I had booked – one for my parents and brother – had been mistakenly booked for the wrong month!
Thankfully, even though they did not have our booking, they had rooms available for that night! And the room for my parents and brother was a cottage with an attic! They were so pleased.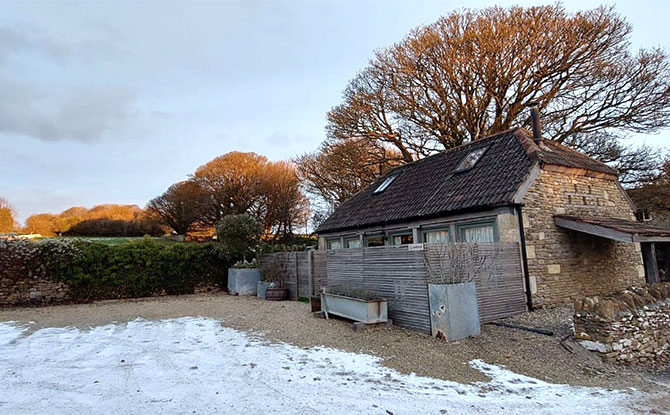 And the view the next morning was so beautiful that it kept them busy taking pictures. The only grouse they had was, "Why are we only staying one night?"
For those who wish to spend more time in Bath, other attractions to visit include the Egg Theatre, Royal Crescent, Pulteney Bridge and Jane Austen Centre. You can also have tea at the Pump Room at Roman Bath, home of Bath's famous delicacy, the Sally Lunn Bun.
---
Black Country Living Museum, Dudley
We left early for Dudley and the Black Country Living Museum, a two-hour drive away This is not a top tourist destination, but out of personal interest, I was eager to visit this outdoor museum where actors play out what daily lives must have been like back in the day.
At the Black Country Living Museum, you can walk along the streets, enter into a house, pay a visit to a shop, a pub, walk around a ship dock and hop onto an old bus. You will see artefacts and replicas everywhere in this living museum. You can ask any actors any questions and they will answer in character –and they are so knowledgeable!
We attended a class in an old school.
I was so impressed! The head mistress played her role very well and took care of us, her new students. The way that historical information was woven into the act was brilliant! My daughter was told off for her painted nails. It was hilarious!
My dad's favourite activity was having authentic fish and chips cooked in beef oil out in the cold! It was so good with salt and vinegar. In the meanwhile, my brother hid in a pub and drank mulled wine by himself.
If you find walking around outdoors in winter with the wind too cold, you can also try to visit during other seasons.
As a bonus tip, try the pie at Mad O'Rourke's Pie Factory, just 4 mins drive from Black Country Living Museum.
---
Warwick Castle, Warwick
Its been said that Warwick feels touristy and like a theme park! And that was one of the reasons why I chose to visit it. Between LEGOLand and Warwick during the winter season, I thought Warwick would cater to both my parents and my kids.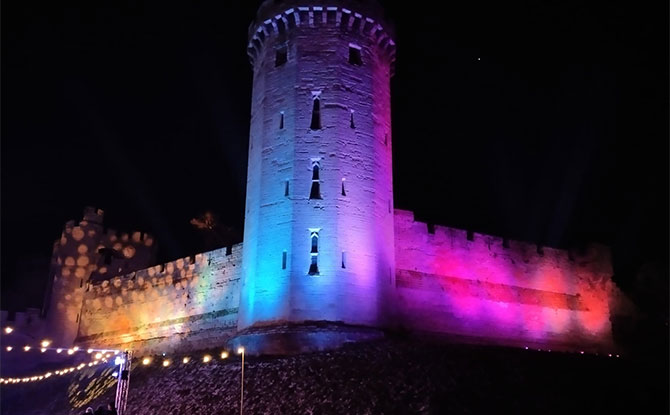 We first saw Warwick Castle at night and then visited it the next day.
At Warwick Castle, there was a falconer show, castle ground that you can visit and a storytelling session told with "magic mirrors".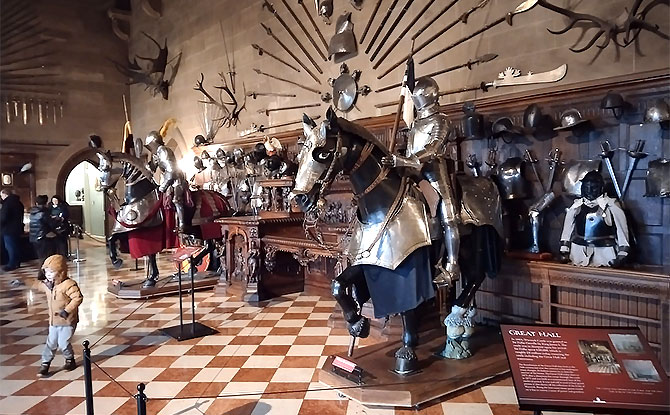 Warwick Castle was crowded that day. It was made worse because everyone squeezed in the castle because was cold and wet outdoors.
Activities at the castle are kept rather simple during the winter season but it was still worth a half-day visit.
If visiting during other seasons, it is possible to stay on the castle ground or stay in a glamping village. The Zog Playland is also opens during other season, and there are events such as knights jousting!
This was also the day that our luggage arrived, or at least some of them did. Of the four luggages, only three arrived, and headed back to Heathrow to collect them. Eventually, the stray luggage found its way back to Singapore.
The Story Museum, Oxford
With the rainy weather, we decided to visit an indoor spot. We randomly picked a place and chose The Story Museum in Oxford and it turned out to be quite a gem.
At The Story Museum, you start off by choosing a character lanyard and you will be tasked to find special artefacts around the museum.
Every visitor also receives a task card. To complete the task card, you have to find missing letters hidden in the museum and receive a gift in exchange.
At the entrance of The Story Museum, a talking tree welcomes you! As you enter in, you will get to hear of different stories from different trees.
Its was cool how the Museum paid tribute to notable British writers. There are rooms decorated and themed after Winnie the Pooh, Alice in Wonderland, Chronicles of Narnia and more.
An exhibit in the Museum explains the various components of a comic. From storyboarding, to narration and illustration. The children were thoroughly engaged at The Story Museum.
Then came another surprise. My son started to feel itchy – he had come down with hives!
We drove back to London to visit a pharmacist. The pharmacist advised us to visit the National Healthcare Service the following day. Thankfully, with some antihistamine cream, my son felt better and the itch started to clear after several days, just as we were going on to the next leg of our trip in London.