Planning a trip to London with kids? There is an amazing range of things to do and it can feel quite overwhelming trying to deciding what to see and do.
When visiting London with kids, our philosophy is to give them a sense of the city. At the same time, we are mindful that too many museums, old buildings and history may be overwhelming for them.
Rather, a visit to London with kids should, in our opinion, be a balance of different experiences – bite-sized vignettes of the city. With that in mind, here are our suggestions of what to do on a visit to London with children and the family.
What to do on a visit to London with kids
1. Explore a Museum
London has plenty of world-class museums and while on a visit to London with kids, it is a great opportunity to view what they have to offer. For many children, a visit to the Natural History Museum and the chance to gawk at amazing dinosaur fossils is sure to delight. Another museum in London for kids that we'd recommend is the British Museum. Its Egyptian collection and mummies will fascinate the kids.
---
-- Story continues below --
London also has many wonderful art galleries. Some of our favourites include the Tate Britain and the Tate Modern. There is also the National Gallery at Trafalgar Square.
The best part of all is that entry to many of these museums is free, although visitors are encouraged to make a donation.
2. Tower of London & Tower Bridge
The Tower of London is a must-do when in London with kids. The iconic fortress oozes history and the best way to get an introduction to it is by joining a Beefeater's tour, which is included in the admission price. Also take the time to explore the buildings in the Tower of London and queue up to see the Crown Jewels. After your visit, head down to the Thames and take a picture with the Tower Bridge. If you are interested, you can take a short walk to the Tower Bridge and pay a visit to the walkway above as part of the ticketed Tower Bridge Experience.
3. Climb St Paul's Cathedral
When it comes to churches to visit in London, Westminster Abbey and St Paul's Cathedral would probably come up tops. Both are amazing places to visit and major attractions.
However, if we had to choose only one for those visiting London with kids, we'd recommend St Paul's Cathedral and recommend climbing up to its dome. This will offer a more experiential, and memorable, visit for children. After the first 257 stairs, you will arrive at the famous Whispering Gallery and then you can push on to the Golden Gallery at the top where the family can take in magnificent views of the City. Needless to say, the kids have to be ready and fit enough to climb (although on a previous visit, we saw a dad navigating the narrow stairs with a baby strapped in front of him).
Of course, if you do have the energy and appetite, do both. Or alternatively, you can climb the Monument too.
4. Covent Garden
Trafalgar Square, Piccadilly Circus and Pall Mall are all the usual stops for visitors to London. Our pick for those visiting London with children is Covent Garden. It is a nice place to grab a bite and enjoy the lively atmosphere. Watch the entertaining street performers and browse through the stalls at Jubilee Market. Those with wheel-crazy kids can pay a visit to the London Transport Museum too.
5. Lunch in a Pub
Get a taste of London by visiting in a pub. Pubs are all over London and are family-friendly during lunch time when they serve hot food. Classic pub food includes fish and chips, bangers and mash, and meat pies. Adults can wash them all down with a pint of course.
6. Afternoon Tea
There are few things more English than having Afternoon Tea. You need not spend a huge sum to enjoy Afternoon Tea with the kids. If you are looking for a place which isn't too fancy, Marks & Spencer's (we visited the one along Oxford Street) has an Afternoon Tea deal which includes a scone, clotted cream, jam and a pot of tea for just four pounds.
7. For Military Enthusiasts
If your kids are in military-related phase, London offers many different sights to satisfy their curiousity. There is the Imperial War Museum, the Churchill War Rooms and, further afield, the Royal Air Force Museum in Hendon. One recommendation we'd have is the HMS Belfast, located in the Pool of London, opposite the Tower of London. During a visit, kids will have a chance to roam around the various levels of the decommissioned warship which saw action on D-Day and during the Korean War.
8. Visit a Park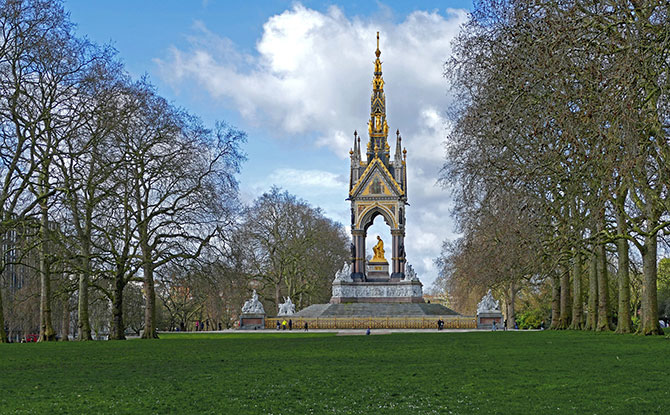 Need some space to relax? Take some time out from all the sightseeing to enjoy London's green spaces. There is Regent's Park, Kensington Gardens, and further out, Hampstead Heath. Besides looking out for squirrels, at Hyde Park, you can rent a boat on the Serpentine or get a TfL bike and go cycling.
9. Make a Day Trip
As exciting as London is, you'd probably want to make a day trip out from London too. Popular destinations include Windsor and Bath, both easily accessible from London. If you want to visit somewhere more unusual, you can consider visiting York. Travel time by train is not very much longer than to Bath and you can spend your day exploring the medieval walled city before heading back to London.
10. Family-friendly Attractions in London for Young Children

For those who are looking for kid-centric attractions for younger children in London, two less well-known ones are the Horniman Museum & Gardens and the Discover Children's Story Centre.
The Horniman Museum has been around since the Victorian times with an eclectic collection that includes butterflies, musical instruments and taxidermised animals. Visit its website here.
Discover Children's Story Centre is focused on storytelling with the aim of creating a love for language and stories amongst children from 0 to 11 and their families. There is an Indoor Story World and outdoor Story Garden, plus events taking place from time to time. Visit its website here.