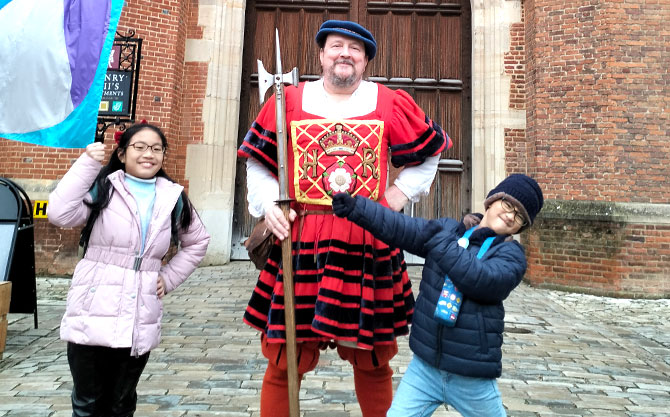 Other than the Tower of London, Hampton Court Palace is another historic location worth having on a family itinerary to London with kids. This palace is approximately one hour from Westminster by train and 35 mins if you are driving.
---
Brief History of Hampton Court Palace
Hampton Court Palace was originally built by Cardinal Wolsey, Henry VIII's advisor, in the early part of the 16th century. However, he gave it to Henry VIII in an attempt to appease the king. Henry VIII fell in love with the place and he brought all his six wives there.
Later, it was extended by Sir Christopher Wren for William III and Mary II. Georgian monarchs would also leave their stamp on the historic palace.
---
Visiting Hampton Court Palace with Kids
Hampton Court Palace may not have been the most convenient place to get to while in London, but we found the home of Henry VIII to be very charming and worth a visit.
The palace and grounds are huge and there was lots to explore. For example, the kitchen has been recreated to looked like it had been in Tudor times.
The audio guide was very helpful and there are kids versions available too. As it was Christmas season, it was nice to hear music playing at different spots around the castle.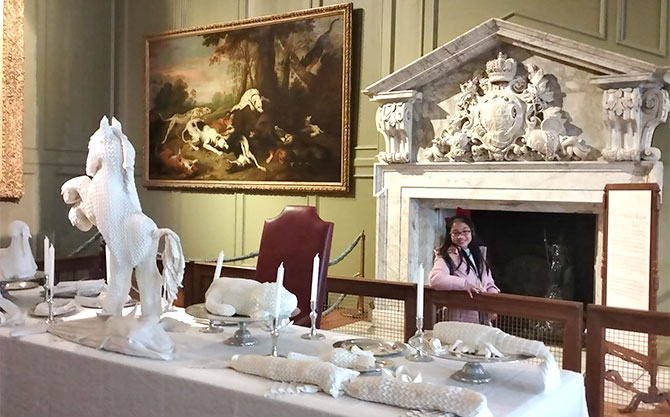 It was a nice and educational way to get an insight into how royalty lived.
They also had Tudor games set up that we could try out and the character actors that we met on the grounds were great fun too.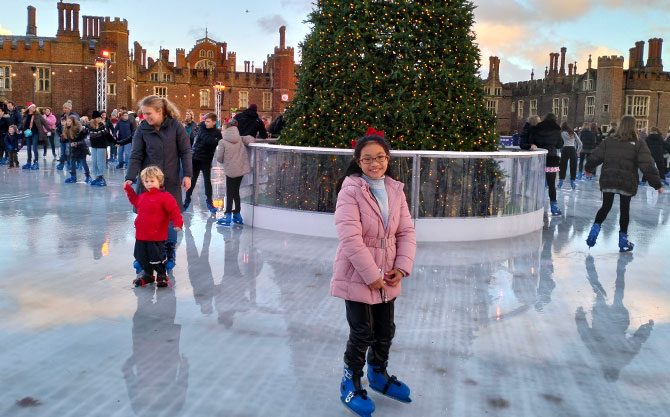 As we were there during winter, a highlight was ice skating at Hampton Court Palace. We felt it was even organised better than the ice skating rink at Winter Wonderland at Hyde Park.
---
Visiting Hampton Court Palace
If you visit Hampton Court Palace during other seasons, there is an outdoor playground too.
You can also pay a visit to Home Park, near Hampton Court Palace, which has deer.
Hampton Court Palace is definitely worth a visit while in London with kids.