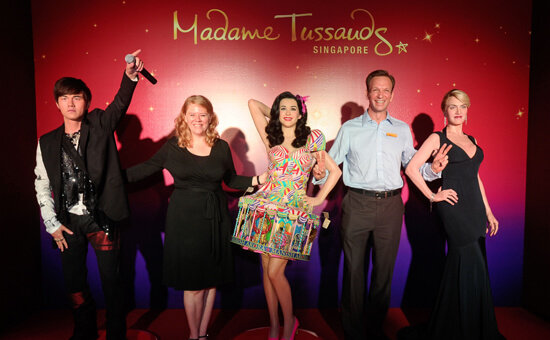 Come face-to-face with celebrities, or at least their wax likeness, when Madame Tussauds opens in Singapore for the first time in the second half of 2014.
Sentosa Development Corporation and Merlin Entertainments plc today announced that the world-famous wax museum will open at Sentosa's Imbiah Lookout next year.
Merlin Entertainments will also take over the management of Images of Singapore from Sentosa and will continue to operate it side-by-side with Madame Tussauds. The Images of Singapore attraction presents Singapore's history, from Raffles' landing to Nationhood, through a series of life-sized dioramas.
The new Madame Tussauds attraction will feature life-sized wax figures of celebrities and key historical personalities, including "individuals who have had a hand in shaping Singapore." A unique feature ofMadame Tussauds Singapore is that it will be the only location outside of London to have a ride incorporated into the experience.
Merlin Entertainments, the world's second largest operation of visitor attractions, will be investing more than $20 million into developing Madame Tussauds Singapore and rejuvenating the Images of Singapore attraction. Images of Singapore will continue to remain open while the enhancements, designed to make the Images of Singapore experience more immersive and more interactive, are being made.
This is Merlin Entertainments' first foray into the Singapore attractions market. Merlin Entertainments operates 99 attraction worldwide including LEGOLAND, The EDF Energy London Eye, WILD LIFE Sydney Zoo and Busan Aquarium. Other Madame Tussauds attractions in the region include Bangkok, Hong Kong, Shanghai, Tokyo and Wuhan.
"Asia is currently the most important growth area of the world for Merlin, and we are delighted to be working with the Sentosa Development Corporation to not only rejuvenate and re-establish IOS, but also to bring one of our best known attractions to Singapore – Madame Tussauds," said Meike Schulze, Divisional Director of Merlin Entertainments plc Midway Attractions in Asia.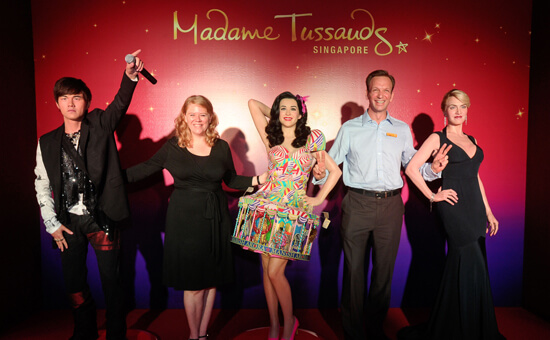 Meike Schulze, Divisional Director of Merlin Entertainments, Mike Barclay, CEO of Sentosa Development Corporation with wax figures of Jay Chou, Katy Perry, Kate Winslet at the Launch of Madam Tussauds Singapore.