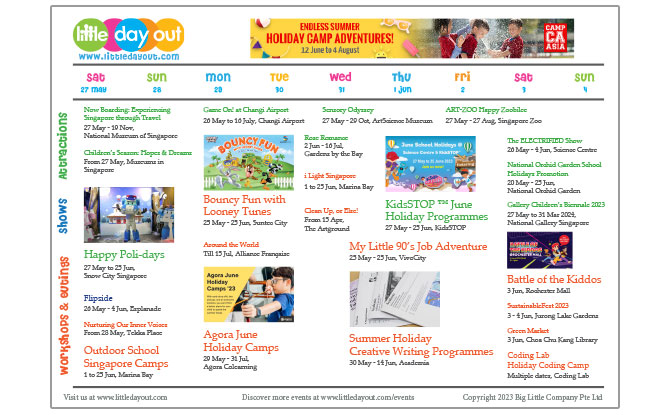 The June school holidays 2023 are here and it is filled with plenty of things to do. If you'd like to get an overview of the all the activities that are taking place, get hold of Little Day Out's Handy June School Holiday Guide 2023.
At a glance, you can discover what are some of the best ideas and activities for kids and families taking place in Singapore from 27 May to 25 June 2023.
---
Great Ideas for June Holidays 2023
From free bouncy fun with Looney Tunes characters to helping Singapore's favourite children's science centre celebrate its 9th birthday, there is plenty to do during the June Holidays. Other activities include a sustainable light festival and fun for the kids at the museums in Singapore.
Get tinkering and curious too or expand the imagination at a children's festival, or pay a visit to the inflatable animals at the wildlife park.
---
-- Story continues below --
There are also plenty of holiday camps and programmes available too. Whether it is heading out to nature or picking up new skills at the keyboard, or multi-activity camps, especially those with early drop-offs, kids are spoilt for choice for things to do over the June vacation time.
---
Little Day Out's Handy Guide to the June Holidays 2023
Get Little Day Out's Handy Guide to the June Holidays 2023, which includes a bonus page with more ideas for the holidays.
Download Little Day Out's Handy Guide below.