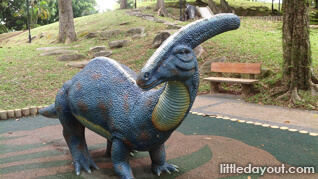 Dinosaurs capture a child's imagination like nothing else. The thought of a thundering lizard stomping away is often enough to get squeals of excitement from little boys and girls.
It is no wonder that the Raffles Museum of Biodiversity Research was eager to get hold of three dinosaur skeletons to anchor the new Lee Kong Chian Natural History Museum that is slated to open in 2014. There are also the occasionally travelling dinosaur exhibitions that come through our shores.
Dinosaurs Around Singapore
But what if your child can't wait to have a dino-tastic time? We tracked down some of our favourite places around Singapore where you can encounter dinosaurs today.
Singapore's Original Jurassic Park – Fu Shan Garden
Urban Woodlands seems like an unlikely place to encounter dinosaurs. However, the Fu Shan Garden and its little hill, surrounded by HDB blocks, is infested with them. On one side of the hill, a brontosaurus tempts little ones to slide down its back, ala Fred Flintstone. On the other, a hadrosaurus (or duck-billed dino) guards the approach to the hillock. Scattered around the knoll are other dino statues and the entire park seems to hark from 'prehistoric' playground times. Fu Shan Garden is one old-school park with a unique flavour all its own! A great starting point for our search of dinosaurs Around Singapore.
---
-- Story continues below --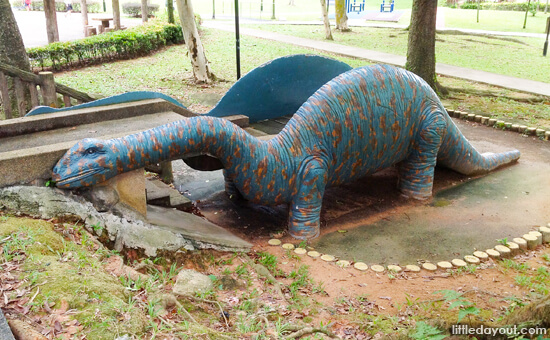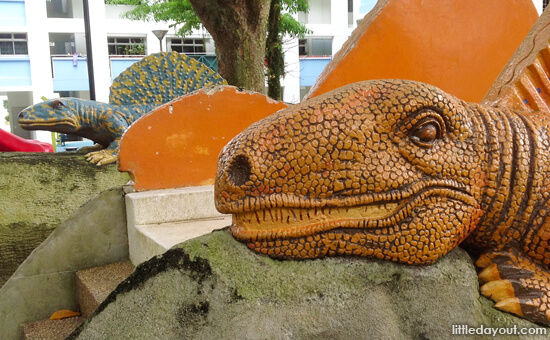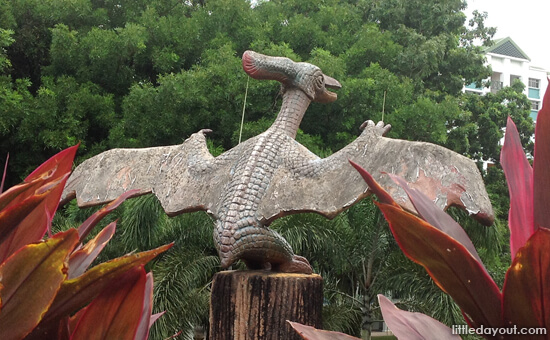 Kim Keat Dinosaur Playground
At Kim Keat Avenue, across from the Dragon Playground at Lorong 6, is the Kim Keat Dinosaur Playground. Two dinosaurs, a towering T-rex and its young, guard Block 27 along with a nest of eggs at their feet. While these brownish dinosaurs are only sculptures, the little green Stegosaurus just beside them is more than happy to have children climb on its back. Who knew there would be dinosaurs around Singapore in the heartlands.
See more…
Marine Terrace Block 5 Playground
Many modern playgrounds around Singapore now offer quarters for brightly coloured, purple dinosaurs. These are mainly the plastic, rather than the singing and dancing, variety. The playground at the foot of Block 5 Marine Terrace stands out not only because of these three purple plastic dinosaurs but also a spotted yellow concrete dinosaur amidst the vegetation that smiles away at the children at play.
Universal Studio's Jurassic Park
If static dinosaurs are a bit too passive for your liking, the Lost World Zone of Universal Studios Singapore at Resorts World Sentosa will have you revved up. Board a raft and head off on an adventure along the Jurassic Park Rapids Adventure. Be prepared to encounter pre-historic dinosaurs and get ready for a splashing good time. If that is not enough, take to the skies in a Pteranodon in either the Dino-Soarin' or Canopy Flyer ride.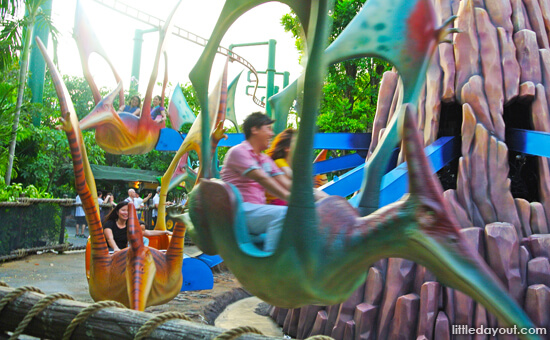 Real Dinosaur Bones at Siloso Beach Resort
Staying on the island of Sentosa, there are real dinosaur bones on display at the Siloso Beach Resort. Three fossilized bones from the tail of a Diplodocus genus are on display at the resort's reception area. This is presented in collaboration with the Raffles Museum of Biodiversity Research to promote the upcoming Lee Kong Chian Natural History Museum.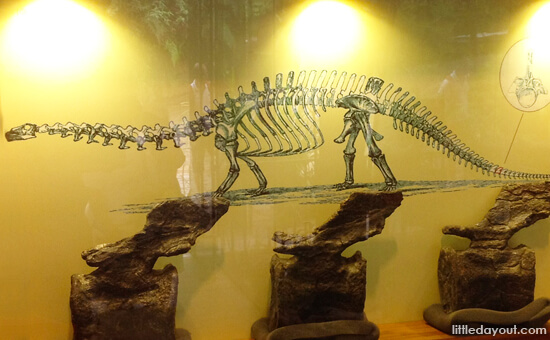 Milo Dinosaur
A favourite with kids, this is also one of the easiest dinosaurs to find – the Milo Dinosaur! A nice cold glass of "Ice Milo", smothered with a mountain of Milo powder on top. Who can resist this classic drink that can be found in most coffee shops around Singapore? Now, the only problem is deciding whether to start off with a sip of the drink or a spoon of the powder on top!
Do take your pick from the prehistoric finds around our little isle and and have a taste of the dino-tastic little day out with the kids!