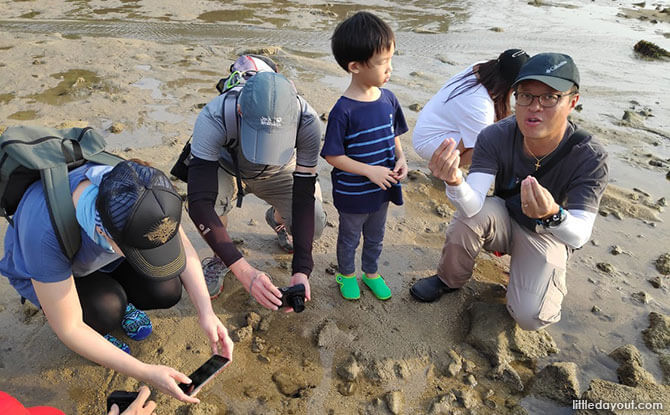 Singapore's shores are teeming with wildlife we wouldn't usually notice. Getting to an intertidal zone during periods of low tide is the best way to spot the wildlife! There is only a window of 2 hours per day, a couple of days per month to experience low-tide conditions in the day. We were extremely blessed to be able to join the highly coveted FREE Sisters' Island Marine Park intertidal walk organised by NParks monthly. The experienced guides offer a rich insight into the marine biodiversity that everyone would appreciate. But first up, learn how to get a precious spot on the guided walk!
Fastest Fingers First – Grabbing those Spots for NParks' Intertidal Guided Walks
Booking a spot for NPark's intertidal guided walk is an adventure in itself. There are ONLY 45 spots per session which are usually booked up within minutes. Tickets are usually released a month or two ahead, so check the NParks website for the latest details and set an alarm for the time to chope your spots! So fastest fingers first!
Sisters' Island Marine Park
Sisters' Island Marine Park is made up of mainly two islands – Pulau Subar Laut (Big Sister) and Pulau Subar Darat (Small Sister). Sisters' Islands are part of the 64 islets off Singapore and just a short distance from St John's Island and Lazarus Island. The Marine Park was declared a reserve in 2014. It is actually a 40-hectare area around Sisters' Islands as well as along the western reefs of both St John's Island and Pulau Tekukor. Big Sister's Island can be visited while Small Sister's Island is dedicated for marine conservation research and closed to the public.
Interestingly, Sisters' Island has a riveting tale behind it. Legend has it that two sisters Minah and Linah vowed to marry two brothers as they were very close. One day, Linah met some pirates while fetching water from a well near the sea. The pirate chief was bedazzled by her beauty and wanted to marry her. That night, the sisters wept bitterly at the thought of separation. When the pirate chief and his crew took Linah away, Minah swam after the boat but was swept under a wave. Linah immediately broke free from the Pirate Chief and jumped into the sea. Unfortunately, both sisters drowned and in their spots were two islands just next to each other. Hence, the islands were named Sisters' Island believed to be the two inseparable sisters.
Our Journey from Marina South Pier to Big Sisters' Island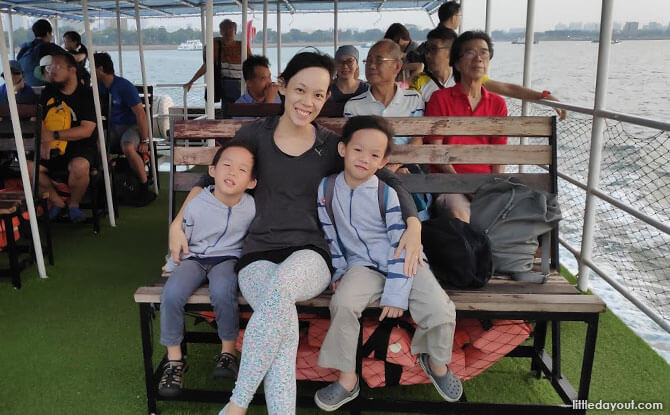 Marina South Pier is located right next to Marina South MRT station on the North-South line. Taking public transport is strongly encouraged as parking charges are exorbitant. Big Sister's Island is a 30 minute boat ride from the pier. It would be good to put on sunscreen, repellent and wear aqua shoes on the way to the island, apart from enjoying the seabreeze and scenery.
Protip: Sit on the upper deck of the open deck ferry for better enjoyment of fresh air.
Before disembarking, it is advisable to store all food, plastic bags and unnecessary items in the lower deck to prevent long-tailed macaques from reaching them. This will also lighten your load as you walk around the island exploring. It can get sunny depending on the timing of the walk, hence a good sunhat and water bottle will be helpful especially for the kids. Everyone should keep close as the long-tailed macaques can get aggressive. Hence we were told not to stare nor show our teeth as that could provoke an attack.
Exploring Sisters' Island Marine Park at Big Sister's Island
The scenery at Sisters' Island was breathtaking. The open sea, clear blue skies, emerald-green waters greeted us as we gazed at the horizon. Our group of 45 was split into groups of about 10 to 12 pax each with one guide per group. The guides were mainly volunteers or NParks personnel. There were also other volunteers that were "seekers" going to the shores to place the marine life into buckets for us to take a closer look. This reduces the damage to the shore and creatures which we may step on.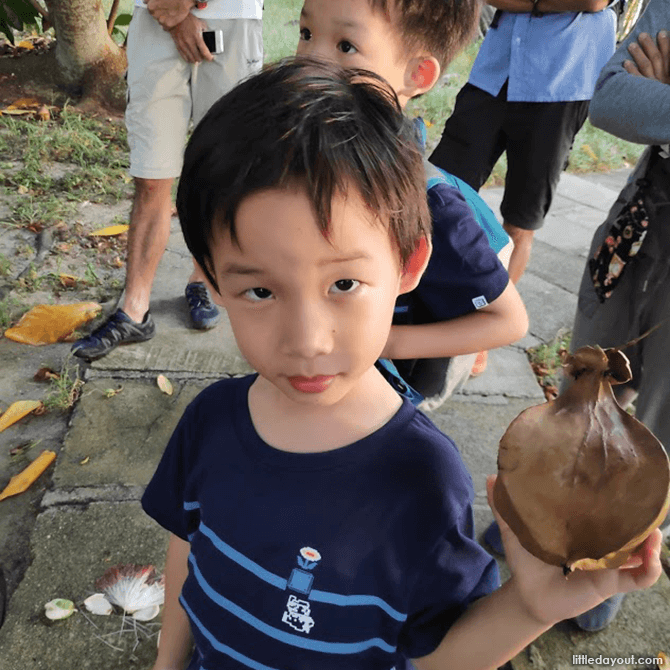 Our guides shared their vast knowledge on the biodiversity of Sisters' Island readily and were always ready to answer our questions. We started on the trail learning about the trees such as the Casuarina tree, Sea Poison tree and learning about how the uses of the various plant parts for different purposes. The Sea Poison plant for instance, was used to stun fishes so they could be caught by fishermen. We also saw the remains of turtle eggs that were hatched (or eaten by predators) during turtle season.
There were two lagoons to explore at Big Sister's Island, one was smaller than the other and had different varieties of marine life to see. It is best to follow the trail of the guides who will spot creatures. So keep your eyes peeled and wander not, as your steps might be deadly to the creatures hidden from your sight. Also, leave no trace behind by keeping all litter and do not remove anything from the island including shells or sticks.
Singapore's waters are home to over 250 species of hard corals, more than 100 specifies of reef fish and about 200 species of sponges! To find out more about all creatures, you can peruse the Guidesheet to the amazing marine life of the Southern Shores of Singapore or the Wild Singapore site. The children were thrilled to spot hermit crabs, goby fish, sea stars and sponges! Their sharp eyes often spotted a lot more wildlife than the adults, so engage them actively during the walk.
The Amazing Biodiversity at Sisters' Island Marine Park
The reef at Sisters' Island Marine Park is one of the richest in Singapore. There are always different creatures to spot everyday! So every walk yields a different variety of marine life. During low tide, marine wonders are revealed for a short while as they remain on the natural shores.
Here, the pictures should do the talking.
Odd couple: Goby Fish and pistol shrimp
These two creatures come in a pair. You could likely see the goby fish at the opening of a well constructed cave made by a pistol shrimp. The vigilant fish guards the cave while the shrimp lets the fish hide in its burrow for protection.
Sea Stars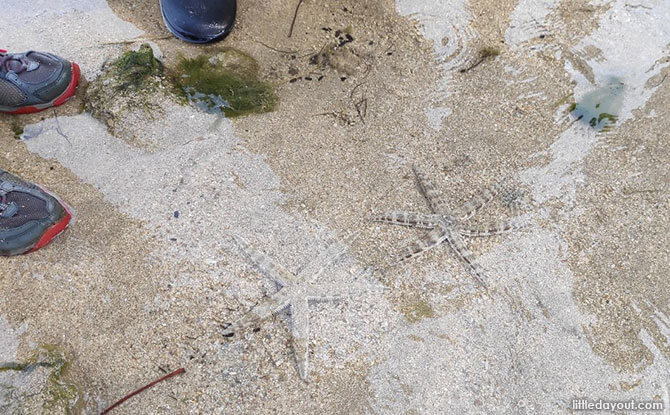 Be careful not to step on them! Most are pretty well-hidden.
Moonheaded side gill slug
Flat Worm
We loved the colour of the purple flat worm. Bright colours might mean it is poisonous, so do not touch!
Sea Urchin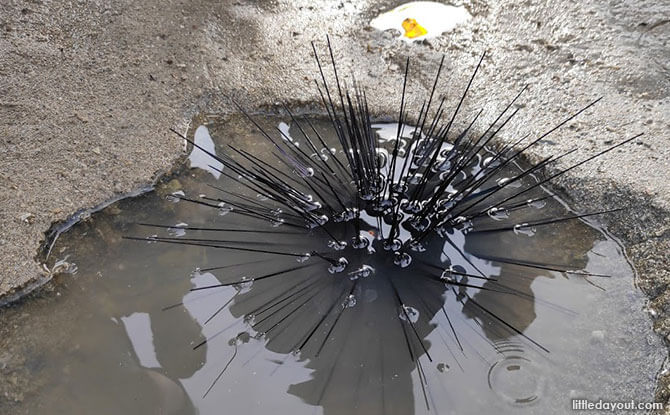 Moon Snail and its Sand Collar
The Moon Snail has a very smooth and white shell, and is usually adept at making a perfectly round sand collar made up of eggs (!!!), mucus and sand.
Garlic Sea Cucumber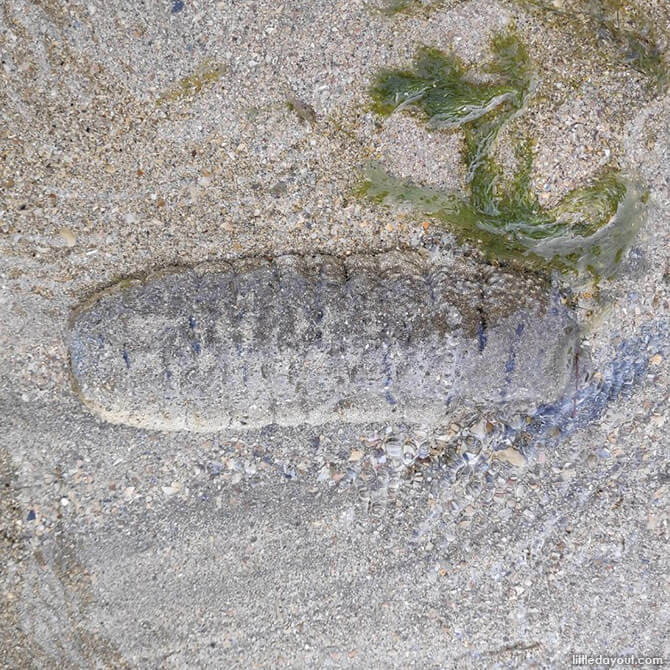 Don't eat this garlic bread! It is well and alive.
Corals
Sea grass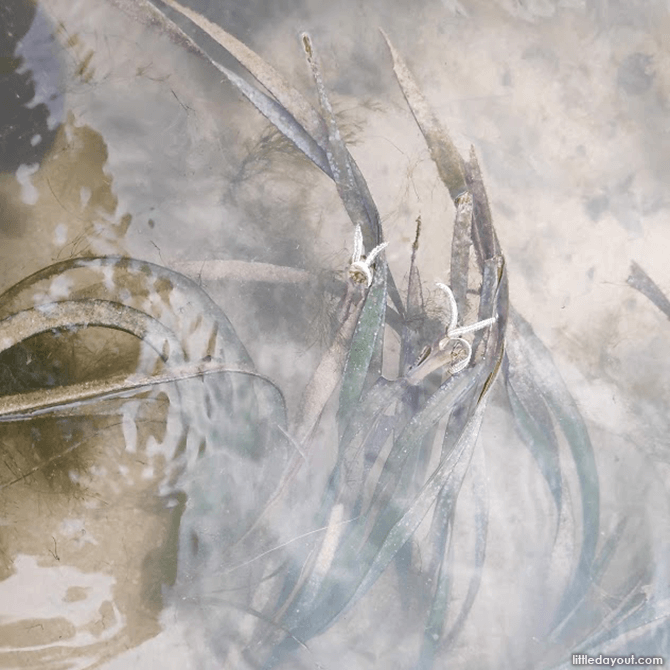 Sea grass often show the health of the shores. We saw flowering sea grasses which is definitely a good sign!
Cheesecake Nudibranch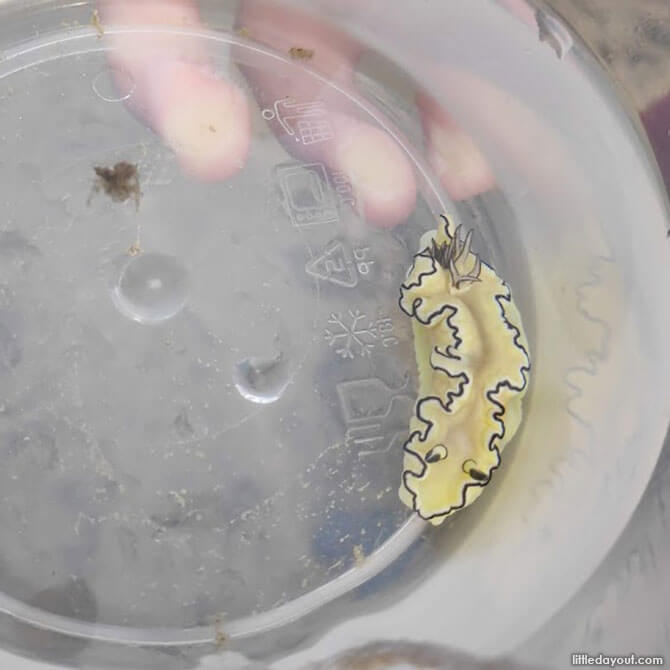 Yes fans of cheesecake will love seeing this yellow creature. It has twitchy gills and eats sponges.
Ornate Leaf Slug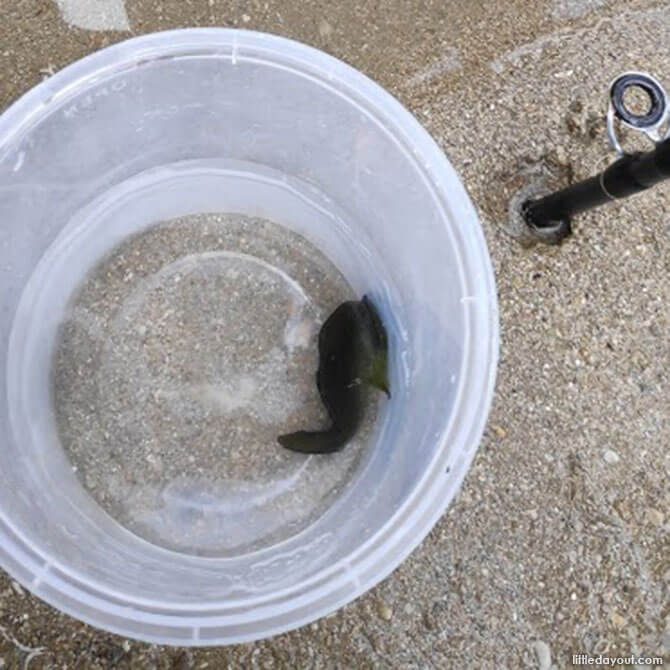 Acorn Worm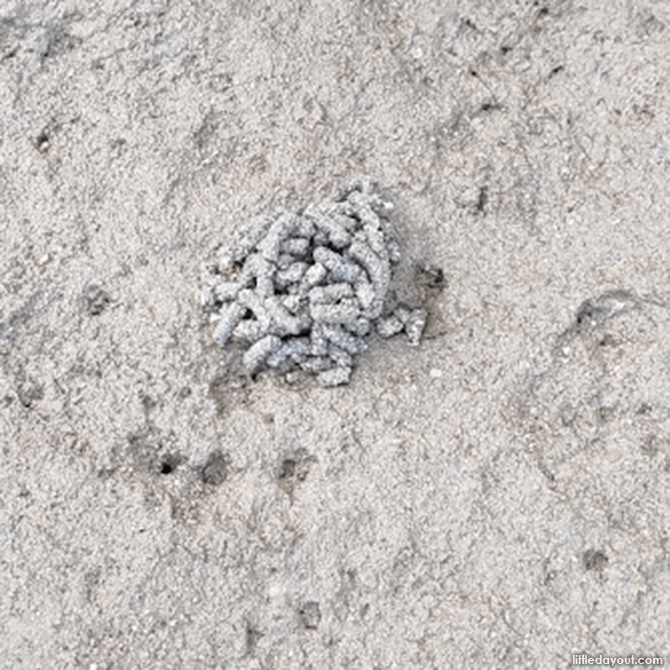 You probably will find traces of them leaving their "poop" in a mound-like form. The acorn worms are probably hiding in it, so don't dig them up!
Seagrapes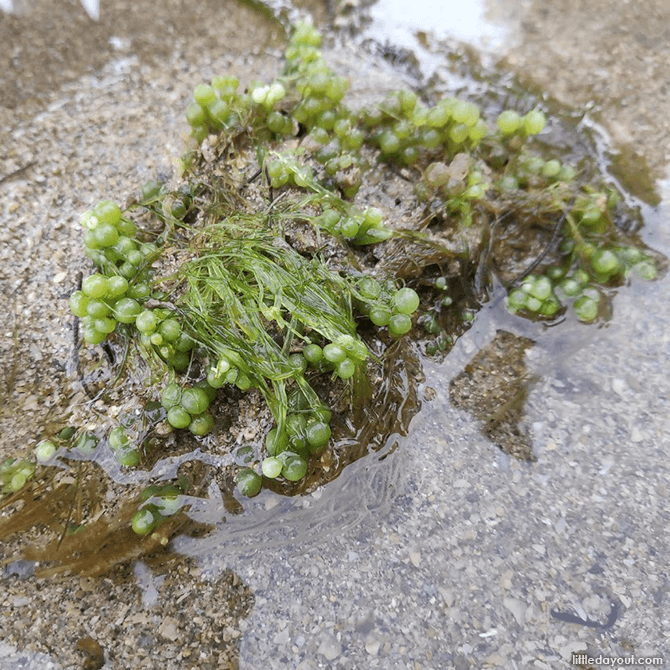 Carpet Anemone and shrimp

Learning about Marine Biodiversity off Singapore's Shores at Sisters' Island – Sisters' Island Marine Park intertidal walk
We had such a fantastic adventure on Big Sisters' Island learning more about the biodiversity present. After a one and a half hour exploration at both lagoons, we headed back to our boat delighted to have learnt so much. The seekers also placed the creatures back in their spots and ensured minimal disruption to their lives under the sea.
We highly recommend a guided walk to maximise the learning experience at the shores! Otherwise, you could always attempt to spot them and upload your pictures onto this Facebook group for identification purposes. Remember to take away memories and photographs and nothing else! Loving our shores mean more creatures and plants will thrive better, and future generations will get to learn about them in person rather than from historical records.
Follow our Instagram page @littledayout and Insta-stories for more exciting places to go!