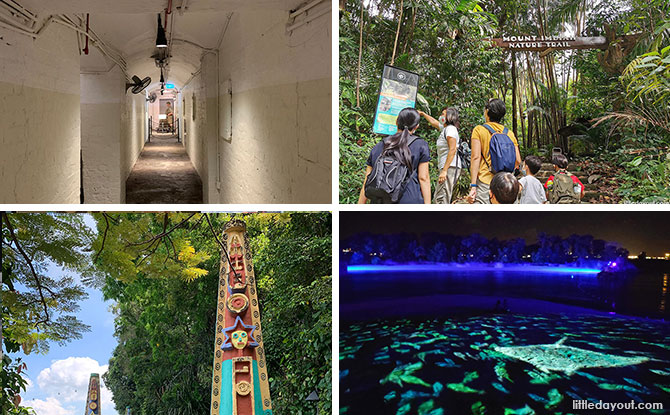 Did you know there are free activities in Sentosa and things to do which won't cost you a cent? Yes, while some may associate Sentosa with being a pricey day out, there are somethings you can do if you just want to chill and relax.
Here's lowdown of some free things to do in Sentosa.
---
Free Activities & Things to Do at Sentosa
Sunbathe and Play at Tanjong, Palawan and Siloso Beach
Sentosa's beaches are popular destinations for families. Best of all, they are free to enter! Pack your beach mat and spend a day relaxing by the water. You can picnic, have a dip in the lagoon, go sandcastle-building with the little ones, playing beach soccer or volleyball or simply soak in the vibes from along the beach.
---
-- Story continues below --
Watch Magical Shores Show
Visit Siloso Beach on Friday, weekend and public holiday evenings to enjoy the Magical Shores light and sound extravaganza. This is one of my favourites. Admission fees are not required. Simply head to Siloso Beach between 7.30 pm and 10.30 pm to enjoy the show and interactive elements. Dance around the rays and fish on the shores and follow the changing patterns of the lights. This is one of the best free activities in Sentosa in the evening.
---
Visit Fort Siloso
The only preserved fort in Singapore – Fort Siloso serves as an important site on Singapore's past in World War Two. It is also a national monument gazetted on 15 February 2022, the 80th anniversary of the fall of Singapore to the Japanese. We highly recommend a visit to this monument to catch a glimpse of what war was like, how the British troops and locals prepared for war as well as the artillery used. Don't miss out on the Surrender Chambers or taking interactive pictures at the murals at the base of the fort. To get to Fort Siloso, you can take the Fort Siloso Skywalk, which is an experience in itself. More details on Fort Siloso here. It's one of the best free things to do on Sentosa!
---
Walk at Imbiah Forest & Imbiah Battery
Fancy a nature walk? Head to Mount Imbiah Nature Trail. You won't see crowds here for sure, but you can see birds, insects, interesting tree and plant species! Follow the trail to check out the Imbiah Battery atop Mount Imbiah, build in the 1880s. Along with the guns at Fort Siloso, the structures served as part of Singapore's coastal defence!
---
Hike at Sentosa Coastal Trail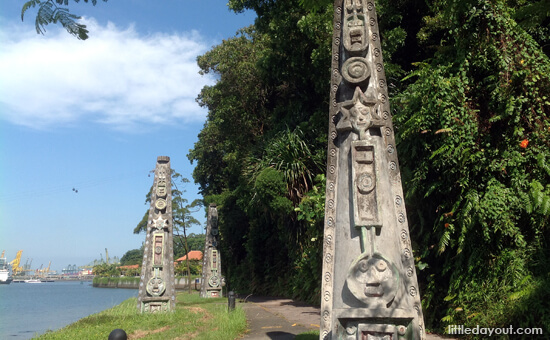 Another peaceful trail to traverse is Sentosa Coastal Trail. It is a walking and cycling trail right next to Tanjong Rimau – a beach full of intertidal wildlife during low tides. See monoliths, totem poles here and look out for the little crabs on the rocks near the shores! Look across the water to see landmarks like Mount Faber and Keppel.
---
Visit Sentosa Nature Discovery and the Sentosa Geology Gallery
Did you know there are eight different types of habitats found on Sentosa including coastal rainforests, rocky seashores and wetlands? You can also find out how Singapore and Sentosa came into existence at the Geology section which showcases earth processes, rock formation, geological maps, rock samples and fossils.
---
Soak in history along the Sentosa Heritage Trail
The Sentosa Heritage Trail, developed by National Heritage Board in partnership with Sentosa Development Corporation, features 30 heritage sites! Some of the sites include military buildings, fortifications, remnants of old features and more lesser seen gems of the past. There are three different trails to choose from. How do we find the sites? You can download the trail maps from Roots website and Sentosa's website.
---
Check Out Yachts at Sentosa Cove
Over on the "luxurious side" of the island is Sentosa Cove. Stop by to check out the luxury yachts berthed at the marina. Families like coming here to cycle, scoot or even enjoy a picnic! There is a free ship playground by the water for kids too.
---
Sentosa Musical Fountain
This one is "free" with a minimum purchase of food at the Central Beach Bazaar. You can take your food into the seating area and watch the short water display which plays at certain hours of the day.
---
Bonus Pro-tip
If you have your own bicycles, bring them with you on a visit to Sentosa and cycle around the island! It's a free and fun way to explore the island. Here's our guide to cycling in Sentosa and routes you can take.
---
Free Activities in Sentosa
It does not have to cost you a dime to enjoy Sentosa! Take up our ten suggestions to plan a free and fun day out at Sentosa!
Also check out our list of all the other activities that you can do at Sentosa.