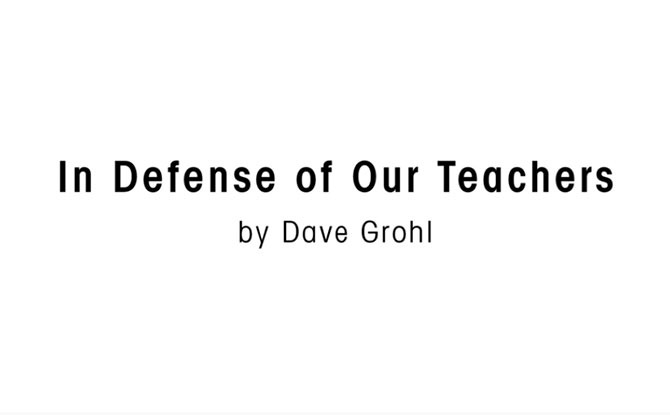 When we hear of Dave Grohl releasing something new, it is usually a record or single. After all, the ex-Nirvana drummer and Foo Fighters front man is most well-known for rocking up the charts.
That's why it is almost surprising and unexpected to hear Dave Grohl's latest release on YouTube, "In Defense of Our Teachers", a sincere and sobering message which pays tribute to teachers and makes a case for them within the context of the debate over the United States' reopening of schools.
---
In Defense of Our Teachers by Dave Grohl
In the 8-minute-and-45-second video essay, Dave shares his own experience in school when he was growing up. He was a high school dropout who left at Grade 11. He candidly shares that he still has recurring dreams of trying to graduate from high school. "You can take the boy out of school, but you can't take the school out of the boy," he says.
He also reveals a bombshell – that his mother was a public school teacher.
---
-- Story continues below --
He pays a touching tribute to his mum who "tirelessly devoted her life to the service of others, both a home and at work."
He describes how, as a single mother, she would self-sacrificially do her best for her children. Something which parents would be able to identify with.
As a teacher, she would also give her best to her students, whether it was staying up late into the night to grade her student's homework or finding ways to keep them engaged in class.
"She was one of those teachers who became a mentor to many and her students remembered her long after they graduated."
Those of us who have had the blessing to have such teachers in our lives would understand what he means.
"Every kid should be so lucky to have that favorite teacher, the one that changes your life for the better … she will forever be my favorite teacher," he said.
---
Reopening of US schools
On the issue of reopening of US schools in the midst of the COVID-19 pandemic, Dave acknowledges that the issue has become politicised.
When he asked his mum what she would do, her reply was "remote learning for the time being". This is something which Dave accepts comes with its own set of real challenges and is a "less than ideal learning experience".
He speaks with some experience as he has three daughters who are of school-going age and admits he is not cut out to guide them with home-based learning.
He ends by making an impassioned case for teachers in the US saying, "Until you've spent countless days in a classroom devoting your time and energy to becoming that lifelong mentor to generations of disengaged students, you must listen to those who have."
---
Teachers are a Treasure
While the US COVID-19 situation may seem distant and remote, what we can appreciate is Dave Gorhl's sentiment that it takes a special type of person to have the devotion and commitment to teach our children every day.
On a personal note, my mum was a teacher for 34 years and my favourite one too.
Watch Dave Grohl's full video below.
---