Bake a calzone, learn about marine conservation, the safari and first aid, and discover exciting cultures at Little Day Out's Virtual Camp during the one-week July school holidays.
From 20 to 24 July 2020, the Around the World in 5 Days Virtual Camp will take participants on a whirlwind tour around the world. Filled with educational, creative and social activities inspired by countries from across the globe, the fun-filled camp will provide an enriching experience for kids during the school holidays – all from the comfort of home.
For this July holiday virtual camp, Little Day Out has partnered with the following organisations: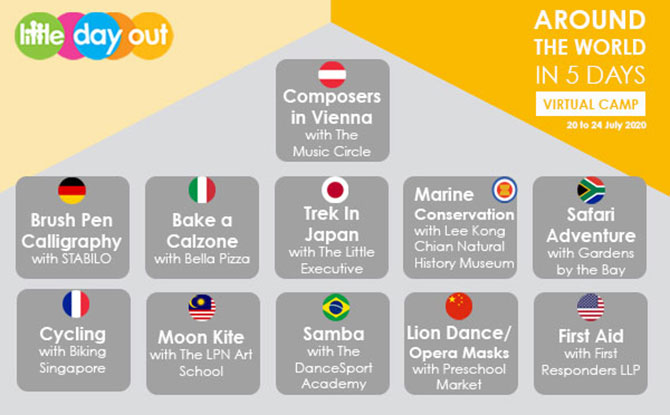 ---
-- Story continues below --
Get to Know Countries of the World at the July Holiday Camp
At the five-day virtual camp, children will learn about countries as diverse as Brazil, China, France, Italy and the United States. They will get acquainted with each country's food and culture while uncovering amazing facts through fun activities.
Around the World in 5 Days Camp Activities
Bella Pizza, which means "beautiful pizza" in Italian and serves up one of the most loved Italian pizzas in Singapore, will be bringing the taste of Italy to your home with a "Bake a Calzone" activity. Get a Calzone Napoletana Kit (worth $22) with specially made dough and ingredients, and follow along with Bella Pizza's master pizzamakers to cook up a storm at home.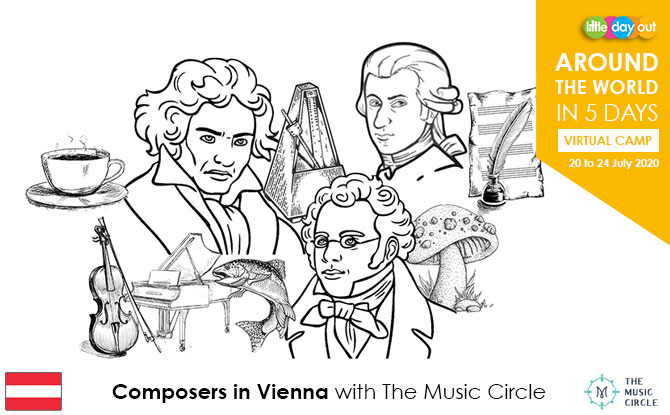 Come away with The Music Circle on a musical journey through the vibrant city of Vienna, a place known for its cultural heritage. Your kids will learn about famous composers and their music, visit prominent landmarks, and even watch a "live" concert in the iconic Golden Hall!
Inspired by the famous Tour de France, Biking Singapore will guide participants along with tips on safe cycling, role play various cycling scenarios, and provide tips on how to take care for two-wheelers. Your child will emerge more confident and aware of the cycling environment. Find out more about biking lessons at Biking Singapore here.
Embark on an online expedition with the Education Staff from the Lee Kong Chian Natural History Museum (LKCNHM) to learn more about endangered mammals and marine conservation. Discover the vast natural heritage in and around Southeast Asia and increase your biodiversity knowledge!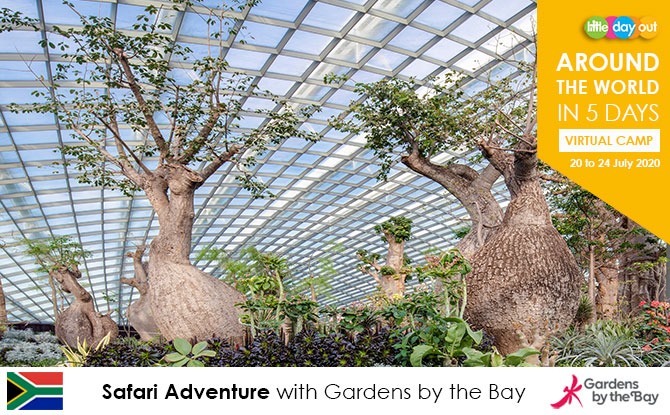 There are 9 different zones featuring plants from all over the world at Gardens by the Bay's  Flower Dome. At the Junior Camp, you get to venture into Africa on a safari adventure with Gardens by the Bay. Learn about the relationship between plants and animals and make an African Baobab tree craft out of recyclables.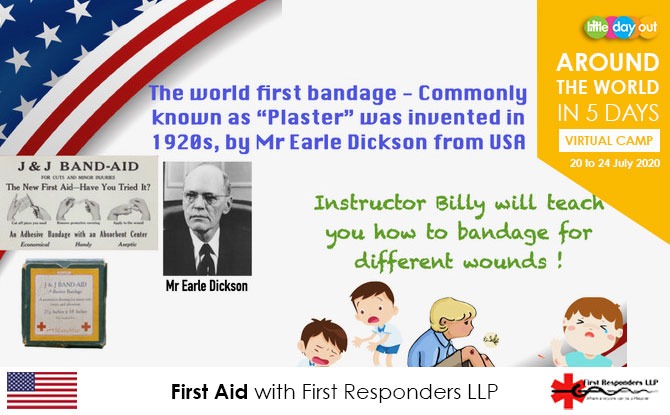 Accidents can happen when we least expect them so it's essential to equip ourselves with basic first aid knowledge. First Responders LLP will be imparting useful information about bandages, how to dress different wounds and first aid with hands-on learning too.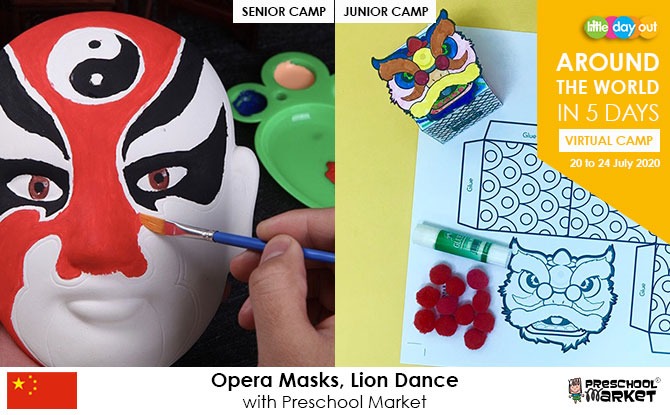 Explore traditional Chinese culture and festivals with Preschool Market, a social enterprise that aims to bring play to kids from 0 to 12 years old. Campers get to make crafts with an activity kit – Beijing opera masks at the Senior Camp and a Lion Dance craft at the Junior Camp, while learning about the origins of ancient festivals in China.
Take a twirl over to South America with The DanceSport Academy (tda), a dance company specialising in DanceSport, also known as ballroom dancing. Come learn one of the most exciting dances of the Latin-American style – Samba. Join Sharon Tan, a National DanceSport Champion, and dance to the popular song of Shakira's Waka Waka.
Try your hand at Brush Pen Calligraphy with STABILO, one of the world's leading manufacturers of writing instruments, headquartered in Germany. Learn the four principles every beginner should know and pick up this art-worthy skill to apply to personal journals, birthdays cards and more! Each Senior Morning Camper gets to letter a motivation quote as their very own "graduating piece" using the STABILO Pen 68 brush (black and red) and STABILO point 88 Fineliner (orange) – all part of their camp kit!
The Little Executive, a skills studio that equips children with the 4Qs – RQ (resilience) EQ (social-emotional), EFQ (executive function) and IQ (intelligence) to succeed in school and life. Join them on a virtual trip to Japan as they introduce interesting landmarks, food and culture through crafts and games.
The LPN Art School, a specialist in children's art education, will show campers how to create a personalised craft based on the iconic Wau Bulan Malaysian Moon Kite paper mobile.
Other activities at the July holiday camp include ice breakers, life stories, games and interesting nuggets about countries all around the world.
July Holiday Camp: Fun Days
The Little Day Out Around the World in 5 Days Virtual Camp will be held from 20 to 24 July 2020 via Zoom.
6- to 8-year-olds can sign up for the Junior Camp.
9- to 11-year-olds have a specially organised Senior Camp.
Campers can choose to participate in either Full Day or Half Day sessions.
The Full Day camp will consist of two sessions per day, one in the morning and one in the afternoon (1.5 hours each).
Half Day camp participants can choose to join either morning or afternoon sessions.
The full camp programme can be found below:
6- to 8-year-olds
Morning: 9.00 am to 10.30 am
Afternoon: 2.00 pm to 3.30 pm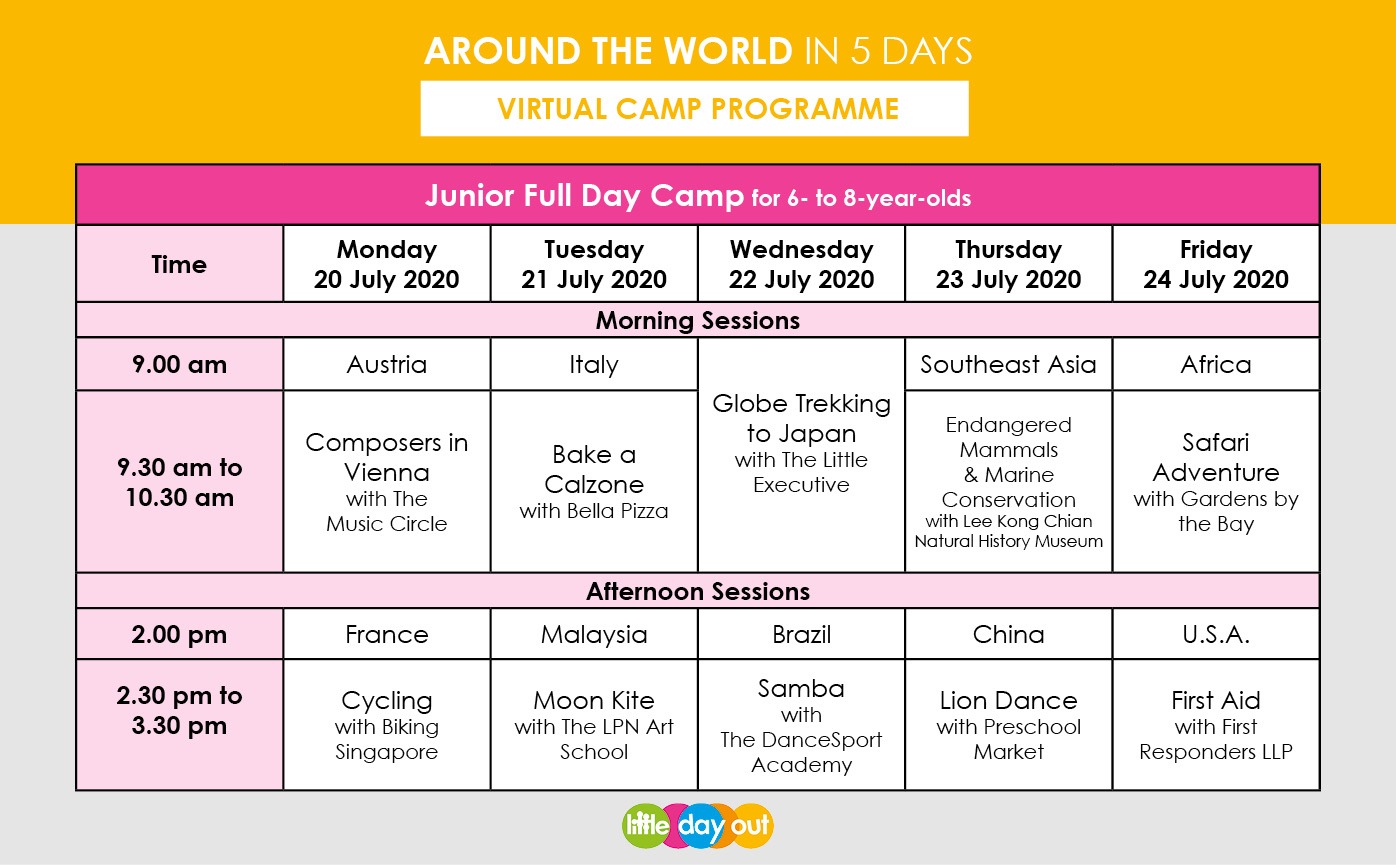 9- to 11-year-olds
Morning: 11.00 am to 12.30 pm
Afternoon: 4.00 pm to 5.30 pm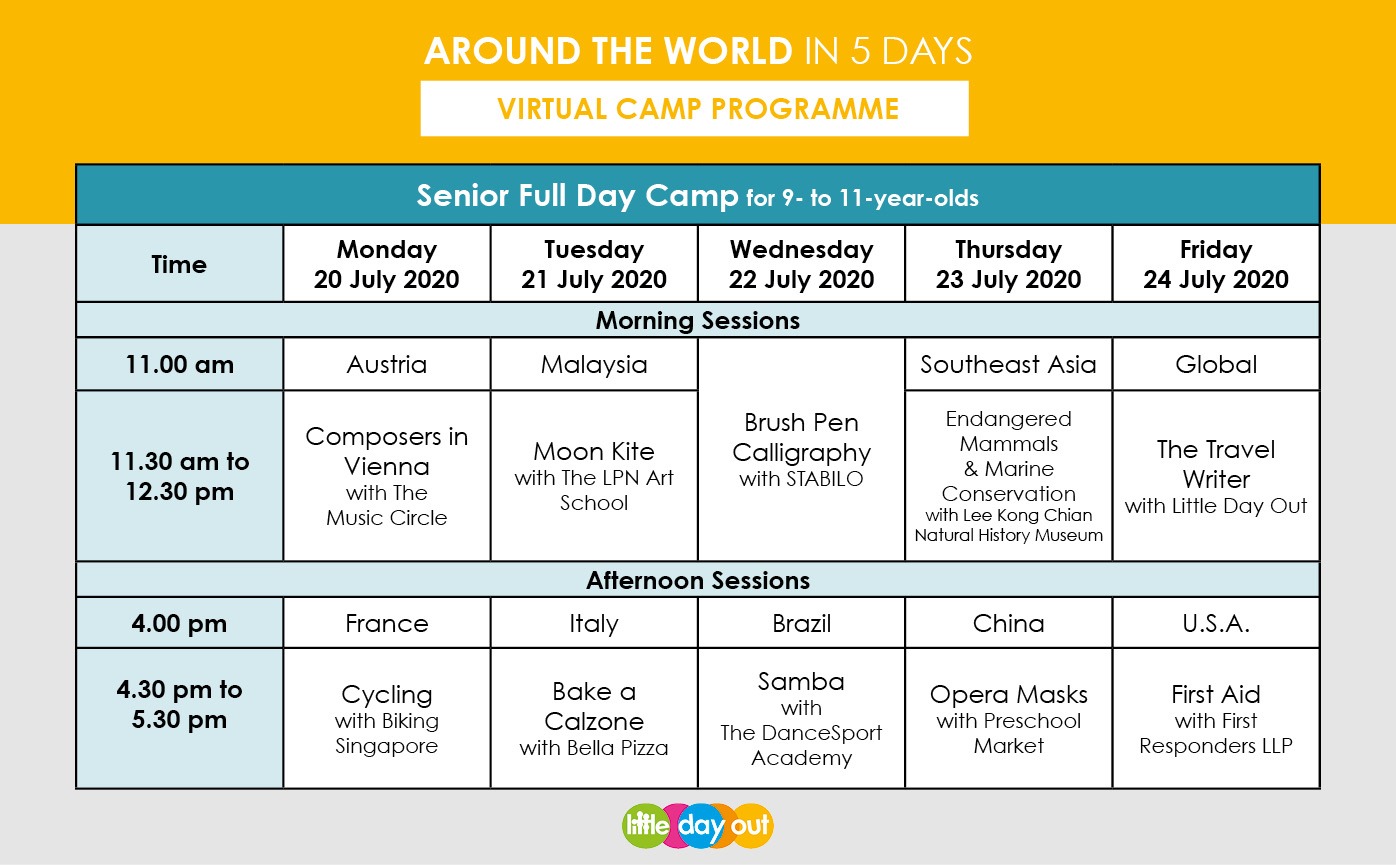 Fees
Half Day Camp
$120 for 5 sessions (choose either morning or afternoon).
Full Day Camp
$190 for 10 sessions (morning and afternoon).
The camp fee is inclusive of activity kit(s) and delivery of these kit(s) to you where applicable.
Registration for Little Day Out's Around the World in 5 Days Virtual Camp during the July school holidays is now closed.
For more information or enquiries, please feel free to call us at 9346 5138 or email us at meet@littledayout.com.
Little Day Out's Around the World in 5 Days Virtual Camp

When: 20 to 24 July 2020 (Monday to Friday)
Where: Online via Zoom
Note: The registration for this Camp has closed. Read about how the camp went here.
Future Little Day Out Camps
If you would like to participate in future Little Day Out camps, do fill in the form below so we can get in touch with you!
---
EARLY BIRD SPECIAL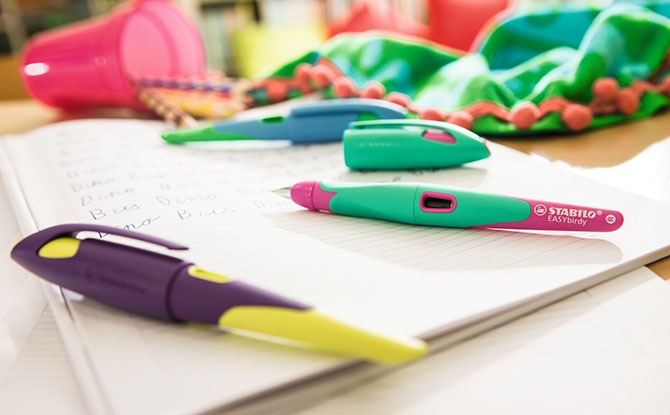 The STABILO EASYbirdy, winner of the IF Design Award 2015, is the world's first ergonomic fountain pen specially developed to make learning to write easy! The trendy-coloured pens provide children aged 7 and up with the best individual hand posture.
Be the first 10 persons to sign up for this camp and get a STABILO EASYbirdy fountain pen worth $24! Spaces at the camp are limited. So hurry, be an early bird and get your very own STABILO EASYbirdy!
---