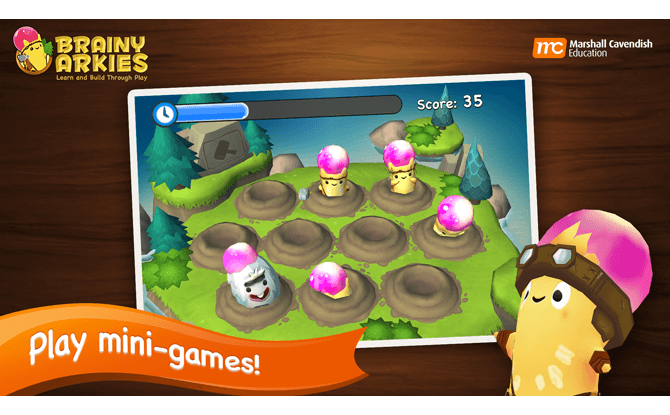 Kids learn best through play and play is exactly what Brainy Arkies, the maths learning app from Marshall Cavendish Education, offers.
Designed for children in Singapore between the ages of six to 12 years old, Brainy Arkies is a free mobile learning app that motivates kids to reinforce their maths concepts through daily practice and rewards them through a fun and interactive experience.
Welcome to the World of the Arkies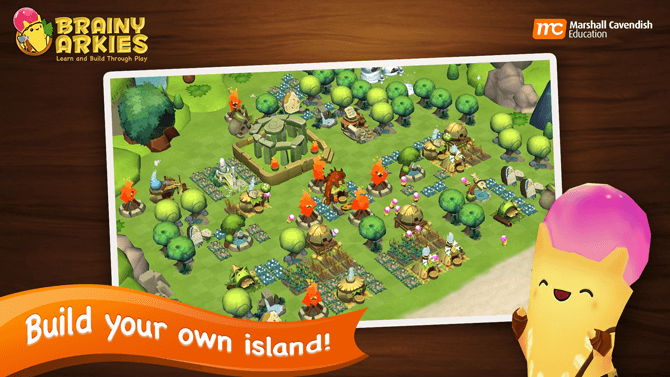 The learning app revolves around the world of the Arkies, fun-loving characters who find themselves washed up on a deserted island. To the cute little Arkies, the user is the Great One who controls their movements and decisions.
The Arkies can construct buildings, gather Pebble resources and go on quests around their island home.
---
-- Story continues below --
Individual Arkies can level up their experience, unlocking new types of buildings and skills along the way.
In order to level up, the Great One (aka the user) will need to help Arkies complete quizzes and accumulate Wisdom Vials and Experience Points.
With this entertaining app, kids can build their own fantastical worlds for the Arkies.
However, Brainy Arkies is more than just a fun app. It is designed to do much, much more.
Here are three reasons for parents to consider downloading Brainy Arkies for their primary school child.
#1. It's Aligned to Latest 2018 MOE Maths Syllabus
Brainy Arkies is specially designed to make learning primary school maths fun. Ever seen your child want to solve maths problems? With Brainy Arkies, you may witness exactly that.
To level up, the quizzes which children need to complete consist of maths questions aligned to Singapore's 2018 MOE Syllabus for primary schools.
There are more than 18,000 questions in the app that allow children to put into practice what they have learnt at school. On average, that works out to 3,000 questions per primary school level (or in other words, a lot of assessment books).
The app is designed by Marshall Cavendish Education, a trusted name in Singapore for textbooks and assessment books.
When setting up the app, the child will need to select the grade that they are in and Brainy Arkies will tailor the quiz questions to the selected level.
As Brainy Arkies is built for the Singapore primary school environment, it is a fun way to complement learning in school.
#2. It Adapts to the Individual Child
A key feature of Brainy Arkies is its use of adaptive learning technology. This allows quiz questions to be adjusted based on a child's maths proficiency level.
For example, if a child is able to easily tackle the questions provided in a quiz, he or she will subsequently face questions of increasing difficulty. Where a child gets questions wrong, step-by-step, worked solutions allow the child to learn from his or her mistakes.
These features personalise the quizzes to each child's individual learning curve.
#3. It Supports Parent Involvement
Brainy Arkies was built with parents in mind.
Rather than being an app where a child is left to his or her own devices (pardon the pun), Brainy Arkies allows parents to monitor their child's progress.
After the child's account is created, a separate parent account can be created and linked to the child's account.
This parent account allows moms and dads to monitor their child's progress in the learning app. They can see how the child spends his or her time in the app and also decide which maths topics their child should practise.
Parents can also activate Study and Drill modes to focus the child on needed maths practice.
Download Brainy Arkies For Free
Brainy Arkies is available for free download on both the Apple App store and Google Play store. The free version of the edutainment app includes access to 20% of the maths questions available.
Special Brainy Arkies Discount Code for Little Day Out Readers
A paid subscription is required in order to access the full set of 18,000 maths questions and in-depth analysis reports for parents.
Parents who wish to try the full-access version of Brainy Arkies edutainment app for their child's maths development can take advantage of a special promotion offer for Little Day Out readers.
To enjoy discounts on 6- and 12-month subscriptions, simply use the following Brainy Arkies discount codes:
10% discount on 6 Months Subscription – Use Promo Code: LDBA10
20% discount on 12 Months Subscription – Use Promo Code: LDBA20
Download the Brainy Arkies learning app from Marshall Cavendish Education at the following links for iOS devices and Android devices.
Learn more about the Brainy Arkies maths learning app here.
This feature is brought to you by Marshall Cavendish Education.