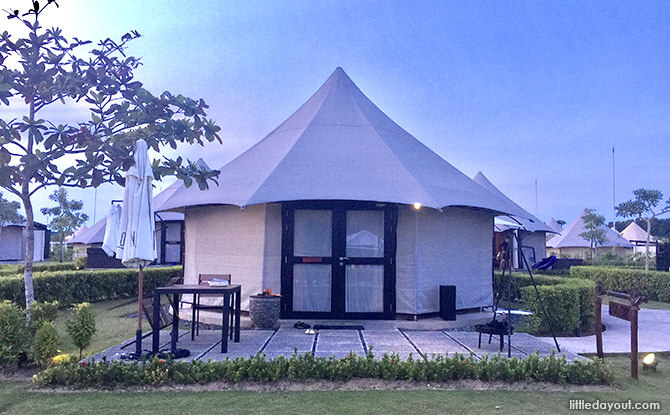 For the March holidays, we happily trooped out with the extended family to Bintan for a four-day, three-night getaway. In all, our family totalled 12 adults and 10 children, with the youngest at two years old. It is a staggering number but The Canopi Resort Bintan turned out to be perfect and absolutely fabulous for a big group.
For a short break near Singapore without the hassle of air travel, Bintan is a no-brainer destination. The Canopi is a one-hour ferry ride from Tanah Merah Ferry Terminal and a five-minute bus ride from the Bintan ferry terminal.
Best of all, there was a special customs counter for The Canopi's guests so we did not have to join the long snaking queue at other counters. Without delay, The Canopi's Meet-and-Greet staff found us and we were soon on our way. This efficient and prompt transfer service from a resort is a huge bonus when travelling with young children!
The Accommodation at The Canopi Resort Bintan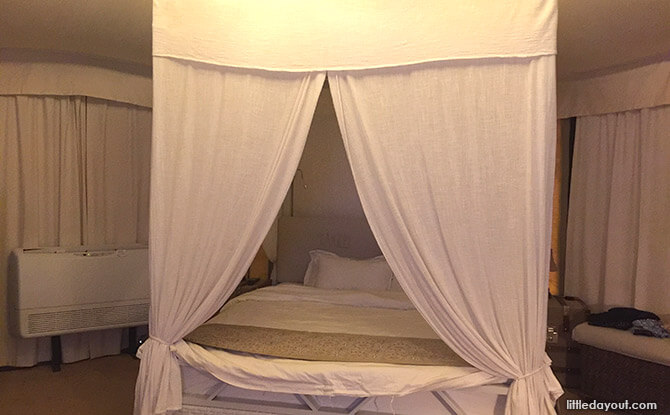 The Canopi is a relatively new establishment in Bintan's resorts scene, having opened only in September 2015. Occupying a 2-hectare site, it is marketed as part of a new 388-hectare integrated resort city, promising a combination of luxury, adventure and family fun.
---
-- Story continues below --
Its 41 suites aka luxurious Mongolian-style tents are generously sized at 37 square metres and come complete with air-conditioning, a four-poster bed, a private, outdoor, ensuite bathroom, LCD television and Wi-Fi.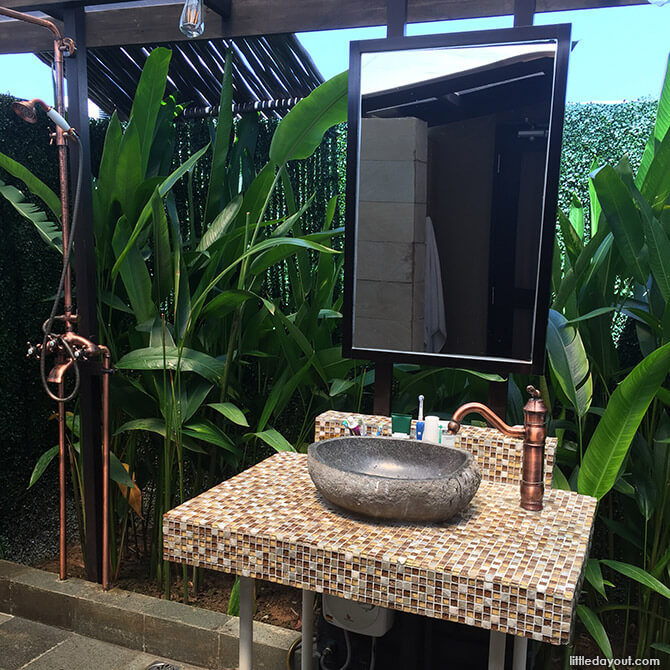 Coupled with the safari-style furniture, the glamping experience was complete, never mind that proper hanging cupboards, rather than just drawers, would have been more useful and preferred.
Sitting prettily on one side of Treasure Bay's Crystal Lagoon, a beautiful, crystal-clear, filtered sea water lagoon, its 41 tents come with three different price tags, with the pricier ones getting you a view of the emerald waters, your own outdoor jacuzzi and a small private front garden with a barbecue pit.
We opted for the normal tent suites arranged in a cluster of six, with a central pavilion, a useful communal space, where we gathered to have dinner or chit-chat at night, while easily keeping an eye on the children playing around us or in their tents.
Crystal Lagoon at The Canopi Resort, Treasure Bay Bintan
The first sight that hits you, when you first reached The Canopi would be the expansive Crystal Lagoon. Its brilliant blue waters dazzling in the bright sunlight took our breath away.
Unable to resist its cooling respite, given the blazing weather, the older children jumped into the inviting waters, while the adults were at the reception settling check-in. (Luckily, we had a nice refreshing, chilled welcome drink.) Over the next few days, we spent a lot of time in Crystal Lagoon, where all sorts of exciting water sports await fun-seekers of all ages.
The Activities
Crystal Lagoon is filled with filtered seawater, so you still get to experience the sea, but a much more milder and cleaner version of it. The man-made lagoon is like a giant basin. Its "seabed" covered with a layer of plastic, so you don't get the squishy feel of wet sand or worry about stepping on any mini marine beasts. Some may decry its artificialness, but it does make for a safer and cleaner environment for young children.
It was beautiful when we gathered at the lagoon for a relaxed and cooling dip at 5 pm. The sun was no longer beating down on us and the water had warmed up nicely. The children had fun playing with their sand toys, making trenches and we all had a nice time playing in the water.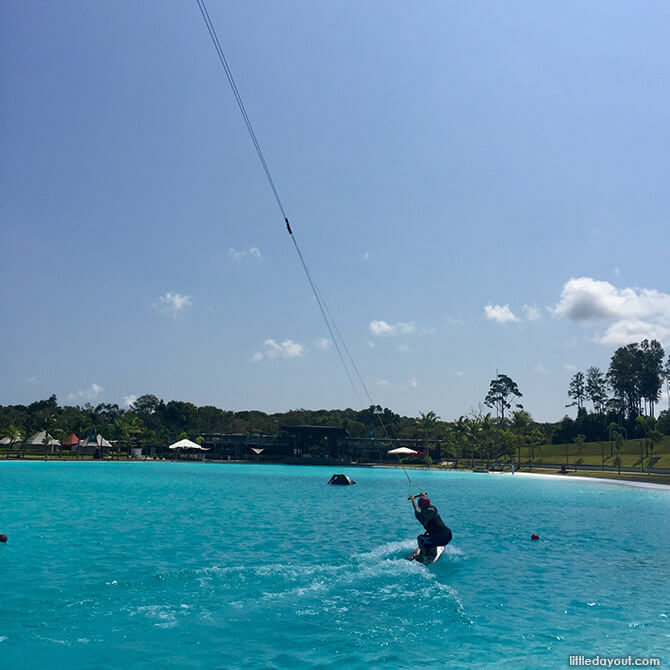 On the second day, some of us tried cable wakeboarding. Six of us were on two cables for a total of 1.5 hours. The teacher was patient and clear. It was a most exhilarating experience and a great workout. I had very sore muscles all over the next day, but all of us were happy that we managed to keep our standing position for at least a full stretch of the cables – the basic skill of wakeboarding without falling into the water.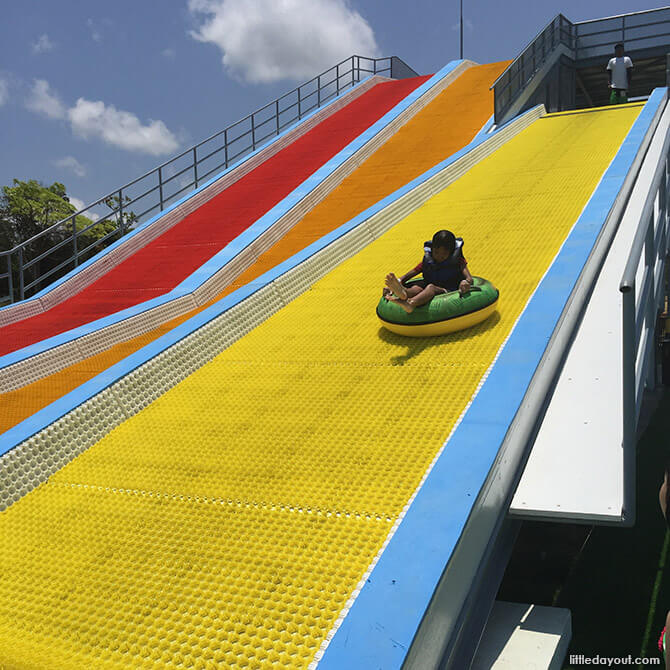 While some of us were wakeboarding, the other adults took the children to try out the three water slides and the bouncy castles. The red slide was the longest, with an extended lip, so it really makes you fly!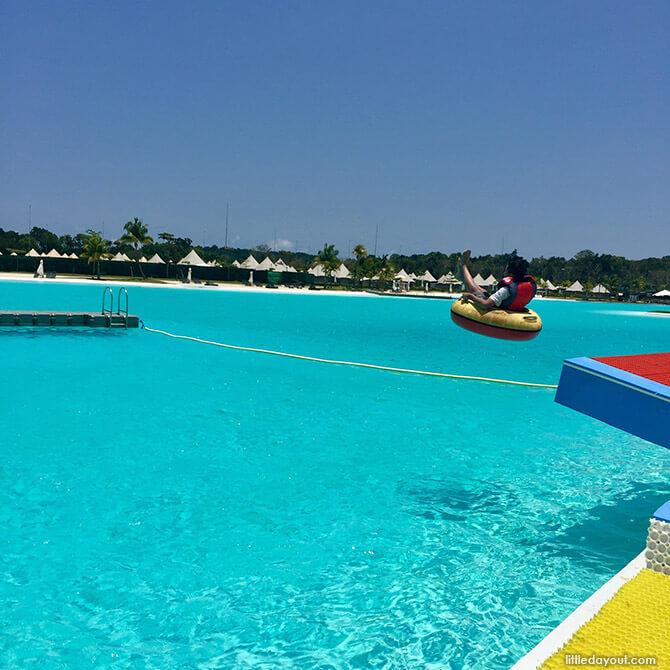 For the little ones, it is best to stick to the gentler yellow and the orange slides. The red slide can really give one a sore back and bum, and in the worst scenario, can have a whiplash effect.
After all that adventure sliding down, the kids checked out the massive bouncy castles, a fitting gentler activity to close the day after the slides. They had a lot of fun and were all tired out easily by the day's end. In all, the die-hard cousins had spent at least eight hours in the water that day.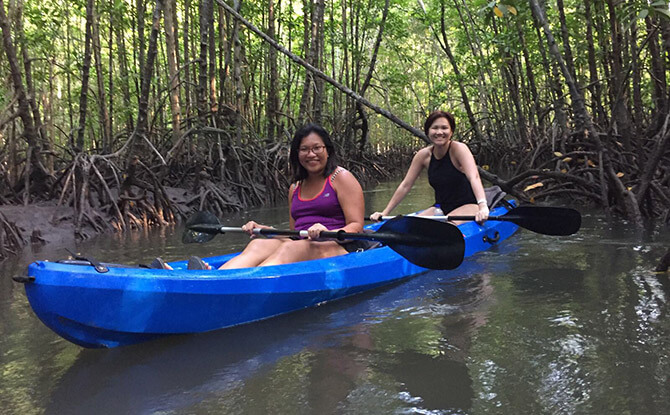 We did not manage to try every water activity on offer, and there are lots – aqua-glide, bumper boat, float, Jetovator, kayak, sea scooter, stand-up paddle, watersports park, water tricycle, water zovb. You could also go on a solar electric boat cruise in the lagoon or a kayaking experience in Treasure Bay's private mangrove estate.
Of the array that we missed out, we definitely recommend two – the Ironman-like Jetovator and the floating Watersport Park.
If you ever have fantasies about being Ironman, take a ride on the Jetovator, a waterbike that propels the rider into the air with the water thrust from the jet unit of the personal watercraft. We saw someone try it and it looked really cool and exciting.
The Floating Watersport Park is a must-go for us, when we next visit The Canopi. Essentially, you have a floating obstacle course culminating in a gigantic floating, inflatable climbing wall shaped like a mountain. So, you battle your opponents over the obstacle course to reach the mountain. The winner is the one who manages to make it first to the summit of the mountain. This floating obstacle course was in the middle of Crystal Lagoon, which is more than 2 metres deep, so put on your safety vests and let the warrior in you come out!
Besides water activities, there is no shortage of land-based activities too. Choose a ride: a Ford Model T buggy, a Segway, mini motorcross, 2-seater UTV, mini electric ATV, electric scooter or an ATV Quad bike (for either 30-minute short trails or for longer all-terrain forest trails and Slalom track). The mini electric ATV was a hit with the children, and the electric scooter was an indispensable tool for us to get around the huge Canopi estate, so it makes sense to rent the scooter by the day.
Food
Unfortunately, there are only two restaurants in The Canopi – The Patio, where your daily breakfast is served, and Hooked On, a seafood restaurant. The Patio's daily breakfast was average fare, but definitely not a big "Wow", and one wishes they would cover the fruit platters, which we mostly avoided due to the flies milling around it. Its lunch and dinner menus offer a mix of local and Western food. We went for Rendang curry one evening, and was so impressed that we had it a second time on another evening.
We also tried Hooked On for a seafood dinner once, and would say the food is pretty decent in both portions and quality of cooking. However, Hooked On does come with a big price tag, the difference became very glaring, when we had a very nice seafood meal at a Chinese restaurant in Tanjong Pinang at a fraction of the price on another day.
Alternatively, The Patio also has a barbecue menu if you fancy a barbecue dinner outside your tent. It has a selection of meats, salads, sides and even a mixed fruit platter to round up your meal. You can choose between a 2 pax meal or a 4 pax meal. Note that you have to book the BBQ sets in advance, between 11 am to 5 pm, so that the staff has ample time to prepare the ingredients. Another possibility to consider would be a dinner at a kelong restaurant, which the hotel staff can easily arrange, including the transport requirements.
As we were a big group, we brought a portable stove, gas canisters, a kettle-pot, and our own supplies of instant noodles, cabbage, fishballs, luncheon meat, bread and drinks. The pavilion in the middle of our tent cluster was perfect for our merry little party, when we cooked, ate and chatted under the starlit night. (Avid stargazers might want to bring your telescope – the sky in Bintan has little light pollution, making it perfect for star and constellation-spotting.)
Other Leisure Possibilities in the Evenings
And as there is not much to do at night, do bring cards and board games. We spent good time bonding as an extended family over board games and card games, while having cocktails at The Patio, whose bar is open all night.
Another possibility would be signing up for a firefly cruise with the hotel's Activity Centre. My eldest went with his dad, uncles and cousins, while I stayed home with our two-year-old. The feedback varied – some felt it was magical, while others complained it was a rip-off, since there were not many fireflies in attendance. But let's put it this way, you can sign up for a whale and dolphin watching cruise and see nothing if the creatures don't come out to play.
In case you are worried about the humidity or the mosquitoes, all agreed that the boat ride in the mangrove was actually pretty cooling and pleasant. And to top it off, pretty cool as well, since it was really a ride in a pontoon, rather than a boat!
Spa
The Canopi has an in-house spa, and you get 10% discount if you book one day ahead. We took turns to babysit and go for our treatments. Most of us tried out the two-hour massages, and would say the treatments are decent and cheap, though nothing to shout about. However, the whole place could do with an improvement in the interior decoration, ambience and quality of service.
Our Verdict
On the whole, we had a great time at The Canopi and would recommend it for a big group holidays, if you are into a "doing" kind of holiday, especially with sea sports. We would suggest that you definitely bring a lot of sunscreen, preferably long-sleeved rashguards, and board games for entertainment.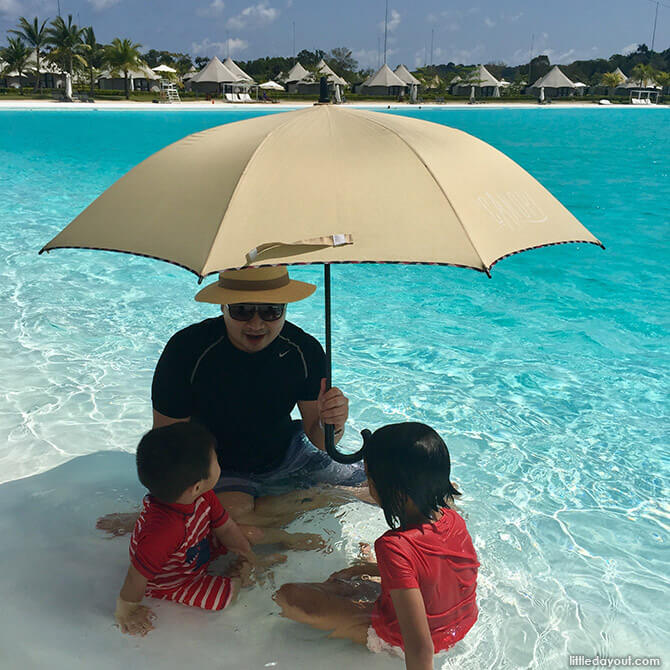 Most of us came back sunburnt despite having lathered on sunscreen and some of us parents even resorted to carrying umbrellas into Crystal Lagoon to shield the younger ones, while they were taking a dip in the waters.
I would like to go back only after a few years, to give the trees some time to grow bigger so as to provide better shade and help lessen the glare. Hopefully, the management would also have had time to increase the dining options in the Canopi and Treasure Bay. Maybe, even set up a Kids' Club or provide babysitting services, to facilitate the parents going for spa treatments or a nice dinner as a couple.
Jln Raya Haji KM 01 Kawasan, Pariwisata, Teluk Sebong Lagoi, Bintan, Kepulauan Riau 29152, Indonesia
Phone: +62-770692252, Singapore Toll-free: +65-31528010
Email: reservation@thecanopi.com