Board games offer a fun time with family and friends – hours of interaction around the table. These range from classics like Monopoly and Scrabble to games like Catan and Blokus. If you have ever wondered where to buy board games in Singapore, we have some suggestions of places for you to do so.
Even though it is convenient to buy board games over the internet, there are still occasions when you want a particular game ASAP and can't wait. Or perhaps, you wish to browse around or get some recommendations. That's when it pays to know where to buy boards games in Singapore. However, if you do have a specific title that you are searching for, we recommend calling ahead to make sure it is in stock. Popular titles do get sold out and you wouldn't want to make a trip down in vain.
Now, onwards to the list of where to buy board games in Singapore.
Where to Buy Board Games in Singapore
---
Games @ PI
Located at Midpoint along Orchard Road, Games @ PI is a go-to place when it comes to buying board games in Singapore. They are well stocked with a large selection of board games. Plus, the staff are pretty helpful too. When you are wondering where to buy board games in Singapore, Games @ PI is one place should bear in mind.
Address: 220 Orchard Road, #03-01 Midpoint Orchard, Level 3 Singapore 238852
Contact: 6734 3858
Website
---
Toy Station, Serene Centre
Located on the second floor of Serene Centre, Toy Station offers games by publishers such as Davinci Games, Fox Mind Games and Gamewright. There is also plenty of other toys such as LEGO to keep kids busily browsing through the shelves.
Address: 10 Jalan Serene, Serene Centre, #02-09/10/11/16A Singapore 258748
Contact: 6468 3054
Website
---
Toy Station, Thomson Plaza
Toy Station at Thomson Plaza stocks a variety of board and table top games. It is a good place to shop if you don't want to head down to town to look for board games. Titles that it carries include Ticket to Ride, Catan and Outfoxed. However, do call ahead to see if they are available and in stock.
Address: 301 Upper Thomson Rd, #03- 574408, 45 Thomson Rd, Singapore 307584
Contact: 64514574
---
Toytag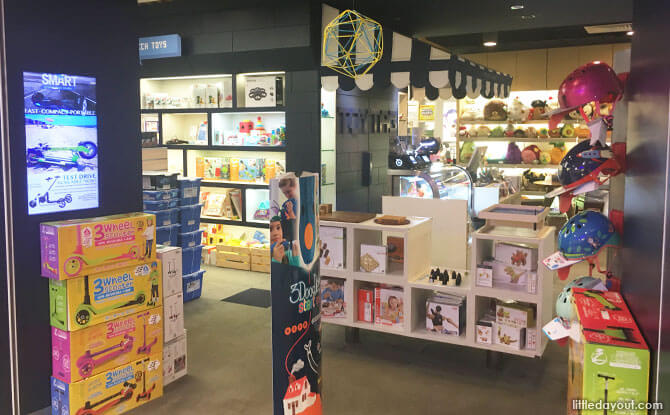 Toytag sells a bunch of cool toys and gizmos that make for fun browsing around the shop. In addition to the latest gadgets, you can also buy board games – from strategy to family-oriented ones – at the store. Toytag also has online store where you can shop for these board games in Singapore.
Address: 1 Maritime Square. #03-58, Harbourfront Centre, Singapore 099253
Contact: 62767268
Website
---
Battle Bunker, Bugis+ & West Coast Plaza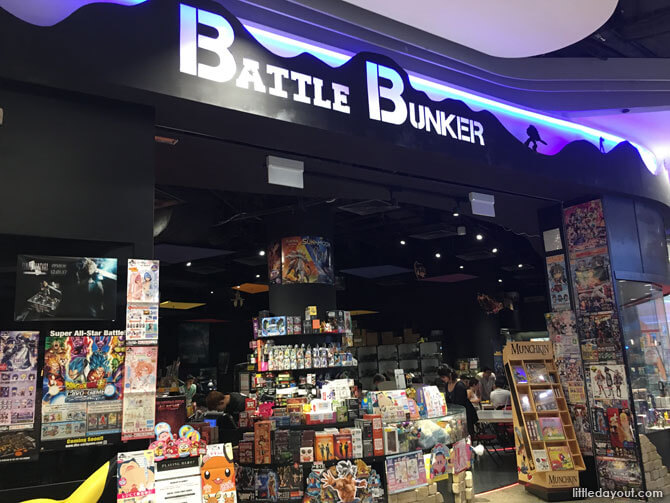 Battle Bunker at Bugis+ has a nice display of table top games within its premises. The shop also hosts tournaments and has a library of games available for rent.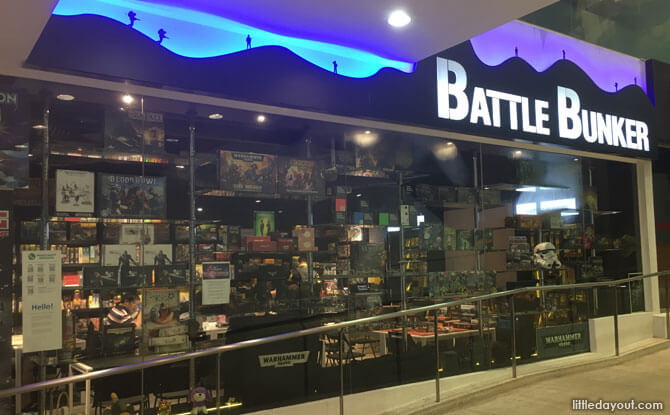 For those living in the West of Singapore, there is also a Battle Bunker at West Coast Plaza.
Bugis+ Address: 201 Victoria Street, #03-16/17, Singapore 188067
Contact: 65094011
West Coast Plaza Address: 154 West Coast Road, #B1-05 West Coast Plaza, Singapore 127371
Contact: 6265 6331
---
Team Board Game
Team Board Game sells a large range of game titles. Gosh, it even says so on the name of its business. You can shop online and look through its extensive catalogue of games or even email them if you are looking for a specific tabletop game in Singapore.
Address: 16 Arumugam Road, #06-07, LTC Building D, Singapore 409961
Contact: 98562565 (SMS and Whatsapp only)
Website
---
Finally, Where To Find "Mainstream", Classic Board Games
If you are looking for board games such as Monopoly, Risk and Cluedo, these can often be found in large toy shops such as Toys R Us and retailers such as Isetan and Takashimaya.
This story contains affiliate links. This means we earn a small fee if you purchase something through a link from our website. There is no additional cost to you. This helps to support Little Day Out and keeps us going.