Already missing the recent Christmas and New Year holidays? We are too. Lucky for us, there are plenty of long weekends to come in 2017. While long-haul journeys can be challenging for young ones, these extended weekends offer a good opportunity for the whole family to venture out of the Little Red Dot and explore the cultural, natural and thrilling wonders across the region.
Chope these dates!
First you'll need to pencil in your calendars the 2017 Public Holidays that fall on a Friday or Monday:
| | |
| --- | --- |
| Monday, 30 January 2017 | Chinese New Year |
| Friday, 14 April 2017 | Good Friday |
| Monday, 1 May 2017 | Labor Day |
| Monday, 26 June 2017 | Hari Raya Puasa |
| Friday, 1 September 2017 | Hari Raya Haji |
| Monday, 25 December 2017 | Christmas Day |
Download Little Day Out's Free 2017 Yearly e-Calendar (PDF) that marks out the public holidays, school holidays and long weekends for 2017 here.
Now you can start searching for flights for the above dates and plan your trip to one of these fabulous family getaways below!
Cultural Getaways for the Long Weekends in 2017
As Singapore is such a young and modern city-state, it's always a good idea to let your children experience other countries that are rich in history and steeped in culture and tradition.
1. Hoi An, Vietnam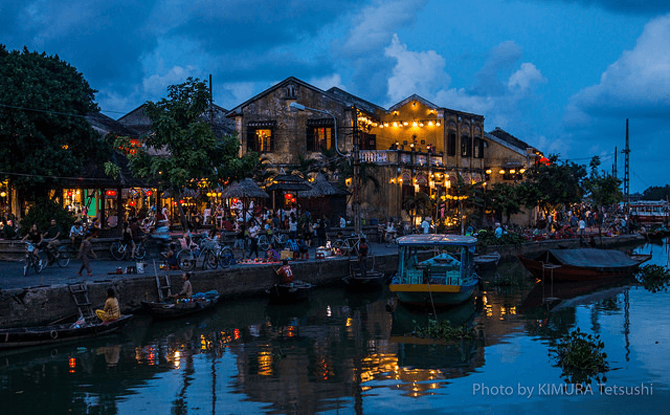 The elegant city of Hoi An is recognized for its historic district dating all the way back to the 15th century. Hoi An Ancient Town is such an exemplar of a well-preserved Southeast Asian trading port that it has made it onto UNESCO's list of World Heritage sites. Here you can spend an entire weekend simply strolling through the town's streets and admiring the beautiful architecture of its ancient homes, which exhibit a mix of Vietnamese, Chinese and Japanese designs. Visit some of the many temples and pagodas that have been here for centuries to learn about Hoi An's unique past.
For a family shopping experience to remember, head down to the banks of the Thu Bon River and visit the busy Central Market, where you'll find everything from local handicrafts and souvenirs to tailor-made clothing. The best time to visit is on every 14th day of the lunar month, when Hoi An transforms into a colorful lantern-filled town in celebration of the Full Moon Festival. During this period, you'll also get to witness traditional song and dance performances and monk-led candle lit ceremonies at the ancient temples.
2. Siem Reap, Cambodia
Siem Reap is best known for Angkor Wat, a beautiful temple complex and UNESCO World Heritage Site measuring 162.6 hectares, making this the largest religious monument in the world. Your family can spend an entire day exploring the main temple and the surrounding remains, which is stunning for its scale as well as its intricate detail of carvings and decorative flourishes. It is best to go with a local guide so that you can learn more about the historical significance of this amazing complex.
Beyond Angkor Wat, Siem Reap offers plenty of other cultural gems and activities, including taking your children for pottery and painting classes at Khmer Ceramics, watching cultural performances at Cambodian Cultural Village or Bambu Stage, and enjoying fish spas and body massages. The most exciting time to go with your family is at the end of October to catch the Water Festival, a three-day event which marks the end of the monsoon season and is celebrated through a vibrant display of fireworks and brightly colored boats rowing along the Mekong River.
3. Yogyakarta, Indonesia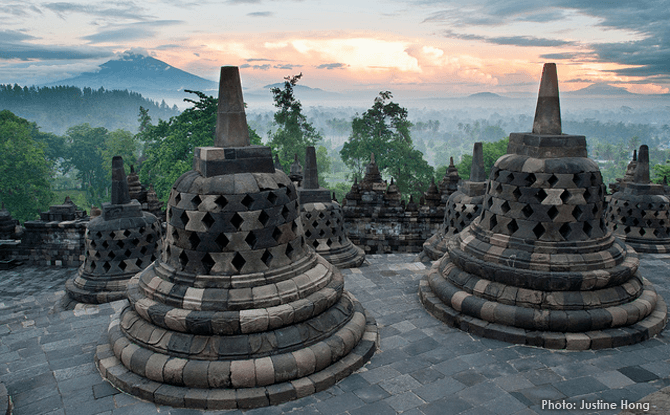 Many people find it a toss-up when deciding whether to visit Borobudur in Yogyakarta or Angkor Wat in Cambodia. With so many long weekends to look forward to in 2017, we think it's the right year your family made a trip to both places. Dating all the way back to the 8th and 9th centuries, Borobodur is the largest Buddhist temple in the world and is architecturally stunning for its 70+ openwork stupas, each containing an impressive stone statue of the Buddha.
Governed by an independent traditional Sultanate system that's separate from the rest of Indonesia, Yogyakarta as a whole is worth exploring for its unique Javanese arts and cultural atmosphere. For stunning natural landscapes and more thrilling adventures, take your family for some tightrope walking at the Kalibiru National Park, underground cave tubing on the lazy river at Goa Pindul or trekking through a hidden forest in the beautiful Gao Jomblang Cave.

Nature Getaways for the Long Weekends in 2017
Escape the hubbub of Singapore's city and immerse yourselves in stunning natural landscapes found in our neighbouring countries.
4. Sabah, Malaysia
With pristine beaches, beautiful coral reefs rich in marine biodiversity, jungles with an incredible wildlife and astonishing mountain peaks, Sabah is a nature-loving family's dream come true. A must-see here is Sepilok, the world's number one place to see orangutans in their natural habitat, and the nearby Labuk Bay Proboscis Monkey Sanctuary housing big-nosed monkeys found only in Borneo.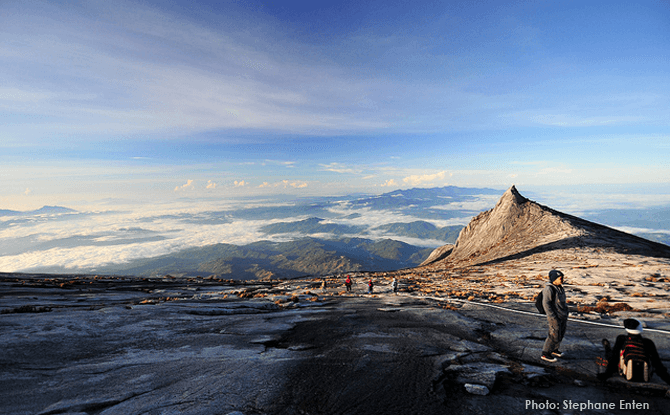 While Kota Kinabalu, the capital of Sabah, offers great spots for diving, snorkeling and pearl shopping, it is best known for its numerous hiking trails – most notably Mt. Kinabalu. There is no minimum or maximum age limit to go for hike this 4,095m-high mountain but training beforehand is highly recommended. Given a UNESCO World Heritage status, Mt. Kinabalu may be a challenging 2-day feat for families but will prove to be worth all the steps and hard work when you reach its stunning rocky landscape and views at its peak.
5. Elephant Hills, Thailand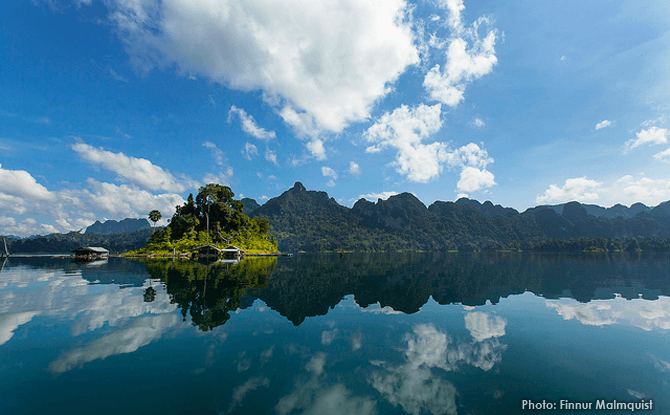 If the name sounds like it came straight out of some fantasy novel, that's because Elephant Hills truly is a magical place. Elephant Hills is Thailand's first jungle glamping resort offering visitors the choice of staying at either a luxury tent in the Elephant Camp or in a floating tent on the emerald-green waters of Cheow Lan Lake. Whatever your choice, you and your family will be awed by the camp's stunning surroundings of Khao Sok National Park, one of the world's oldest rainforests.
Offering two-to-four day exciting but leisurely adventure tours, the experts at Elephant Hills will take you on a journey through the jungle and limestone hills, as well as kayaking and canoeing trips across the lake. On top of being surrounded by 300 beautiful bird species, see if your little one can spot and name these large mammals during your jungle tours: bears, gibbons, deer, wild elephants, tapirs and tigers.
Despite its name, Elephant Hills does not offer elephant riding. As an award-winning tour operator that emphasizes sustainability and responsibility for wildlife, Elephant Hills offers opportunities for families to interact with these beautiful large mammals through more meaningful activities – such as feeding and washing them in their natural environment.
6. Bandung, Indonesia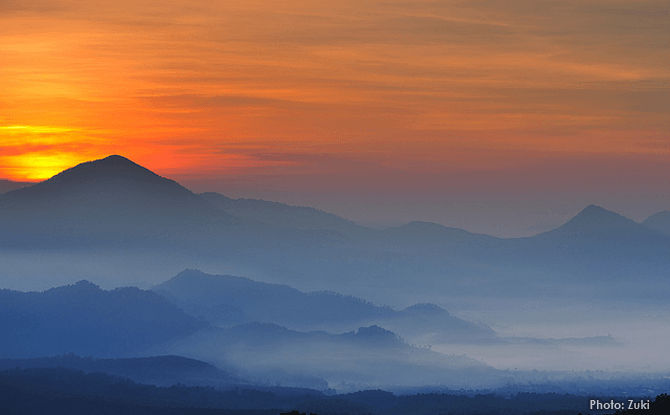 Sitting at over 2,500 feet above sea level, this city with its year-round cooling 19oC – 25oC temperatures is a great escape from Singapore's tropical heat. Visit Bandung to witness stunning landscapes, including rolling tea plantations, mist-covered volcanoes and natural hot springs. There are two main natural attractions here: (1) Kawah Putih, a stunning crater lake that changes in color from a bluish-white to green or brown depending on the temperature and concentration of sulfur in the lake; and (2) Tangkuban Perahu, an active volcano boasting nine craters of varying sizes, with the largest being Kawah Ratu, or Queen Crater. At Domas Crater, you can also get up close to the crater floor and cook and eat boiled eggs using the water from its natural hot springs.
For other family-friendly activities in Bandung, try going for a dip in the volcanic hills at Sari Ater Hot Spring, having a meal at Lembang Floating Market, which is similar to Bangkok's floating market of food, and going for a leisurely stroll around Dusun Bambu, an ecological leisure park that looks much like a luxury Swiss ski resort.
7. Cameron Highlands, Malaysia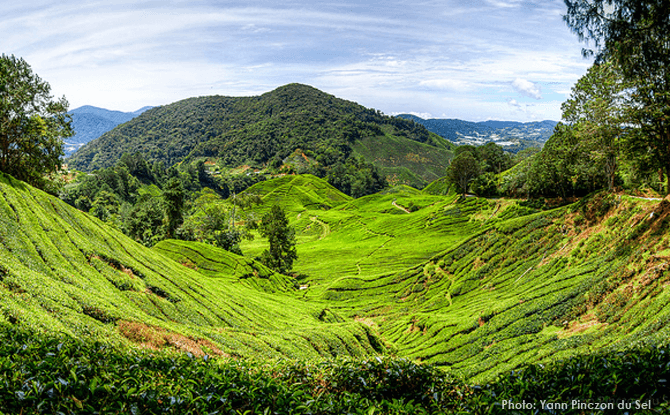 As Malaysia's largest hill-station area, Cameron Highlands is a destination that promises a truly relaxing weekend of crisp, cooling weather, lungfuls of fresh air and breathtaking views of lush greenery. Children will enjoy exploring flower markets, eco-conscious trekking trails and of course visiting strawberry farms, which not only offer strawberry picking activities but sell all things strawberry-related, from strawberry-flavored ice cream to strawberry-themed dresses and toys. Other attractions kids will love include the various bee farms and Butterfly Garden found in Cameron Highlands.
A trip here with your family isn't complete without visiting one of Cameron Highlands' many tea plantations and enjoying a relaxed afternoon of sipping high tea with scones and pastries. The most famous tea plantation for picture-taking and souvenir shopping is Boh Tea Plantation. For a truly colonial English experience, we recommend trying the high tea at Jim Thompson Tea Room at Cameron Highlands Resort.