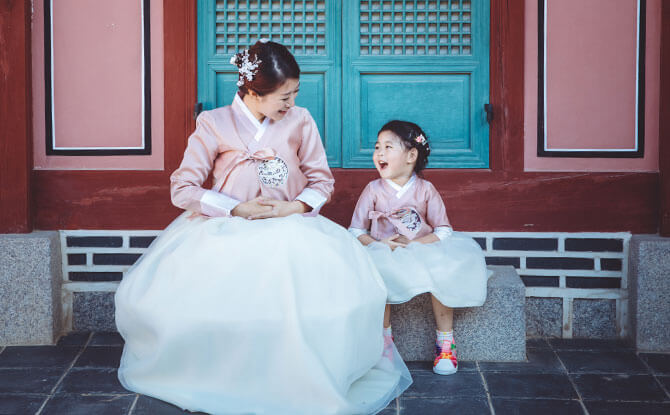 Think of South Korea and K-Pop superstars, delicious cuisine and snowy ski slopes are some of the images that come to mind. For families, the vibrant country and its dynamic capital city, Seoul, have much to offer. There are plenty of kid-friendly places in Seoul which families with children can visit and enjoy.
From specially curated children's museums to parks designed for kids, Seoul's family-friendly attractions will delight and entertain. Here are some kid-friendly places in Seoul to put on your itinerary that will leave you with wonderful memories of your visit to South Korea.
• Cultural Experiences
• Scenic Spots
• Hands-on Play
• Nature & Animals
• Theme Parks
• Kids' Cafes (Indoor Playgrounds)
---
Cultural Experiences
1. Gyeongbokgung and Changdeokgung Palace
Gyeongbokgung Palace was the main royal palace of the Joseon Dynasty. It boasts impressive buildings that will make you feel as if you have stepped back in time. You're your visit to catch the changing of the guard ceremony at the main gate, Gwanghwamun.
Nearby, Changdeokgung Palace is less crowded and more intimate alternative to Gyeongbokgung Palace. This was once the royal residence and has a Secret Garden, a one-time haven for the Royal Family, which you can explore.
Where:
Gyeongbokgung Palace – 161 Sajik-ro, Jongno-gu, Seoul
Changdeokgung Palace – 99 Yulgok-ro, Jongno-gu, Seoul
Website: royalpalace.go.kr
---
2. National Folk Museum of Korea's Children's Folk Museum
Within the Gyeongbokgung Palace is the National Folk Museum of Korea. It houses a Children's Folk Museum which features hands-on exhibits based on Korean folk history. It is an interactive way for young children to get an introduction to Korean culture and heritage.
Where: 37 Samcheong-ro, Jongno-gu, Seoul
Website: kidsnfm.gov.kr
---
3. Tongin Market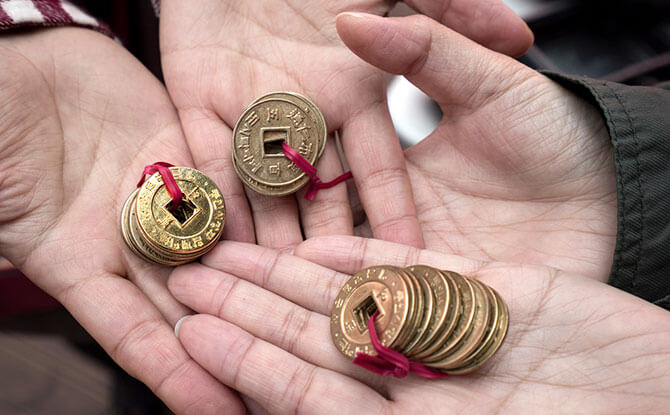 A visit to the covered Tongin Market can be great fun for kids. Purchase a bento box along with some old-style brass coins. These coins can be used by kids to buy food from their preferred stalls and assemble their own yummy customised meal.
Where: 18, Jahamun-ro 15-gil, Jongno-gu, Seoul
Website: tonginmarket.co.kr
---
4. The War Memorial of Korea
The War Memorial of Korea not only caters to history buffs but has a Children's Museum which provides a look at the topic of war and peace for kids. The museum also has a display of military hardware which will fascinate children.
Where: 29 Itaewon-Ro, YongSan-Gu, Seoul
Website: warmemo.or.kr
---
Scenic Spots
5. N Seoul Tower
N Seoul Tower is a city landmark that can be reached either on foot, by bus or by taking a scenic cable car ride up Namsan Mountain. Head to the Observation Deck for a beautiful view of the city from over 400 metres above sea level.
Where: 105 Namsangongwon-gil, Yongsan-gu, Seoul
Website: nseoultower.co.kr
---
6. Bukchon Hanok Village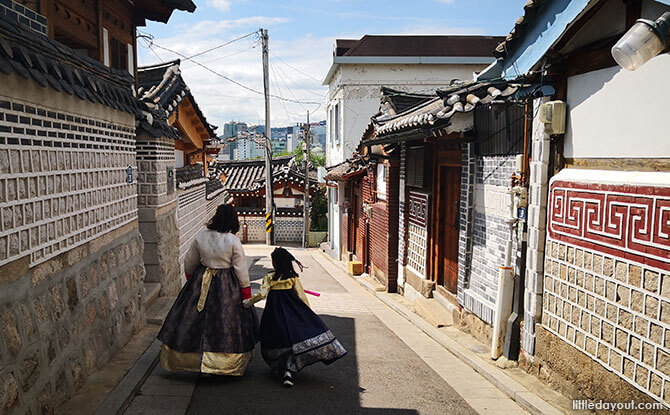 Found between the Gyeongbokgung and Changdeokgung Palaces, Bukchon Hanok Village is a neighbourhood with traditional Korean houses or hanoks and has a history that stretches back 600 years. A popular activity is to explore the village's picturesque, winding streets in a rented Hanbok or traditional Korean dress.
Where: 37, Gyedong-gil, Jongno-gu, Seoul
Website: hanok.seoul.go.kr
---
7. Starfield Library at COEX Mall
The impressive Starfield Library at COEX Mall is a book lover's dream with towering shelves filled with tomes and is a nice photo spot. Anyone is welcomed to sit down and take a break while immersing themselves into the world of books. It is also an event space which often plays host to children's events.
Where: 513 Yeongdong-daero, Gangnam-gu, Seoul
Website: www.starfield.co.kr/coexmall/starfieldLibrary/library.do
---
8. Seoul Sky, Lotte World Tower
The 123-storey Lotte World Tower is an impressive skyscraper south of the Han River. At the top is the Seoul Sky observatory where you can soak in breathtaking, 360-degree views from 500 metres up in the air. For a thrill, step out on to Seoul Sky's glass-bottomed observation deck and take a look down at the city below!
Where: 300 Olympic-ro, Sincheon-dong, Songpa-gu, Seoul
Website: seoulsky.lotteworld.com
---
Hands-on Play
9. Dikidiki Design Sense Playground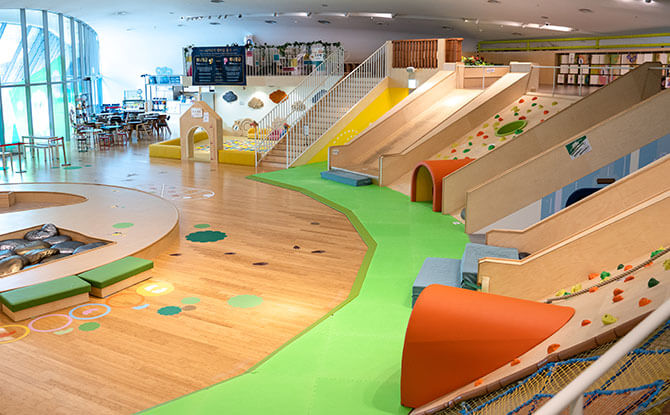 Explore a Jungle Playground, wander through the Palette Swamp or exercise creativity with Candy Building Blocks. In the imaginative forest of Dikidiki, kids are encouraged to engage in creative expression, physical movement and cognitive play. It is fittingly located at the Dongdaemun Design Plaza, an icon of the Korean design industry.
Where: 281, Eulji-ro, Jung-gu, Seoul
Website: ddp.or.kr
---
10. Seoul Animation Center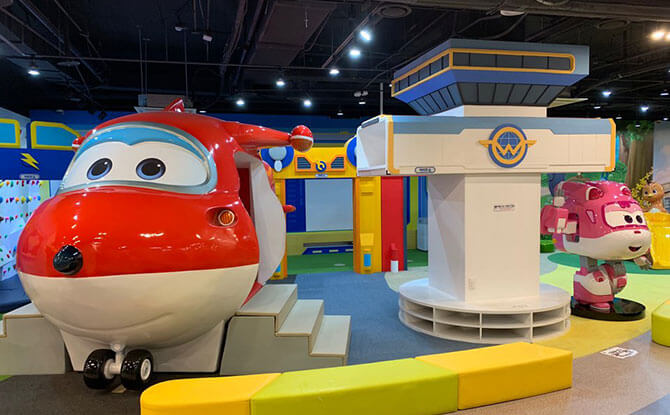 Seoul Animation Centre, close to Myeongdong, has programmes which include animation and comic characters, VR experiences and comic libraries. Children can try digitally drawing Pororo the Little Penguin or make their own stop motion animated stories.
Where: 48 Sogong-ro, Jung-gu, Seoul
Website: ani.seoul.kr
---
11. Samsung d'lite [Closed]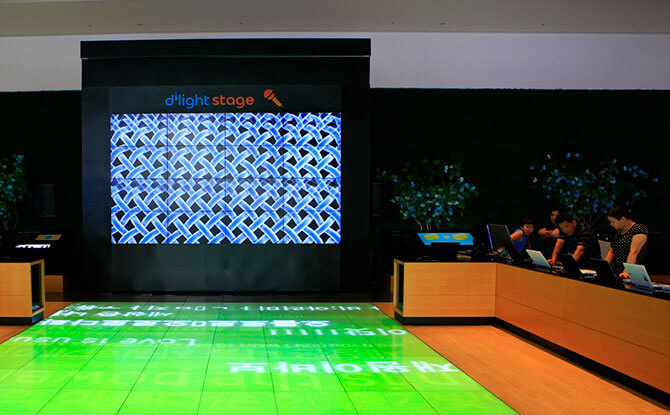 South Korea is a technological powerhouse and Samsung is at the front of the pack. At Samsung d'lite, you can experience a digital playground and get a glimpse of the tech future that awaits.
Where: 11, Seocho-Daero, 74-Gil, Seocho-gu, Seoul
Website: samsungdlight.com
---
12. Poopoo Land [Closed]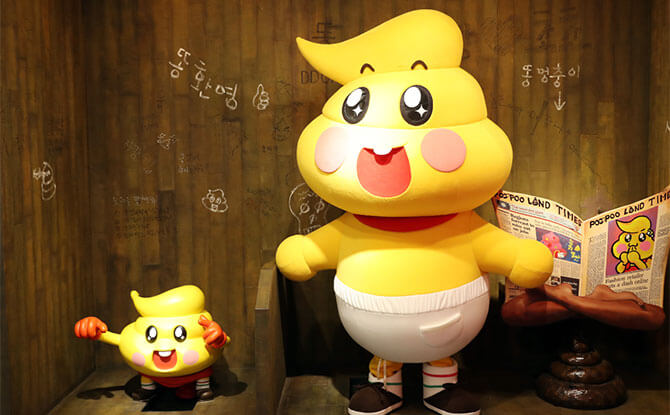 It is hard not to have a laugh at Poopoo Land. Snap pictures at various photo zones, make your way through a digestive maze and have fun playing games.
Where: B1, Hana Building, 41, Insadong-gil, Jongno-gu, Seoul
Website: playpoop.com
---
13. Trick Eye Museum
Be part of the artwork at the Trick Eye Museum. Have fun taking pictures at 3D and optical illusion art photo zones. Send them back home to surprise your friends and family back home with some amazing shots. The museum has VR rides and an Ice Museum too.
Where: B2 Seogyo Plaza 20 Hongikro-3gil, Mapogu, Seoul
Website: trickeye.com/seoul/en
---
14. Gwacheon National Science Museum
Dinosaurs, Space and Technology. The Gwacheon National Science Museum has it all, and an insectarium too. One challenge here would be that many of the exhibits only information in Korean but it can still be fun day of exploration with kids.
Where: 110 Sanghabeol-ro, Gwacheon-dong, Gwacheon-si, Gyeonggi-do
Website: sciencecenter.go.kr

---
Nature & Animals
15. Children's Grand Park & Seoul Children's Museum
Children's Grand Park is a kid-friendly place in Seoul with amusement rides, a zoo, musical fountains and playgrounds. Located within the family-friendly park is the Seoul Children's Museum which has creative exhibits and play spaces for kids.
Where: 216 Neungdong-ro, Gwangjin-gu, Seoul
Website: seoulchildrensmuseum.org
---
16. Han River Parks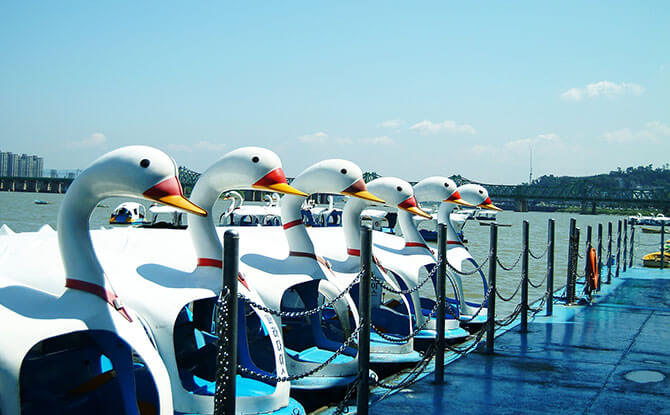 Hangang or the Han River is Seoul's main waterway. The lush greenery of the parks surrounding the river provide respite for those who wish to escape from the urban city.
Pack a picnic and relax in the park. Rent a bicycle to explore the riverbanks or book a cruise for a vantage point from the water.
During the summer, the swimming pools along the Han River are also popular with families looking to escape the summer heat.
Website: hangang.seoul.go.kr
---
17. COEX Aquarium
One of the largest aquariums in South Korea, COEX Aquarium has more than 40,000 marine animals displayed across 14 themed zones. Come face to face with aquatic life from the Andean mountains to the Amazon, and species from Korea too, of course!
Where: 513 Yeongdong-daero, Gangnam-gu, Seoul
Website: coexaqua.com
---
18. Gwangmyeong Cave
For an underground adventure, head out of Seoul to Gwangmyeong Cave. Previously a mineral mine, the cave has attractions such as light experiences, underground passages and more. On the outside, you can still view traces of its mining history.
Where: 14234/142 Gahak-ro 85beon-gil, Gwangmyeong-si, Gyeonggi-do
Website: gm.go.kr
---
19. Seoul Forest
This is a large park with four different zones – the Culture & Art Park, Experience Learning Center, Ecological Forest and Wetland Ecological Garden. It is a kid-friendly space in Seoul with multiple playgrounds and plenty of room for little ones to run about. Highlights of Seoul Forest include a butterfly garden and deer enclosure. While it used to be possible to feed the deer at the park, as of 1 Jan 2020, deer-feeding is no longer permitted. Read more about Seoul Forest.
Where: 273 Ttukseom-ro, Seongdong-gu, Seoul
Website: seoulforest.or.kr

---
Theme Parks
20. Lotte World Adventure and Magic Island
The Lotte World entertainment complex has an indoor theme park, Lotte World Adventure, which has four floors of rides and attractions. Outdoors, at Magic Island, there are even more rides including the Gyro Swing and Atlantis. In addition to a Folk Museum, there is also the Lotte World Water Park. Needless to say, you can have a whole day of fun without even leaving Lotte World.
Where: 240 Olympic-ro, Jamsil-dong, Songpa-gu, Seoul
Website: adventure.lotteworld.com/
---
21. Everland
South Korea's largest theme park, Everland is located in Yongin, a city south of Seoul. It is divided into different zones which include a small zoo, European-style village, rollercoasters and kid-friendly rides.
Where: 199 Everland-ro, Pogog-eup, Cheoin-gu, Yongin-si, Gyeonggi-do
Website: everland.com
---
22. Onemount
Experience winter in Korea throughout the year at Onemount theme park. Go on a dog sled ride, skate about on ice and explore a European-style village at the Snow Park. Bring along your swim gear and dive in at Onemount's Water Park. It is full-day of fun at Onemount theme park.
Where: 1050-64 Daehwa-dong, Ilsanseo-gu, Goyang-si, Gyeonggi-do
Website: en.onemount.co.kr
---
23. Herb Island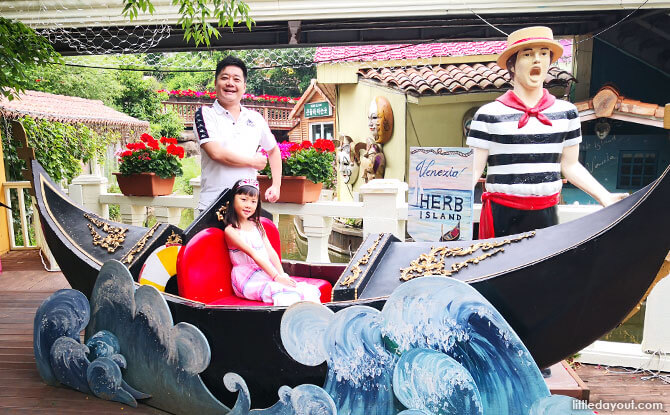 Herb Island is a family-friendly attraction outside of Seoul which includes a Mini Zoo, Venice Village, Herbs & Plants Museum and Santa's Village. You can even explore the Street to the Past, where streets from the 1970s and 1980s are re-created for a high-touch experience.
Where: 35, Cheongsin-ro 947beon-gil, Sinbuk-myeon, Pocheon-si, Gyeonggi-do
Website: herbisland.co.kr
---
24. Seoul Land & Seoul Grand Park
Seoul Land is an amusement park located with the Grand Park. There are both kid-friendly rides and thrilling rollercoasters at the park. It is located within the Seoul Grand Park, a kid-friendly place which has other attractions such as the Seoul Zoo and Botanical Garden. Seasonal festivals are also held at the park.
Where: 181 Gwangmyeong-ro, Makgye-dong, Gwacheon-si, Gyeonggi-do
Website: eng.seoulland.co.kr

---
Kids Cafes (Indoor Playgrounds)
25. P.I.M.

Also known as Play In Museum, P.I.M. is an indoor playground at Banpon Hangang Park. It has a trampoline section, building blocks and a ball pit with amazing views of the Han River.
Where: Solvit, Some Sevit, Olympic Daero 683, Seocho-gu, Seoul
Website: somesevit.com/en/business/solvit/pim.do
---
26. Tayo Kids Café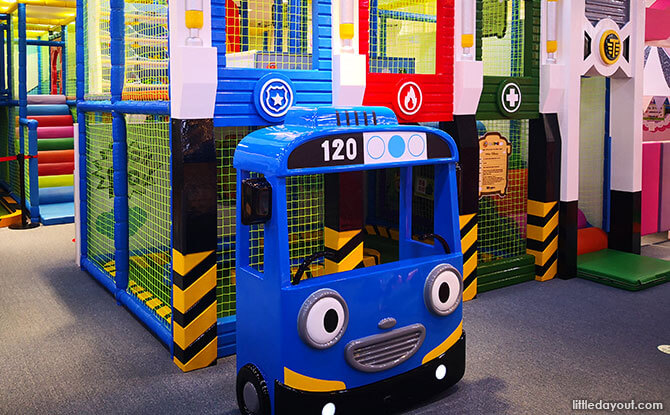 Tayo Kids Café is an themed indoor playground with many branches in Seoul. Kids can have fun engaging in play activities in a specially created environment. There is also a café area with food for when they get hungry.
Website: tayokidscafe.co.kr
---
27. Pororo Park
There are multiple Pororo Parks in Seoul. The one at Jamsil is a mid-sized one suitable for toddlers and preschoolers. It has entertainments such as a carousel and train ride, along with a sand play area and shows featuring the friendly little penguin.
Website: pororopark.com