On our recent family tour to South Korea, the first attraction we visited was Onemount in Goyang City, outside of Seoul.
Rain or shine, summer or winter, it's always a good time to take the kids to the world's first theme park that delivers both winter and summer fun throughout the year. It offers something for everyone including a Snow Park, Water Park and shopping mall.
Ice Skating, Sleds and Santa at the One Mount Snow Park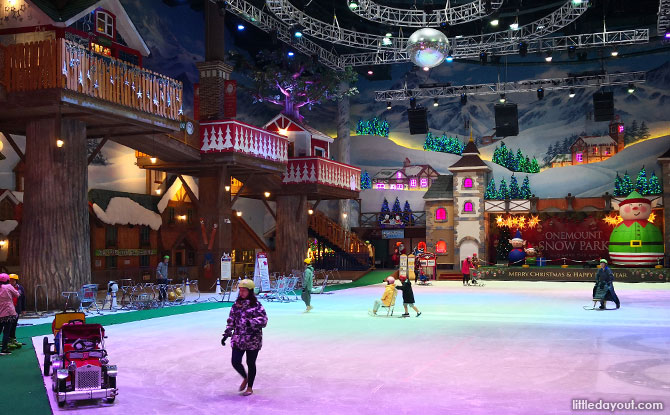 Upon entering the Snow Park, you are greeted by the pretty ice-skating rink, decorated with a Santa's village theme under pulsating neon lights. Jackets and gloves are available for rent if you don't have your own.
---
-- Story continues below --
Rent some ice skates or take one of a variety of free sleds for a spin: There are singles, doubles and supermarket trolleys. My nine-year-old daughter was especially tickled by the one shaped like a toilet bowl!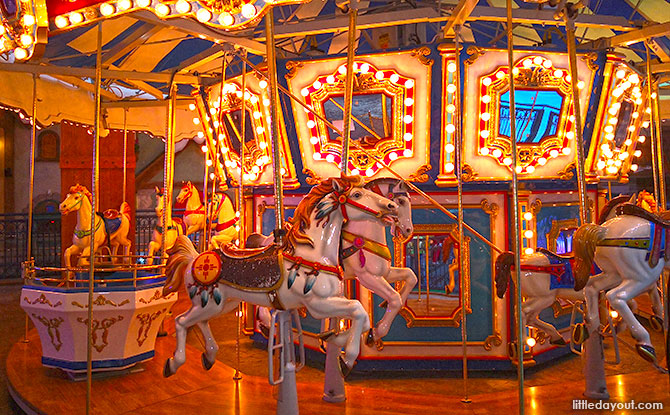 At the ice rink area, kids can ride the carousel, play a game of ice bowling or go to the video arcade.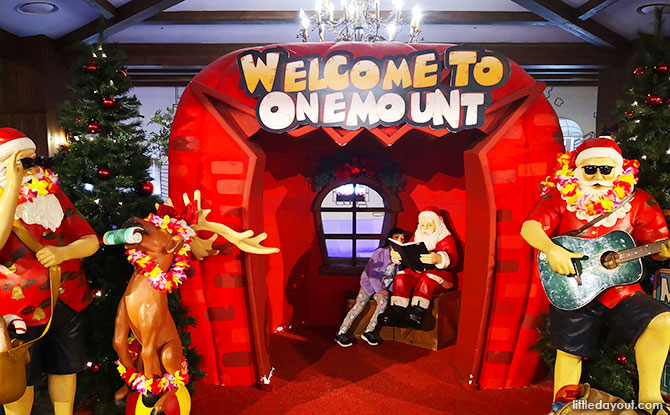 Don't forget to climb up to the houses overlooking the rink for some great photo opportunities and make a wish to Santa.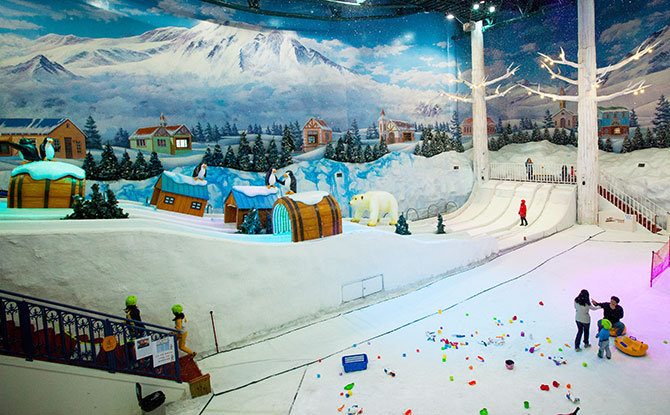 Then head to Snow Hill to play in the snow or have an exciting race down the hill in a snow sled.
Dog Sled Ride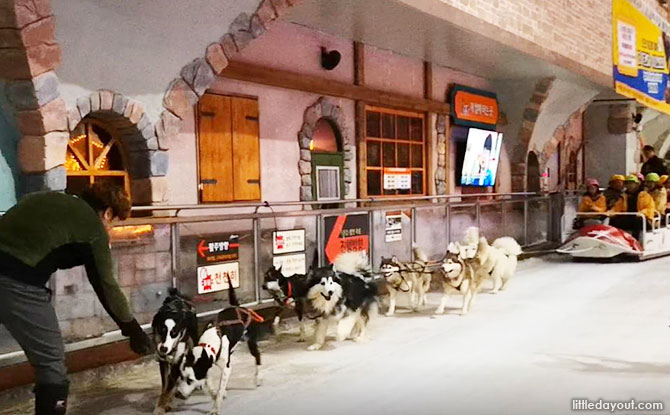 The highlight of the Onemount Snow Park for all of us was definitely the exhilarating dog sled ride, where eight cute, furry friends can't wait to pull you through the ice tunnel that skirts the perimeter of the rink. The ice tunnel is festooned with cheerful Christmas lights and decorations that create a festive feeling even in Summer.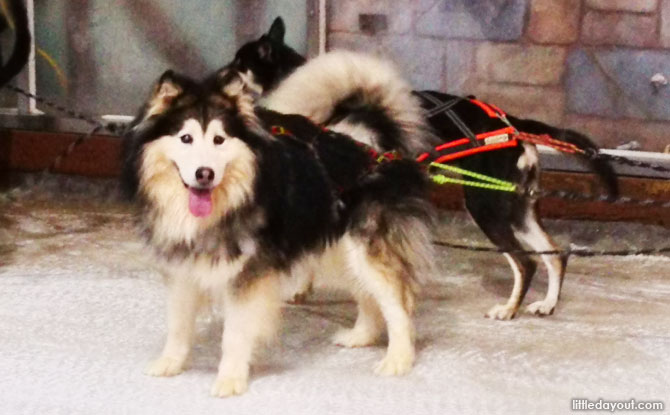 My girl nicknamed this adorable doggie "Woofy" because he looked like her favourite soft toy. He was the most eager of the pack and couldn't stop barking at the handlers to start the run. He kept looking back while pulling us, as though to make sure we were having as much fun as he was!
It was a pity we were not allowed to pet the dogs and the ride was over before we knew it. We all wished they could have taken us for more than just one round.
Have a Splash at the Onemount Waterpark – Slides, Wave Pools and Lazy River
We had pork cutlet rice for lunch at a nearby restaurant, and took a quick look at the small weekend market outside the building's back entrance. Then we spent the second part of the day at Onemount's multi-storey Water Park for some splashing good fun! It is split into three sections: Indoor, Outdoor and Rooftop.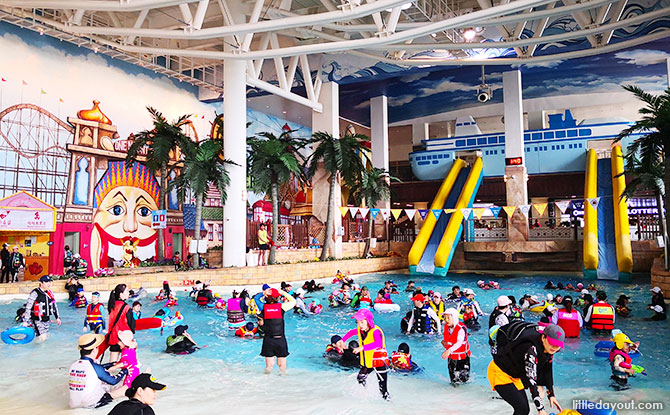 You will have to keep your shoes in a first set of lockers before proceeding to the changing rooms where you store your bags and clothes in a second locker. After exiting the changing rooms, proceed up to the level four indoor area to exchange your receipt for a life jacket. Swim caps are compulsory too, but you can bring your own or just wear a baseball cap.
Younger kids will love the Onemount water playground, while older kids will get a rush out of the high-speed slides.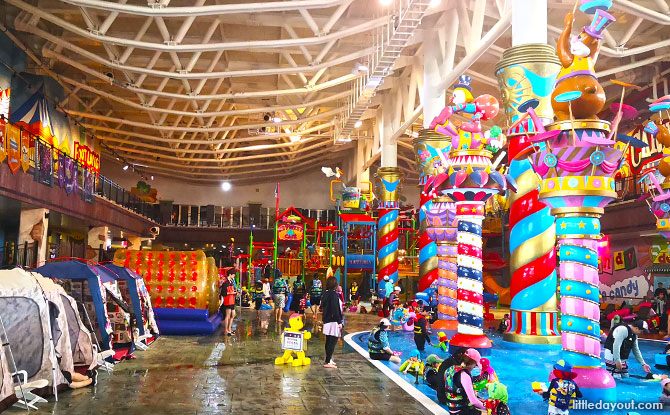 For a more relaxing time, take a dip in the wave pool, float down the lazy river, soak in the sauna or get a tan on the sunbeds. Private tents and cabanas can be hired too.
The whole family had an enjoyable time at Onemount, although some people may find having to wear a life vest everywhere a bit restrictive. The attraction gets very busy on weekends and you may want to plan a visit on a weekday if you dislike crowds.
My girl was having so much fun indoors that we ran out of time to check out the outdoor and rooftop sections which contain even more pools and slides. Talk about a full day of fun!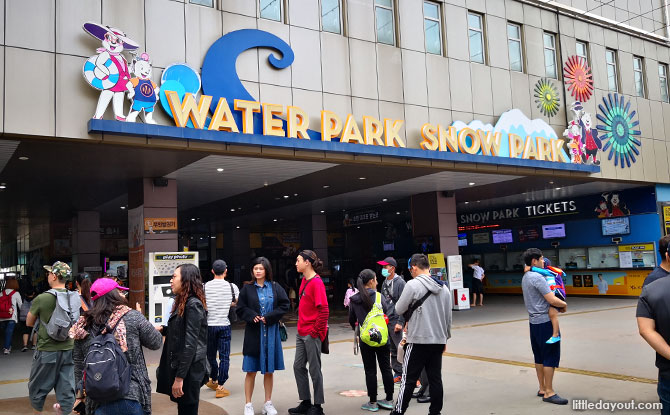 Onemount closes at 6 pm on weekdays and 7 pm on weekends. You can end your day with some shopping and dinner at Onemount Shopping Mall, which houses trendy fashion brands and restaurants with a variety of cuisines.
Onemount, South Korea
Address: Hallyuworld-ro 300, Ilsanseo-gu, Goyang City, South Korea
Website