South Korea has always been one of the places that my wife and I wanted to visit; we are drawn to the fascinating food, fashion and culture. So, when the opportunity came to go on a family-friendly holiday to Korea, it was the perfect vacation idea for us and our nine-year old daughter. And what a great time we had – visiting Korea with kids may well be one of the best family holiday ideas ever!
Korea Family Itinerary
---
Day One: Off To Seoul, Korea With Kids
The seven day and five night itinerary would take us around Seoul and its surrounds. The family-friendly tour was organised by Dynasty Travel had an itinerary that was well thought out for families and children.
For example, on the first day, we took an early flight out of Singapore, landing in Seoul in the afternoon. This ensured that families and kids would get in a good night's rest and be in good shape to enjoy the holiday.
Buy discounted tickets for the AREX Incheon Airport Express Train here.
We stayed at the Ibis Styles Ambassador hotel in Yongsan, part of the Seoul Dragon City hotel complex. It was conveniently located next to Yongsan Station and my wife even managed to squeeze in a few hours of shopping after dinner at the Hyundai I'Park Mall opposite.
---
Day Two: One Mount Snow and Water Park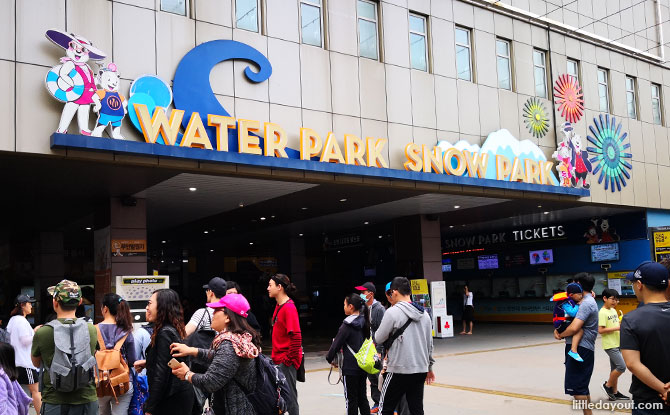 Our first stop on the family-friendly tour was One Mount in Goyang City. It is the world's first theme park that delivers both winter and summer fun throughout the year and features a snow park, water park and shopping mall. It is a popular destination for locals and tourists alike seeking some chilly fun and a splashing good time.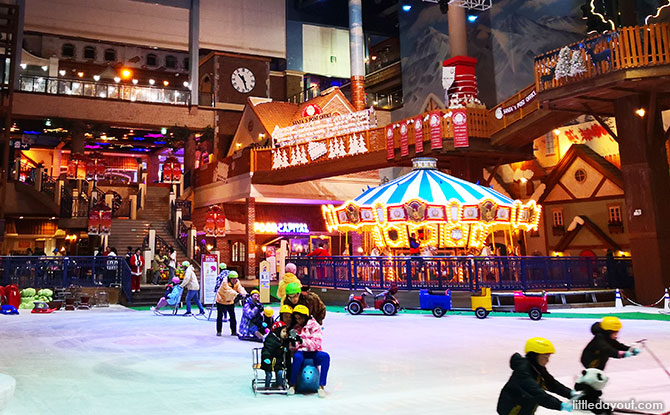 We were excited to check out Snow Park first. We were greeted by the sight of a pretty ice-skating rink, decorated with a Santa's village theme under pulsating neon lights. Jackets and gloves are available for rent if you don't have your own.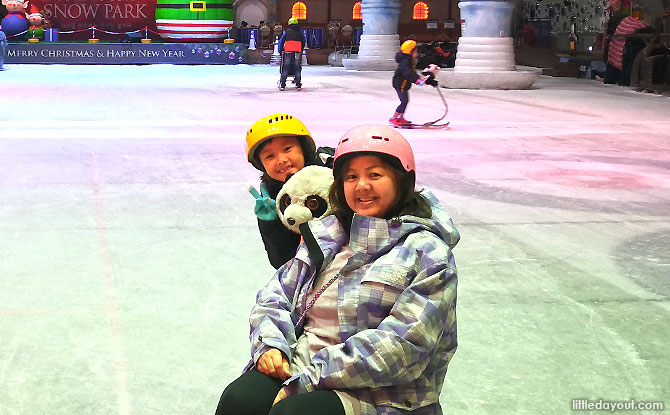 You can rent some skates or just grab one of the free sleds to play with. There are singles, doubles and supermarket trolleys. My nine-year-old daughter was especially tickled by the one shaped like a toilet bowl! She had a lot of fun pushing us around and seeing how fast she could go over the ice.
At the ice rink area, kids can ride around on the Carousel.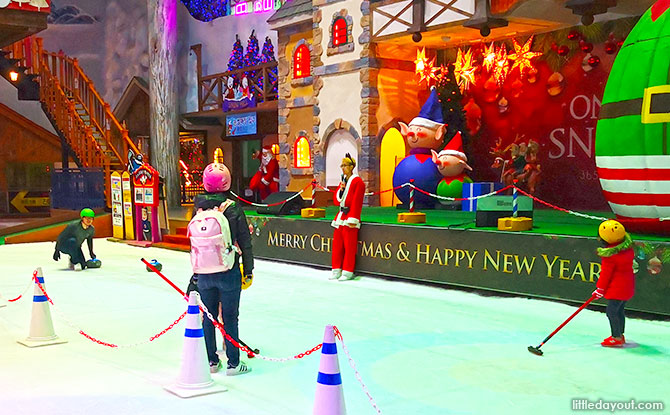 Play a game of curling or go to the video arcade.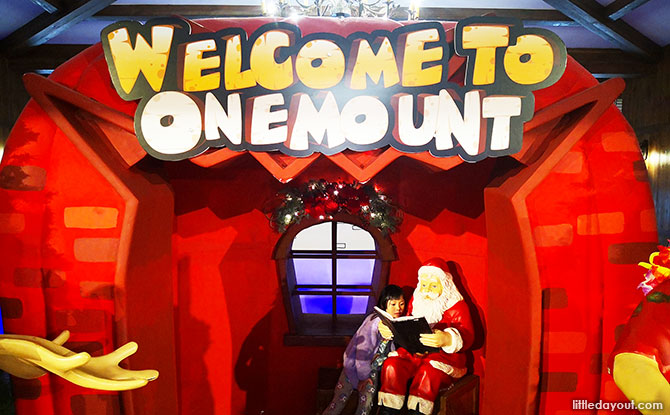 Don't forget to climb up to the houses overlooking the rink for some great photo opportunities and make a wish to Santa.
Then head to Snow Hill to play in the snow or have an exciting race down the hill in a snow sled!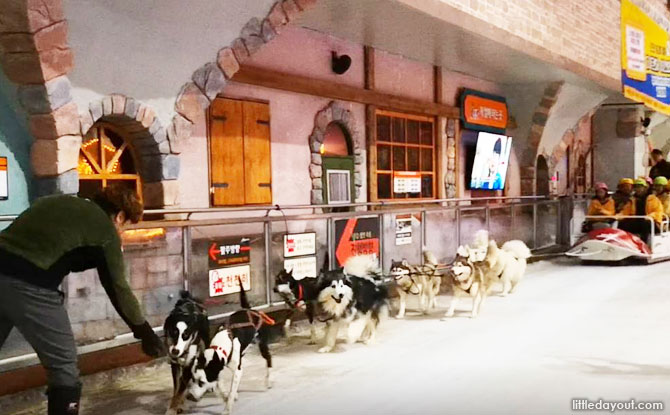 The highlight of Snow Park was the exhilarating dog sled ride. Eight cute, furry friends took us for an exciting ride through the ice tunnel that skirts the perimeter of the rink.
The ice tunnel is festooned with cheerful Christmas lights and decorations that create a festive feeling even in Summer.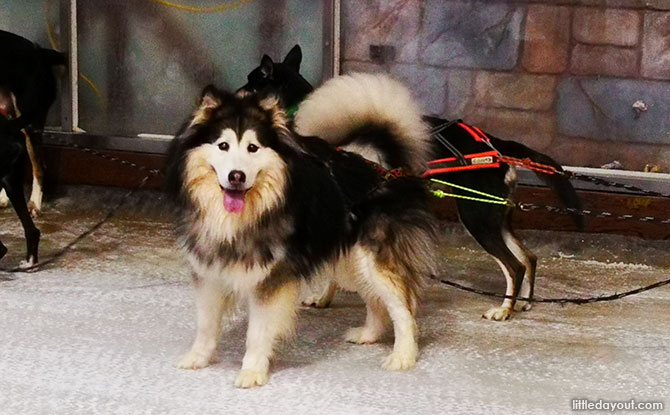 My girl nicknamed this adorable doggie "Woofy" because he looked like her favourite soft toy. He was the most eager of the pack and couldn't stop barking at the handlers to start the run. He kept looking back while pulling us, as though to make sure we were having as much fun as he was!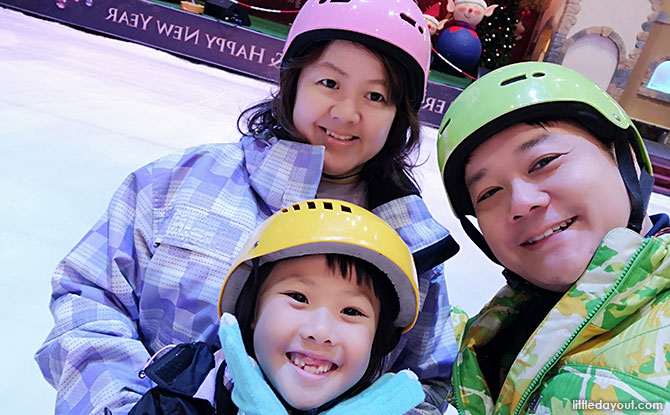 It was a pity we were not allowed to pet the dogs. This was a memorable experience and one that was over too soon.
We had pork cutlet rice for lunch at a nearby restaurant, and took a quick look at the small weekend market outside the building's back entrance. Then we spent the second part of the day at the multi-storey Water Park for some splashing good fun! It is split into three sections: Indoor, Outdoor and Rooftop.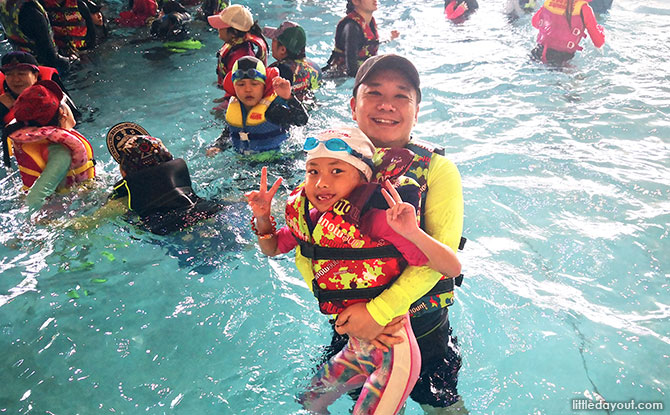 When you exit from the changing rooms on the 2nd level, proceed to the 4th level with your receipt to exchange it for a compulsory life jacket. Swimming caps are required too or you can just wear your own baseball cap. And of course, don't forget to bring your swimsuit!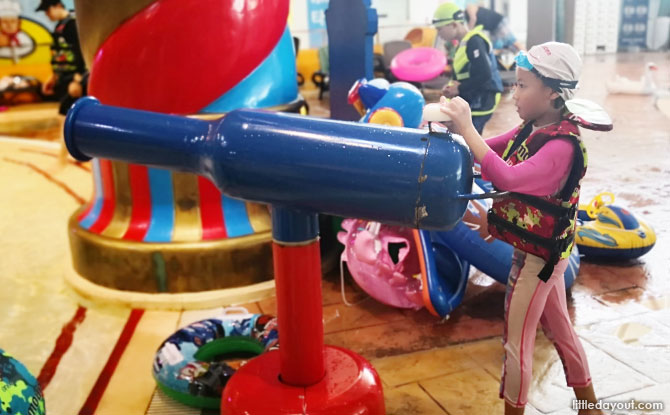 The indoor section on level 4 has a wave pool, toddler pool and water playground that younger kids will enjoy.
Older kids will get a thrill from the many water slides. The outdoor and rooftop sections contain more pools and slides.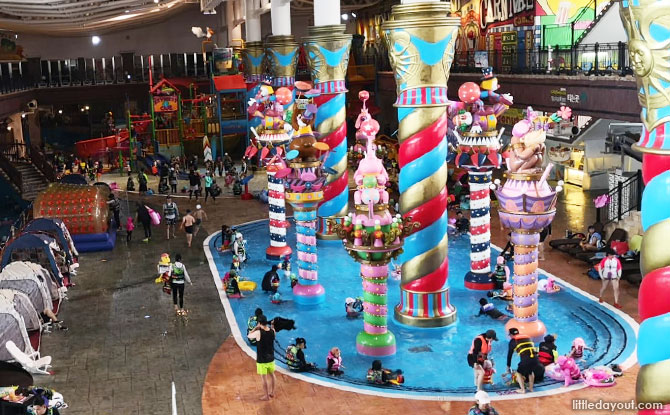 Or you can choose to relax on a sunbed, in the spa pool or float down the lazy river. Private tents and cabanas can be rented too.
For dinner, our guide took us to sample one of Korea's must-try specialities – delicious eight-flavour pork barbecue. This did absolutely nothing to lower my cholesterol level, but my excuse was that we were on holiday, so exceptions could be made.
---
Day Three: Pocheon Herb Island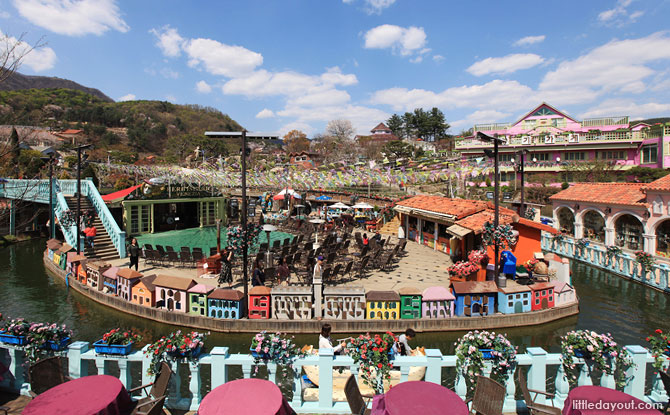 The next day we explored colourful Herb Island in Pocheon city. Located in the scenic mountains of Gyeonggi-do province, Herb Island (not actually an island) is Korea's only Mediterranean herb museum and botanical gardens.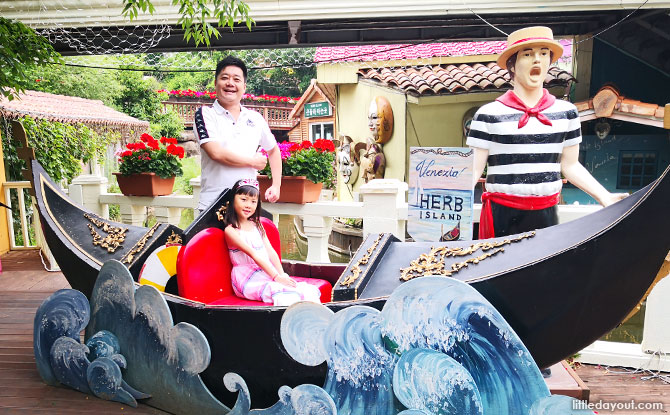 The themed attraction has various zones such as Santa's Village, Venice Village, Waterfall Garden, Dinosaur Town and Secret France, each offering endless, fun photo opportunities.
Kids can indulge in fairy-tale fantasies by dressing up as their favourite characters, then take pictures with scenes straight out from the storybooks.
Costumes and accessories can be rented or purchased from the Venice Shop. If the mums and dads are feeling adventurous, they can join their kids for some fun family cosplay too!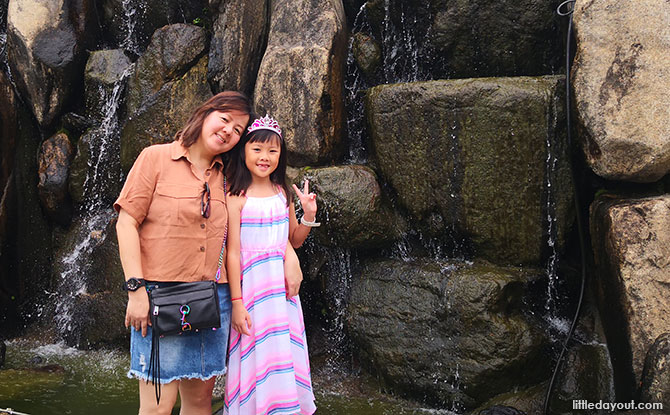 We took an educational tour of the Herbs Museum then went to the beautiful Flower & Waterfall Garden, which is peppered with more fairy tale scenes. Much of the fun is going around and discovering the next charming little nook.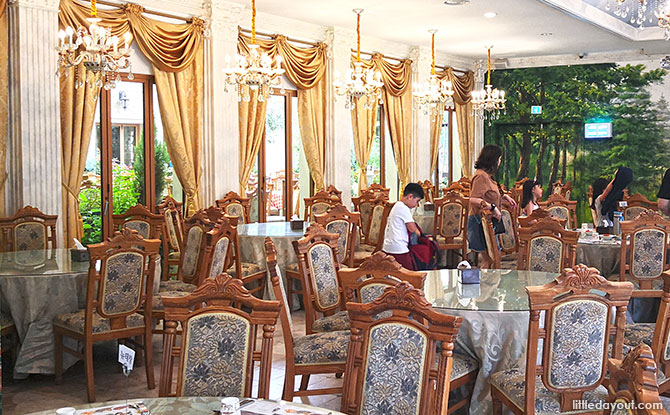 Lunch was taken at the opulently decorated Athens Hall, their main banquet-style restaurant which served a variety of local and western dishes with herb infusions.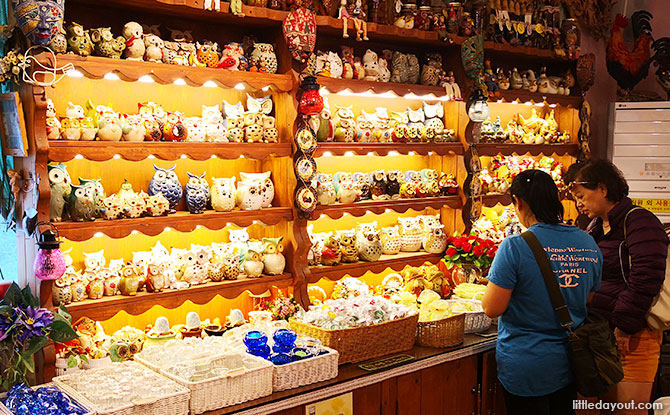 The next fun family activity was making our own scented candles at the DIY workshop next to the Herbs & Plants Museum. You get to keep it as a souvenir and can shop for other soaps, cosmetics and miniatures there too.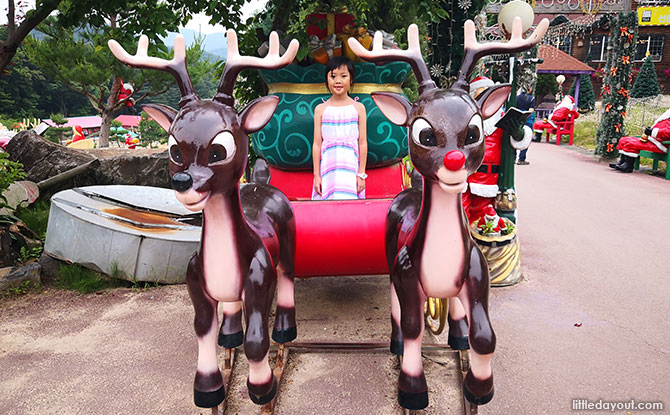 Next, we searched for Santa's Village because the tourist map indicated more kids' activities there. The path is not obviously marked, but it is up the slope and past Athens Hall.
In this area, kids can ride mechanical dinosaurs in Dinosaur Town and our daughter really enjoyed feeding the animals in the mini-zoo.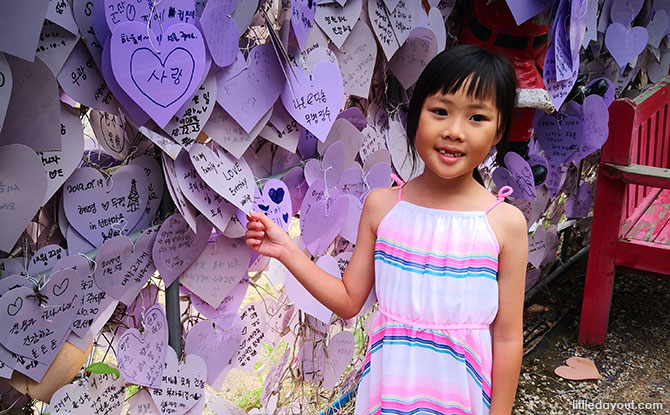 In Secret France, you can leave a love letter on the walls of a tunnel with prints of famous European paintings.
If you're feeling peckish at tea time, don't miss the aromatic garlic bread at the Herbs Café or Bakery. You can also visit the Herb Museum or take a stroll along one of the herb trails to learn interesting facts about the different botanical plants.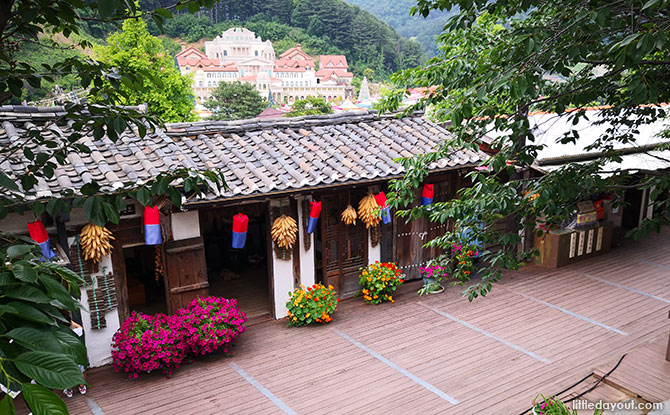 Tucked away discreetly below Herbs Café is the Street to the Past, a quaint replica of a small alley with Korean shops from the 70s, including a photo studio, old classroom, herbal medicine shop, Oki store, coffee shop and comic book rental store.
Unfortunately, we didn't get the chance to experience Herb Island at night, when all the scenic attractions are transformed into a magical wonderland of fairy lights. Be sure to stay back for those spectacular sights, if you can.
---
Day Four: Everland Theme Park
No visit to Korea with kids is complete without taking them to South Korea's biggest theme park – Everland! Everland is located in Yongin City, slightly over an hour outside of Seoul. Along the way, we stopped by a farm to pick some big juicy strawberries.
It was a real novelty for my girl who has never picked fresh fruit outside of a supermarket. They sold delightful sliced persimmons in nicely packed gift boxes too.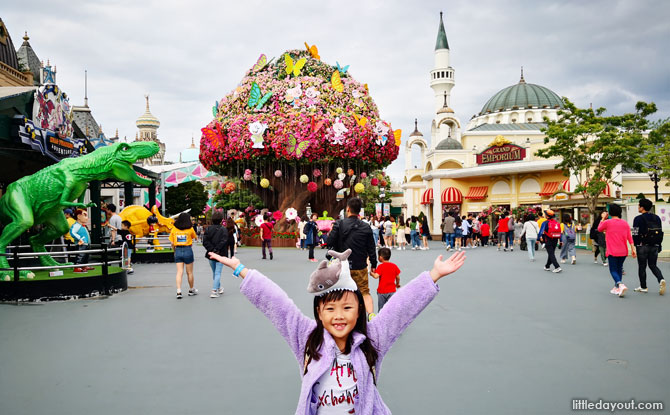 Everland is Korea's answer to Disneyland and consists of five themed zones – Global Fair, Zoo-Topia, European Adventure, Magic Land and American Adventure.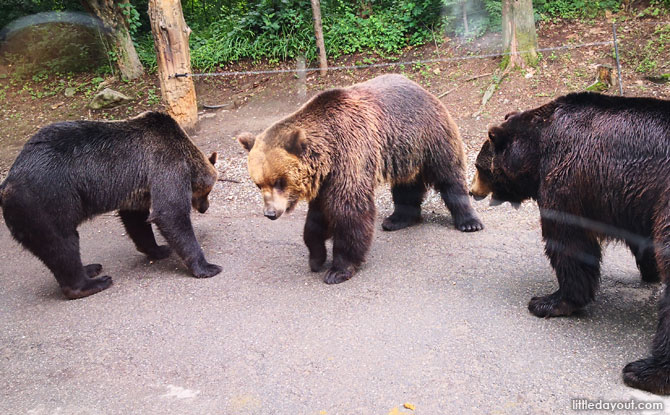 At Zoo-Topia, a mini zoo-safari where you can get up close to lions, tigers and bears, we did our best impression of a tennis match, rushing from one side of the bus to the other to get snaps of the animals.
Around Everland, you will find all theme park attractions you would expect.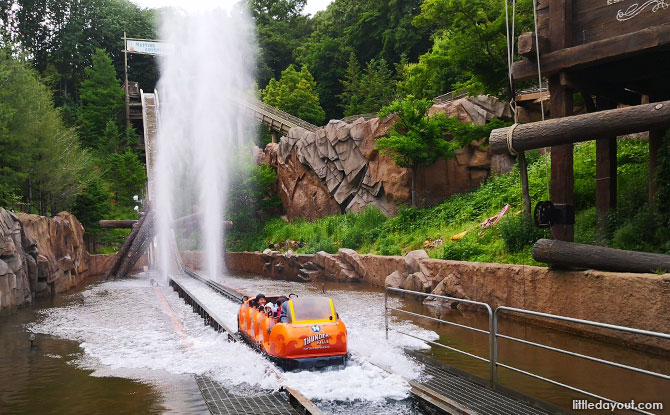 These range from roller coasters, water flumes and VR rides to carousels, shows and parades.
An honourable mention goes to the scenic Rose Garden, abundant with its beautiful namesake and great photo spots.
It would take a full day to cover the whole of Everland. As a tip, if you get tired from hiking up the slopes, take a ride on the chair lifts.
If you wish to spend more time at the theme park, you may want to spend a night at Ramada Yongin Hotel like we did.
---
Day Five: Experiencing Seoul With Kids at Bukchon Hanok Village, N Seoul Tower, Hello Kitty Island, Legend Heroes Sports and Tayo Café, Dongdaemun
We started the fifth day with the time-honoured tourist tradition of dressing up in traditional hanbok while strolling around Bukchon Hanok Village. Everything was organised by Dynasty Travel and all we had to do was slip into the traditional clothes and imagine what it would have been like to have lived in the olden days.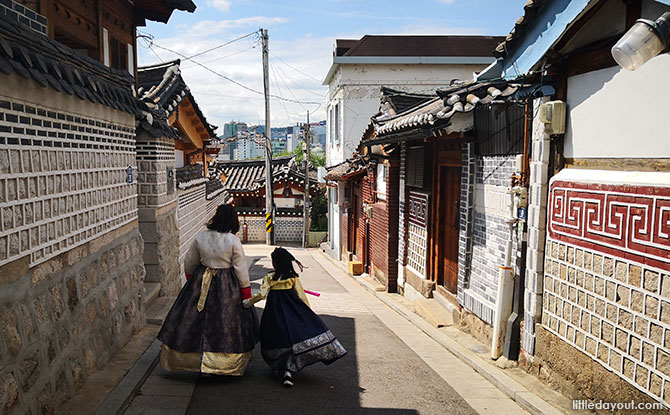 The traditional houses at Bukchon Hanok Village date back to the Joseon Dynasty, making it the perfect setting to enjoy the experience. Take heed the signs not to get too rowdy as these heritage buildings are still occupied residences.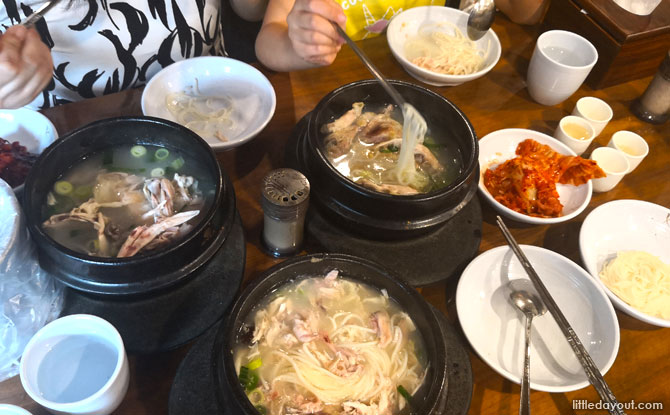 At lunchtime, we ingested more Korean culture by dining on the famous Ginseng Chicken Soup. The delicious broth definitely left us with fulfilled tummies and a deeper appreciation for Korean culinary skills!
As if to help us walk off the calories from lunch, we next made the climb up the steep slope to the landmark N Seoul Tower at Namsan. This houses an observation deck that provides impressive 360-degree views of the city.
Seoul Tower Plaza also has the Hanbok Cultural Experience Center, the Ssentoy Animation Museum, the trees of love locks, restaurants and free outdoor cultural performances. At night, the tower comes alive with an LED light and music show.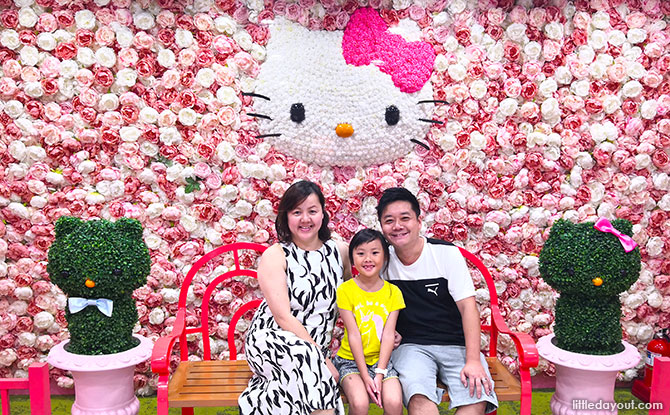 Our favourite part of the visit to N Seoul Tower, particularly for my wife and daughter, was Hello Kitty Island (also not actually an island). Get an overdose of cuteness in the museum section as you traverse the living room, kitchen and bedroom of Hello Kitty's house.
In the last room, kids get a colouring sheet and you can leave a romantic handwritten love note for your spouse. The exit leads to the gift shop where fans can fill up on Hello Kitty merchandise.
Afterwards, we headed to Lotte Fitin mall in the lively shopping area of DongDaeMun to spend a couple of hours in Legend Heroes Sports, a screen sports theme park on the 5th floor.
We had lots of fun challenging family and our new-found friends from the tour group to games of baseball, football, archery, bowling, curling, pinball, shooting and hole-in-the-wall.
By evening time, the toddlers in the group were spent and ready to crash. But the older kids, like my girl, still had energy to burn at the Tayo Kids Café, an indoor playground, on the 5th floor in Doota Mall.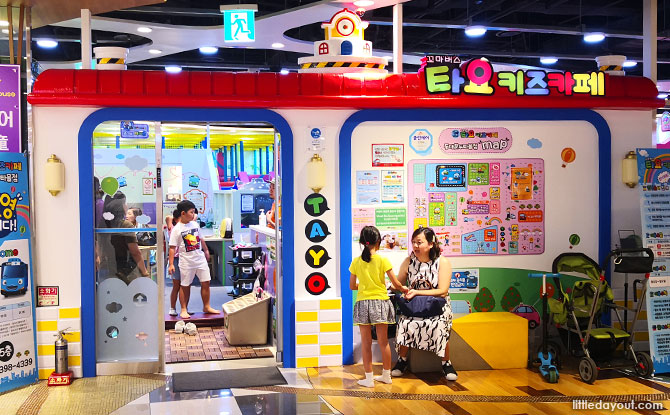 I rested my aching feet at the café area where a large TV screen with feeds from multiple cameras around the playground lets you keep an eye on your kids while sipping coffee. Meanwhile my wife skipped out to squeeze in a few more hours of shopping.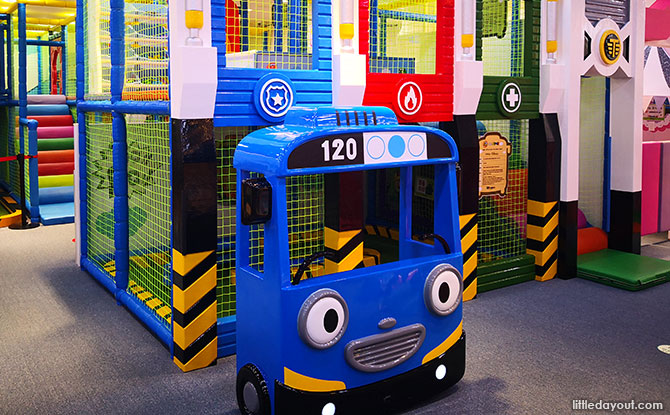 The brightly coloured indoor playground area is liberally decorated with beloved characters from the popular Korean cartoon. Parents can accompany their kids into the play areas where there are many comfortable cushioned seats.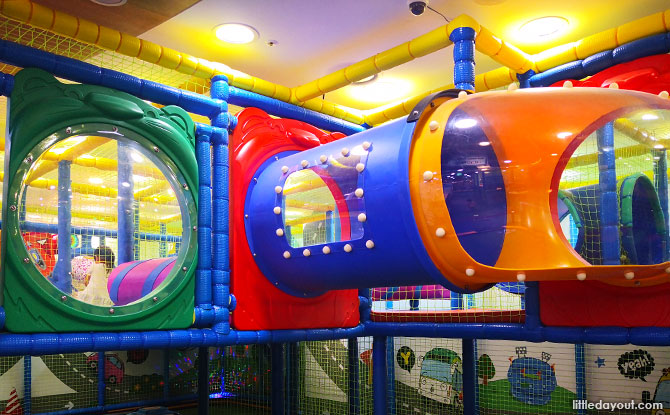 Or just unleash their kids on the giant hamster tunnels and trampolines.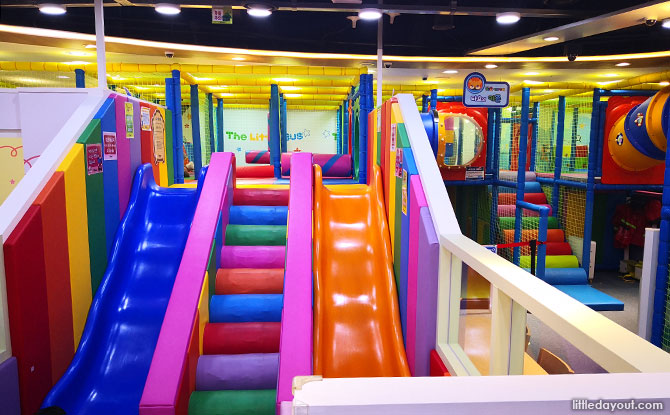 There are also fun slides that land the kids in a ball pit and foot-powered bumper cars.
Needless to say, all the kids slept very soundly that night, after a full day of activities and happy memories.
---
Day Six: Lotte World Adventure & Aquarium, Fireman Show, Myeongdong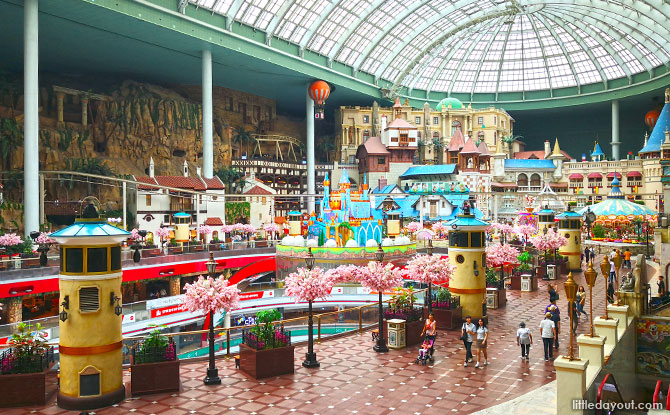 Day six was free and easy, so we decided to visit the other well-known theme park in Seoul – Lotte World, another star attraction for those visiting Korea with kids.
Lotte World Adventure is a multi-storied area with rides, entertainment, an ice rink and a folk museum within Seoul. Although smaller than Everland, it still delivers all the thrills and, with an indoor amusement area, can be enjoyed in any weather or season.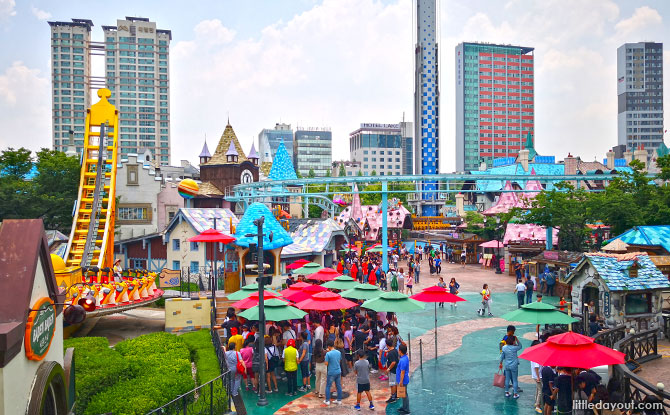 The outdoor section of Lotte World Adventure is Magic Island, built in the middle of a man-made lake with castles and more rides adrenaline pumping rides like the Gyro Drop (do not embark immediately after a meal).
Lotte World Adventure is connected by an underpass to nearby shopping malls. A convenient walk away is the Lotte World Aquarium where kids will be entranced by the myriad sea life on display from colourful clown fish and sea horses to graceful sting rays and beluga whales.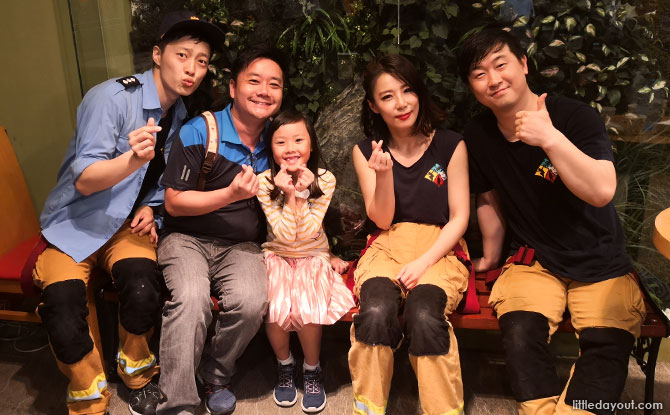 In the late afternoon, we treated ourselves to some entertainment with the high action, non-verbal comedy performance Fireman at the Myeongbo Art Hall.
We couldn't stop laughing at the antics of the talented cast and their displays of physical comedy, dancing and parkour! I highly recommend this show for all ages and you get to take pictures with your favourite cast members after the show.
We would like to give a shout out to Epic Theatre Corp for sponsoring the show tickets for us.
My wife loves Korean cosmetics, and one of the best places to get them cheaper than back home is at nearby Myeongdong shopping street. We munched happily on the yummy street food in between ducking in and out of the many shops selling cosmetics, apparel and snacks.
---
Day Seven: Trick Eye Museum, Ice Museum, Hongdae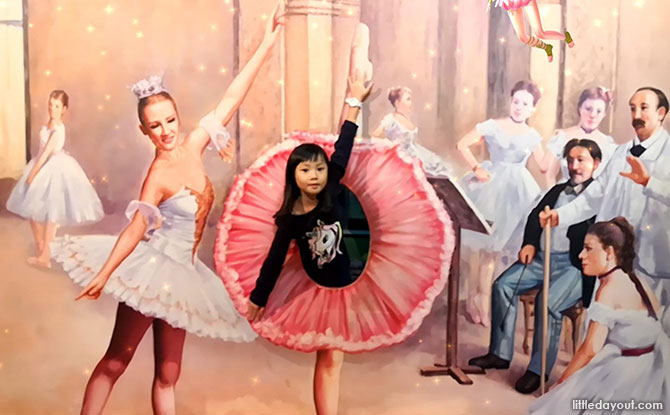 Before departing on the afternoon flight home, we made one last stop at Seoul's Trick Eye Museum. Download and use the app to take fun Augmented Reality photos and videos, like riding great white sharks or having a dragon breathe fire down on you.
Freeze your fingers off in minus four-degree temperatures in the Ice Museum and go on thrilling Virtual Reality Rides (there's also a Love Museum, but that one is for adults only).
The Trick Eye Museum is located in the Hongdae shopping area where so you can grab some last-minute gifts and souvenirs, if needed.
---
Wonderful Memories from a Korea Family Trip
As we ended our family holiday to Korea and headed home, we left with many happy memories, keepsakes and new friends from our first outing to Seoul.
The well- organised family-friendly tour by Dynasty Travel made it easy to relax and simply enjoy all that the country has to offer. My daughter was already making me promise to take her back again as there are still many other amazing places to discover and experience in South Korea with kids.
South Korea is truly an amazing place and a wonderful family-friendly holiday destination. From child-friendly attractions to culture to shopping, a visit to Seoul will leave you and your family with memories to last a lifetime – we will be back.
Special thanks to Korea Tourism Organization Singapore & Dynasty Travel who made this trip possible.
Brought to you in collaboration with Korea Tourism Organization Singapore.